Tessa Prieto Valdes describes herself a "hoarder" when it comes to shopping.
And one of her favorite stores is Watsons.
"I like the Buy 1 Take 1 stuff," said the bubbly socialite.
"You know, I have a lot of parties and I have a lot of giveaways.
"I have to say, the Watsons giveaway is super panalo!
"Like every year, I have a Red Cross gala which supports the Red Cross.
"And those are my giveaways to all our guests, and we have 600.
"They really like it. Everybody always wants to get it. It's like so useful!"
For a very busy woman like her, having a one-stop shop for her bulk purchases really saves a lot of time and money.
At the event of the said health and beauty retailer held yesterday, June 15, Tessa dished out five more things about shopping, switching, and saving.
1. "Quality matters."
On top of her must-buy items is the brand's hand soap "ever since like five years ago or more..."
She continued, "Kasi for me, how far can you go with a hand soap?
"The function is to clean your hands.
"So why would you get something more expensive if there's this item that can do the job with like eighty percent savings?"
2. Size matters, too!
"Have you seen their lotion? It's giant!"
The Switch and Save campaign that launched at the event was designed to give the customers cheaper options.
Two unbranded products were placed side by side, and the media guests were asked to pick one based on their preferences.
The lotion, for instance, Brand 1 had a very likeable scent, and was easily absorbed by the skin, while Brand 2 was unscented, and did not easily glide on the skin.
Blogger Kaycee Liwanag picked Brand 1, which turned out to be a Watsons brand.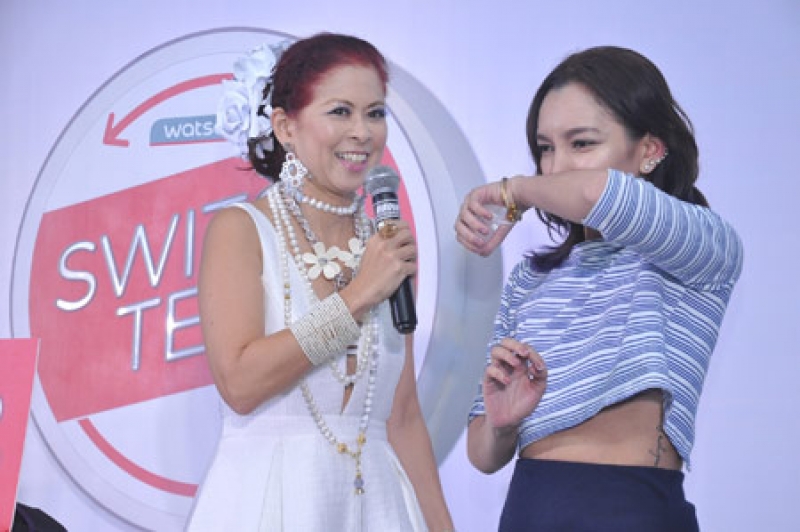 More products were compared to convince the guests to switch and save.
Here's Ines Bernardo (right), the host, and blogger/host Valerie Tan checking out the two body-scrub products.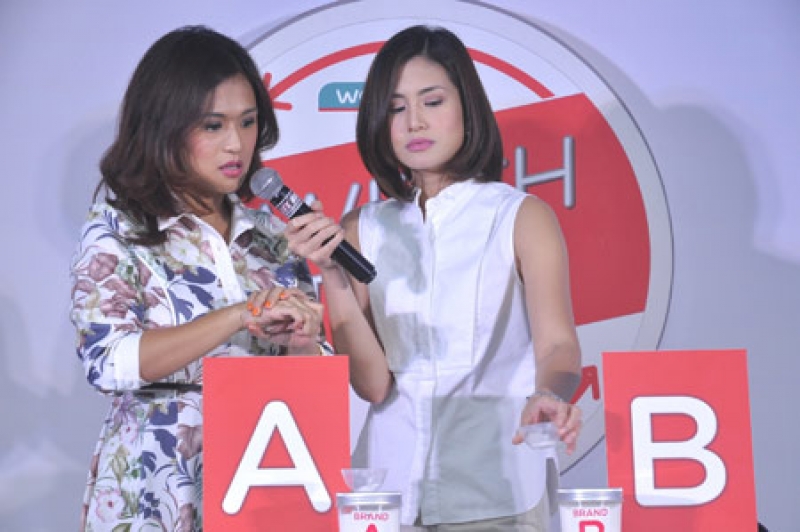 3. Try those testers.
Tessa advised, "I suggest that they test the brand first.
"And, you know, if it's for daily use, like necessities, hand soap or tissue, you might as well go with the cheaper brand kasi their quality is not compromised."
4. "Stock up for Christmas!"
Laughing, the brand ambassador said, "It's malayo pa, but it's better to shop early, avoid the stress of rushing and too many people shopping.
"I have a lot of charities so most of the time, you know, I have to give away all the products that I have."
5. Lastly, "less plastic please."
A known environmentalist, "trying to reduce amount of some plastic in the world" is important to her.
When shopping, please bring your eco bags.
Tessa resumed, "Plastic really is the enemy so you just really dispose it, and they really harm our seas and everything like that.
"So if you have less amount of that, you're not only saving money but sort of saving your own planet in your own little way, di ba."