We live in the digital era and now, more than ever, stars are more accessible to their fans.
If in decades past, supporters watched TV, fell in line at the box office, and collected newspapers and magazines, fans these days follow their idols' social media accounts.
Another change is that celebrities now share snippets of their everyday lives away from the camera, and a big part of that includes a peek into their family life and journey to parenthood.
Some create separate Instagram accounts or a dedicated hashtag for their kids, who are now celebrities in their own right.
We watch their milestones, gush at their cuteness, and follow them for a dose of good vibes.
We fall in love with them the way fans fawn all over their famous parents.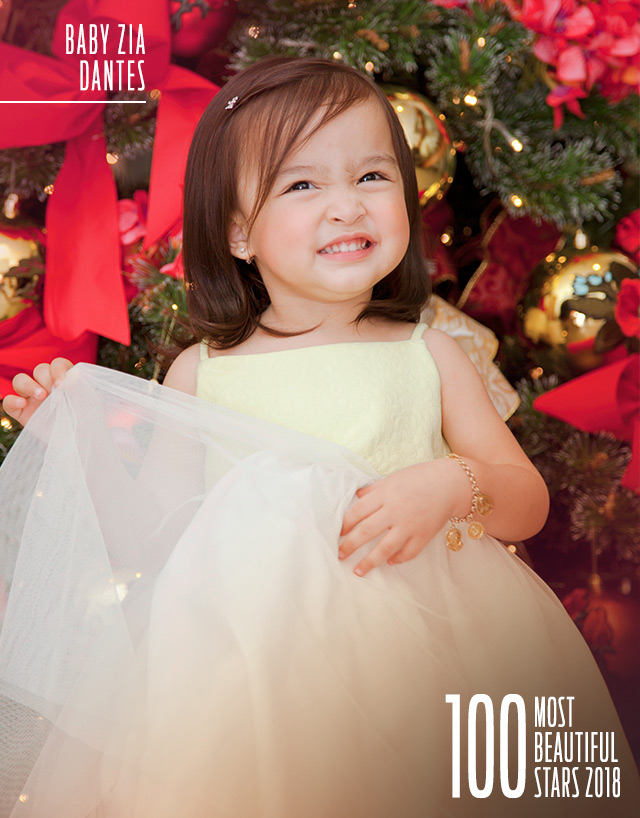 Zia Dantes, unica hija of Kapuso prime-time royalty Dingdong Dantes and Marian Rivera, regales netizens with her jet-setting lifestyle via the hashtag #aroundZworld.
The mom and daughter have also mastered the art of twinning, wearing outfits in similar prints or designs.
The Marian mini-me already has her signature poses, including the pout and "Ay, may daga!" stance, which involves raising one foot as if avoiding a mouse on-the-run.
At home, Marian admitted she and Dong are particular with their two-year-old's TV time.
She told PEP.ph (Philippine Entertainment Portal) last March, "Ay, mapili talaga kami ni Dong. Maingat talaga kami. More on educational talaga.
"Hindi puwede na bara-bara lang, kasi nga iba na ang mga bata ngayon. Kung anong nakikita nila, ang bilis mag-absorb talaga. So maingat talaga."
Marian is somewhat relieved that Zia prefers play time.
"Hindi siya ma-watch ng TV, e. Mas malaro siya."
And when Zia is fussy with her food, Mommy Marian applies the reward system.
She said in another PEP.ph interview, "Kapag nakapag-ubos ng pagkain, may reward siya sa akin."
What if Zia asks for juice or candy?
Marian replied, "Yes, definitely ibibigay ko yun, pero kailangan tapusin mo muna pagkain mo."
The method is effective with the toddler. Marian said, "Hindi naman ako nagkamali. Yung anak ko medyo skinny, pero kapag binuhat mo mas mabigat pa yata sa akin."
As for Daddy Dong, he wants to savor Zia's childhood.
He told PEP.ph on June 10, "Totoo yung sinasabi nila na mabilis talaga ang panahon... na lumalaki talaga sila nang sobrang bilis.
He added, "Kinakailangan, i-cherish mo ang bawat moment na kasama sila. Kailangan nandoon ka sa bawat milestone nila. Kumbaga, pagbibigyan mo talaga ng oras."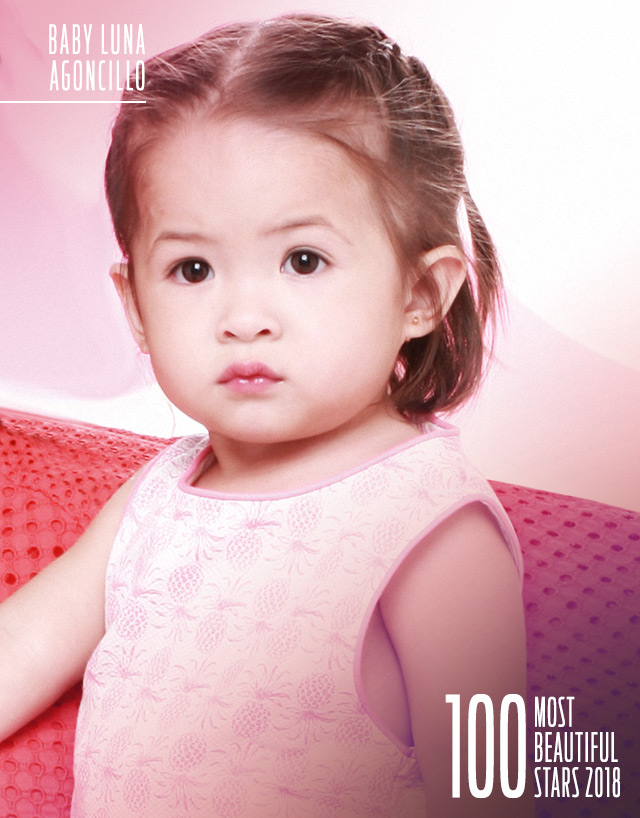 Two-year-old Luna Santos Agoncillo, nicknamed Lunnie Bunny, is the apple of her family's eye.
The youngest child of Judy Ann Santos and Ryan Agoncillo has been a regular in her parents' social media posts.
She accompanies Mommy Juday to the Sunday market, the gym, and even tthe actress' derma appointments.
Luna, together with her Kuya Lucho and Ate Yohan, have cameos in the episodes of their Mom's online cooking show, Judy Ann's Kitchen.
Daddy Ryan has a "Monday na ulit" photo series, featuring snaps of the cute Luna to brighten everyone's back-to-work Monday Blues.
Most recently, Ryan posted an Instagram video of Luna eating gyoza on her own, using chopsticks no less!
Lunnie Bunny's parents tied a rubber band around the pair of chopsticks, and inserted a roll of paper in between, to help her learn how to use the utensils. It has since been viewed over half a million times.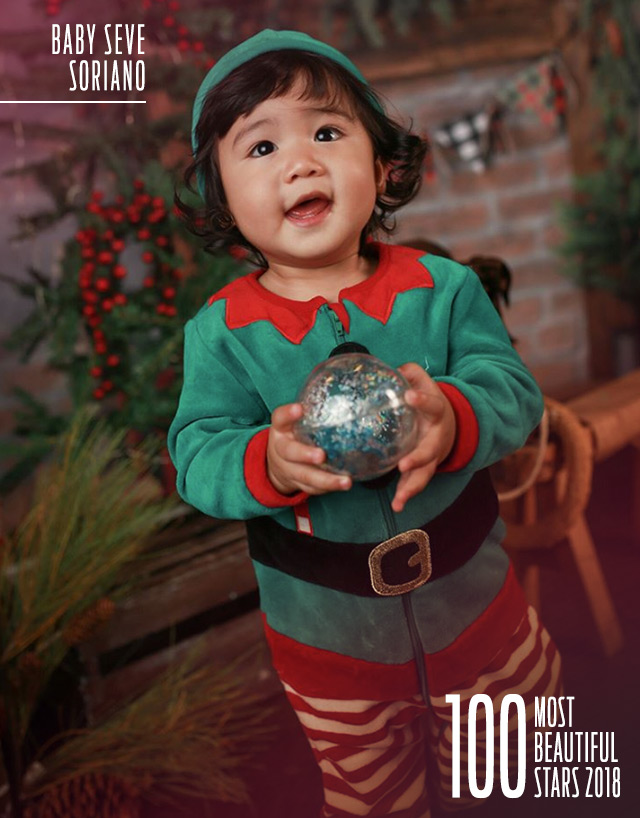 Severiano Elliot Soriano, nicknamed Baby Seve, is also a scene-stealer in his Aunt Alex Gonzaga's vlogs.
The almost-two-year-old unico hijo of Toni Gonzaga and Paul Soriano is so adorable, with his mop of curly hair and chubby cheeks.
Alex often babysits Seve, and when she does, their duo brings laughter and creates great content to the delight of Alex's YouTube subscribers.
The video "Tinang and Seve's playtime" in particular, which showed Seve counting and identifying colors and shapes, has been viewed over 1.5 million times.
Paul and Toni have also hired a tutor who comes during weekends to help Seve develop his motor skills.
Paul said in a press conference last April, "She comes twice a week, and helps him out with color, shapes, numbers..."
The idea appealed to the working parents. Toni said, "You don't really have that much time anymore to focus and sit down, so there's someone [who does the job]."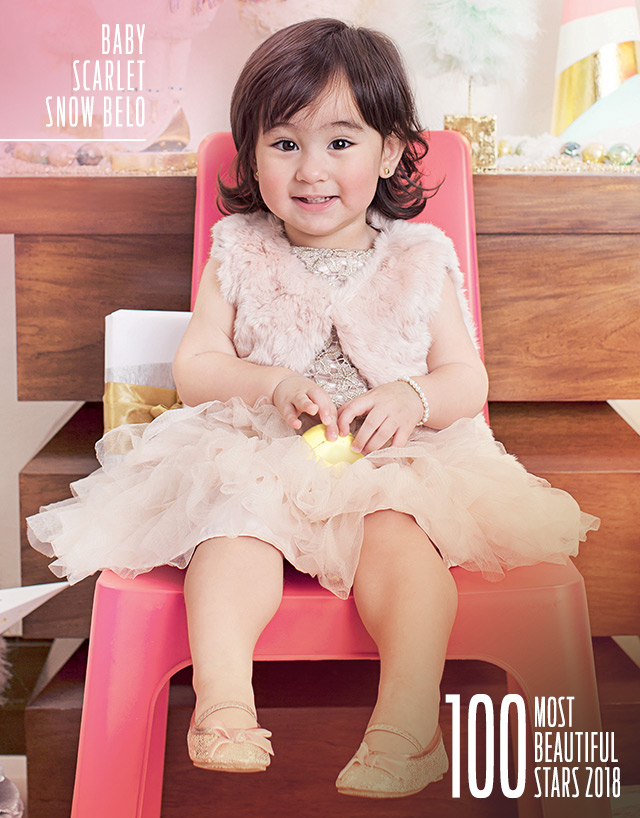 Netizens have watched Scarlet Snow Belo grow up via photos and videos posted by her proud parents, Drs. Vicki Belo and Hayden Kho Jr.
Now almost four years old, Scarlet has started attending classes even before entering pre-school.
The little girl, who's not shy performing in front of the camera, seems to have the gift of gab, as her mom shared the award Scarlet got from school: Best Storyteller.
"She's very articulate and nanalo siya ng award kasi napakadaldal niya," the celebrity doctor told PEP.ph.
The proud mother added, "She's very smart. I feel like she's advanced for her age intellectually. What we're trying to do is make her also emotionally [intelligent]. Her IQ is good."
The bibo kid is currently multilingual, speaking mostly in English but also starting to master Filipino.
For her moving up ceremony, Scarlet lead the singing of "Lupang Hinirang." Her dad Hayden practiced with her the night before.
Vicki recalled, "So the next day, confident na confident na siya, humingi pa siya ng mic. Siya daw magli-lead and alam naman niya lahat ng words."
On Scarlet's own Instagram account, followers watched her video practicing the National Anthem, and displaying her singing skills.
Dr. Vicki said they hope Scarlet learns two more languages—Chinese and French.
Scarlet has over two million followers on Instagram. Although now used to having her photos and videos taken, the young girl has started asking questions.
In March, Vicki revealed, "She doesn't have any idea what's going on, that she's so popular. The only question she's ever asked me is, 'Why does everybody know my name?'"
Unfortunately, the famous tot has also had her share of unpleasant encounters. "[Hayden and I] are very careful about controlling her environment. Sometimes people get so gigil with her that they tend to be very rough, the way they treat her. You know, they pinch her or 'picture-picture.'
"She's so shocked. Bakit yung mga ng tao dito niyayakap na ako, kini-kiss na ako?
"And, you know, that's okay for older actors and actresses because they know, but she's only [three]!"
These incidents left Scarlet more self-conscious and camera-shy.
Vicki said Scarlet would stop whatever she's doing once she sees a camera pointed at her.
"I don't know if you've noticed, our videos are less because she doesn't like to be videoed anymore."