Call it providential, or call them lucky.
Who would have thought that golf would lead Ariel Rivera and Gelli de Belen to their most-treasured find?
But that's exactly what happened. The celebrity couple stumbled upon the hottest-selling model units at Tagaytay Highlands because of their passion for golf.
"I honestly believe this is our best investment yet," Ariel says. "Definitely nabawasan ang savings namin. But we're very frugal, and we're not what you call gastador or impulsive buyers. Nafo-foresee namin kung ano 'yong capacity namin."
In December 2004, the couple, along with Ariel's sister Gemma and her husband Mario Fatica, had gone to Tagaytay Highlands to play golf.
While their husbands were on the golf course, the two women decided to tour the area and check out some of the units that were up for sale in the Woodridge community. Wowed by what she saw, Gelli immediately urged her husband to give the place a look-see.
"I didn't want to see it because I was already hooked on the golf course," Ariel recalls. "I was already sold on the place without seeing this unit, and I think she knew deep down that she wanted to get it. So when I saw it, sabi ko kay Gelli, 'Okay, that's your fault. I'm gonna get it talaga.'"
"Nang nakita niya, hindi na siya nakatulog!" Gelli exclaims.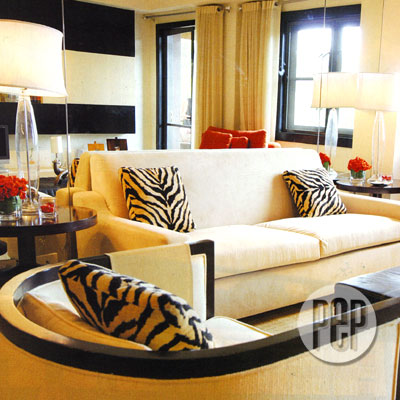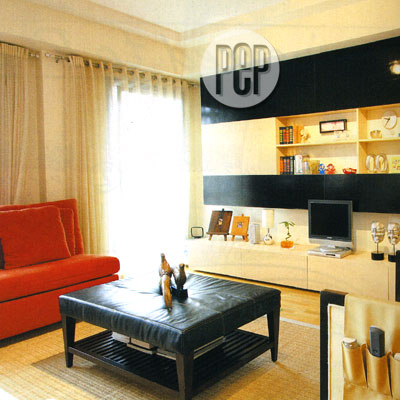 The following week, Ariel went back to Tagaytay Highlands and learned that only a few units were up for sale. "They were selling like hotcakes!" he says.
Upon learning that a buyer was on his way to make a deposit for the unit they were eyeing, Ariel immediately called up Gelli. "Honey, unahan ko na 'to, 'yong darating ng one o'clock, he's coming to deposit," he informed his wife.
"So 'binigay ko na agad 'yong tseke," herecounts. "Galit na galit 'yong inunahan ko, kasi he came all the way from Manila to give the deposit. Pero inunahan ko na, so, sorry."
By February of last year, the couple had already moved to their new home. It was a fully furnished unit. "Pati plato, pati air-con, nandiyan na," Gelli says with a laugh. "Dinala na lang naming dito, TV, at saka damit, sabon, gano'n!"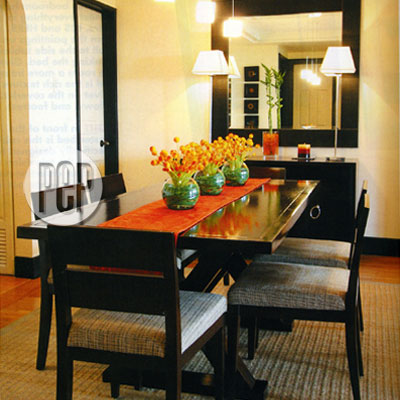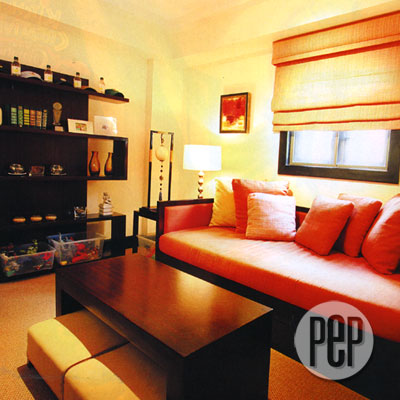 Ariel adds, "We'd heard of this place, but had never been here. Bonus pa 'yong dalawang golf courses dito.
It has always been my dream to have a house along the fairway—not exactly along the fairway but within the golf community. I thought this was a chance to have that.
"And it's not only a golf course, it's really a country club kasi. They have all the amenities for the kids.
"Everything's here, e. We never find ourselves going outside Highlands, because we've got about 30 restaurants here. We've got three different kinds of pools. You have zoos, go-karts, bike-riding, camp grounds, bonfire—practically everything talaga!"
Ariel and Gelli have been married for nine years now, and he says that they've managed to keep the romance alive.
"We have the same passion, and we always have intimate moments. I mean, there's time to cuddle—those things. It can be just 10 minutes of your time, but it's quality time."
The two have seemingly opposite personalities. Gelli is this energetic, bubbly, loquacious host on television. Ariel is the serious, quiet type. But their marriage is one of the most stable in showbiz.
Says Ariel of his wife: "Parang may contradiction sa character niya sa TV and in person, but she's great! And she's very malambing."
At the time of this interview, the entertainment industry keeps the couple really busy.
Gelli is in two GMA-7 programs—co-host of the daily morning show Sis, with sister Janice and good friend Carmina Villaroel, and part of the wacky cast of Joey de Leon's gag show Nuts Entertainment.
As for Ariel, he already has five albums under his belt—Ariel Rivera (1991), Photograph (1995), Getting to Know (1997), Aawitin Ko Na Lang (1999), and Ariel Rivera: Greatest Hits (2000). He has also successfully crossed over to acting, starring in dramatic roles in stage, movies, and television.
Still, they have managed to be hands-on parents to their growing boys, Joaqui, 7, and Julio, 5. "I take the kids to school, 'tapos I pick them up from school," Gelli says. "Five-thirty kami gumigising sa umaga, Diyos ko!"
Ariel himself expresses amazement over his wife's approach to motherhood: "She's the epitome of a hands-on mother. She gives them a bath, she brushes their teeth, everyday, ha!
"She brings them to school, fetches them back. Kaming dalawa, we do that.
"We discipline them, we do everything. We feed them, we bathe them, and that's something that not even her mom envisioned for her. And that surprises me all the time when I see her."
With their careers in place, the two have been carefully investing their earnings in some property, making sure that their kids' future will be taken care of. A few years from now, they plan to migrate to Canada, which was home to Ariel before he came to the Philippines.
"We've already looked ahead," he says. "Meron na kaming bahay sa Canada, and it's ours. We bought that mga three years ago. Yon na talaga ang future plans namin. How can I say it—future short-term plans? We're really just there to have the kids go to high school and finish their college there. Then after, bahala na sila. I think, if the Philippines is still like this and doesn't get any worse, then we'll come back. This is the best place naman to live talaga."
For Ariel, family comes before anything else.
"I'm quite shallow, you know? I never had a professional goal in life. Never wanted to be this, never wanted to be that. My goal in life, since I can remember, since I was a teenager, was really—and I would credit this to my dad—was to be a good father and a good husband. That was my main goal.
"And I think I'm halfway there. That's what I'm trying to achieve. Hindi na 'yong professional. It's really my personal goal, to have a happy family life—good husband, good father."