Goodbye, Stress Drilon!
The term, which has been part of the gay lingo since early 2000s, refers to a stressed-out person.
It is coined from Ces Drilon's name, which sounds similar to the phrase.
But enough about the gay lingo because the 61-year-old news anchor is on a journey towards a "Fresh Drilon" image.
The distinguished broadcast journalist, whose full name is Cecilia Victoria Oreña-Drilon, opened up about her skin problems and how she deals with them.
To start, Ces recounted her experience with Pigment Solution Program or PSP—a cosmetic treatment formulated to reduce hyperpigmentation to even out the skin tone.
The treatment is offered by dermatology and aesthetic center Avignon Clinic, which launched Ces as its new brand ambassador via a media event held on February 28, 2023.
Ces shared, "I am the perfect case study [for PSP]...Sun exposure, and my repertorial work, I was out in the field, and, at that time, it wasn't really drilled on me that you should use sunscreen.
"So I was very complacent. Sometimes I have [sunscreen on], sometimes I don't, who cares."
Read also: Past and present ABS-CBN journalists reunite for News head Ging Reyes's 60th birthday
Ces decided to do something about her sun spots.
Host Gelli Victor said, "...it can occur among men, but when men come in, for a dermatological issue, it's not usually melasma. In your case, did you go to an Avignon clinic specifically to address the melasma?"
Melasma is a skin condition that causes patches and spots, usually on the face, which are darker than your natural skin tone,
Ces replied, "Among many other concerns...
"My first visit to Avignon, the pandemic was just starting. And one of the things, the major, major mistake na naman.
"Remember we were stuck in our homes? Why use sunscreen? Again, I did not. Terrible, terrible mistake. And that's when it [sun spots] really exacerbated."
Ces explained that even with heavily tinted windows, "the sun is really strong, so yeah, that major, major mistake.
"Also the anxiety, they [invited speakers and doctors] mentioned it's a contributor, I didn't know.
"Stress is a factor."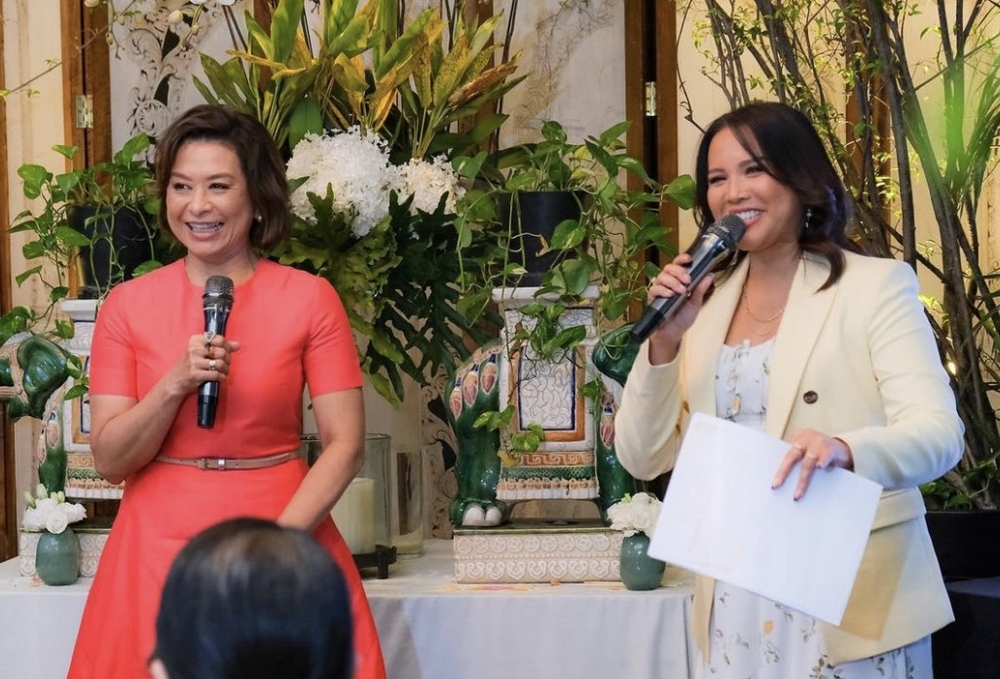 The journalist said that the discussion of guest speakers including Dr. Giuseppe Micali, made Ces reflect more on what not to do, and how to prevent melasma and sun spots from the onset.
"I was using peels and lasers, but nothing was happening.
"That's why I wanna tell you also about this experience, it needs patience.
"You can't keep shifting products, and expecting instant results. There's no quick solution.
"So now I'm back. I'm back, and I'm on my first month, and I'm so happy to know about the other features also of the product."
Ces admitted that, at first, PSP seemed like other skin products that do not deliver as good as they promise, "but it's actually repairing your skin. So yeah, I will be now very loyal, very patient."
Gelli inferred, "She already learned her lesson the first time."
Ces said while shaking her head, "Yeah, when you're too impatient talaga, you know. Give it a chance."
Dr. Micali also mentioned that it is best to use PSP in conjunction with peels and laser treatments.
"SCIENCE FIRST" APPROACH
Aside from patience, Ces also learned the importance of "trusting" science and the experts.
She stated, "The science-based approach, the statistics that the doctors showed us, give me more confidence, you know.
"That's one thing we learned during the pandemic, right?
"Believe the science, like the vaccines. They helped us get to where we are now.
"So that's why I have more confidence."
Ces encouraged everyone to trust the process "becase the science says so.
"Mag antay-antay ka lang."
Read also: Ces Drilon on leaving ABS-CBN after 31 years: "This isn't goodbye."
Later, the Basta Promdi, Lodi host related her experience with the beauty clinic so far: "I love it so much.
"First of all, I feel like family when I go there, I'm treated like family—the monitoring of what you need to do.
"Of course, a woman my age needs all the help she can get, as you mature.
"I also love the confidence that it gives. Sa totoo lang, it's true, you need help.
"I love them because it gives me an extra spring to myself."
She admitted that among her faults is engaging in outdoor activities without applying anything that can protect her skin from the harsh rays of the sun.
"I'm giving my doctors a harder time because here I am picking vegetable flowers in the farm, just a hat.
"You just have to manage also," she reminded everyone.
Gelli recapped, "Back on the program, I'm pretty sure this 'stress drilon' is no longer going to be attached to you."
Ces quipped, "Fresh drilon na.
"I would love to go out without make-up. But with this thing [sun spots], you then end up covering.
"So I'm really looking forward to that day when I can step out of the house without any make-up."
READ MORE: