Andi Eigenmann is being commended by netizens for normalizing stretch marks and promoting body positivity anew.
On Sunday, May 21, 2023, Andi's video post on Instagram featured her favorite beach outfits. She began the video by showcasing her favorite pink bikini, confidently displaying her "tiger stripes" with pride.
In the caption, she wrote: "The @sisstrevolution pieces (and weekender bag) I've been living in lately. Flawlessly mixing and matching all the comfiest outfits. Sisstr Evolution is available at @visslasurf Siargao, Philippines!"
Celebrities such as Jessy Mendiola, Valeen Montenegro, Sugar Mercado, Karel Marquez, and Jenny Miller expressed their unwavering support by leaving comments and emojis on Andi's post.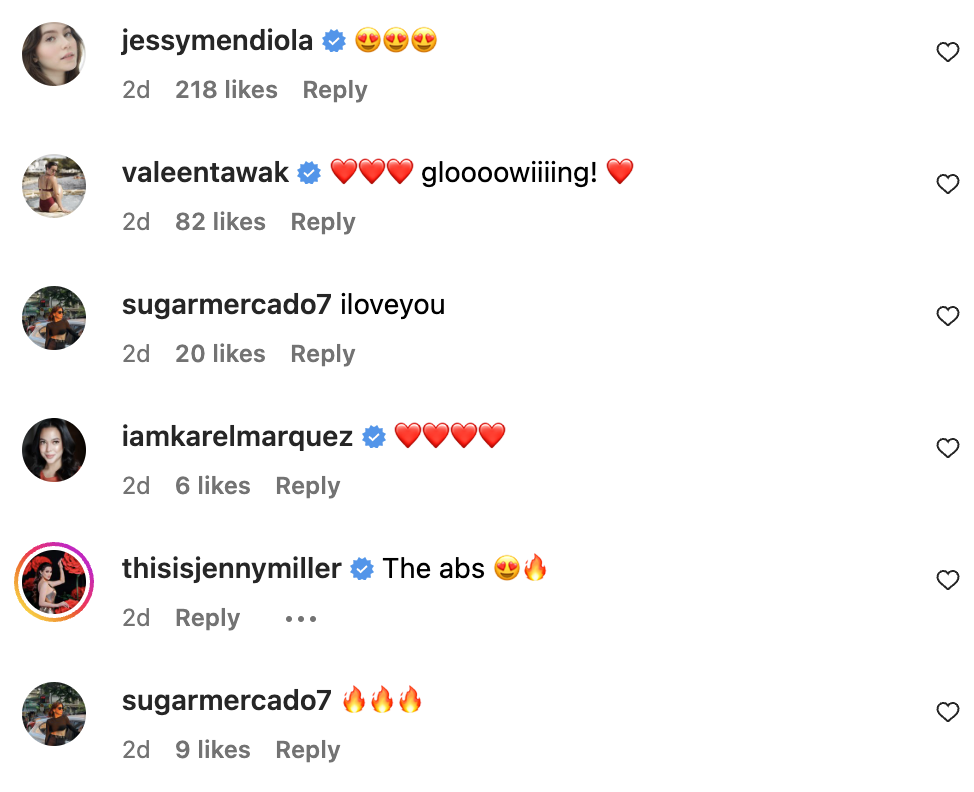 Netizens also commended Andi for her powerful reminder that stretch marks are a normal part of life.
Instagram user @ms.dy_ingco wrote, "Love those stretchmarks [emoji] thank you for showing that. It reminds Moms like me that it's normal, it's okay, it's natural, and we can wear it proud. [emojis]"

Instagram user phr_ic_cdelara commented, "Real beauty with a real body [emoji] embracing motherhood is love [emojis]"

Meanwhile, @louverp added, "Her realness is just so unreal in this times full of pretentions. I sooooo f* loooove it!!!! [emojis]"

DEALING WITH STRETCH MARKS
Andi has previously showcased her stretch marks on Instagram, displaying fearlessness in embracing them.
In a post on May 2020, she openly admitted that she doesn't shy away from flaunting them on social media and made it clear that she doesn't try to erase them.
For Andi, these marks serve as a constant reminder of the incredible strength and beauty of a woman's body.
Her full post read: "I often get questions about how I got rid of my stretch marks. I don't know why because as you can see in this photo (just like in a couple of others), I never did!
"With consistent, exercise, eating healthy, and some trusty argain oil, I believe it improved over time, but I'm aware that it will never actually go away.
"Maybe with the right angle and good lighting, (or with a super cute distraction like the one Im carrying here LOL), it sometimes seems like it isn't there.
"but I've had them since having Ellie, and I know that as much as they may become less obvious over time, they will never really go away.
"But just because we have these belly marks, doesn't mean we aren't allow to wear your favorite cropped tops and bikinis anymore!
"I've grown to be more comfortable and proud of them because hey!
"This body has done amazing things. It carried my 2 beautiful girls for 9 months, and gave birth to them safely too! I hope you guys will realise that too [emojis]
READ MORE: