Thai billionaire Anne Jakrajutatip, popularly known as Anne JKN, is leading the Miss Universe Organization into venturing beyond its traditional pageantry domain, embarking on a new business endeavor under the "M*U" brand.
In a significant move, M*U unveiled its beverage and skin-care line in Thailand, the home country of Anne JKN, in July 2023.
M*U's beverage line-up features two main drinks: M*U NØR Natural Alkaline Mineral Water and M*U functional beverages. These are designed in line with the organization's core values of "empowering women to realize their ambition and build self-confidence as a catalyst for future success."
Meanwhile, the M*U skin-care line introduces an array of nine products that aim to "uplift, empower, and inspire women to embrace their truest selves" in line with the message "Every Moment, Beautifully Confident."
For the skin-care business, Miss Universe's Anne JKN (middle) joined forces with entrepreneur Raul Rocha (right) and Los Angeles-based Filipina businesswoman Olivia Quido-Co (left).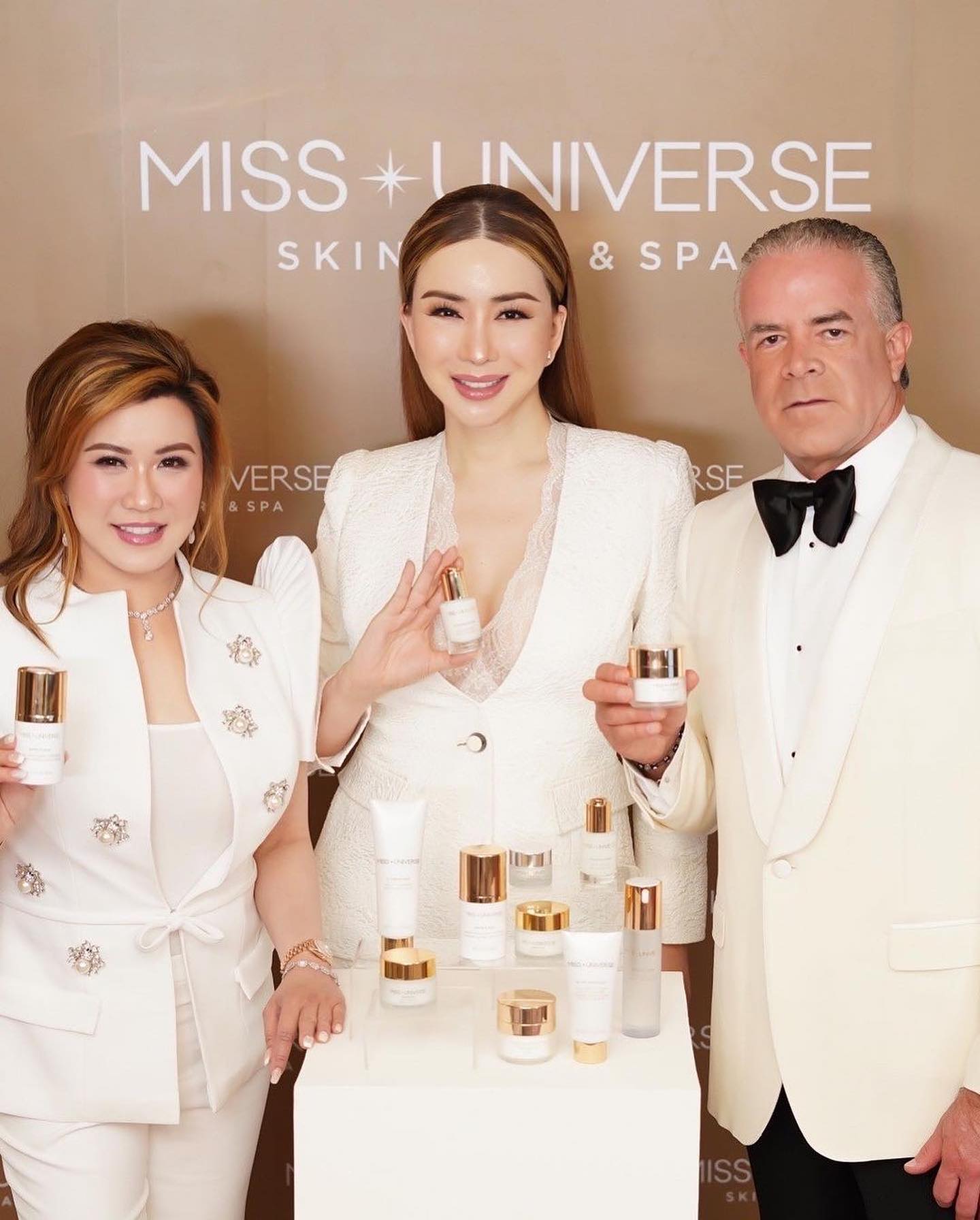 Olivia now assumes the vital role of President and CEO of the M*U Skincare and Spa brand, after being a longstanding skin-care partner for the pageant and serving as a judge during its 71st edition in January 2023.
During the soft launch of the skin-care line held on Saturday, July 29, 2023, at Astoria Hotel in Pasig City, Olivia had an opportunity to meet with select members of the press and divulge further details about Miss Universe's new project.
Given her eponymous skin-care line, Olivia was questioned about the distinctions between this new venture and her existing brand.
Olivia explained that the M*U skincare line offers significantly more affordable options compared to her own brand, while still ensuring the use of high-quality ingredients.
She said, "Yung O Skin, prestige line, mas pricey siya...
"Pero ito, available iyan on a not-mass price. And also, ang excited ako diyan is yung sizes niya, kasi sa Olivia Quido products malalaki.
"Eto, this is the perfect size para ma-enjoy natin sa pang-masa."
Additionally, Olivia pointed out that the products are thoughtfully formulated to suit all skin types, acknowledging the brand's global reach and diverse fan base.
"It's for everyone in the universe," Olivia said.
She continued, "Yung what I had in mind nung pinu-formulate ko yung Miss Universe Skincare is a global mindset.
"When I'm doing like a beauty talk sa lahat ng beauty queens na 95 countries, inisip ko ay may African-American skin, may gano'n na skin, may Latina.
"So, eto binagay ko para sa lahat ng skin types."
MISS UNIVERSE SKIN CARE
With a sense of pride, Olivia revealed that the M*U skin-care line underwent a year of meticulous processes and trials before the decision was made to launch it.
Each of the nine products is meticulously crafted from a curated selection of seven premium natural ingredients, sourced from each of the seven continents. This unique combination is aptly named M*U7C+ or Miss Universe Seven Continents Plus.
Olivia revealed she personally sourced each of the ingredients during her travels around the world.
"I globally sourced the product. So ibig sabihin kasi, makikita ng ating mga followers that I always travel.
"I travel not only because I want to see places, but I source out [products] na, 'Okay, o ang ganda ng ingredient na ito galing sa Paris, meron naman ito galing sa Asia.'
"So pinag-combine ko lahat ng best of the best, sinama ko dito sa skin-care line na ito."
The seven ingredients under M*U7C+ are Asian Tea Olive, Africa's Baobab Extract, North America's Aphanizomenon-flos-aquae (AFA), South America's Acai Fruit Extract, Antartica's Lichen Extract, Europe's Snow Algae, and Australia's Eucalyptus Extract.
Olivia emphasized that the fusion of these ingredients yields remarkable brightening and anti-aging results.
She said, "All of those ingredients lighten the skin, remove lines and wrinkles in just a couple of use. We have products that you will see a difference overnight. So I'm very excited about that."
MISS UNIVERSE SPA
In addition to spearheading the skin-care line, Olivia is actively involved in establishing the inaugural M*U Spa. The first branch will be located in Miami, Florida.
Olivia envisions the spa offering top-of-the-line beauty treatments, and plans to make it available for franchising in various countries, including the Philippines.
She said, "I'm very excited because it's going to be a franchise. So it's called Miss Universe Spa. Ang ating first branch will be in Miami, Florida.
"And then marami rin kami inquiry sa iba-ibang bansa na... Mayroon din ako dalawang inquiry sa Pilipinas na gusto nilang magtayo.
"So available ang Miss Universe skin care for distributorship, partnership, and also partnership sa franchise sa spa.
"Mayroon na kami inquiry sa Asia, nagkakaroon na rin kami ng inquiry soon sa Latin America.
"So I'm very excited about that. Mamimili na lang kami ng right partners."
The highly-anticipated grand launch of the M*U skincare is scheduled for September 2023 at a beauty convention in Turkiye.
Customers worldwide can access the products through missuniverseskincare.com, starting from November 2023, just in time for the pageant.
At press time, there are no specific details available regarding the opening date of the first M*U Spa.
READ MORE: