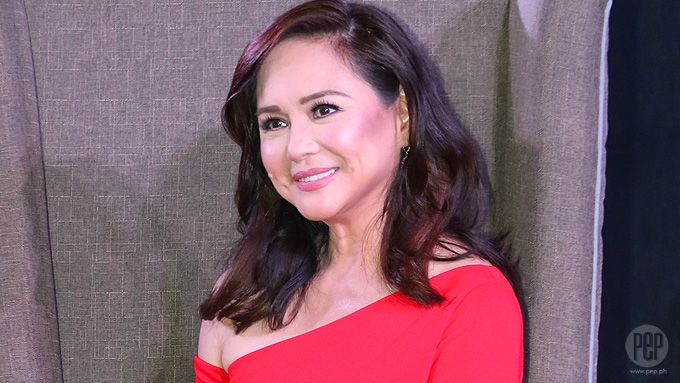 ---
Charo Santos-Concio is known today as one of the most influential women in showbiz.
And even if she's already in her "serene sixties," the former president of ABS-CBN continues to be part of the industry she has loved for almost four decades.
Aside from her comeback film with director Lav Diaz and fellow Kapamilya John Lloyd Cruz, she is currently the newest ambassador of Olay, her first-ever beauty product endorsement.
Does she still feel nervous each time she has a new endeavor?
In a short interview with a few members of the press at the Shangri-La at the Fort on June 15, she admitted, "Fear is there, you have to honor that.
"I mean, I think I will not be human anymore if I don't feel that.
"But the challenge is always to transcend fear.
"That's also journey that one should take. You honor fear, you acknowledge it, but after that, don't dwell on it.
ADVERTISEMENT - CONTINUE READING BELOW
"Don't allow it to paralyze you, so you transcend that. Go for it. Go for whatever you want to pursue.
"If you fail, pick up the lessons and become better."
When asked what kind of Charo had emerged from her years as the top network executive, she promptly answered, "I think I'm the same person.
"I'm still that simple person who grew up in the islands of Mindoro, who would forever be shy and would forever be hesitant to face crowds.
"I think she's the same person who had inner courage since she was a small child."
HOW YOUNG WOMEN ARE TODAY. For Charo, women these days are no longer limited by the gender stereotypes of society as much as before.
She mused, "They are a lot more expressive about their opinion, about their ideas, 'di ba?
"I think there's a lot more opportunity, the world is a lot more open to listening to other points of view.
ADVERTISEMENT - CONTINUE READING BELOW
"The world has become less judgemental, so I want to think the world is more compassionate and more understanding of other points of views and so, it's great to be young at this time."