Four showbiz personalities are trying their luck at Miss World Philippines 2018.
Two of them are pageant first-timers, and each of the other two already holds a title.
One of the titleholders is former Miss Intercontinental Katarina Rodriguez.
The 26-year-old beauty queen told PEP.ph (Philippine Entertainment Portal), "This is my last time to compete in a pageant and I'm only eligible for Miss World.
The chat took place after the official presentation of the pageant's candidates last September 11, at The Vestibule Bar in Resorts World Manila.
Even with her experience as a candidate for Binibining Pilipinas and later for Miss Intercontinental 2017, Katarina described Miss World Philippines to be "the most tedious one."
She related, "Not only do you have to be beautiful—the hair and makeup, the pasarela, the body.
"There's also the sports section, so that means you have to strong.
"You cannot just look good, you actually have to be physically fit.
"Aside from that, they heavily weigh on the beauty with a purpose, and I absolutely admire that about Miss World. It's really why I joined pageantry.
"I didn't join to conquer the world, I joined to help the world—help make the world a better place."
Her advocacy?
Katarina revealed, "I'm focusing on the young women in Marawi who are sexually and mentally abused. This happened during the war and this is happening now at the evacuation centers.
"Most people forgot about Marawi, but what they don't understand is that Marawi has to rebuild itself…
"My lolo, he goes back and forth and he tells me stories about what's happening. He shows me photos of the girls there—as young as sevem years old
"It'd like to bring this to the forefront of social media's attention, and I'd like to find a way to help these girls get over that experience…"
View this post on Instagram
Another beauty queen in the roster is Miss Earth-Air 2017 Kim De Guzman.
"To be honest, I've always dreamed of becoming a beauty queen and, last year, I tried my luck in Miss Earth Philippines. Right now, I want to try and compete internationally," the former Pinoy Big Brother housemate told PEP.ph.
"I'm currently the ambassador of Project Anak, and I want to take that internationally.
"I've been helping these kids from Zambales to get education, food, and medicine.
"Miss World is perfect for that."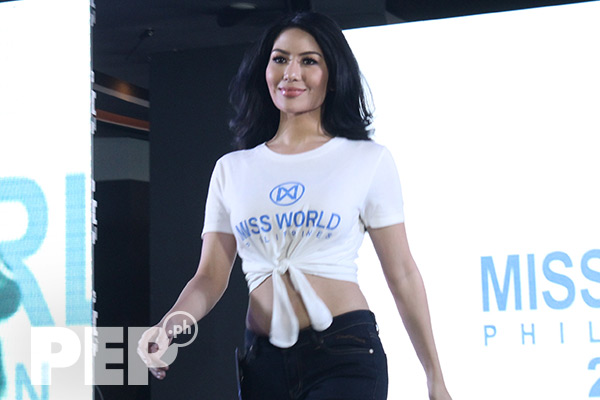 Meanwhile, Chanel Morales and Alyssa Muhlach are making their pageant debuts in Miss World Philippines 2018.
"I've been a fan of beauty pageants ever since I was a little kid," Chanel told PEP.ph in a quick one-on-one chat.
"I've been in the showbiz industry for six years and sa pageantry, it's really my first time. Even back in Bacolod, never.
"...I really want to do something different, different from showbiz.
"I want my life to be something of purpose [and] I know that Miss World and its organization is actually doing a lot of things that help young girls create a change in our society."
Going through her first pageant experience, Chanel admitted she lacked a few attributes of a beauty queen.
"A lot of people really expected so much from you. First, the image of a beauty queen—you should be tall, slim, and slender, and all that—but at the same time, I really didn't focus on that," she said.
Instead, Chanel chose to focus on her advocacy, "which is to help the elderly, the one abandoned by their families."
She continued, "I'm actually helping a small community in Bacolod...
"Beauty with a purpose, that is something different and close to my heart...
"That is something new to me and something different to me that interests me at the time.
"I really want to be a part of it, that's why I joined."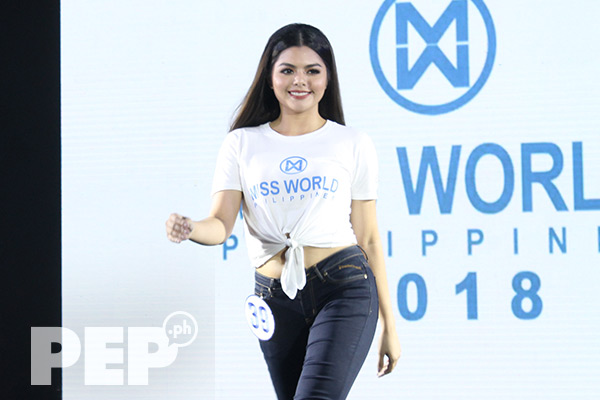 For Alyssa's part, she was also moved by the organization's slogan of "Beauty with a purpose."
The daughter of Bong Alvarez and Almira Muhlach remarked, "I wanna be able to help other people and to be of service to other people, and that's why I joined Miss World Philippines."
The 22-year-old singer currently works with Gentle Hands Inc., a charity that helps abused, abandoned, and neglected children.
"Growing up, I'm sure PEP.ph knows what kind of circumstances I had to grow up in," she resumed.
"I want to be able to empower and help other children and inspire them that you know it doesn't matter what you've been through. I mean, you can use that as a motivation to make better decisions in the future.
"This beauty pageant experience for me is really focusing on other people."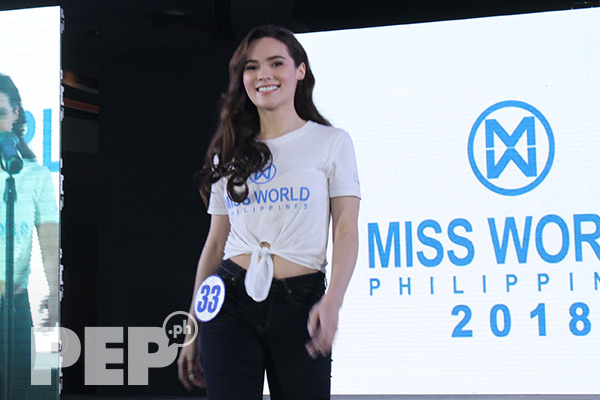 THE CANDIDATES
Here are the rest of the aspiring beauty queen competing for the Miss World Philippines 2018 crown titles.
(Top row) Candidate #1 Erica Larkins, Candidate #2 Jigg Kirsty; (bottom row) Candidate #3 Barmae Chua, and Candidate #4 Inna Penales
View this post on Instagram
(Bottom row) Candidate #5 Kim De Guzman, Candidate #6 Danica Reynes, (top row) Candidate #7 Angeline Santos, and Candidate #8 Pauline Deveraturda
View this post on Instagram
(Top row) Candidate #9 Arienne Calingo, Candidate #10 Paulina Labayo; (bottom row) Candidate #11 Pearl Hung, and Candidate #12 Neesha Murjani
View this post on Instagram
(Top row) Candidate #13 Mich Oliva, 24, Candidate #14 Monique Cuyugan Tuzon; (bottom row) Candidate #15 Maisa Llanes, and Candidate #16 Maureen Montage
View this post on Instagram
(Top row) Candidate #17 Divine Veranga, Candidate #18 KJ Cudiamat; (bottom row) Candidate #19 Jerelleen Alix Rodriguez, and Candidate #20 Angelica Estrevillo
View this post on Instagram
(Top row) Candidate #21 Annalita Vizcarra, Candidate #22 Elaiza Alzona; (bottom row) Candidate #23 Marianne Marquez, Candidate #24 Eiffel Rosalita
View this post on Instagram
(Top row) Candidate #25 Crystal Velasco Freedman, Candidate #26 Joemay Leo; (bottom row) Candidate #27 Katarina Rodriguez, and Candidate #28 Abby Dizor
View this post on Instagram
(Top row) Candidate #29 MJ Boniao, Candidate #30 Rose Marie Murphy; (bottom row) Candidate #31 Cleopatra Jones, and Candidate #32 Kylah Sanchez
View this post on Instagram
(Top row) Candidate #33 Alyssa Muhlach Alvarez, Candidate #34 Denielle Magno; (bottom row) Candidate #35 Kimi Mugford, Candidate #36 Crissia Del Atienza
View this post on Instagram
(Top row) Candidate #37 Gianna Llanes, Candidate #38 Katrina Zayas Acaylar; (bottom row) #39 Chanel Morales, and Candidate #40 Tammy Caballero
View this post on Instagram