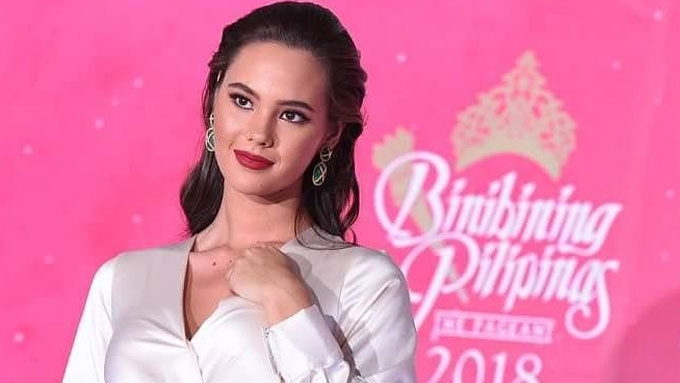 ---
Catriona Gray had exactly nine months to prepare for her international pageant since she was crowned Miss Universe Philippines 2018 last March 19, 2018.
In three weeks, the much-awaited 2018 Miss Universe pageant will hail its newest queen in Bangkok, Thailand.
In November 25 episode of Bottomline, the Filipina beauty queen revealed her preparations for the major beauty pageant.
The interview, along with other panelists including Miss Grand International Philippines 2016 Nicole Cordoves, doubled as Catriona's question-and-answer coaching session where host Boy Abunda taught her tips and tricks in composing powerful statements.
At one point, the 26-year-old Bicolana beauty was asked how prepared she is for Miss Universe 2018, on a scale of one to ten.
Catriona said that she's "9.9" ready explaining that she has done everything she could for the whole contest.
She explained, "By the usual standards of Miss Universe, you're only required to do certain things—to have a gown, to do preliminaries, to do evening gown, interview.
ADVERTISEMENT - CONTINUE READING BELOW
"But guys, I've gone above and beyond...
"It hasn't come out yet, it's coming out this month and next month, but I've gone above and beyond with my team because I just...I wanted to do that.
"Like with nine months under my belt, my creative style...what can I do?
"So my national costume, different aspects are done in a different way, and I've really put effort.
"So just that extra effort on top of what is expected of me...
She admitted that there's a great pressure "that comes with the Philippines sash."
Given her team's efforts, Catriona said she's "expecting exactly what I put in, so if I'm rewarded for the effort of my performance, then I'll be happy."
But how exactly did she prepare for her Miss Universe 2018 stint?
1. She formed her own team.
Known to many, Catriona used to train with Aces and Queens for her Miss World 2016 stint.
ADVERTISEMENT - CONTINUE READING BELOW
It was the same camp that trained Miss Universe 2015 Pia Wurtzbach.
But for Bb. Pilipinas, and now for Miss Universe, she opted to go independent.
During her interview with Boy, Catriona said that creating her own team was by far the "best decision" she made.
"I mean instead of having a focus on multiple girls, I got undivided focus from a team of people that I chose myself, so I was allowed to be as creative and in that way I can surround myself with the core team," she said.
(L-R) Ardel Presentacion, stylist Andrea Aliman, Jolo Luarca, Jojo Bragais, and Carlos Buendia (not in photo).
2. She spent time getting to know more about her country.
Catriona's love for traveling came in handy as she tried to rediscover the beauty of the country that she is representing.
"I wanted to represent the authentic Filipino culture so I traveled and I researched.
ADVERTISEMENT - CONTINUE READING BELOW
"I asked questions because I wanted to step out on the international stage.
"And I wanted to just showcase our culture in a way that maybe one Filipino be like, 'Wow, that makes me proud,' and another Filipino would be like, 'I never knew that about our culture, how amazing.'
"So that's what I'm doing," she also pointed out.
Catriona was very hands-on with every detail.
"I took the task of making my national costume very seriously."
Before leaving for Bangkok, she tickled everyone's curiosity when she posted on her Instagram Story a photo of a huge cabinet containing her costume.
3. She got a quick beauty fix.
Catriona had a non-invasive treatment called Thermage, which can smoothen, tighten, and contour skin, making it younger-looking.
READ MORE STORIES ON MISS UNIVERSE 2018 HERE:
Catriona Gray winning moments at Miss Universe 2018
Miss Universe celebrates victory of Miss Spain Angela Ponce
FIRST LOOK: Catriona Gray's Mayon-inspired evening gown at Miss Universe 2018
ADVERTISEMENT - CONTINUE READING BELOW
Vice Ganda, Bianca Gonzalez show support for Catriona Gray's Miss Universe bid
Catriona Gray enters Top 20 of Miss Universe 2018
Catriona Gray designed the earrings she wore at Miss Universe 2018 prelims
Miss Universe 2018: PEP.ph's Top 20 picks
Tyra Banks tweets about Pinoy power in praise of Catriona Gray: "Pinoy Power to the Max!!!"
Pia Wurtzbach: "Praying for Catriona to win Miss Universe!"
Mariel de Leon confident Catriona Gray will be the next Miss Universe
Miss USA apologizes amidst bullying allegations
Miss Universe Philippines 2018 Catriona Gray to Pinoys: "Laban tayo!"
Anne Curtis, Kim Chiu cheer on Catriona Gray after Miss Universe prelims
DOT helps Miss Universe Philippines 2018 Catriona Gray make videos showcasing Philippine heritage
Miss Universe 2018 candidates under fire for alleged bullying incident
Catriona Gray explains national costume mishap
Rachel Peters positive Catriona Gray is out to win Miss Universe 2018
Canadian beauty queen Marta Magdalena Stepien to wear Michael Cinco at Miss Universe 2018
ADVERTISEMENT - CONTINUE READING BELOW
Miss Universe accepts trans woman Angela Ponce of Spain as official candidate
Catriona Gray reveals preparations for Miss Universe Q&A segment
15 evening gown standouts at Miss Universe 2018 prelims
Catriona Gray's slow-mo turn at Miss Universe 2018 leaves netizens in awe
Catriona Gray does own hair and makeup for Miss Universe 2018 preliminaries
Filipino gowns on display at Miss Universe 2018 preliminaries
Catriona Gray gives stunning performance at Miss Universe 2018 preliminaries
Catriona Gray's national costume at Miss Universe 2018 is called LuzViMinda
FIRST LOOK: Catriona Gray's national costume at Miss Universe 2018
15 Miss Universe 2018 candidates most followed on Instagram
This interview with Miss Universe 2018 candidates is totally laugh-out-loud
Catriona Gray champions Filipino fashion at Miss Universe 2018
Catriona Gray is '9.9' ready for Miss Universe 2018
Catriona Gray wows in Thai-inspired jumpsuit; arrives in Bangkok for Miss Universe 2018
Canadian beauty queen Marta Magdalena Stepien to wear Michael Cinco at Miss Universe 2018
Catriona Gray explores Thailand ahead of Miss Universe 2018 announcement
ADVERTISEMENT - CONTINUE READING BELOW