Considered one of the loveliest stars of her generation, Liza Soberano has a face that makes you want to give her a second look.
What's more captivating about her, though, is her personality that radiates simplicity, generosity, and kindness.
Indeed, the Kapamilya actress has proven to be the personification of true beauty. This kind of beauty goes beyond looks as well.
Here are five times she shows that she's beautiful inside out:
1. Opting for charity instead of a big debut party
A week before she turned 18 last January 4, instead of throwing a lavish party, Liza visited four charitable institutions as her way of celebrating her birthday.
She brought food, gifts, and joy to the elderly at the Anawim Lay Missions Foundation, the orphaned children at Gentle Hands Organization, the children with special needs at Chosen Children Village Foundation, and the breast cancer patients at I Can Serve Foundation.
Her loved ones still threw her a surprise boho-themed bash in Batangas last January 3.
2. Slaying the red carpet and many magazine covers
Liza's stunning good looks make her a photographer's dream subject and an onlooker's object of admiration. It's small wonder then that she took home the Best Dressed Award at the recent Star Magic Ball.
3. Foreign artists crushing on her
Liza's looks are truly world-class.
James McVey, lead guitarist of the British pop band The Vamps, called Liza "so lovely" on his Instagram post after meeting her during a guest appearance on ASAP on February 2015.
American singer-songwriter Charlie Puth asked the Fil-Am actress on Twitter, "You coming tonight?" when he had a concert here last August.
Canadian pop superstar Justin Bieber even followed her on Twitter.
4. Loving her family unconditionally
On June 2015, Liza and Enrique Gil attended the opening of the North America screenings of their first starring movie Just The Way You Are in San Francisco, California. 
She also met up with her American mother Jacqulyn Hanley and her siblings, whom she had not seen for seven years. It turned out to be a heartfelt reunion for them and a fun-filled bonding time, too.
5. Having a soft spot for children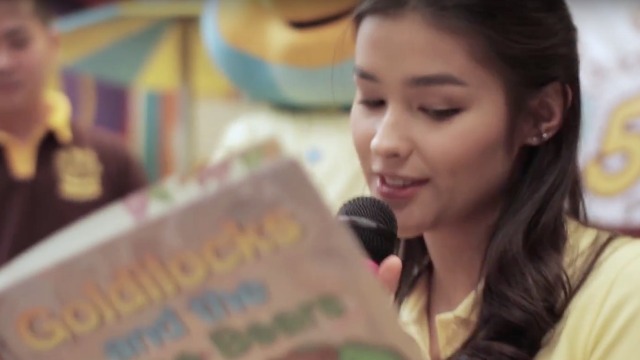 Liza took time off from her busy schedule to read Goldilocks and the Three Bears to the kids from the Chosen Children Village Foundation.
This happened during an event in line with the 50th anniversary of the bakeshop chain Goldilocks.
Liza also distributed copies of the storybook to those children with special needs and gave a surprise to one lucky boy named Michael.
"I like surprising children, especially children with specific needs, because they deserve it," she said at the gathering held at the Goldilocks Cake City events place in Mandaluyong City.
"I think it's something that they will remember and take with them for a lifetime. I just hope they enjoyed this day," she adds.
Check out what happened during this meaningful celebration: