You're never too young to start preventive measures against wrinkles, dark spots, and dry skin. Depending on what your objective is and which skin issues you're prone to, a good skin-care regimen is the key to keeping your skin looking smoother and your complexion more even.
If you haven't already found your perfect skin-care routine, here's how to get started:
STEP 1: WASH YOUR FACE PROPERLY.
According to the American Academy of Dermatology, the way you wash your face is as important as washing it. Cleanse your face twice a day using a mild cleanser and avoid scrubbing your face vigorously. Use gentle strokes in an upward motion to avoid pulling on the skin.
STEP 2: APPLY MOISTURIZER—NO MATTER YOUR SKIN TYPE.
Skin loses moisture as time goes by, which makes you more prone to wrinkles. If your skin is on the dry side, you may have to moisturize every morning and night. But if you have oily skin, you can apply moisturizer before bed to avoid getting oily during the day.
STEP 3: USE SUNBLOCK AND AVOID DIRECT SUN EXPOSURE.
According to experts, dark spots are caused by too much exposure to the sun and UV rays. To prevent them from forming, use a broad spectrum sunblock formulated for the face with an SPF level of at least 30. "Broad spectrum" means the product you're using protects you from both the harmful UVB and UVA rays.
Another tip: If you're going outside, particularly at times when the sun is at its harshest, wear a hat or use an umbrella—and remember to slather on the sunscreen!
STEP 4: OBSERVE YOUR SKIN.
Different skin types need different products and different routines. Be extra observant and take the time to check how your skin reacts to the products you use. If you have skin issues that require a professional eye, be open to consulting a licensed dermatologist. He or she can help you find the right skin-care routine and the products that will work best with your skin type.
STEP 5: TAKE VITAMINS OR SUPPLEMENTS.
Vitamins and supplements aren't just for growing children. Some have antioxidants that help address wrinkles and the effects of sun damage. Astaxanthin is an antioxidant that helps reduce fine lines and lighten dark spots. It also helps promote the production of collagen, which is needed to keep the skin firm and elastic.
Armed with the best products and a proper skin-care routine, you can help keep your skin looking beautiful no matter your age.
MAHALAGANG PAALALA: ANG MYRA ULTIMATE AY HINDI GAMOT AT
HINDI DAPAT GAMITING PANGGAMOT SA ANUMANG URI NG SAKIT.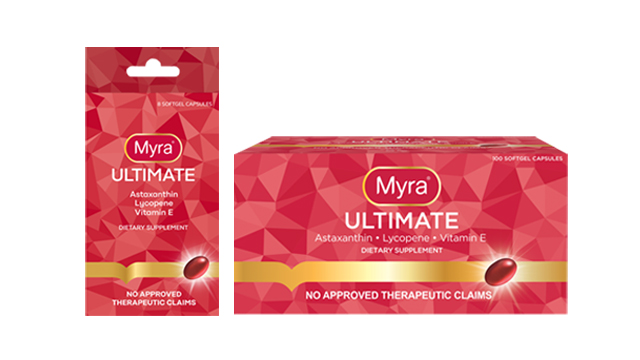 Myra Ultimate is available now at leading drugstores nationwide for PHP20 SRP (per capsule).
For more information, visit the Myra Ultimate website.
ASC REFERENCE CODE: U011I042419M
Read the story? Tell us what you think!
How and where can I get this?