The hosts of Boys' Night Out (B.N.O.) on FM station Magic 89.9 had a field day when the ElNella love team came by for a visit last July 3.
ElNella, known separately as Elmo Magalona and Janella Salvador, was very game despite the rowdy antics of the B.N.O. hosts, Jojo "The Love Survivor," and DJ Suzy.  
Jojo had been teased mercilessly by his co-hosts about his crush on Janella.  
But the boys tried to diffuse the situation by saying that Janella "has been dying to guest on this show and that she listens to B.N.O. because of Jojo."
Jojo swooned with kilig. 
As they started to simultaneously talk about trying to get the attention of one's crush, the question of how a crush starts came up. 
Sam YG asked, "How do you break the ice? Working with your crush all day long, katakot. 'Di mo masabi kasi kakabahan ka."
Elmo and Janella then got asked how they handled their close encounters with each other, which their work as a love team required.
Elmo admitted, "At first, it started really awkward for the both of us."
Janella added, "We started na we didn't know each other."
Elmo revealed, "I am a shy person, so I tend to get awkward with people around me. Ako kasi, kung may type ako, I am a nice guy to everyone. I don't try to overimpress. 'Di ako ganoon."
He recalled their first meeting, "We saw each other for a press con and meeting for our soap."
Janella added, "We had just met each other, then we had to go meet other people already."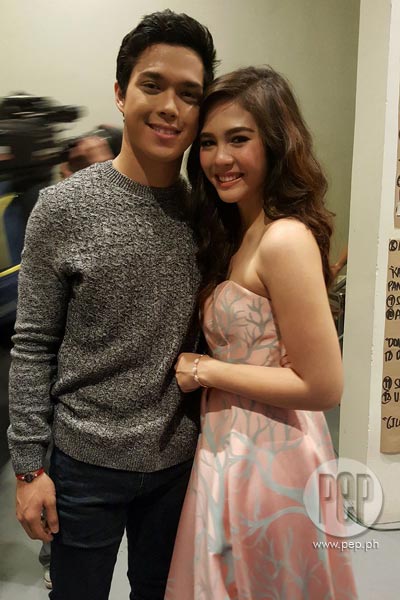 Elmo said, "It was very awkward from the first moment that we met each other. The good thing is, it was easy for us to work with each other. 
"We were both, after meeting each other, we both got comfortable."
According to Janella, spending time together helped them get closer to each other: "When we got to talk for a long time, after that we didn't have a hard time. We are both shy kasi."
Elmo felt that connected them even more: "For me, when she told me she's shy, you really just get shy when you are with someone you like."
To get comfortable around each other, looking for common ground wasn't enough. 
Elmo also saw the value of being always ready with their dental and hygiene kits especially when they have distant taping locations.
One of their must-haves is Closeup Ever Fresh toothpaste. "It now lasts longer," Elmo said.
Janella agreed, "Yes, the freshness lasts up to 12 hours."
Elmo added, "Kasi it comes with mouthwash."
It's one less thing to think about, so you can focus on what matters more, like getting closer than ever to your crush.
Website
https://goo.gl/rYwxm5
Read the story? Tell us what you think!
How and where can I get this?