Skin care shouldn't take a back seat these days just because everyone is spending most of their time at home.
Many would agree that these last couple of months have been particularly stressful and challenging. And stress knows no boundaries. It even plays a big role in a person's health, including the overall condition of their skin.
Actresses Liza Soberano and Yassi Pressman have continued making their skin-care routines a priority during the quarantine. They believe that kind of care they give their skin every single day affects how healthy it will be — and all of that starts with the brand and products they choose.
Here are three skin-care essentials — including specific recommendations from Liza and Yassi — to help ladies look blooming:
1. A FACIAL CLEANSER WITH ANTIOXIDANTS TO HELP GIVE YOU A GLOW
To achieve glowing, healthy-looking skin on your face, you need to be particular about your cleanser. Look for a product that has ingredients that go beyond cleansing and caring for the skin.
Liza Soberano, for example, uses NIVEA Fair & Glow MicellAIR Cleanser 0% Alcohol as a face cleanser, a makeup remover, and a toner. It has antioxidants from Hokkaido rose extract to help keep the skin look healthy and glowing, with regular use. Made with 0% alcohol and advanced micellar technology, this micellar water effectively cleanses Liza's face without drying it out.
NIVEA Fair & Glow MicellAIR Cleanser 0% Alcohol also has 36 times more antioxidants than grapefruit to help make the skin look radiant while effectively cleansing the face.
Additional tip: Use this cleanser together with NIVEA Fair & Glow Whip Foam 0% Alcohol to help achieve glowing, healthy-looking skin.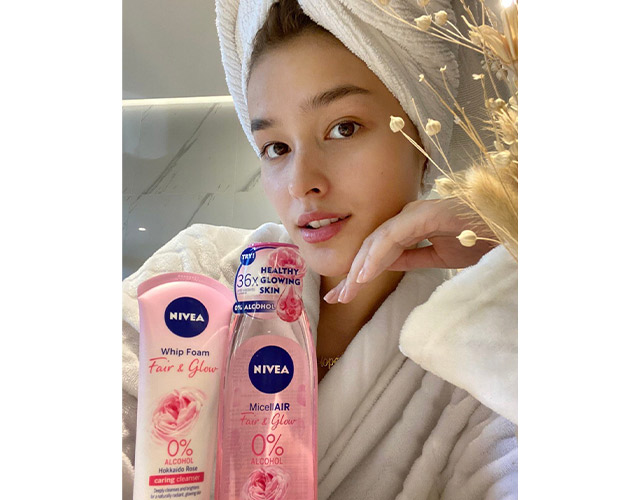 2. A DEO THAT HELPS BRIGHTEN AND KEEP PITS SMELLING FRESH
Dark underarms can be a sore point for some ladies. This is why finding a deodorant that can help naturally brighten these areas while keeping you smelling good is a must—quarantine or no quarantine.
Yassi Pressman's choice of deo does this and more. The teleserye star has been using her latest find, NIVEA Whitening Hokkaido Rose Deo Essence 0% Alcohol, during the lockdown.
Along with 36-times more antioxidants (compared to grapefruit) from Hokkaido rose extract, this deo also contains licorice and Vitamin E from avocado oil to help brighten the underarms naturally, with regular use. It also has 48-hour sweat and odor protection, helping active ladies like Yassi stay and smell fresh.
In addition to the soft, floral scent of Hokkaido rose, this deo essence also comes in the sweet scent of Sakura.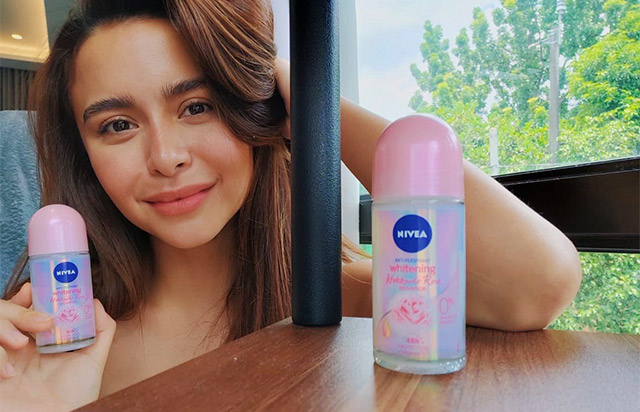 3. A BODY LOTION THAT HELPS YOU STAY COOL WITHOUT THE LAGKIT
Want glowing, healthy-looking skin all throughout your body? Use a body lotion that feels cool and comfortable on the skin, and, at the same time, helps protect and nourish it.
NIVEA Body Healthy Glow Cooling UV Lotion feels light, not malagkit, and cool on the skin thanks to its Cool Air Technology. It has 95-percent pure Vitamin C to help brighten and even out the skin, lotus extract to help improve elasticity, and a UV filter to protect the skin from ultraviolet rays and prevent re-darkening after two weeks of regular use.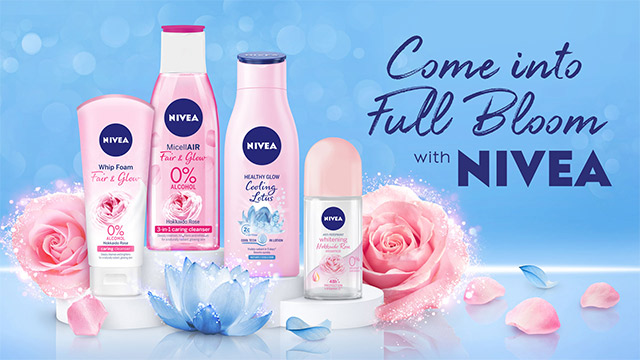 #ComeIntoFullBloom like Liza Soberano and Yassi Pressman with NIVEA. Follow NIVEA Philippines on Facebook and Instagram for more updates.
ASC REFERENCE CODE: B055N121820NS
Follow NIVEA
Website
https://www.nivea.ph
Read the story? Tell us what you think!
How and where can I get this?