It's easy to lose track of yourself in this fast-paced world, particularly if you're someone who juggles family and career responsibilities daily. Remember that self-care should be a priority, too. It doesn't have to be expensive or take too much of your time. In fact, it can be as simple as adding an extra step to your morning beauty routine, like using the right product to keep your skin in tiptop shape.
Silka's new Premium Moisturizing Milk Lotion (SRP: P137 for the 200 ml bottle) will help keep your skin looking youthful and at the same time protect it from premature skin aging. Here's how:
1. IT HELPS KEEP YOUR SKIN SOFT AND MOISTURIZED.
Dry skin makes you look dull and lifeless, and can also be a cause of wrinkles. Remember to slather lotion on your body after your shower, day and night. If you feel you have drier patches of skin midday, reapply as needed. The Silka Premium Moisturizing Milk Lotion is enriched with avocado oil to help moisturize the skin. It absorbs easily so your skin is hydrated with little effort.
2. IT HELPS LIGHTEN AND EVEN OUT YOUR SKIN TONE.
It's not enough to use products that help lighten your skin, you should also consider using ones that help even out dark spots. Silka developed this product to help you achieve a lighter and more even skin tone in about a week.
3. IT SERVES AS YOUR DAILY, GO-TO SUNSCREEN.
Let's face it: Most of you may be guilty of foregoing sunscreen—something you ought to change because you live in a country where you're exposed to the sun most of the time. One commandment of a good skincare routine is to use sunblock daily. The Silka Premium Moisturizing Milk Lotion has SPF 23 that will help protect you from the sun's harmful rays.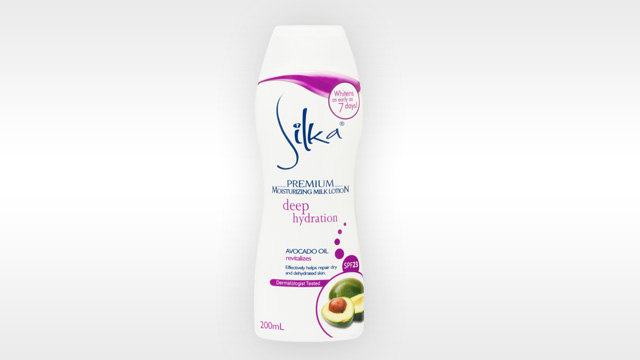 Be more discerning when picking products that you'll use for your daily beauty routine. Make sure to pick ones that provide the benefits that will help you look more youthful with as little fuss as possible.
To know more about Silka Premium Moisturizing Milk Lotion, follow Silka on Facebook.
Read the story? Tell us what you think!
How and where can I get this?