Have you been hopping from one hotel ballroom to another in search of that dreamy wedding venue?
If you still haven't found a place that makes both of your hearts flutter, maybe you and your fiancé should consider going beyond what the city has to offer.
There are many other wedding venues in the Philippines that come with insanely breathtaking views (thank you, 7,107 islands!).
The other great thing is when you've got a picturesque view, you'll need little decorations, and you can put that wedding décor budget somewhere else!
That said, it could help you to hire a local coordinator or someone who has worked on the venue and is familiar with the setup.
"Get ready for a lot of back and forth to the place if you're not hiring a full coordinator," one bride shared in a previous article.
From a scenic hilltop in Bataan to a cozy lodge in Baguio that overlooks the mountains, these destinations that are far from the city make the celebration feel a lot more special, and they may just be exactly you've been looking for.
Check out these swoon-worthy venues below:
Basco Lighthouse, Batanes
Couples don't need to fly off to New Zealand for otherworldly views.
Way up on the Northern tip of the Philippines, with its rolling hills, stone houses, limestone cliffs, and clear blue waters, Batanes province isn't like any other.
It will certainly be a local wedding destination that you and your guests won't forget.
Don't know where to begin?
Start your ocular visits at a popular reception venue: the Basco Lighthouse.
Perched on top of a hill called Naidi, the lighthouse itself already serves as a picture-perfect backdrop for your obligatory photos, but you'll fall even harder as you check out its garden area, which boasts an overlooking view of the ocean.
It makes for a romantic spot to hold an al fresco wedding reception, especially since it's also one of the best seats to catch the sunset in Bataan.
Because it's a remote place, this is an ideal venue if you plan to host a cozy, intimate gathering where your nearest and dearest can just have fun, lose themselves in nature, and forget about the city life (for a moment).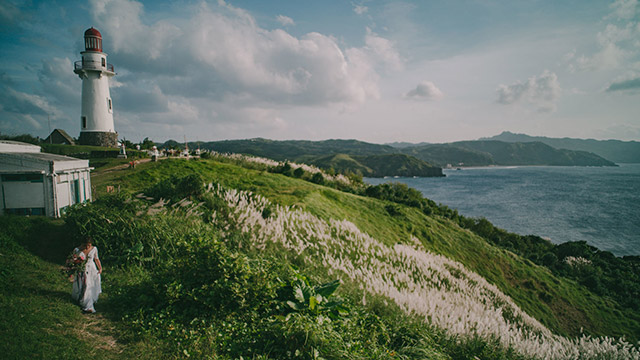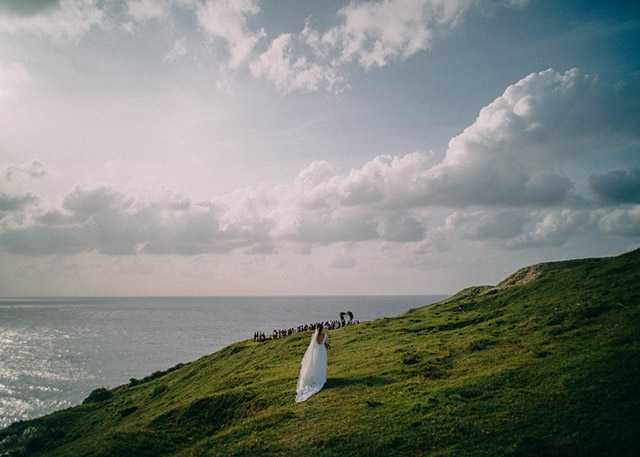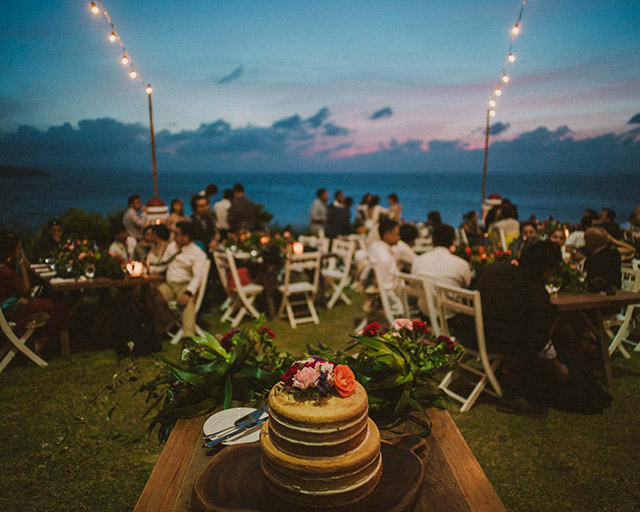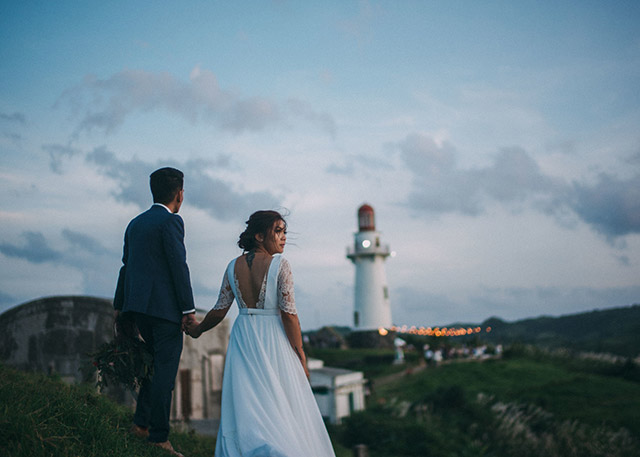 Naara Hill, Tagaytay
If you're torn between an indoor and an outdoor venue for your reception (especially with the fear of a rainy celebration), you can get the best of both worlds at Naara Hill.
Its indoor modern kubo-like pavilion will make you feel like you're lounging outdoors, thanks to its floor-to-ceiling glass windows, which provides a view of the Taal Lake.
What's more, the reception is flanked by lush greens, and there's also a garden, a lagoon, and a courtyard right below the elevated pavilion.
The good news is Naara Hill offers an all-inclusive package, so you can book their facilities for your big day at the rate of P198,000*, the wedding and events venue states in their website (catering not included). You can also add a bit more if you want extra lights or decorations.
Or you can choose to have your ceremony in the courtyard, and the reception set at their pavilion. And in case you're wondering, their facilities can accommodate up to 200 guests and 90 parking slots.
Check out the courtyard wedding of OPM singer Moira Dela Torre and Jason Marvin.
What makes it even more sulit for brides is you can have some of your friends and family's stay all covered, as the package includes an overnight stay in six of their rooms, which can accommodate up to 20 people (this comes with a free breakfast for each guest). You can check out the complete package here.
Mithi Resort and Spa
Forget the Maldives!
This resort in Bohol is what tropical dreams are made of, with its crystal-clear, turquoise-colored waters and white shores.
But, there's more to this location than its stellar beach; Mithi Resort and Spa has a private island fittingly called the Dream Islet—where you can say your vows romantically surrounded by bodies of water.
The secluded island can accommodate up to 200 guests, and it's only a quick boat road away from the hotel's shores.
If you're hosting a grand wedding, you can also check out the resort's verdant pavilion, which can accommodate 800 up to 1,000 guests.
You can check out their packages here.
Costabella Tropical Beach Hotel, Cebu
Aside from Bohol, Palawan, or Boracay, Cebu is one of the famous local destinations for a dreamy seaside wedding.
As the island is enveloped in clear blue waters, you'll be faced with lots of possible venue options!
But, if you want to get away from the crowded beaches, Costabella Tropical Beach Hotel's secluded, white-sand beach will fit the bill.
Tucked away in Mactan, the resort offers a dreamy, serene environment, perfect for when you'll be saying "I do."
P.S. They've got a rustic boardwalk that stretches out to the sea-a romantic spot to take those strolling, hand-in-hand shots with your soon-to-be husband!
Alphaland Baguio Mountain Lodges
If a romantic, cold-weather wedding destination is what you're after, Baguio Mountain Lodges won't disappoint.
The summer home-turned-lodge has an open-air chapel where mountains and forests serve as its backdrop-it's so dreamy!
Couples can hold their reception at the hotel's terrace, where everyone can get cozy and enjoy the refreshing cold air that Baguio has to offer.
It's just a ride (or even a walk) away from Baguio's bustling tourist attractions like the Teacher's Camp and Camp John Hay, so guests won't find it hard to get to the venue.
Before you visit these picture-perfect venues, be sure to consider and discuss your wedding budget with your beau.
Apart from the rate of the venue, there are many additional (and hidden) costs that you should think about, such as the room accommodations, out-of-town rates of your other suppliers, transportation, and other logistical concerns.
For instance, if you're going to hold a destination wedding in Batanes, are you going to shoulder the costs of your guests' airfare? Or just your parents'?
List all the possible expenses down so you can have a good look at whether or not the destination is within your means.
*Ed's note: Rate may change without prior notice.