Jackie Forster gets sappy each birthday of her son Andre Paras, who celebrated his 25th birthday last Sunday, November 1.
It is because the birthday of her eldest son always brings Jackie back to the time she became a mom at the age of 16.
On Andre's birthday, the former actress greeted him with a video clip showing his then three-month-old son.
Jackie wrote, recalling those happy moments in her life, "It's been 25 years since I became a mommy. I've learned a lot and I'm still learning every day.
"You have so much still ahead of you @andreparas mama is just here praying for your health and happiness every step of the way!
"Happy birthday. I will always [red heart emoji] You more than any other person in this world!!! You won't understand this until you become a parent.
"Let's pray that doesn't happen any time soon. Forever and always ~mama.
"p.s pancakes for breakfast"
The birthday boy's mommy must be very much relieved that becoming a parent is the farthest thing from his mind.
Andre's birthday post shows a video of him unveiling a black cloth bearing the message, "Weights before dates."
His caption read: "to all my single warriors (tag all your single friends! we are all in this together..."
Rhian Ramos commented, "Tara, buhat us."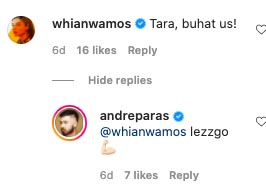 In the meantime, Andre will remain the self-appointed bantay of his 10-year-old sister Caleigh Simone.
The caption of Jackie's post read: "Kuya @andreparas said no bfs til she's 21 @caleighsimone 's face..."
ALL KIDS COMPLETE
It was only in May of this year that Andre started becoming more visible on the feed of his mom.
The last post showing both Jackie and Andre was in May 2018...
...a month after their reunion.
Part of Jackie's long caption read, "I told you all - #prayerswork. I ask for everyone to please respect their privacy now, we have shared so much of our personal lives with everyone and we want to take this time to heal and bond. No more bashing please.
"We lift you all up in prayers and speak blessing upon you all.
"The boys and I do not want to dwell on the past."
In an interview with PEP.ph (Philippine Entertainment Portal) in March 2020, Jackie said they don't have to publicize all their get-togethers.
But she admitted then, "Noong parang medyo naguguluhan pa siya in the beginning, nag-unfollow muna ko sa kanya para hindi siya napi-pressure na kailangan niyang mag-follow, kailangan niyang mag-like.
"And that's fine, you just give him time."
Fast forward to September 20, 2020, as part of Caleigh's birthday celebration, Jackie posted their first family portrait, with Andre included.
The mother of five kids—Andre, Kobe, Jared, Caleigh, Yohan—felt "blessed" and "complete."
Use these Lalamove promo codes or vouchers when you shop or order online. Marami pang ibang coupons dito.