In her latest YouTube vlog, businesswoman Small Laude switches role with her house helpers and becomes their yaya for a day.
The video was uploaded on her YouTube channel called It's A Small World on Saturday night, September 19, 2021, as a special on her third year as a YouTube content creator.
Small is the younger sister of Alice Eduardo, who owns the Sta. Elena Construction. The sisters hail from a family who is into garments export, rice milling, and rice trading businesses.
Small's husband Philip Laude is identified by Esquire Philippines as the "scion behind Candyman, the confectionery makers behind Kendi Mint, White Rabbit, Orange Kist, and Viva."
Small and Philip have four children: PJ, Timothy, Michael, and their only daughter, Allison.
Small moves in showbiz circles, counting Karen Davila, Korina Sanchez, Pops Fernandez, and Cristina Gonzales-Romuáldez among her celebrity friends.
She also has her own lifestyle show on the Metro Channel titled It's A Small World.
YAYA FOR A DAY
Following the suggestion of her YouTube viewers to do a yaya for a day vlog, Small exchanged uniforms with her seven household angels—Lovely, Jonalyn, Inday, Diane, MM, Lotlot, and NikNik—who pretended to be her masters for the day.
In the video, Small is seen doing chores—making coffee, cleaning the rooms and toilets, cooking lunch—as the household's #MayorDonya.
She is dressed up in a pink-and-white yaya uniform, which she has accessorized with diamonds and luxury baubles from Chanel and Cartier.
Her housekeepers, on the other hand, wear her designer clothes from Chanel, Gucci, Dior, Louis Vuitton, and Fendi.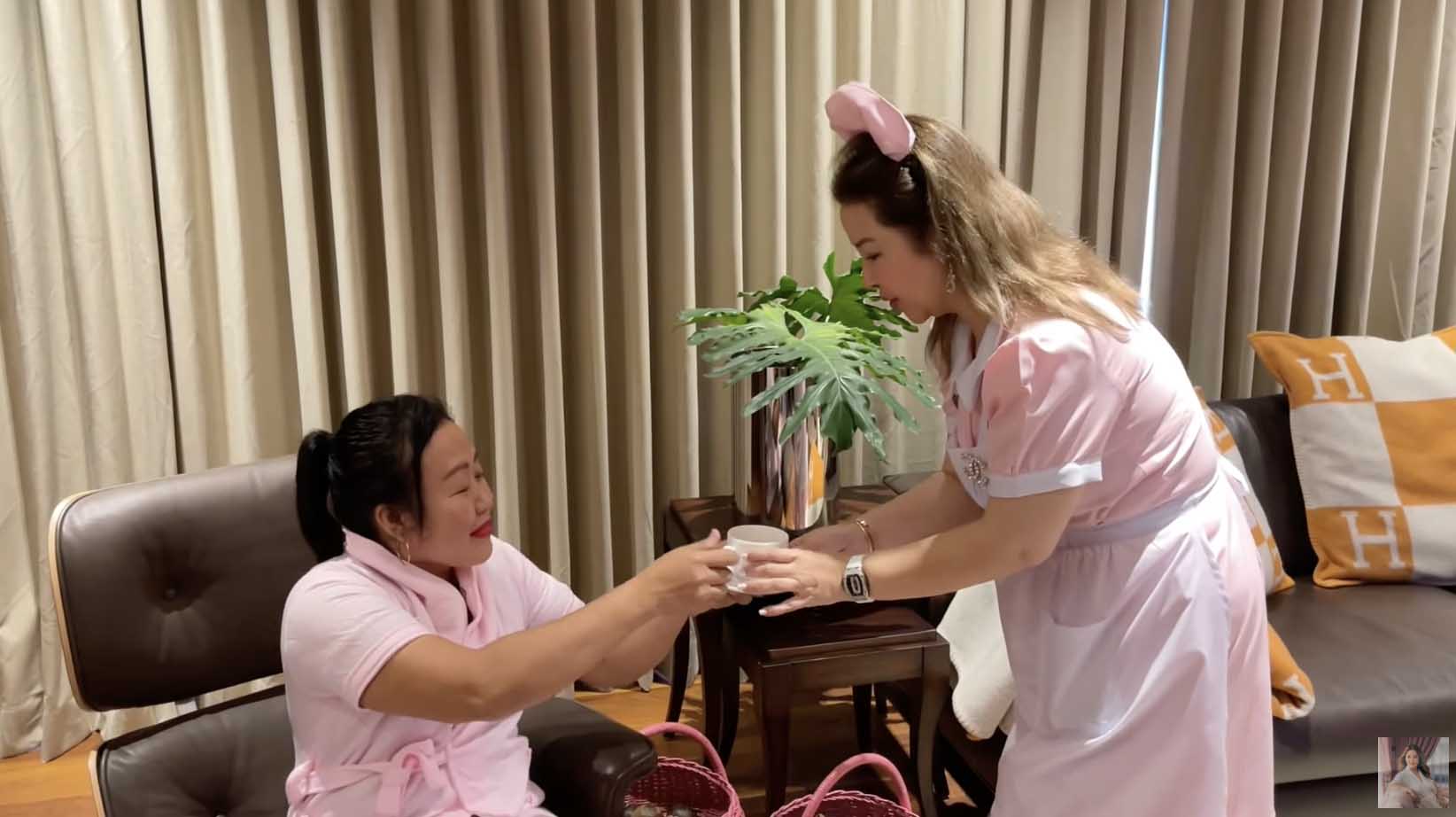 Her vlog is also filled with impromptu funny skits, like when she is crying while chopping carrots and Yaya Inday commenting, "Bakit ka umiiyak? Hindi naman sibuyas iyan, e!"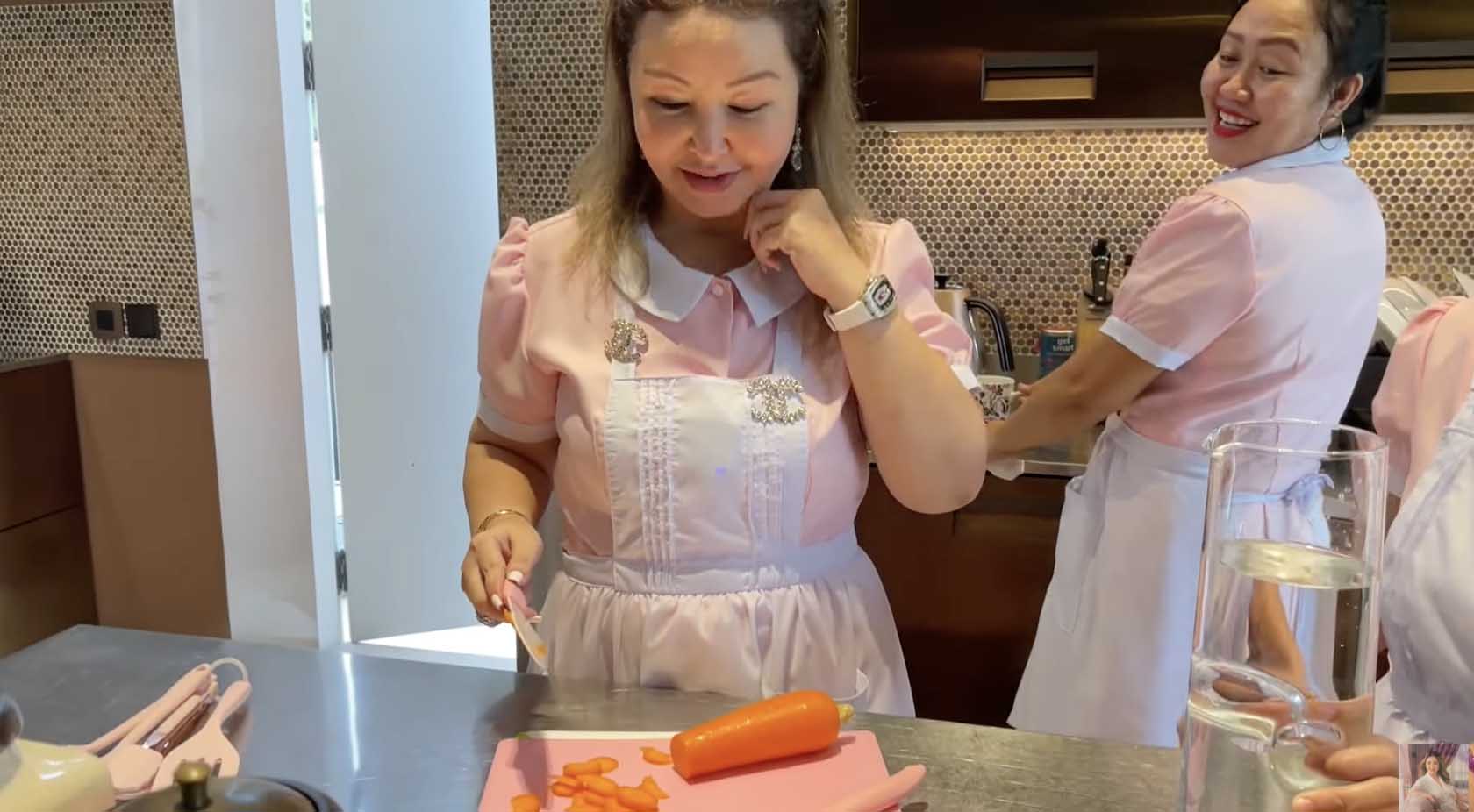 In another part of the video, "Donya Diane" tells "Mayor Donya" to use her credit card to buy her favorite hairy crab in Hong Kong.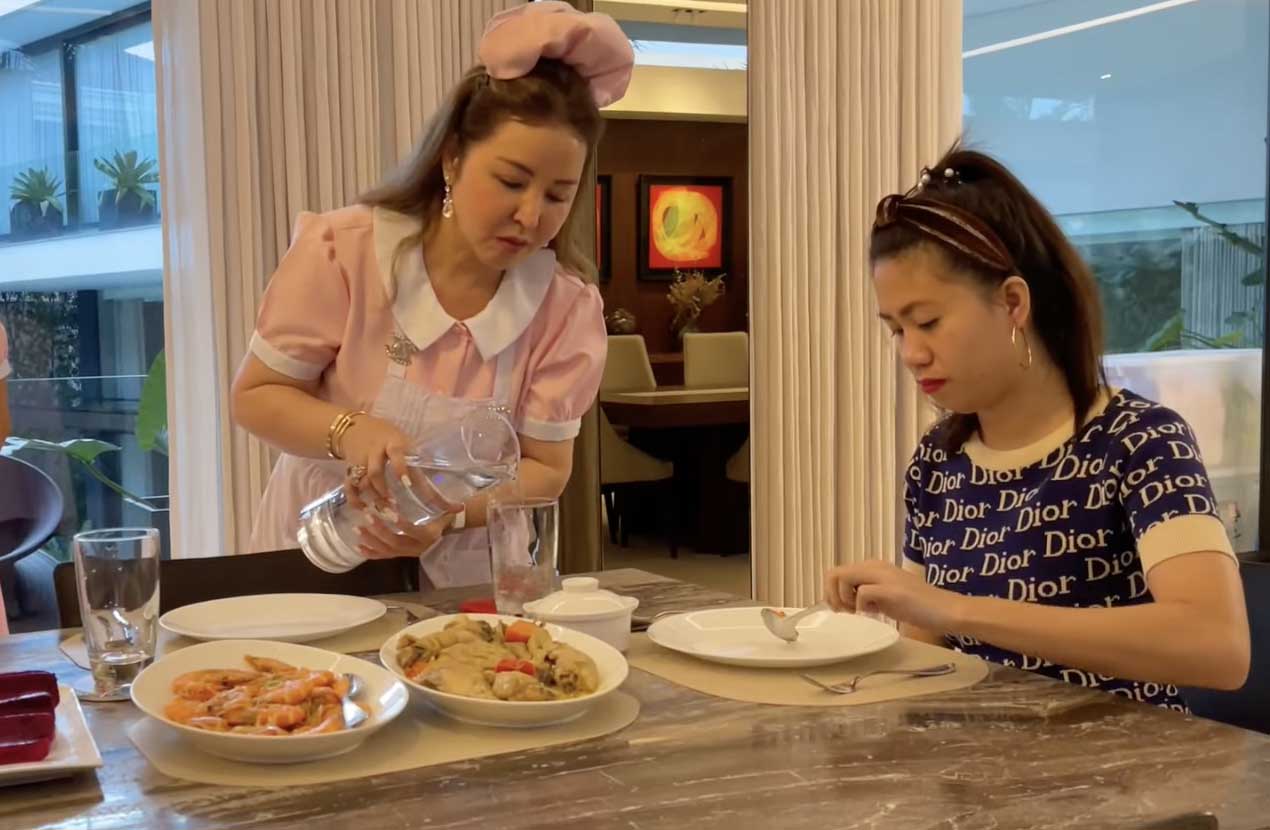 Apart from her vlog, Small also has done some TikTok videos featuring her housekeepers.
This one shows her Mayor Donya OOTD.
Small's children PJ, Timothy, and Allison also make their special appearances on her vlog.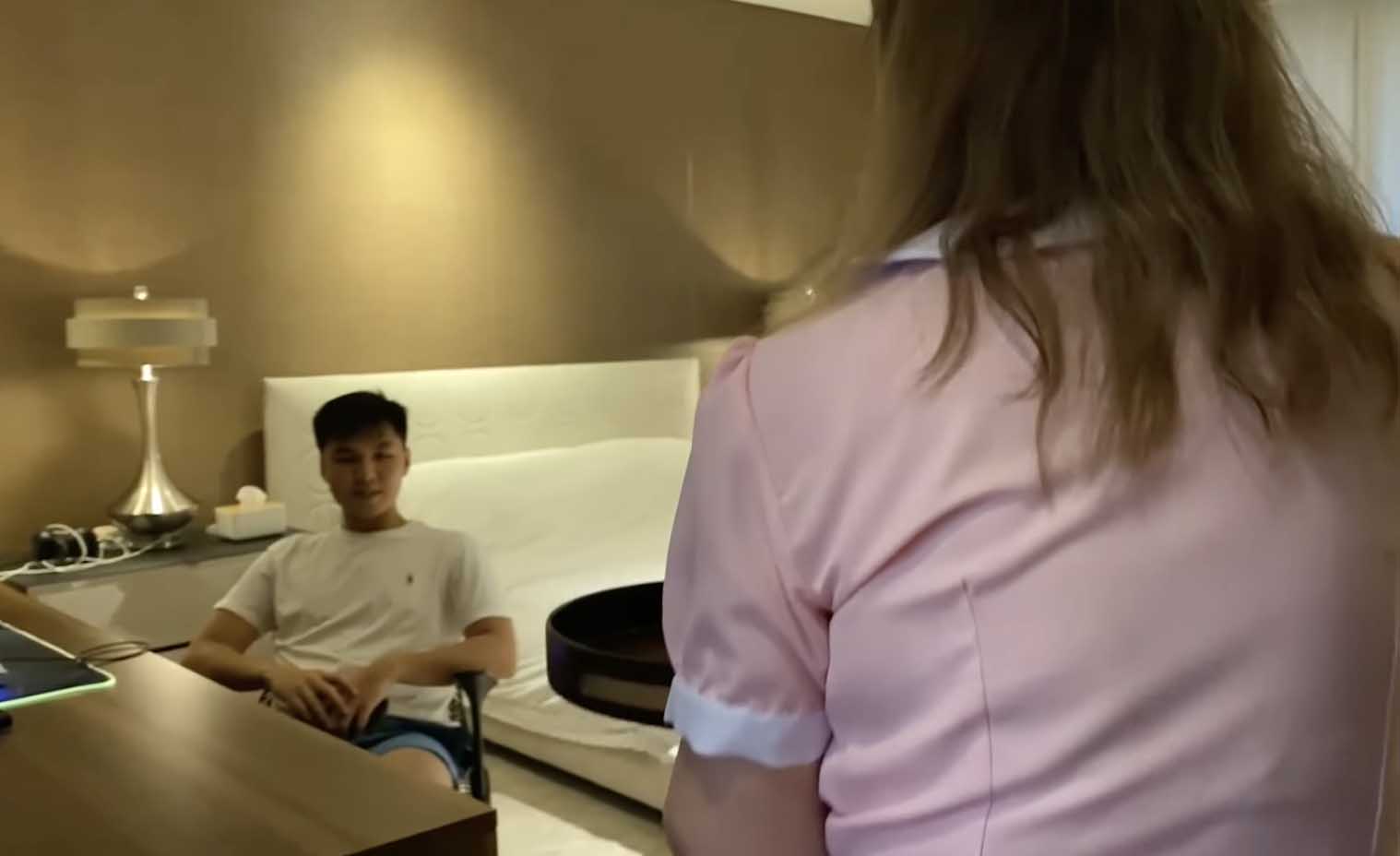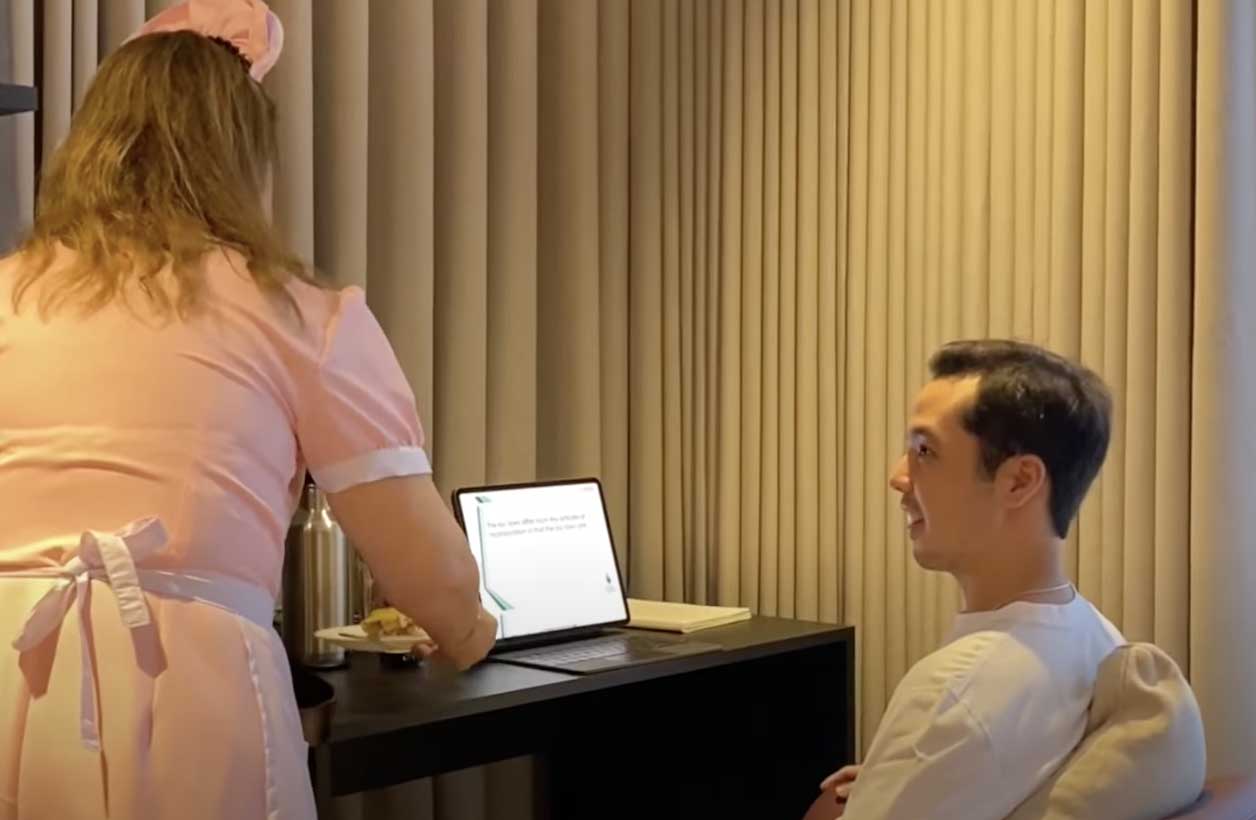 Toward the end, Small shares her realization after becoming a yaya for a day and gives thanks to her helpers: "Guys, ang hirap imaging yaya for the day.
"Napagod ako, guys! So talagang hirap pala ng ginagawa nila kaya thank you to all of you."
NETIZENS REACT
Netizens are entertained by Small's latest vlog and have taken note of her closeness to her house angels.
YouTube user Sheila Bunag comments, "It's heartwarming how she gives attention and importance to her Yaya, considering how rich madame Small is... God bless you always po:)"
Small's YouTube subscriber Jeof Arguelles writes in the comments section, "ung amo pa ung pasimuno sa kalokohan [emoji] sana ganyan din ung boss ko mapagmahal sa mga kasambahay .. love u po miss small [emoji]"
YouTube user Lou M says, "Ok, this video made me a fan! She is hilarious! She has made managing her high life so down to earth and domestic household fun and entertaining!



SMALL'S YOUTUBE CHANNEL
In her interview with Philippine Star, Small revealed it was Karen Davila who gave her the push to try vlogging.
She recalled, "There were times when I think of what else I can do besides helping my husband in the office because it's not a full-time job.
"There were times when I got bored. One time, I was talking to my close friend Karen Davila. I asked her about vlogging and she said why don't I give it a try?
"Then, I left for the U.S. and just filmed whatever. I asked someone to edit it for me, and when I saw the finished product, it made me happy. Then, I decided to start vlogging."
At press time, her yaya for a day vlog has received 215,000 views. Her YouTube channel currently has 304,000 subscribers.
According to her YouTube channel's About Page, Small created her account in February 2013. But it was only in August 2019 when she started creating vlogs. Her first vlog was about her trip to Los Angeles, California.
Use these Lalamove promo codes when you shop or order online. Marami pang ibang coupons dito.