Morissette Amon and Dave Lamar had a wedding they did not wish for.
All they wanted was a "simple and intimate" celebration of their union, their specific request to their wedding coordinator Kathyrn Kim Torres.
But like a fairy godmother, Kim worked her magic wand to give the celebrity couple a wedding beyond their imagination.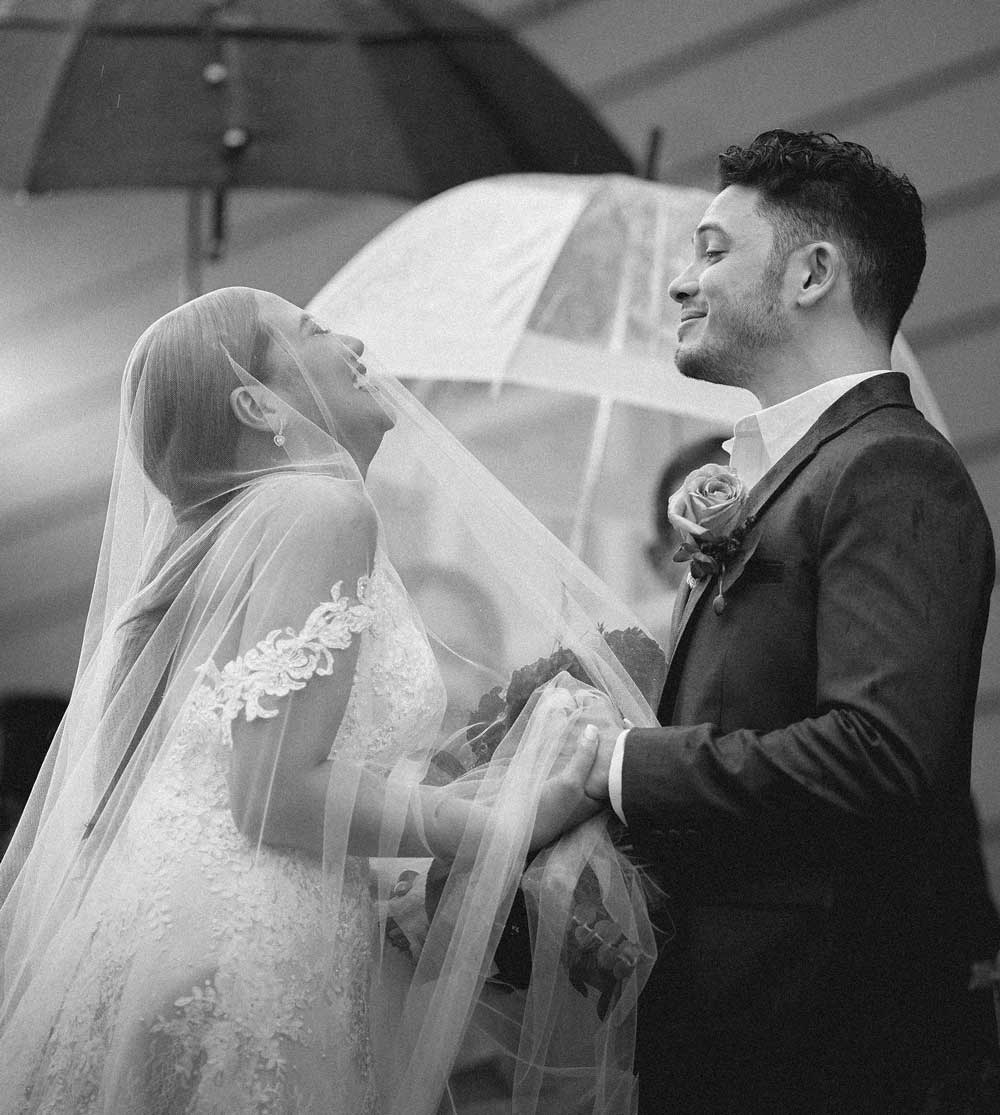 According to Kim, planning for the wedding took them five harried months in between the concerts and tapings of the ever busy couple.
She told PEP.ph (Philippine Entertainment Portal) in a chat via Messenger last Friday, January 28, 2022, "I have so much suggestions since it's a one-time celebration."
She added that despite their hectic schedules, Dave and Morrisette "were really hands on" all throughout the wedding preparations.
https://www.instagram.com/p/CZRi6Rtvfvj/]
MORISETTE AND DAVE'S WEDDING
Their minimalist rustic wedding took place at The Old Grove Farmstead in Lipa City, Batangas.
Morissette was a glowing bride in her Michael Leyva wedding dress.
Miko Dacanay did her hair and barely-there makeup.
Meanwhile, Dave was a dapper groom in a Michael Leyva charcoal gray suit.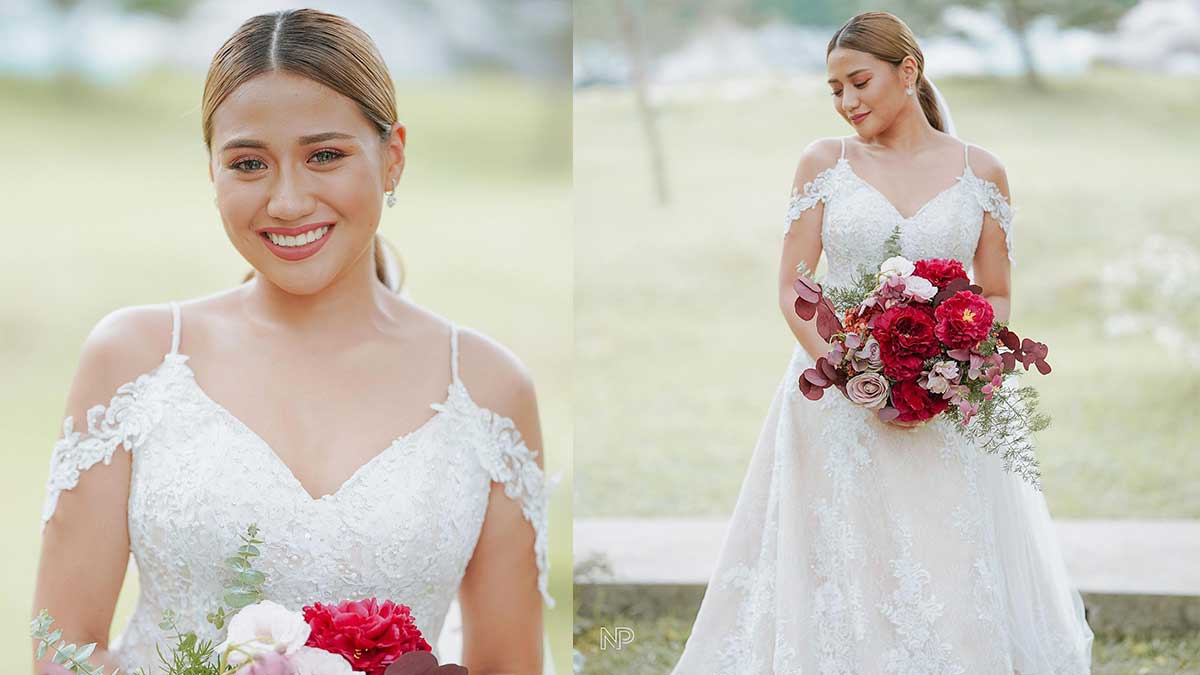 The wedding venue was abound with roses, the couple's personal choice, but event stylist Gideon Hermosa added white and pink flowers to make the setting even more romantic.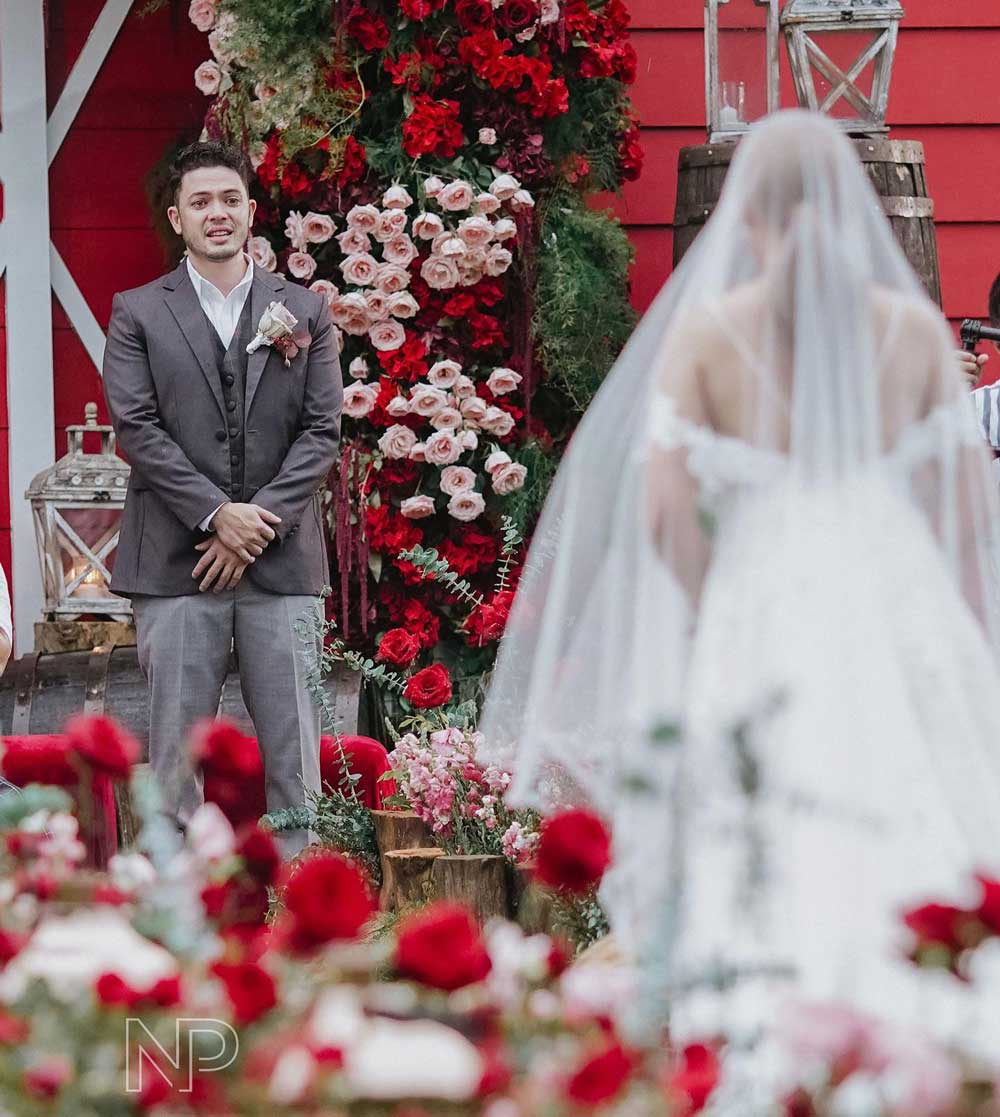 Gideon wrote on Instagram, "@itsmorissette shines as a bride on her wedding day!
"Her glow transcends, her smile as bright as the flowers she carries.
"They've waited a little longer for this day and it was all worth it. It was as perfect as it gets."
Nice Print Photography captured Dave's priceless moment when he first saw his lovely bride.
Gideon shared the photo on his Instagram account with the caption: "Not a downpour could dampen the happy spirits of our newlyweds."
THE WEDDING VOWS
Their wedding vows were highlighted on the 15-minute video made by TreeHouse Story and uploaded on YouTube last Friday.
Morissette told Dave, "I vow to be the music to your lyrics, the rhythm to your blues, the cream to your coffee, the peanut to your butter, the fire to your ember, the sun to your sky, the stars to your moon, the smile to your tear.
"And finally, I vow to always be your best friend, your safe place, your home."
Dave, for his part, promised that their wedding will "forever be engraved on my heart."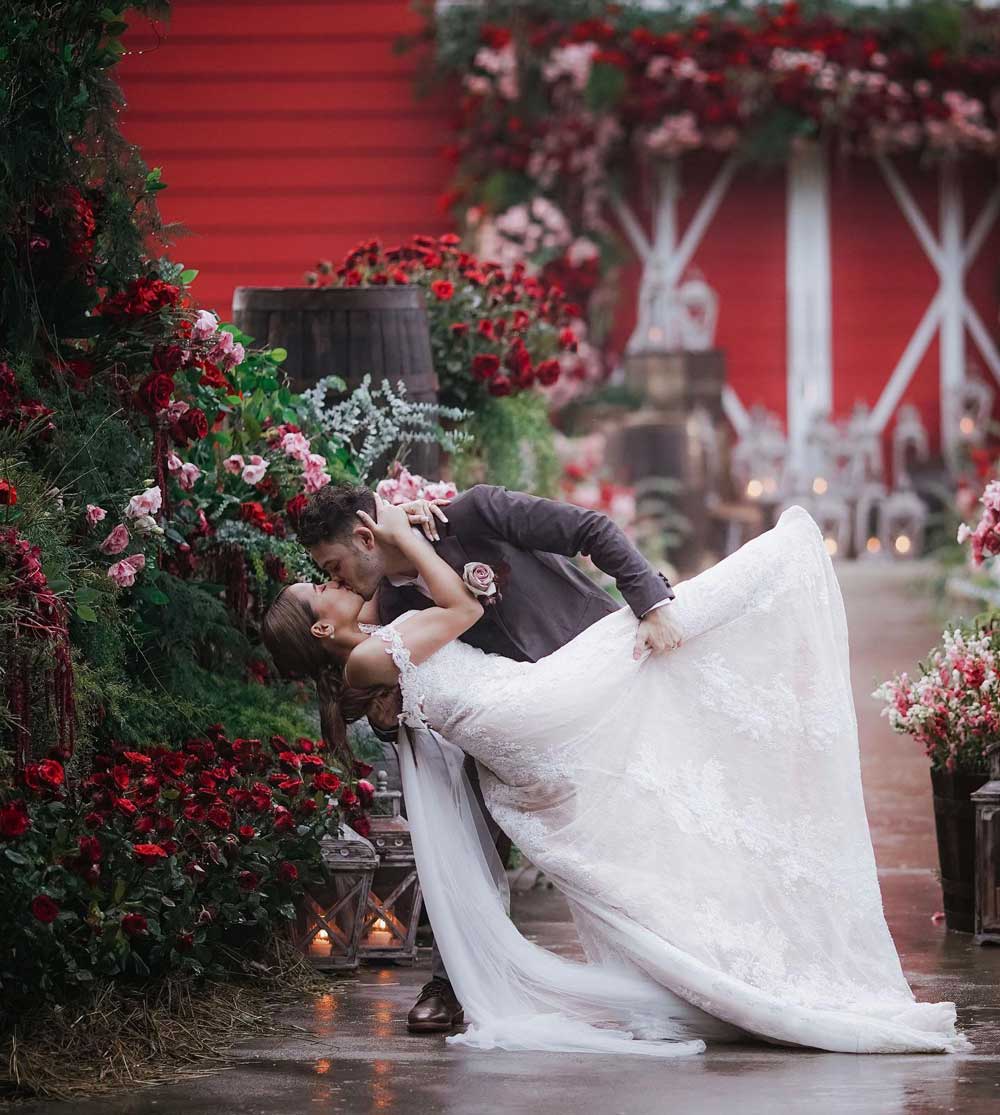 THE WEDDING RECEPTION
The couple only had 22 guests, and among their closest family and friends in attendance were Moira Dela Torre and her husband Jason Marvin.
Gideon filled the reception area with red, pink, white, and periwinkle-colored flowers.
They were also used as accents on the wooden long table and chairs, which gave the barn its romantic country vibe along with the rustic charm of wooden lanterns that lit up the wedding reception area.
Juan Carlo Caterer provided the sumptuous meal enjoyed by everyone at the wedding.
In an Instagram post last Friday, Juan Carlo Caterer wrote, "Thank you @itsmorissette and @davejlamar for celebrating love, music, and everything in between with Juan Carlo. #MakeMomentsAlive with the country's premiere events and catering services by sending us a message on our social media pages!"
Honey Glaze Cakes chef and owner Aileen Conde made the couple's grand and colorful four-layer cake.
Kim took to Instagram to thank Morissette and Dave for trusting her and her team to do the planning and coordination of their wedding.
She wrote, "The amount of positivity eminating from this team is astounding! [heart emoji] Thank you, Morissette and Dave [heart emoji] for choosing us to bring your special day to life!
"These moments are sprinkled with magic and sealed within forever, so THANK YOU for putting your trust on us to deliver a Wedding Celebration close to heart that really hits home for everyone! We, as in of all us, will always be in your debt! We love you two!! [emoji]"
Dave and Morissette have been married for "several months," but they made it known via social media only last Friday, January 28, 2022.
Before the announcement, Morisette first sent a message to Kim and her team that expressed her joy and gratitude for wisely going against her wishes.
She wrote, "Nung una, I was honestly hesitant sa suggestions ni Ate Kim since we really just wanted a simple get-together…
"But tama nga po kayo, and wouldn't have it any other way. WE'RE SO HAPPY [three heart emojis]"
Congratulations, Mr. and Mrs. Dave and Morissette Lamar!
We are now on Quento!
Download the app
to enjoy more articles and videos from PEP.ph and other Summit Media websites.