Sandara Park kicks off the new year with a bang.
On Sunday, January 1, 2023, the former 2NE1 member uploaded three photos of her recent beach trip to greet her fans a "happy new year."
The photos were taken during Dara's holiday trip to Bohol, where she and her family celebrated Christmas.
"Happy new year [fire emoji]," the 38-year-old K-pop star wrote in the caption of her post, which showed her rocking a red bikini.
Dara's celebrity friends couldn't help but comment on her daring Instagram post.
Joross Gamboa, who was Dara's batchmate in Star Circle Quest Season 1, quipped, "[emoji] hayyy…. Di na kita mapipigilan. Malaki ka na… 2023 na… [emoji]"
In reply, Dara reminded Joross that she's all grown up.
She wrote, "@joross_gamboa oo tama yan!!! D nako 19 yrs old na hinatid sundo mo and pakain sa gerrys grill!!! Hahaha [emojis] totoong childhood friends nga tayo noh?!
"Hay ang bilis ng panahon but we remain as good friends!!! Happy new year chuross!!![emojis]"


Meanwhile, Joon Park of K-pop group G.o.d poked fun at Dara's "Ahjussi slippers."
Part of his comment read, "Happy New Year Sis!
"Lookin stylish lil Sis! But arent those bathroom slippers for Ahjusshi's lol [LOL emoji]
He ended his post by saying, as translated in English, "Still, it's okay, little star!"
YG Entertainment soloist Lydia Soo Paek also greeted Dara in the comments section and wrote, "HAPPY NEW YEAR UNNIE [heart eyes emojis]"

Netizens commended Dara's stunning visuals in her photos.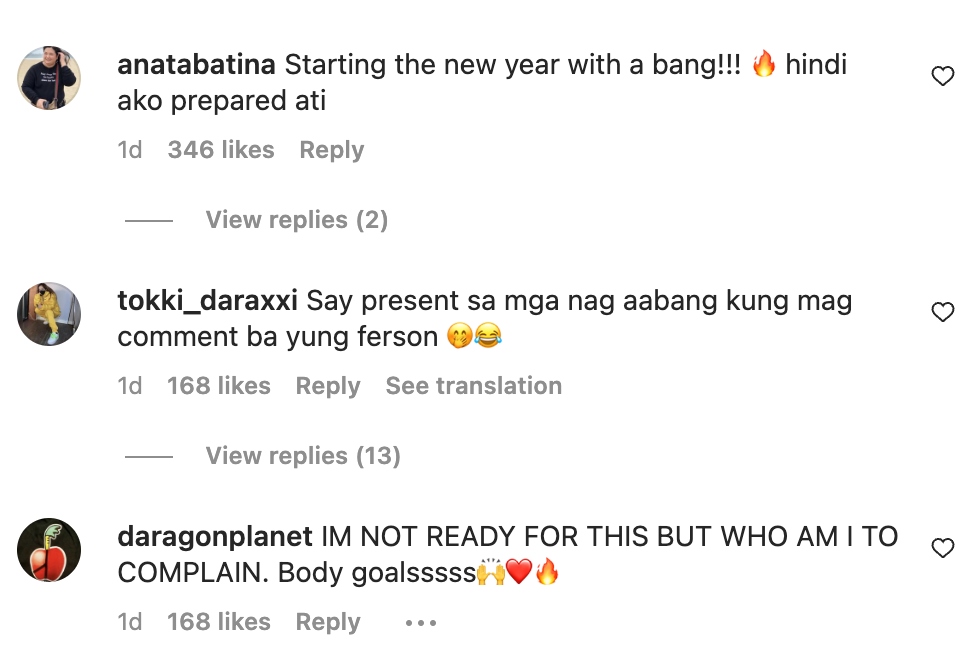 This wasn't the first time Dara posted her bikini photos on Instagram.
On November 12, 2022, Dara, who has always been fashionably covered up in her online postings, surprised her fans on her birthday with a rare photo of herself wearing a bikini.
READ MORE: