First, a toast to newlyweds Lovi Poe and Monty Blencowe as we trace back the colorful moments leading to their romantic wedding on August 26, 2023, at the Cliveden House.
The entire celebration was nothing short of a star-studded affair suffused with classic fashion essentials and exquisite culinary delights.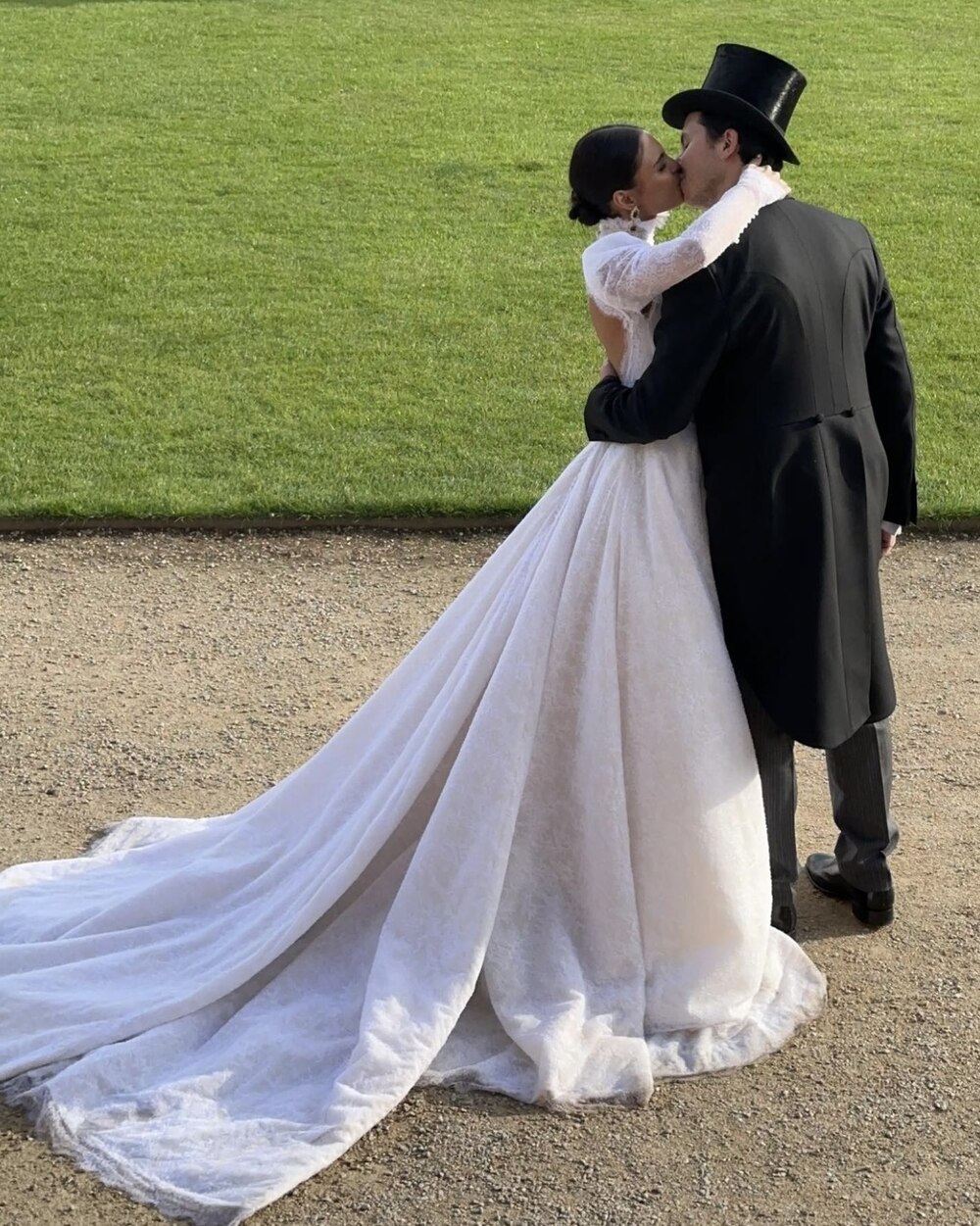 CLIVEDEN HOUSE
Lovi and Monty's charming matrimonial ceremony unfolded at the Cliveden House, an iconic setting that seamlessly blends opulence, history, and romance.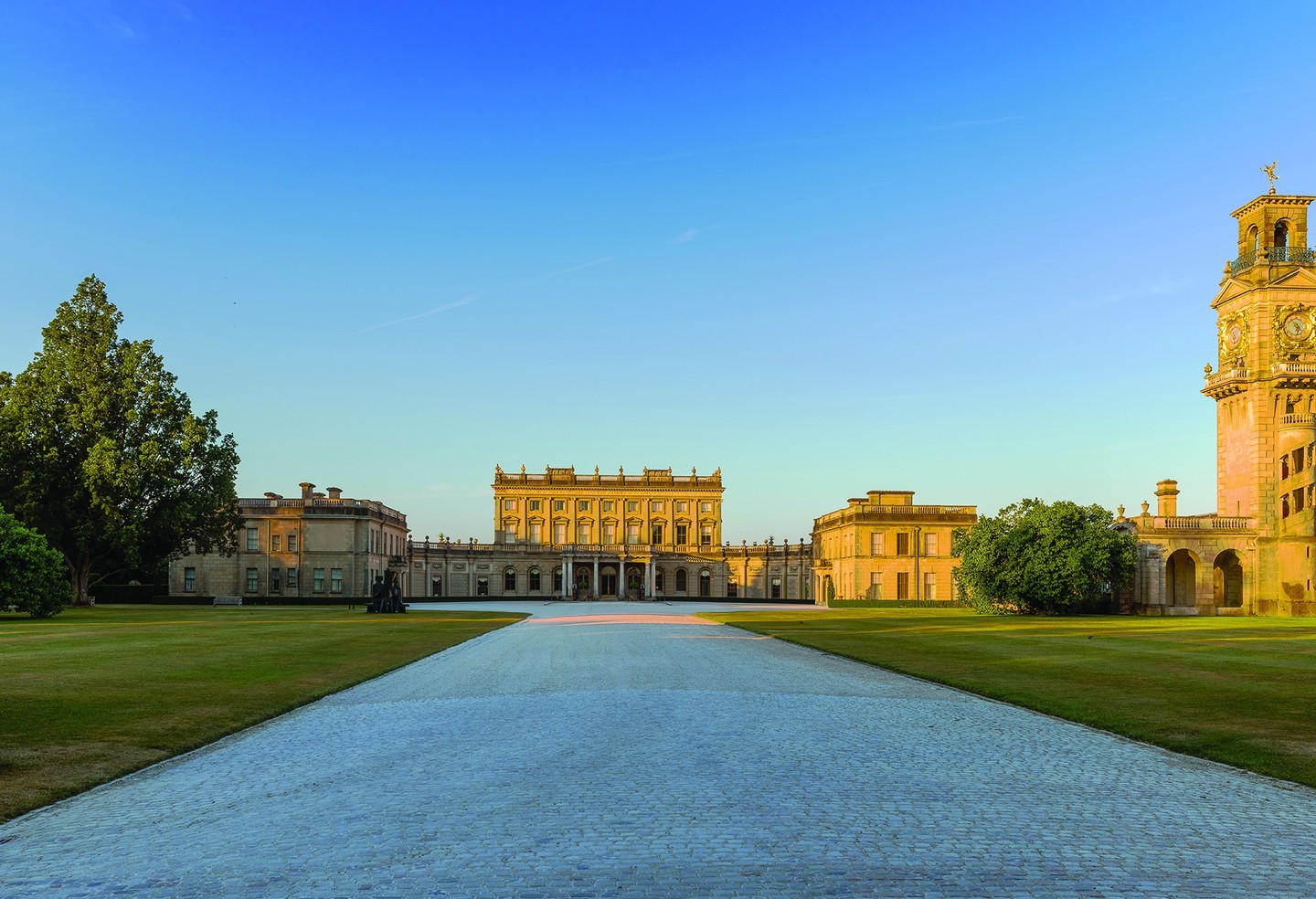 Throughout its existence, Cliveden House has hosted distinguished individuals, including British monarchs, luminaries like Charlie Chaplin and Winston Churchill, as well as pop culture icons like The Beatles.
Even Meghan Markle, the Duchess of Sussex, found solace within its walls, and spent the night there before her wedding in May 2018.
Now a luxurious hotel with 48 bedrooms and suites, each exuding luxurious comfort, the Cliveden House offers an enchanting retreat for its guests.
As a testament to its timeless charm, Cliveden provides an ideal backdrop for wedding ceremonies with its magnificent garden overlooking the Thames in Berkshire near London, England.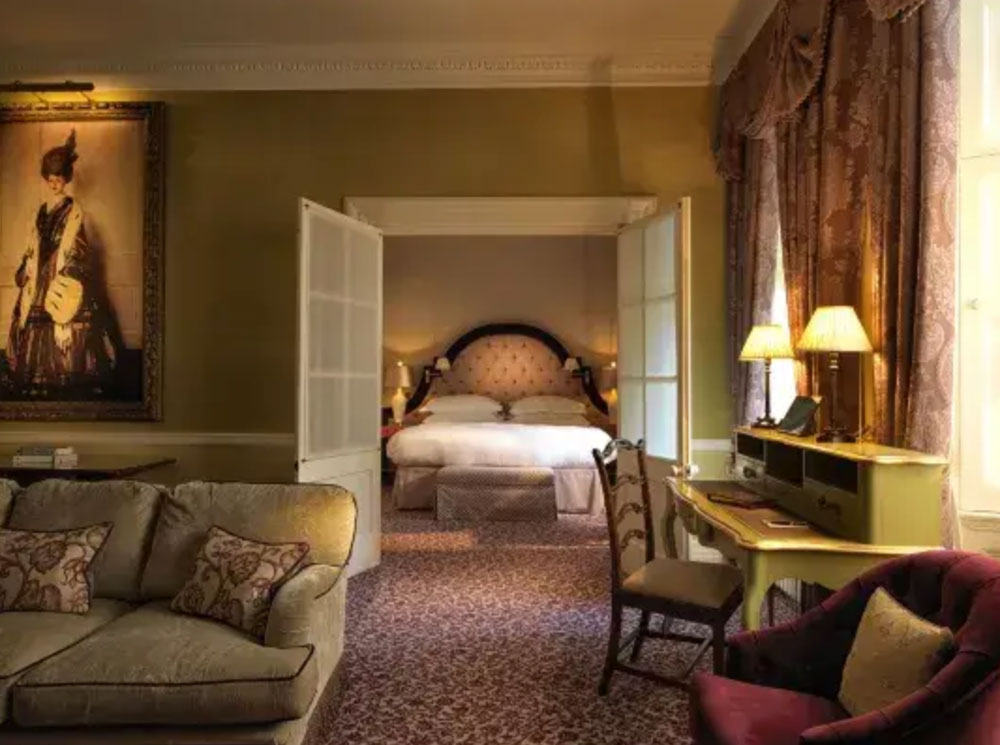 Read: What it costs to stay at Cliveden House, venue of Lovi Poe-Monty Blencowe wedding
BRIDAL LOOK
Stepping away from the usual "hubadera" attires Lovi has been generally known for on social media, she walked down the aisle in a modest, timeless Victorian-inspired masterpiece.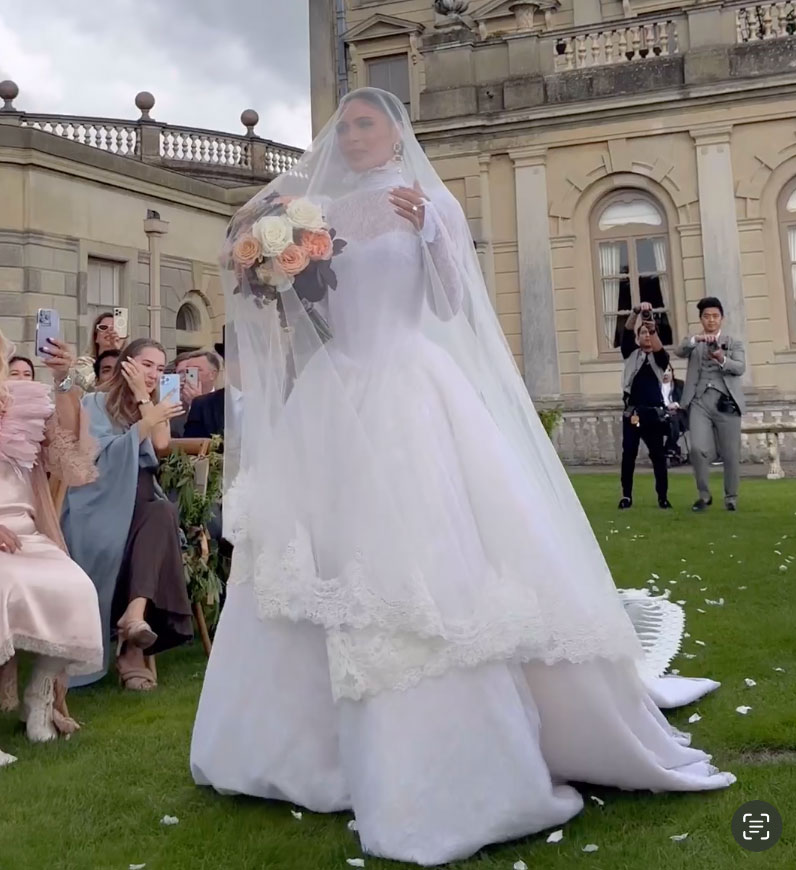 The meticulously assembled bridal gown was the creation of Filipino fashion designer Patricia Santos.
Lovi's wedding dress was fashioned from delicate tulle and intricate lace, and boasted a turtle neckline, full-length bell sleeves, and a sweeping ball skirt.
Emphasizing her slender waist, the corset within the bodice added a touch of elegance, while the open back symbolized Lovi's signature boldness in fashion taste.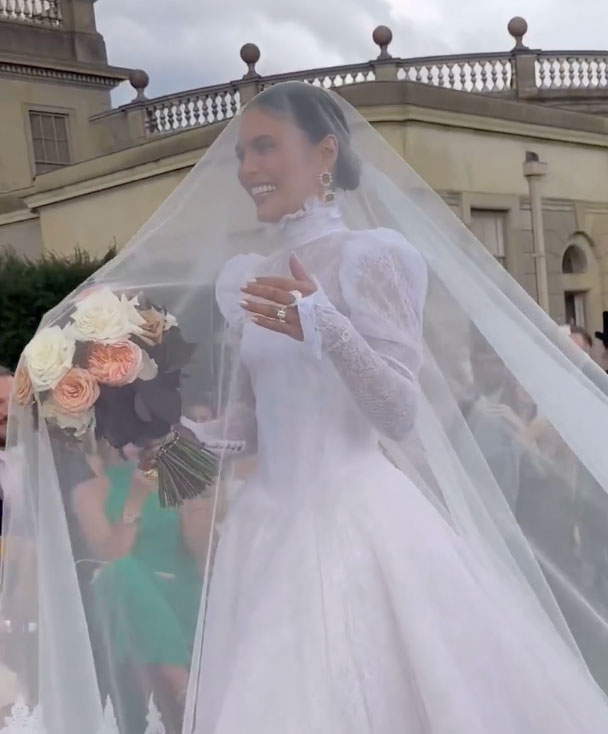 Emeralds and pear-shaped pearls became the focal point of the dangling earrings she wore to complete her bridal look.
Harmonizing flawlessly with the look was her bouquet that comprised a selection of white and peach-hued roses.
Lovi's entire bridal ensemble was put together by celebrity stylists Adrianne Concepcion, Aldrin Ramos, and Mila Renaldi.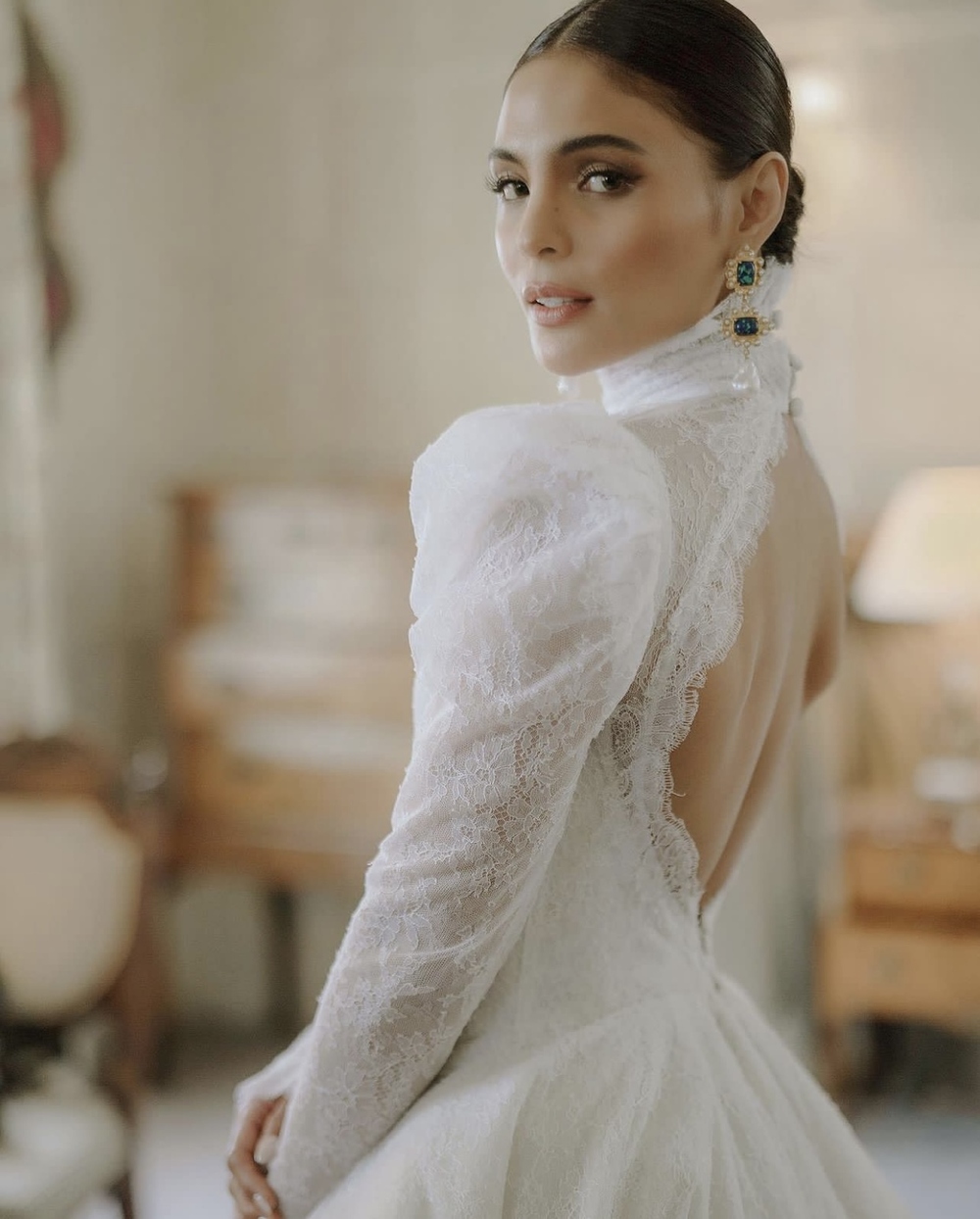 Adding to the elegance, hairstylist Elle Bondoc tailored her hair into an exquisite low bun .
Finally, make-up artist to the stars, Robbie Pinera, gave Lovi's morena beauty a doll-like make-up look.
Read: FIRST LOOK: Lovi Poe looks like royalty in her Patricia Santos wedding gown
CELEBRITY GUESTS
Present, of course, was Lovi's mother, Rowena Moran.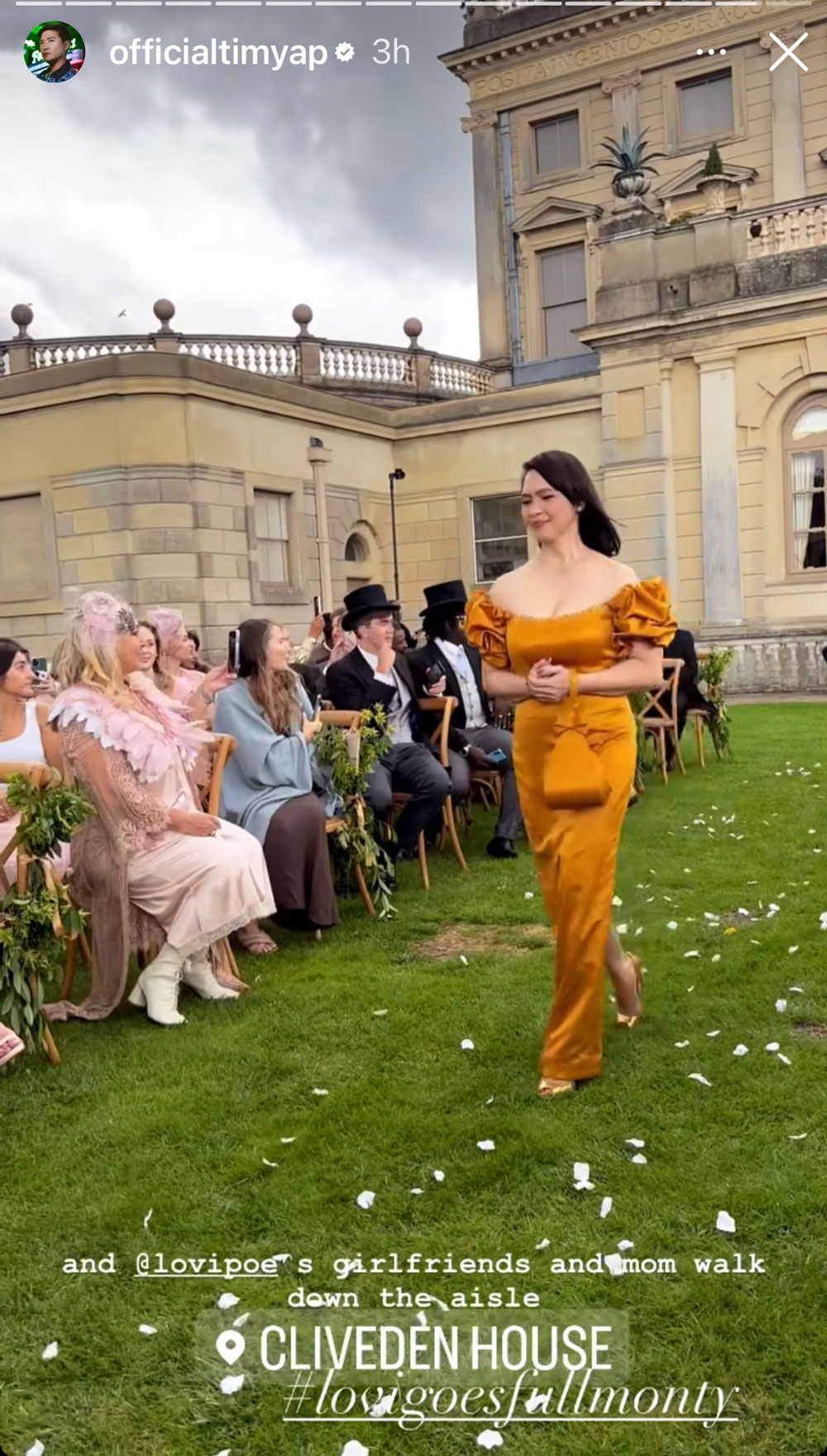 Senator Grace Poe, Lovi's half-sister from their late father Fernando Poe Jr., was one of the bridesmaids.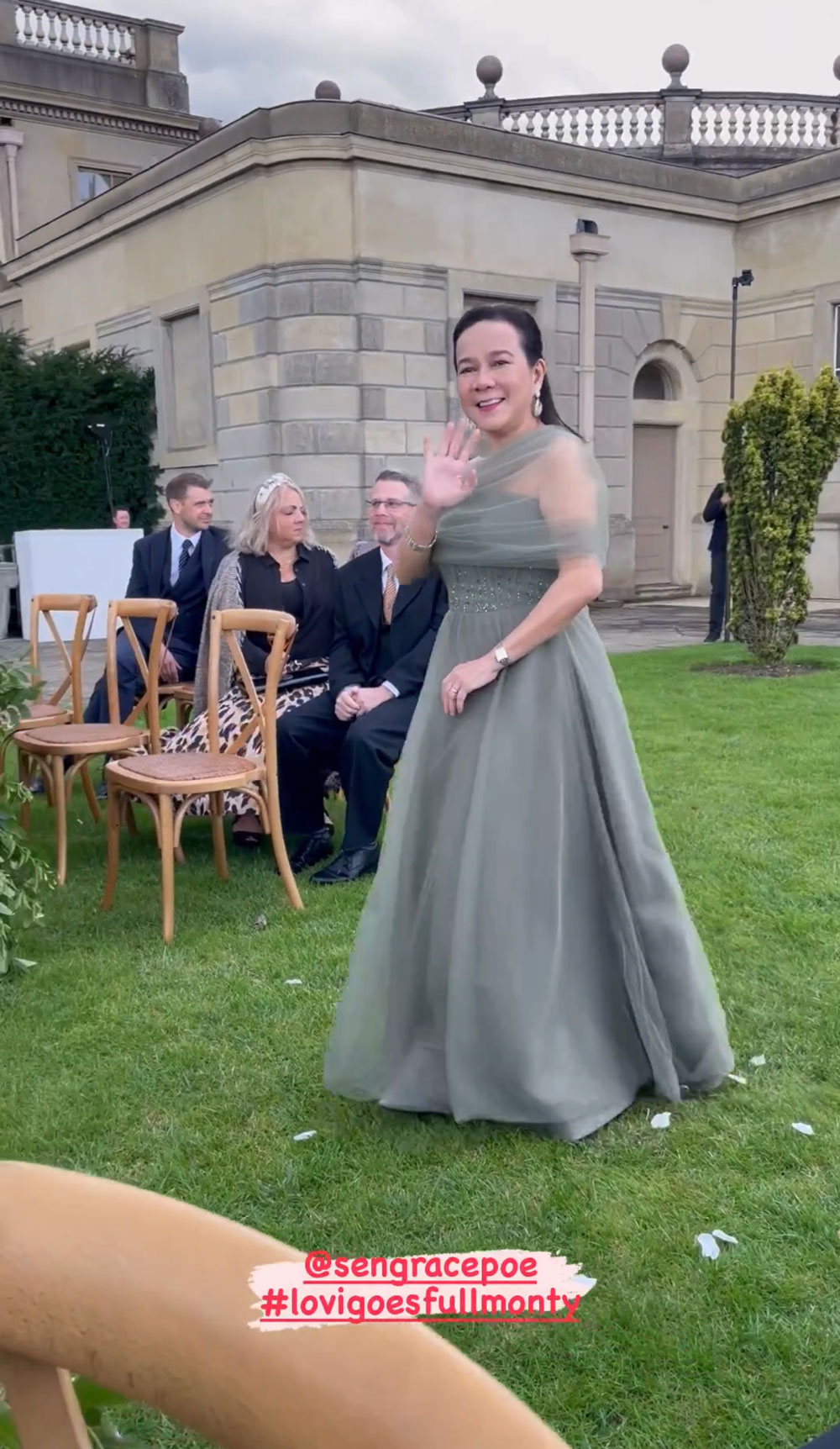 Senator Grace came with her son, Brian Poe Llamanzares.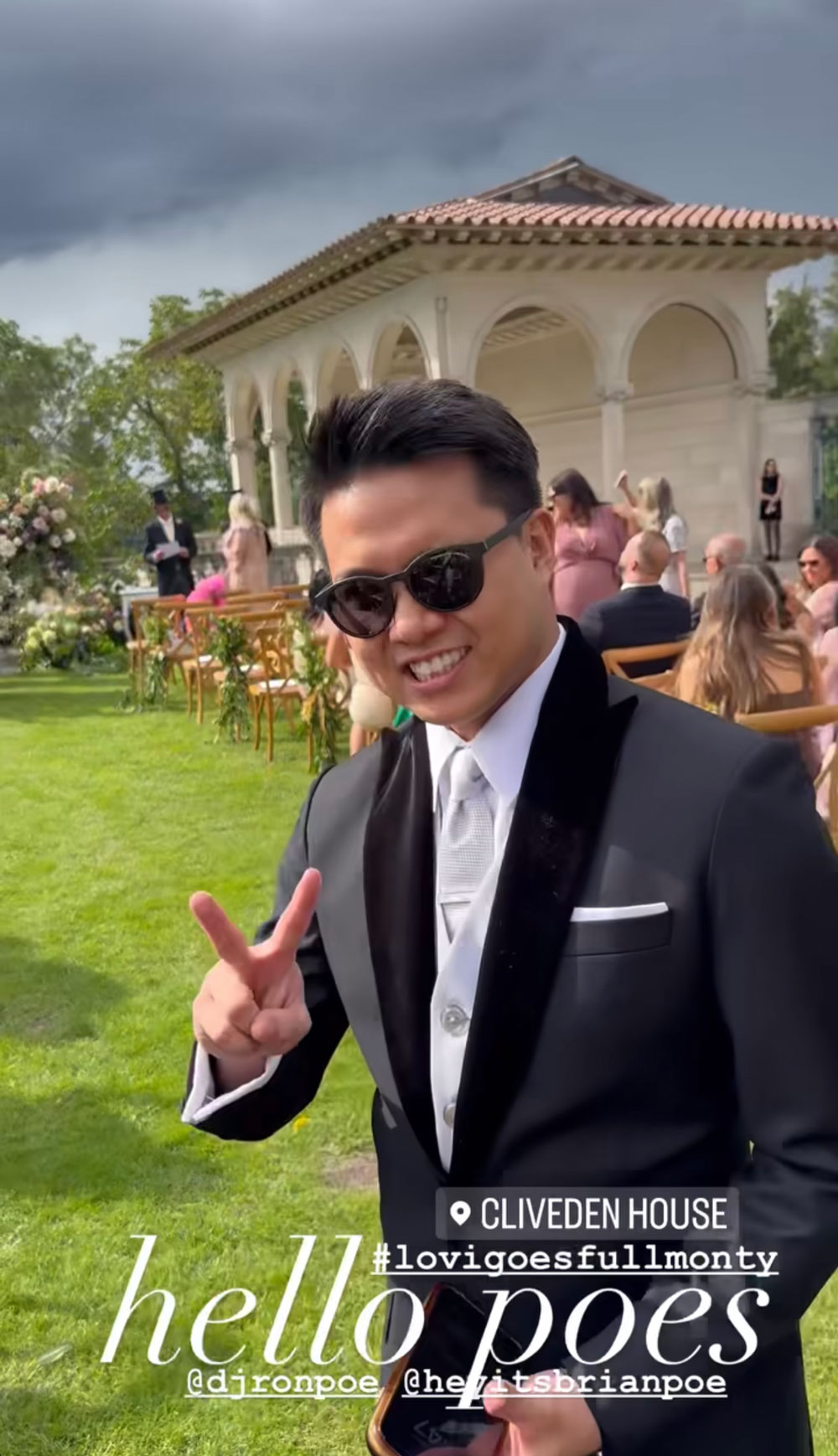 DJ Ron Poe, Lovi's half-brother by virtue of their common father, was brimming with joy for the bride and the groom.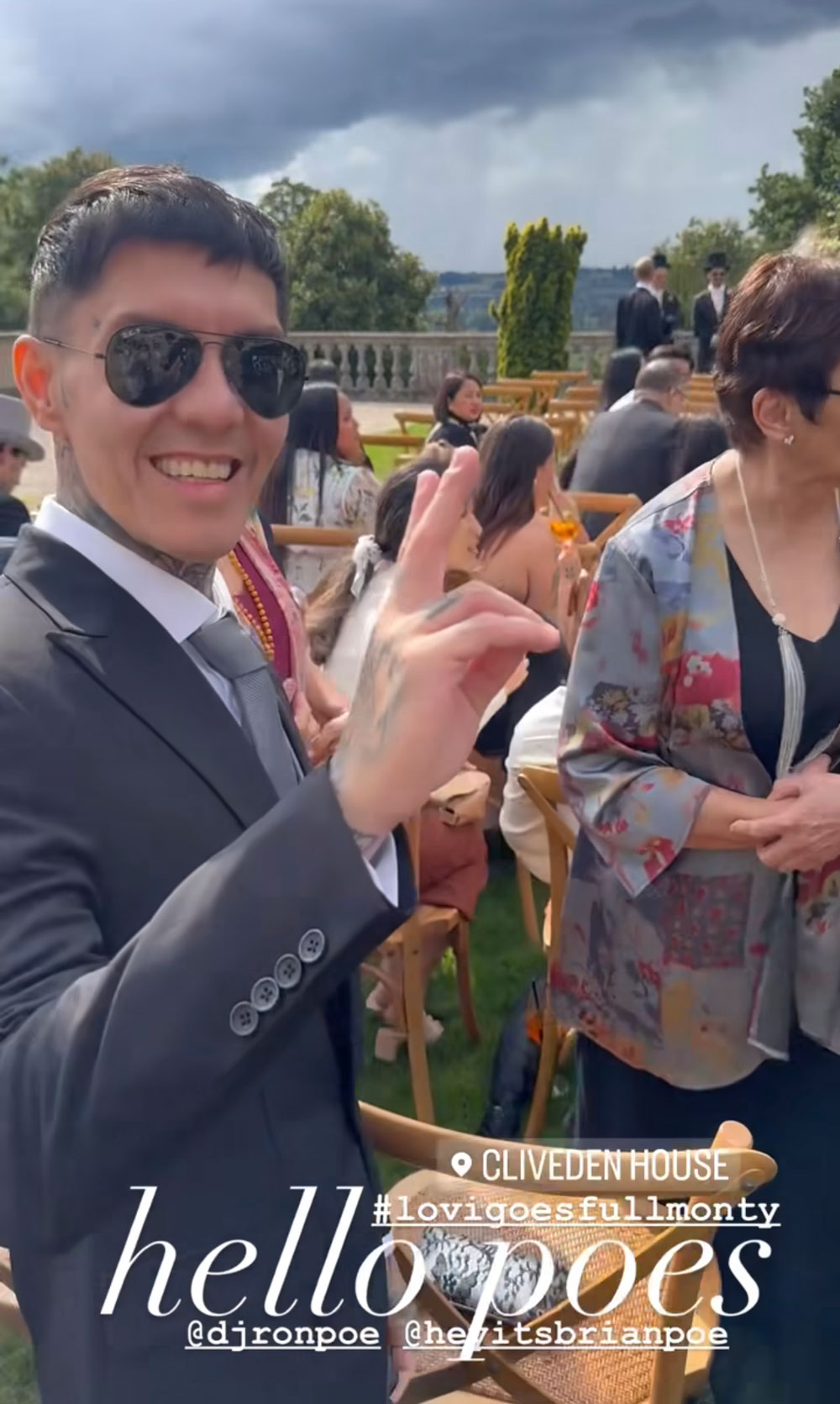 Power couple Rhian Ramos, one of Lovi's closest friends, and Congressman Sam Verzosa took a break from their hectic schedules to personally witness the momentous occasion.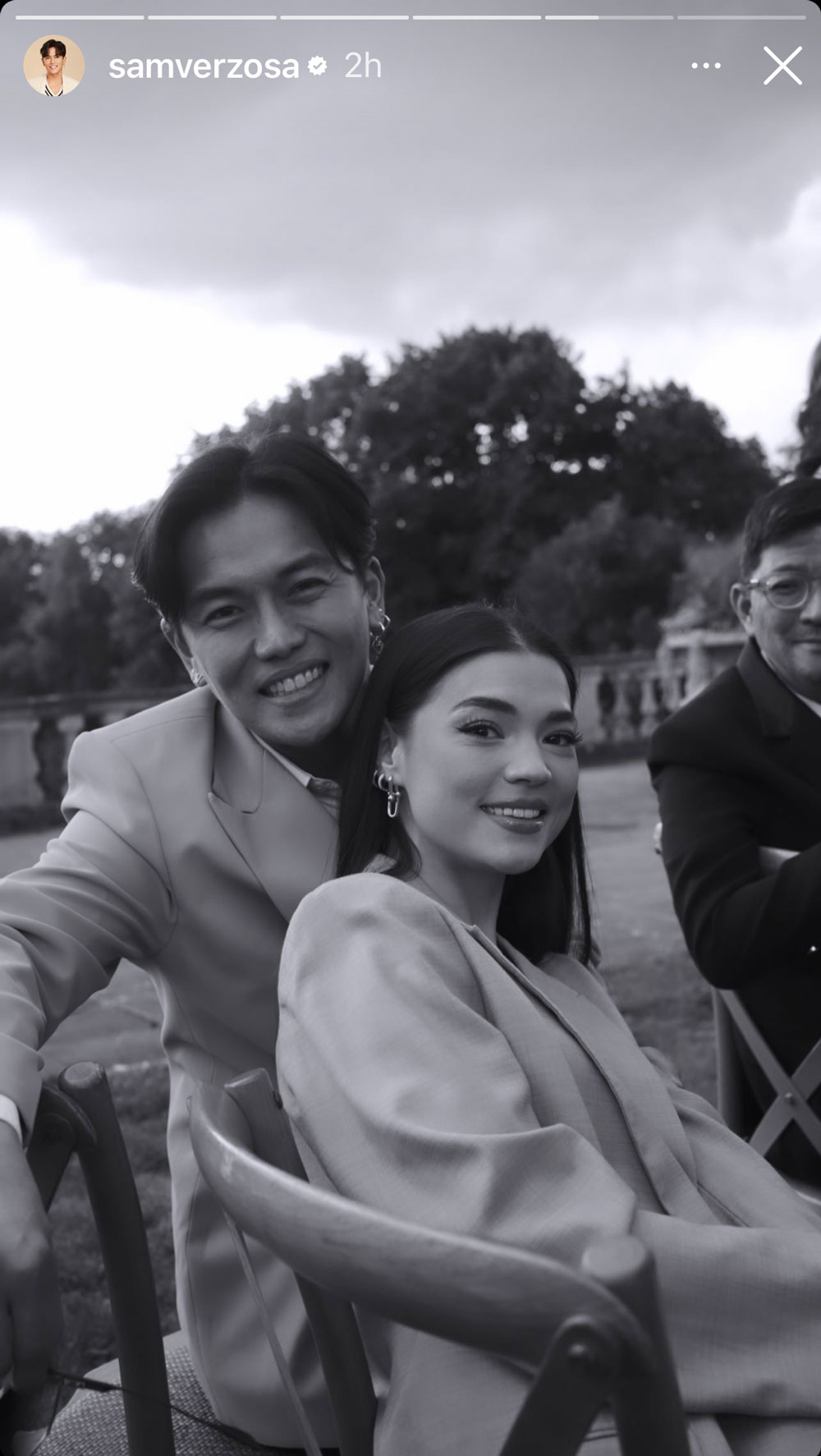 Actress Bela Padilla who has been based in London, made sure to hop in and personally express her happiness for the couple.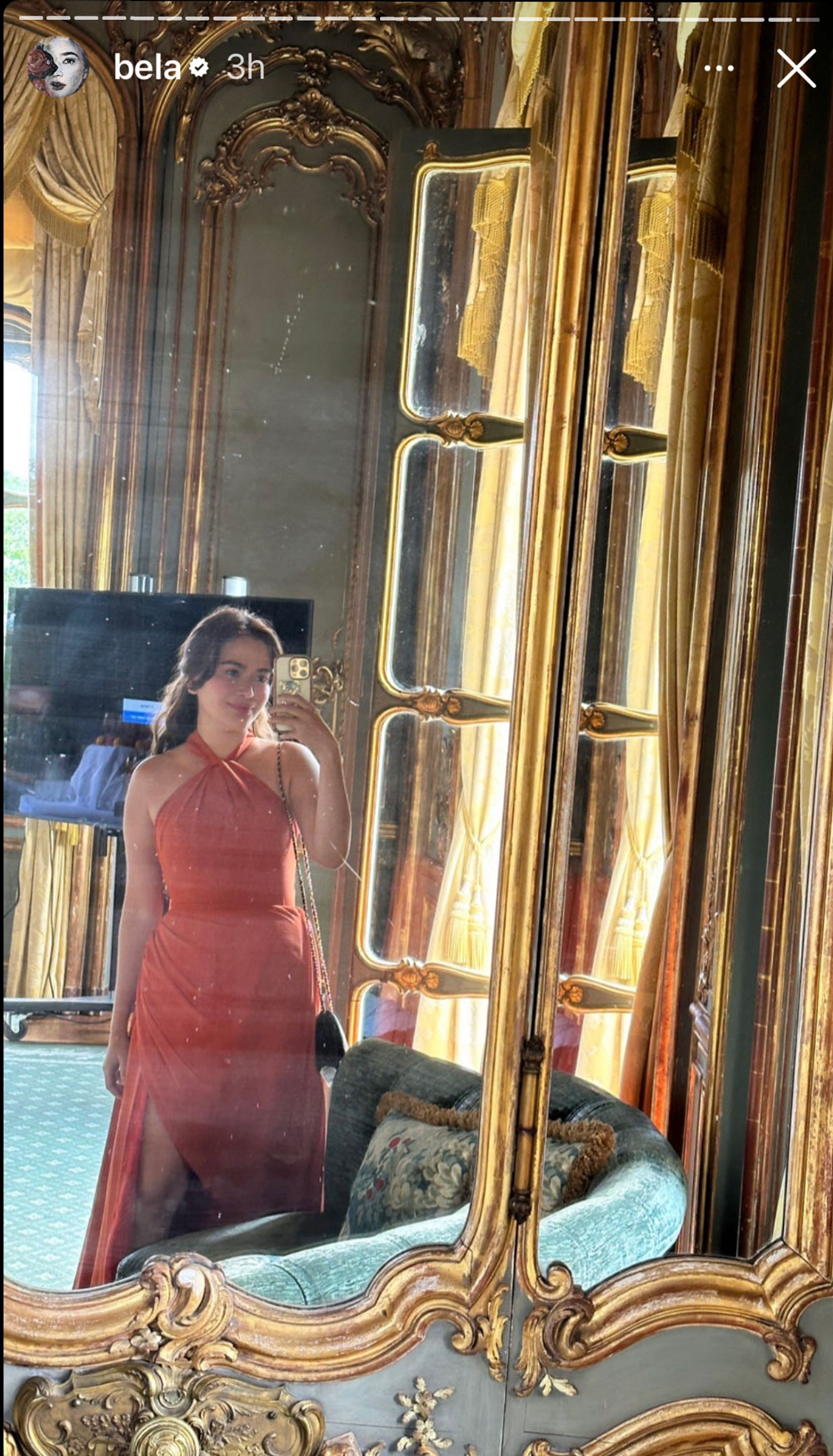 During the ceremony, Bela was seated next to eventologist Tim Yap.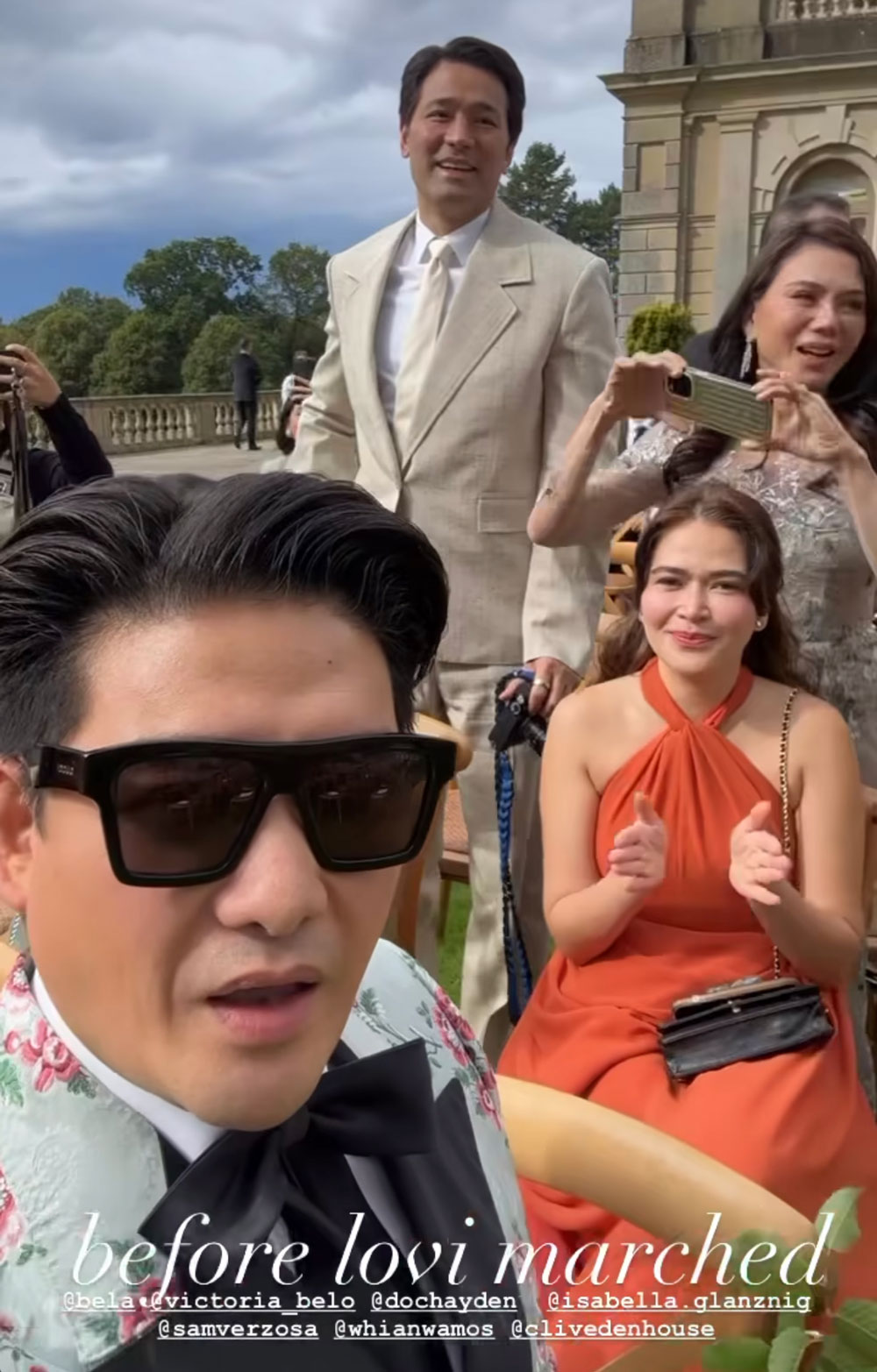 Celebrity beauty experts Dra. Vicki Belo and her husband Dr. Hayden Kho Jr. were principal sponsors.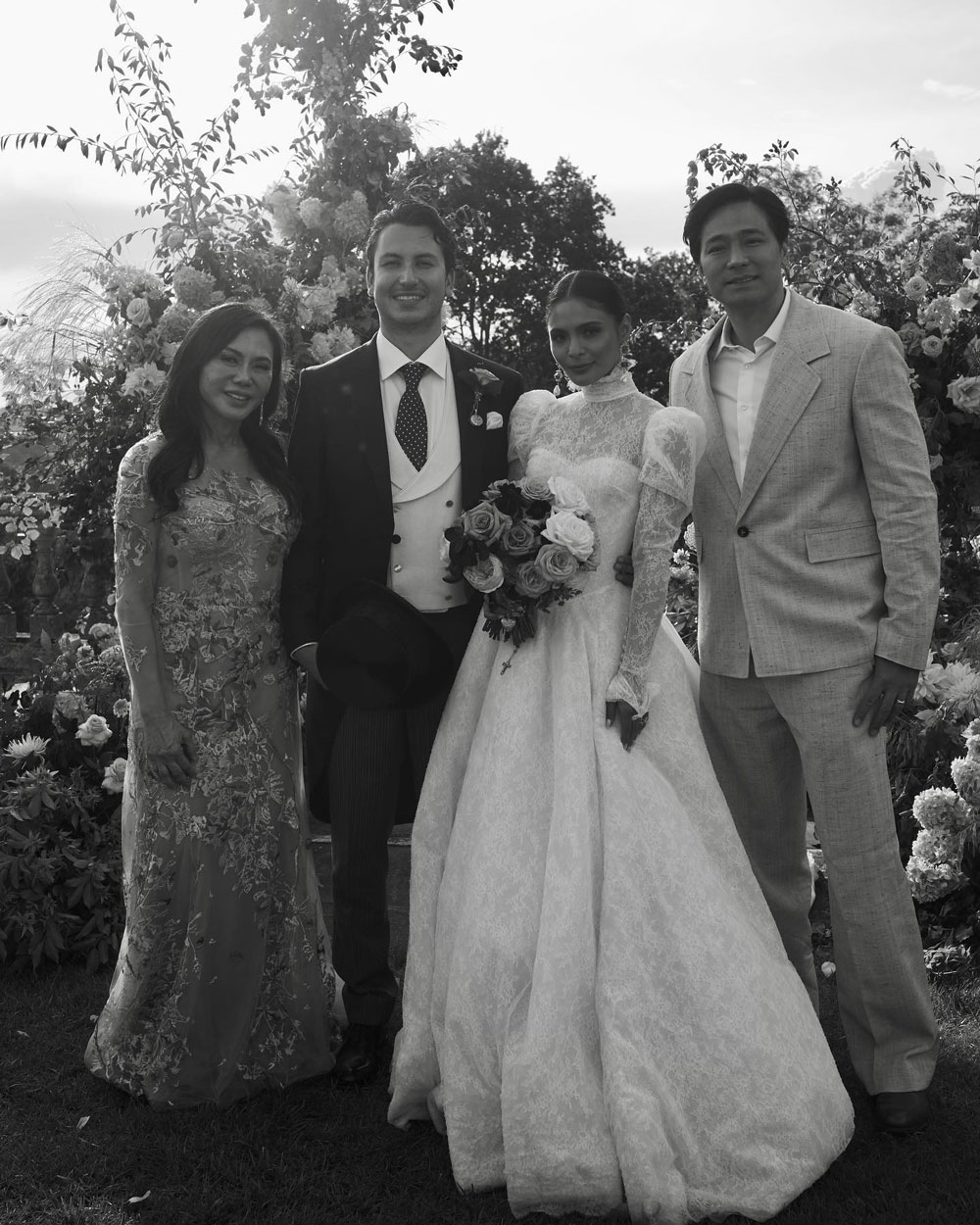 Before the main event, Senator Grace sat for a photo wtih (from left to right) entertainment editor Jun Lalin, Lovi's manager Leo Dominguez, and friends Ferdie Co, and Bernard Cloma.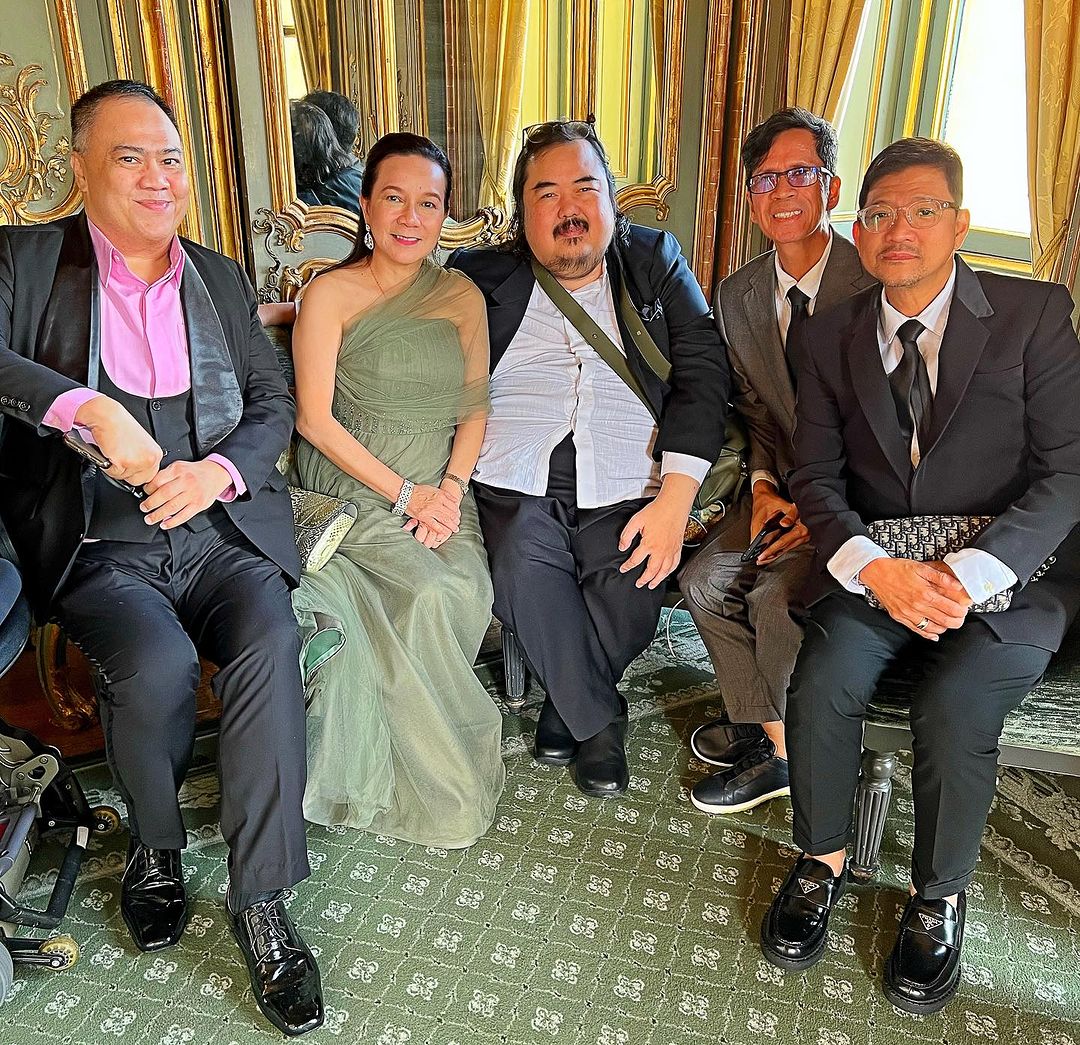 WEDDING VOWS
On August 29, 2023, Tim uploaded clips of the couple exchanging their heartfelt wedding vows.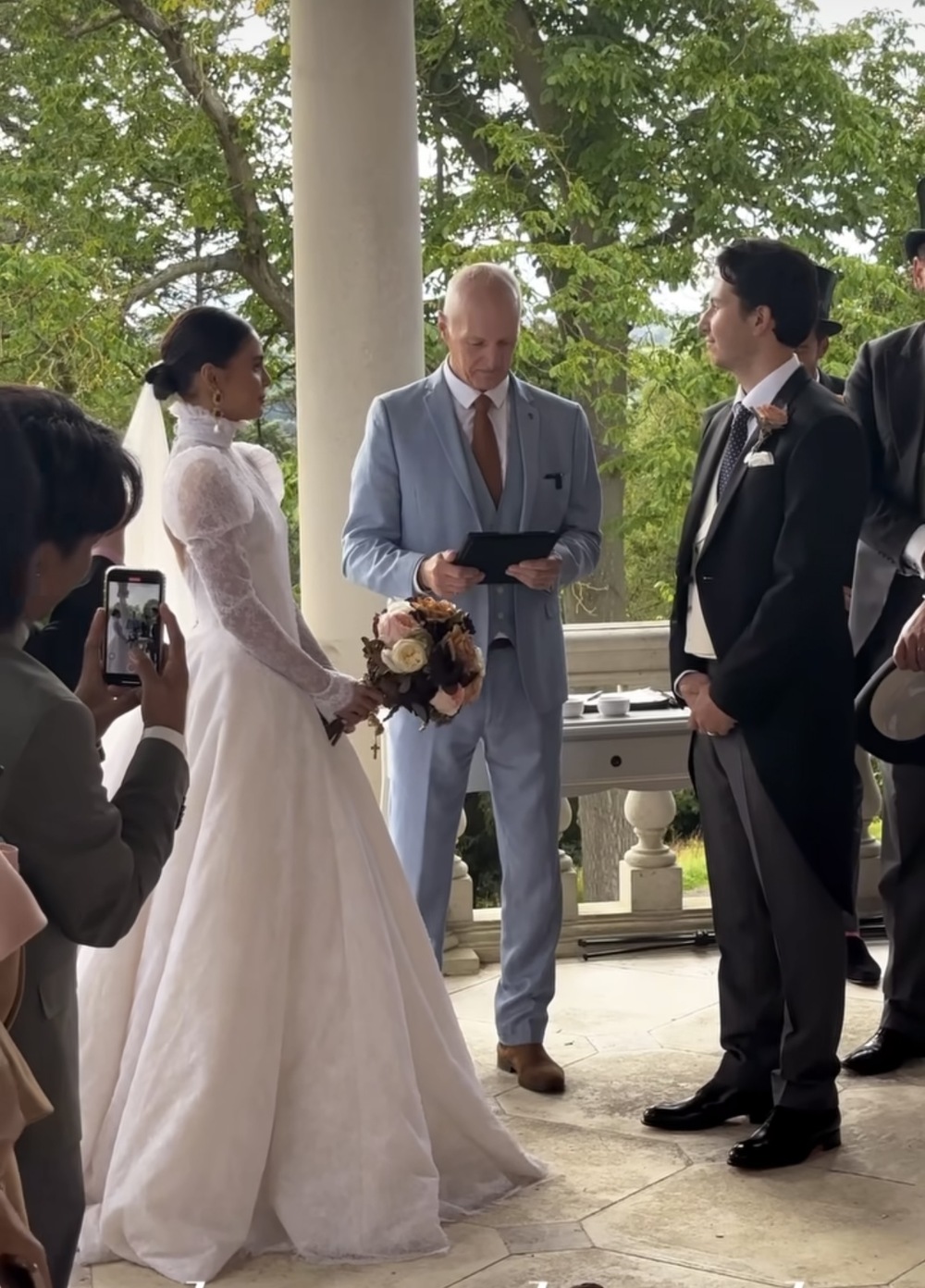 Monty, struggling to hold back his tears, emotionally swore to be Lovi's rock of support and refuge for the rest of their lives.
He declared, "In this new chapter, I promise to always be by your side as your equal, to support your dreams and passions as my own...
"And to form a partnership built on honest communication, trust, and most importantly, love.
"With you, I promise to explore new adventures, celebrate the success that will come our way, and navigate challenges with strength, compromise, and resilience."
By the end of his vow, the British film producer kept it light, saying, "Lastly, even if I appear moody and grumpy, especially in the morning, I promise that I will always have and always cherish every day spent with you."
"[You're] the man who sees my success as his success, the man who supports me and pushes me to turn my dreams into goals," she began, before underscoring his contribution to her present views on relationships.
"More importantly, you have completely changed my perception about family, marriage, and love.
"I've always believed that picking a life partner isn't as simple as choosing someone to love.
"It's about choosing someone who, someday, if lucky enough, my future daughter will thank me for," she concluded.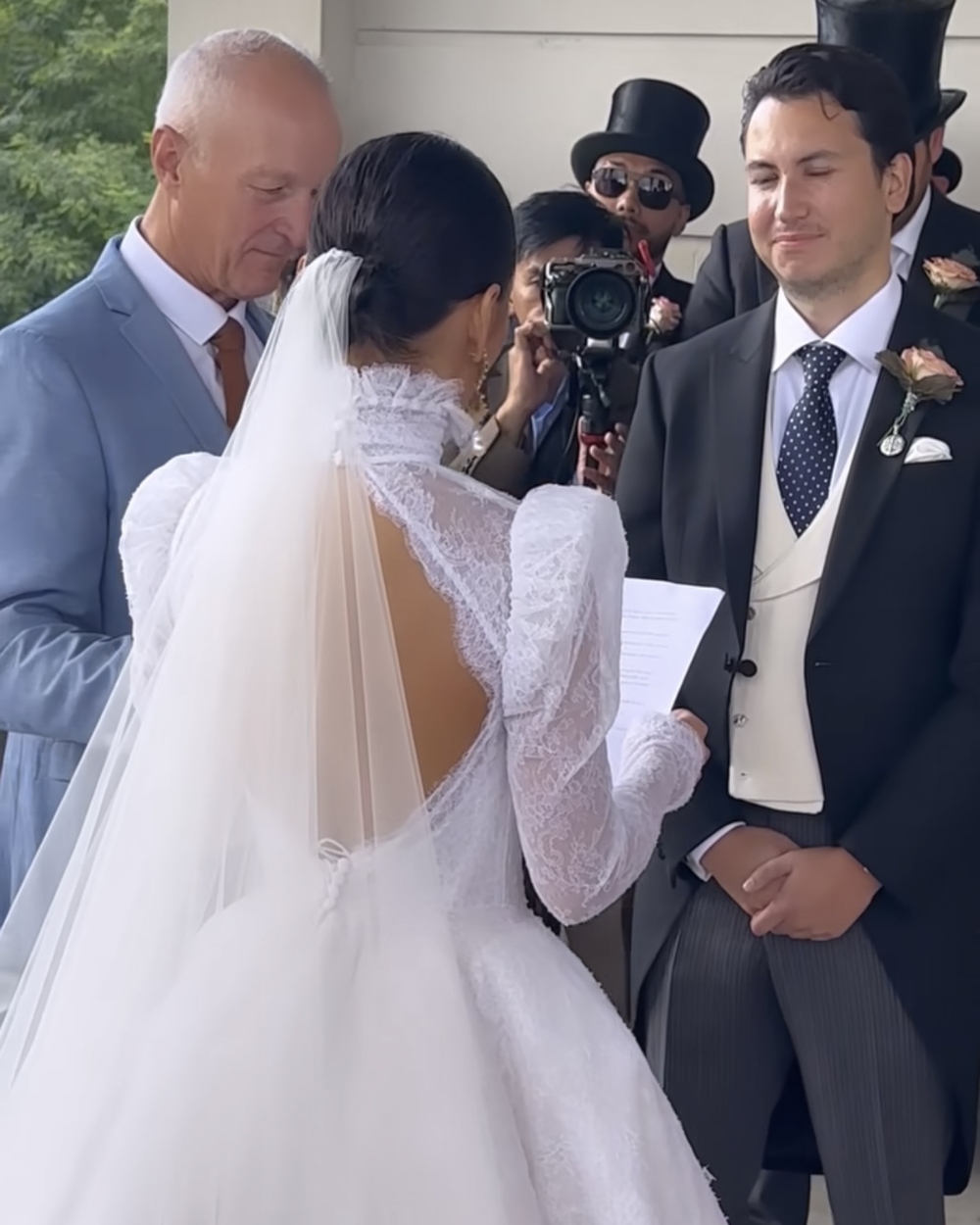 RECEPTION
The celebration proceeded with a reception that radiated elegance and splendor.
Lovi slipped into yet another gown, a backless halterneck dress with a plunging neckline and thigh-high slit.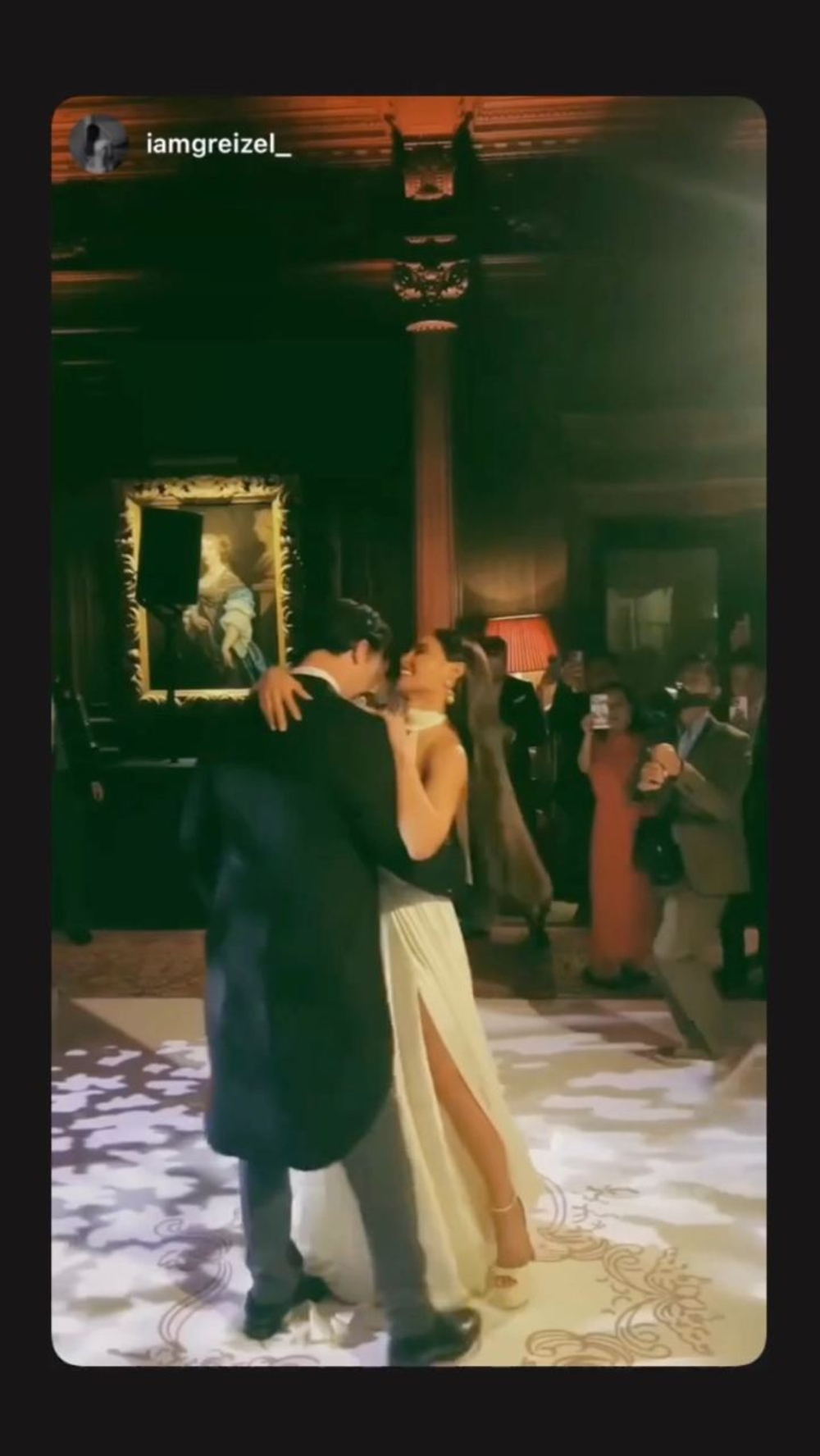 She made the concious effort to switch from sky-high stilettos to platform pumps in preparation for a night full of dancing.
The highlight of the evening was the couple's first dance, set to the romantic tune of Till The End by Jessie Ware, featured in the romantic movie Me Before You.
Monty's cheeky dip-into-kiss move had the room cheering, while his brother Martin playfully joined in with a hilarious "Get a room!" side comment.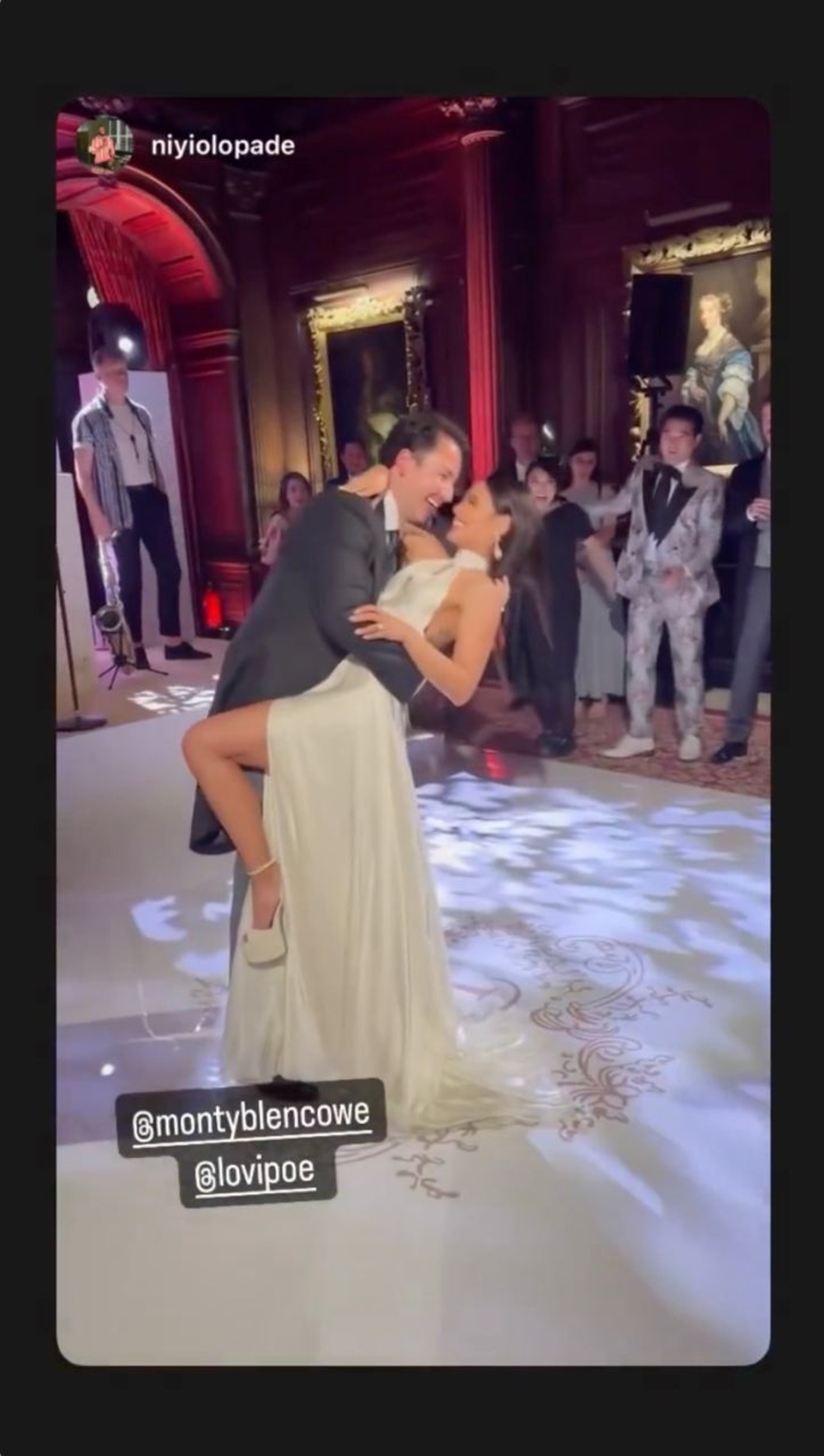 WEDDING CAKE
A delectable three-course meal was served to all attendees at the wedding dinner reception.
The culinary team curated an exceptional experience, starting with Honey-Cured Salmon and a Summer Beet Salad.
This was of course followed by the main course, which was a choice between the Fillet of Beef and the flavorful Pea and Truffle Risotto.
The grand finale featured a Raspberry and Mint Cheesecake or quaintly referred to as the "Exotic Garden" dessert.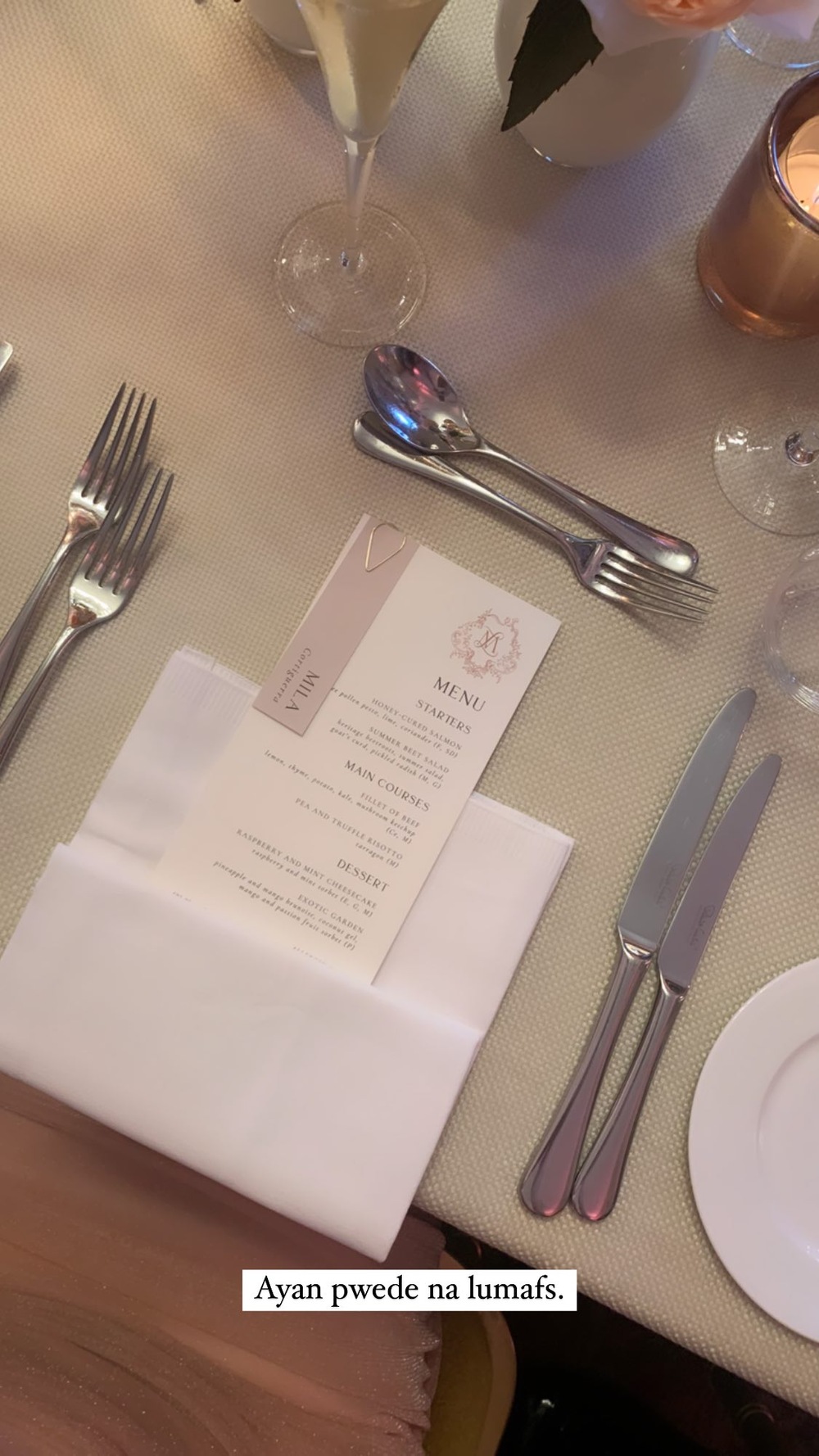 But what really caught the attention of the attendees was the six-tiered wedding cake from Anna Lewis Cake Designs Shop, which appeared to be floating because of its transparent positioning.
It was accompanied by floral arrangements, courtesy of Wild at Heart, adding a touch of natural beauty that harmonized with the overall enchantment of the event.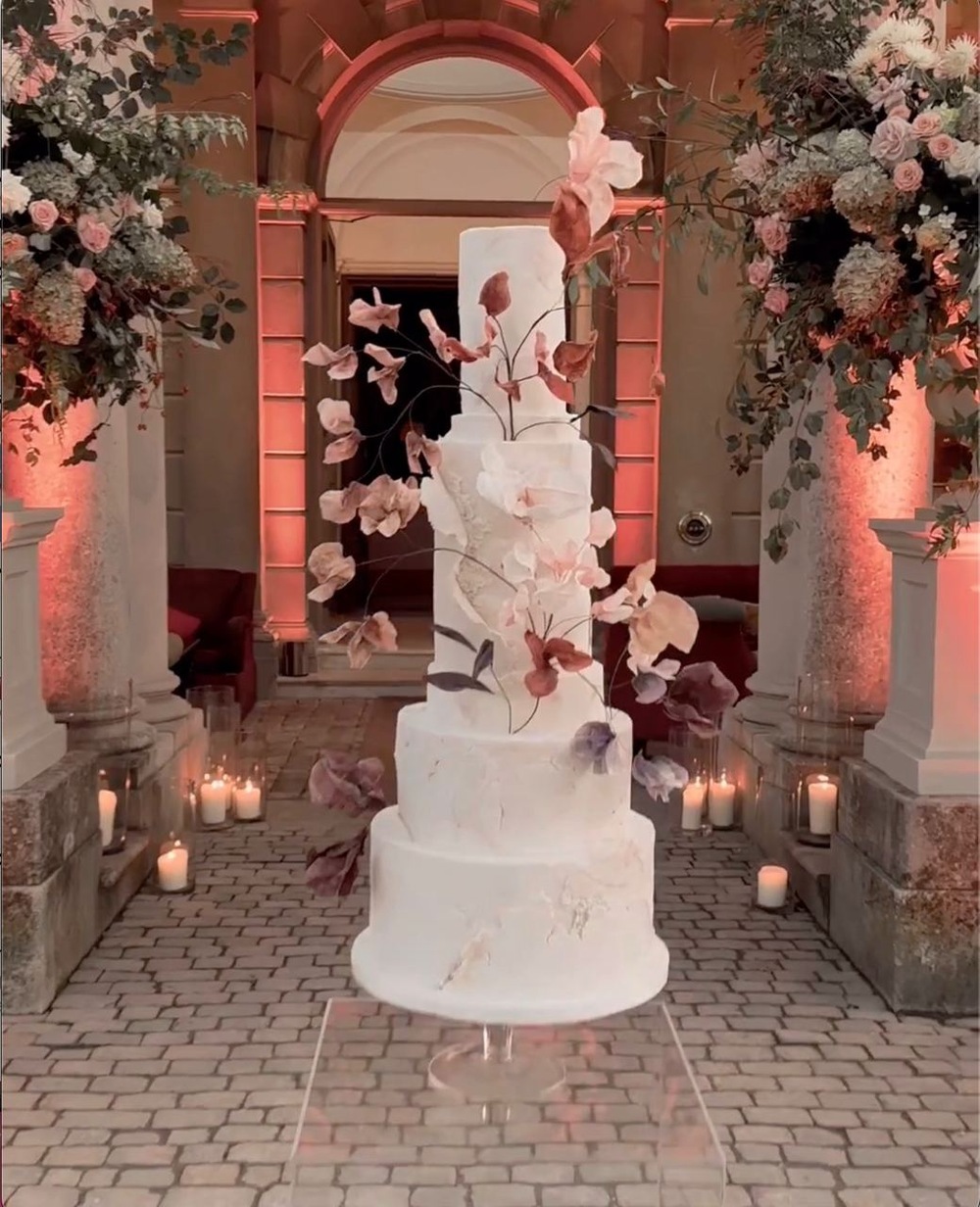 READ MORE: