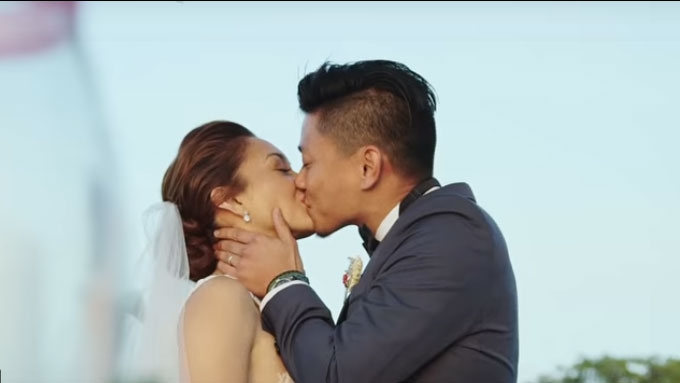 IMAGE Screen grab from Jason Magbanua's YouTube channel
---
We've witnessed a lot of celebrity weddings throughout the years—each one of them unique, beautiful, and romantic.
But here are six reasons why Iya Villania and Drew Arellano's wedding, held January 31, is probably the coolest.
1) PRIVATE AS PRIVATE CAN GET. Videographer Jason Magbanua said it when he posted the official wedding video of his latest celebrity clients, Iya and Drew, on his website.
ADVERTISEMENT - CONTINUE READING BELOW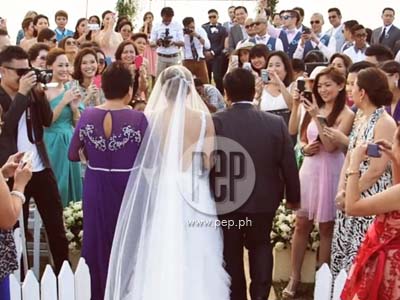 "How you realize that only a small part of the guest list came from the industry, and how media was non-existent.
"They weren't putting on a show for anybody, they were celebrating the moment with those most important to them," he wrote.
They started out as mere co-workers in GMA's teen-oriented series Click, then friends, then lovers, just like most showbiz couples.
But what set them apart was their utter dedication to one another, their commitment to make the relationship work despite all the trappings of fame and their busy careers.
Since May 9, 2004, the day they officially became a couple, Iya and Drew have worked hard to keep their relationship private, and this wedding is but a sweet culmination to their journey.
2) THE CLIFF. Iya and Drew were not the first couple to pick an exotic location for their wedding, but their choice—the Meditation Point in Kawayan Cove, Nasugbu, Batangas—is perhaps one of the most romantic.
ADVERTISEMENT - CONTINUE READING BELOW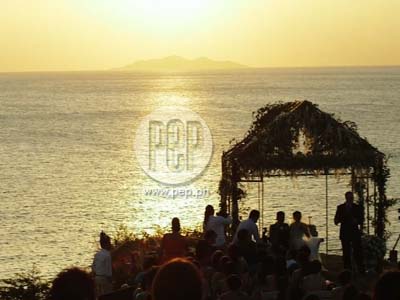 Not only is it truly picturesque, with the water and sunset perfectly painting the background, but it also speaks a lot about the moment.
We probably all heard of the saying "Marriage is a leap of faith."
So, what better way to represent that than to see the couple standing hand-in-hand on the edge of a cliff as if ready to take the plunge?
3) NO NETWORK WAR. Well, it's not as if the artists who work for ABS-CBN and GMA Network are all enemies, but still, it's always nice to see them come together to celebrate a happy occasion.
ADVERTISEMENT - CONTINUE READING BELOW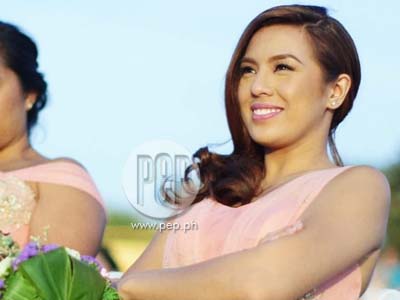 From Iya's camp, she invited her closest buddies Nikki Gil and Shaina Magdayao to be part of her wedding entourage; as well as her former Us Girls co-host Cheska Garcia-Kramer, and former MYX VJ Bianca Roque.
Other Kapamilya guests included Gary Valenciano, Paolo Valenciano and wife Sam Godinez-Valenciano, Luis Manzano, Kim Atienza, Matteo Guidicelli, and Iza Calzado.
From Drew's side of the fence, there were his Unang Hirit co-hosts Lyn Ching, Suzi Entrata-Abrera and husband Paolo Abrera, Rhea Santos, and Regine Tolentino with husband Lander Vera Perez.
ADVERTISEMENT - CONTINUE READING BELOW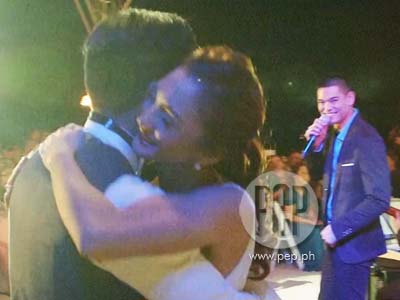 RnB prince JayR, who usually appears on GMA shows, also performed at the reception.
4) THE TEARS OF JOY. Again, it's not the first time a groom cried at his own wedding, but seeing Drew—a man we're used to watching on TV as the tough, athletic, and funny adventurer—in tears was extra special.
ADVERTISEMENT - CONTINUE READING BELOW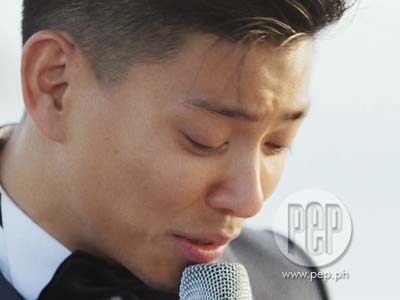 He was saying these exact words when his tears fell: "My vow: to love and care for you even if I run out of words to say.
"Let's start this adventure, and I promise you, through thick and thin we will always be together come what may."
Awww!
And let's not forget how cute he sounded when he said "Hell yeah!" instead of "I do" when the wedding officiator asked him to take Iya as his wife.
5) THAT BRIDAL GLOW. Iya mentioned in her vows that "The past week leading to this day has been crazy."
If she was in any way implying that she had a stressful week preparing for the wedding, then—wow, she must have hired a really amazing makeup artist!
ADVERTISEMENT - CONTINUE READING BELOW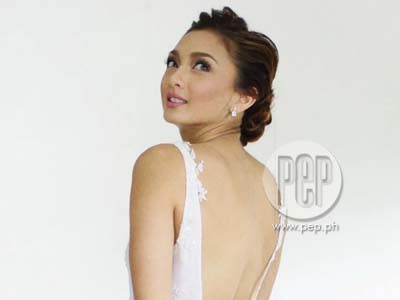 Iya looked nothing short of gorgeous in her Pepsi Herrera wedding gown, which showed off just how beautiful her body actually is.
Her perfectly toned arms and shoulders, which she kept shaking throught their wedding dance, are completely enviable.
So are her backside, exposed through the dress's low cut from the rear, and her left leg, which peeked through her dress's thigh-high slit.
Watching Drew gaze at his bride, he must be thinking: "I am a very lucky guy," especially while Iya said her vows.
ADVERTISEMENT - CONTINUE READING BELOW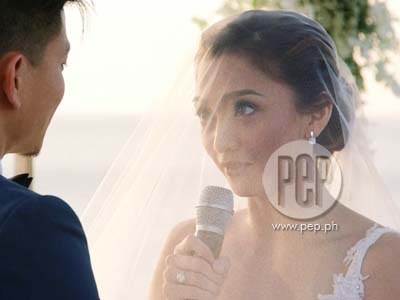 "Today marks the start of what I know will be a happier life with you—a life of freedom and adventure, a life of love that only seems to grow stronger as we grow older, a life of laughter at the silliest of things, a life of growing with each other.
"We made it through nine wonderful years, and I know it's only gonna get better. It's ridiculous, Honey. I love you very much!
"Count on me to show you what more we can be with God's love and His blessing. You know He's a good God when He blessed us with each other.
"We've been waiting for this, Hon, and we're here na!"
6) THE PROMISE OF LOVE AND FREEDOM. People always say the sweetest things in their marriage vows. Not that we doubt the sincerity, but sometimes poetic words can feel a little too good to be true.
ADVERTISEMENT - CONTINUE READING BELOW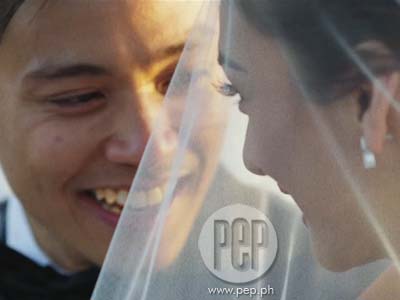 Drew's promise to Iya, however, is something for the books. Here are some parts of what he said:
"Honey, I promise to give you the freedom to be the successful girl you always wanted to be—super energetic host, buwis-buhay dancer, world-class performer…
"But know this: in this journey, I will hold your hand, I will always be there. So, don't be afraid to follow your dreams, and all the sacrifices, I will bear."
ADVERTISEMENT - CONTINUE READING BELOW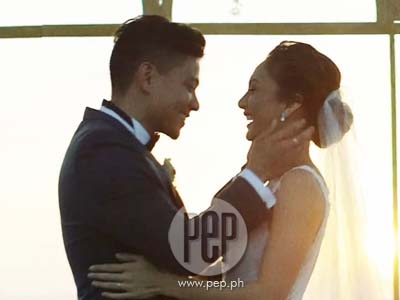 Remember that it took Drew almost eight years before he proposed to Iya—he did it while they were traveling in Europe in 2012—and that is all because his woman's happiness and success is most important to him.
The 34-year-old host has always been considerate of the fact that he is six years older than his 27-year-old bride, and that Iya still has a lot of things she wants to accomplish before settling down and starting a family.
And they say that a man who puts his woman's happiness first is very rare, and therefore is someone to be cherished.