It's official: at exactly 2:00 pm (Korean Time) earlier today, January 19, 2017, Full House star Rain (or Jung Ji Hoon) got hitched with Korean drama actress Kim Tae Hee in a private wedding.
After almost five years of dating, the couple wed at Gahoe-dong Cathedral in Seoul, witnessed only by their parents, siblings and close acquaintances.
Stars spotted were Rain's former producer J.Y. Park, former JYP artists, g.o.d's Park Joon Hyung and Yookn Kye Sang, actor Ahn Sung Ki, and Psy, who also composed Rain's latest single "The Best Present."
At press time, only a few official photos of Rain's wedding have been released to the press. Here's one of them.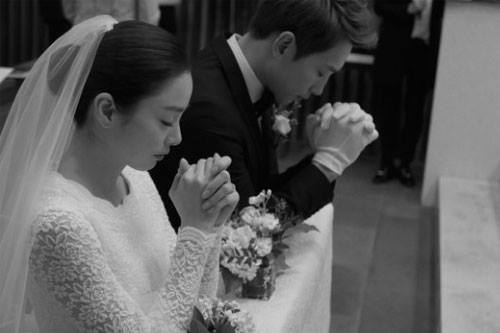 Prior to this, the 34-year-old K-pop star made an announcement about his wedding via Instagram.
The translated letter read, "I am ready to be a good husband and a man as the head of a household.
"She stood by me through thick and thin.
"She's the greatest gift of all."
South Korea's power couple first met at a TV commercial shoot in 2011, and started dating in 2012.
Rain topbilled Korean dramas Full House (2004) and The Fujitive Fugitive: Plan B (2010), while his 36-year-old wife starred in Stairway to Heaven (2003), Love Story In Harvard (2004), Iris (2009), My Princess (2011), and The Gang Doctor (2015).