On January 20, 17 Miss Universe 2016 candidates spent time with cleft patients whose surgeries were sponsored by Smile Train Philippines.
Present were Miss Brazil Raissa Santana, Miss Colombia Andrea Tovar, Miss Argentina Estefania Bernal, Miss Indonesia Kezia Warouw, Miss Great Britain Jaime-Lee Faulkner, Miss Germany Johanna Arcs, Miss USA Deshauna Barber, and Miss Vietnam Dang Thi Le Hang.
Also present were Miss Universe Organization Chairman Paula Shugart and reigning titleholder Pia Wurtzbach.
All visited the beneficiaries of the cleft surgeries at Our Lady of Peace Hospital in Parañaque City.
Meanwhile, Miss Mexico Kristal Silva, Miss Tanzania Johan Dimack, Miss Nigeria Unoaku Anyadike, Miss US Virgin Islands Carolyn Carter, Miss Dominican Republic Sal Garcia, Miss India Roshmitha Harimurthy, Miss Haiti Raquel Pelissier, and Miss Myanmar Htet Htet Htun participated in an empowerment workshop with former cleft patients held at Conrad Hotel in Pasay City.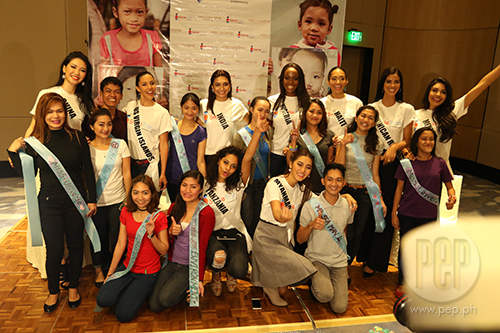 One of their activities was to make sashes describing the former patients.
Miss India Roshmitha Harimurthy (middle) posed for photos with Smile Train Philippines' beneficiaries after the activity.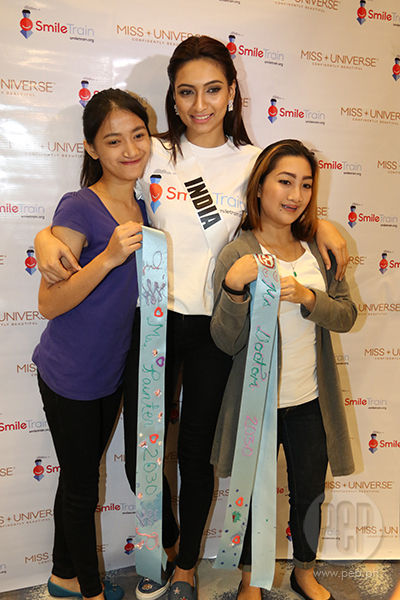 The candidates and the patients also prepared a short dance number.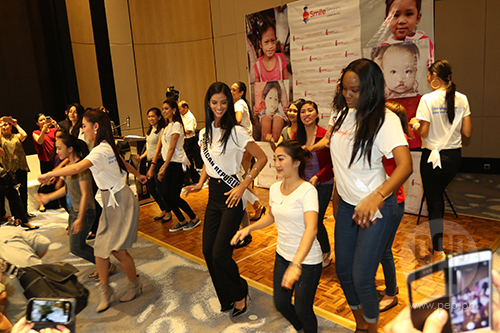 One of the most touching moments at the empowerment workshop was when the beneficiaries opened up about the hardships they have lived with because of their condition.
Miss Haiti Raquel Pelissier and Miss Mexico Kristal Silva (not in photo) became a little emotional during the session.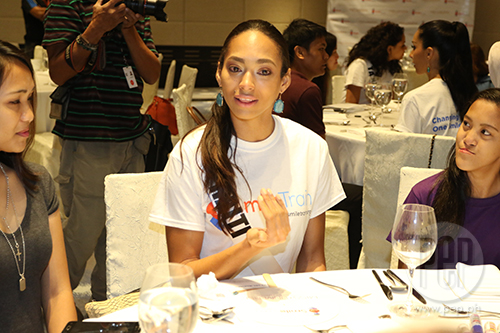 Paula Shugart thanked the beauty queens for helping raise awareness about Smile Train's advocacy.
"The Philippines is unique because there are 7,000 islands, and one thing I got out of today talking to the women, they don't necessarily know… the word isn't out there...
"If you have a child that needs surgery, and you don't know that. So I'm asking you all from the media to get the word out."
Since 2001, Smile Train Philippines has done over 45,000 surgeries for patients with cleft palate and lips.
In 2016, it was able to put a smile on the faces of 6,000 beneficiaries.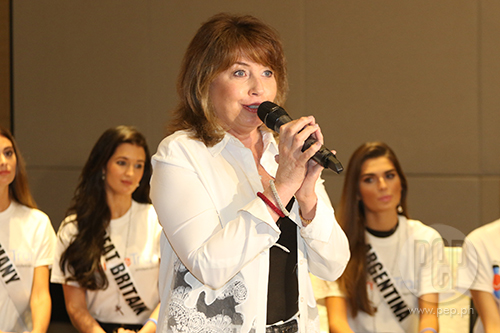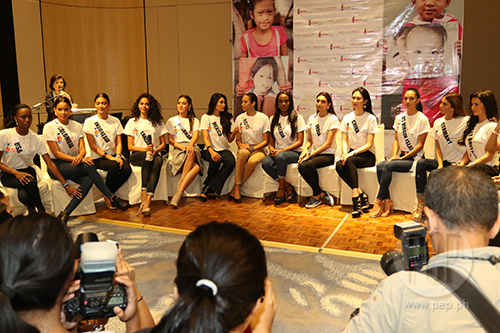 Miss USA Deshauna Barber: "I think it's great that they provide that free service because kids, they start out so young, and we don't want them to be self-conscious and have low self-esteem growing up.
"I think it's awesome that the organization travels to over 180 countries and they were able to make that impact from the start."
US Virgin Islands' Carolyn Carter celebrated her birthday last January 12 with Smile Train PH beneficiaries.
In an interview with PEP.ph (Philippine Entertainment Portal), the 27-year-old model/beauty queen said she was deeply touched by the stories of the patients.
"It's a personal journey, I don't have a cleft lip nor do I know anybody in my family who has been affected by it, but the people I have met along the way who have been affected by it—it has moved me, it's moved my heart.
"It has moved me deeply to the point where it's something that I feel like I'm gonna be involved for the rest of my life."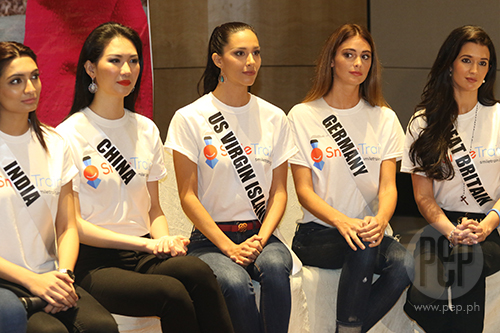 Carolyn was the first candidate to arrive in the country, and made time to engage in socio-civic activities.
She continued, "We did a home visit in Payatas which was an incredible and deeply moving experience. It was very important for me to be able to do that.
"I came early to the Philippines, because I wanted to adjust to the time and I wanted to be able to work with Smile Train because I knew I would be here. I knew once we started Miss Universe, my sechedule would be a bit busier.
"Luckily, we had this event today, I had no idea. So, I'm really thankful to be part of it because this is part of my mission."
Meanwhile, Miss Mexico Kristal Silva shared her experience participating in a similar event in her native country.
She told PEP, "I'm very grateful to have this opportunity with all of these people, with all of these children.
"It's like being in my country. I had the opportunity to work with this organization in Mexico, and now, to be in Miss Universe, to be in the Philippines, and to have a message for them, it's very amazing. Because I can show them that we can have a solution for all, and we can be an inspiration for them.
"And in my case, I had the opportunity to know Mexicans, people with this condition, and I try to show them that this condition is all over the world, and they need to have a goal and a purpose to continue with their life.
"And we are the same, we are equal, and for me it's amazing."