Vicki Belo and Hayden Kho Jr.'s wedding in Paris, France, on September 2 (Paris time) was, without question, fantabulous.
It was, by every measure, grand: Event organizer Javi Martinez Pardo put the number of guests that flew in to the City of Lights from various continents at 241, with around 50 of them celebrities from the Philippines.
It was also unapologetically luxurious: The bride and groom chose the legendary Hotel Ritz Paris to stay in, booking themselves in its Coco Chanel Suite, no less.
The Chanel suite—named after the founder of the House of Chanel, who designed the suite and lived in it for 37 years—boasted a living room, a private wine cellar, three marble bathrooms, a big dressing room, and two immense rooms.
One immense room was for Vicki and Scarlet; the other, for Hayden. And in a smaller room adjacent to Vicki's own, their executive assistants stayed, including the yaya of their daughter Scarlet.
The bride and groom also picked up the tab on the round-trip tickets for family members on both sides, billeting them at the five-star Le Burgundy, where more personal friends stayed, whose air fares and accommodations were also shouldered by the couple.
It was, even for the seriously wealthy, over-the-top: The couple hosted no less than two upscale receptions, both of them catered by Potel et Chabot, described as "one of the world's most prestigious caterers" by the Cannes-based events company luxury-wedding.com.
The first, a pre-wedding welcome dinner aboard a yacht that cruised the River Seine, where music and copious amounts of wine lent themselves to dancing and romantic moments.
And the second, a wedding reception dinner at the Opéra Nacional de Paris - Palais Garnier, with welcome music from opera singers, a five-course meal, and, according to a guest, "overflowing champagne."
It was, unarguably, a wedding set against a splendidly simple place of worship: Nuptials were consecrated at The American Church, a classic church with high ceilings, a traditional altar, and stained-glass windows. Built in 1931 and said to be "the first American church established outside the United States," its rigid simplicity makes it overwhelming.
It was, also unarguably, a wedding set against gilded opulence: The reception was held at the Grand Foyer of the venerable Opèra Nacional de Paris, on its second floor, but to make this happen, the entire opera house—which has, besides the auditorium, four salons and two foyers, two rotonde, one grand staircase, a museum-library, and several rehearsal studios—had to be closed down.
For two days, the Opèra Nacional, a Paris institution and an architectural masterpiece, was made exclusive to the couple.
The Grand Foyer is itself admired for its "magnificent ceiling," painted by Paul Bawdry using musical themes, with the lyre its dominant decor element. Equally impressive, the Grand Foyer has a "magnificent view" of the Avenue de l'Opera, which stands just across the world's largest art museum, The Louvre.
So stunning is the place that all that the Belo-Kho wedding stylists had to do was dot the grand staircase with topiaries of all-white blooms in tall metal vases and fill the reception area with more all-white blooms in tall glass vases.
It was, altogether, quite costly even for the very rich.
BEHIND THE SCENES
Javi Martinez Pardo of Yaparazzi Events revealed on Instagram that a crew of over 400 and 25 artists helped him stage The Wedding of The Year.
He wrote: "It has been an amazing and exhilarating ride to create @victoria_belo and @dochayden's dream wedding.
"Took us almost a year to plan, curate, and execute the concept and the entire production—250 guests, 400 crew, and 28 artists flown from all over the world.
"Thank you so much to everyone who made it possible."
The well-liked Javi, who was also the man behind the Cristalle Belo-Justin Pitt wedding in Lake Como, Italy, last year, tapped around 25 suppliers.
He thanked the couple for the "once in a lifetime experience."
Javi, also known hereabouts as the fiance of Tim Yap, added: "I am so proud of how far the entire @yaparazzievents team has gotten. Around 25 top suppliers were involved on the delivery of an amazing event."
FANTABULOUS WEDDINGS COST FANTABULOUS AMOUNTS

While Javi shared some information with PEP.ph (Philippine Entertainment Portal) and confirmed some we already had, through a Facebook exchange with our reporter Angelique Sampayan, he begged off from saying what the logistics of such a grand undertaking could be.
"Sorry dear, it's just to protect the couple," said the wedding organizer.
Not surprisingly, others involved in mounting the grand affair have also been mum about something, uhh, as crass as money.
It is a wedding, after all, a momentous occasion that brings to the altar Dr. Vicki Belo, 61, and Dr. Hayden Kho Jr., 37, following a 12-year-long relationship that has produced one child.
But, with their wedding now the most grandiose of all Filipino weddings in recent memory, it has become big news covered by all media—and so begs the math.
Here is PEP.ph's estimate of the breakdown of wedding expenses, plus the ballpark figure of what the whole extravaganza cost.
Our sources: The floor price of wedding suppliers, designers, and service providers set against the wedding's custom executions and special add-ons; a few key telephone calls to reliable contacts; and, equally important in social events such as this, deep whispers among Dra. Vicki's closest friends.
Thus, we have particular information that move the math a few thousand euros this way or that. For instance, one source says that some features of the wedding, such as the reception venue, were given to the couple as gifts.
In doing the math, we have included these gifts in the costing anyway, to give PEPsters an idea of what it takes to mount a grand Parisian wedding.
THE CHURCH

Dra. Vicki, a woman much loved by her friends, and Dr. Hayden, a man who rose to the occasion by taking charge of the complex wedding preparations, exchanged vows at The American Church in Paris.
The church website says its "expected donation for a wedding ceremony is 1,350€."
Its website also mentions these inclusions: "Two hours of sanctuary time, the visiting pastor, organ music by our organist, correspondence with the wedding coordinator, the visiting pastor, and the music director, a meeting with the visiting pastor, and a one-hour rehearsal."
Converted into Philippine pesos today, this is roughly PHP83,000.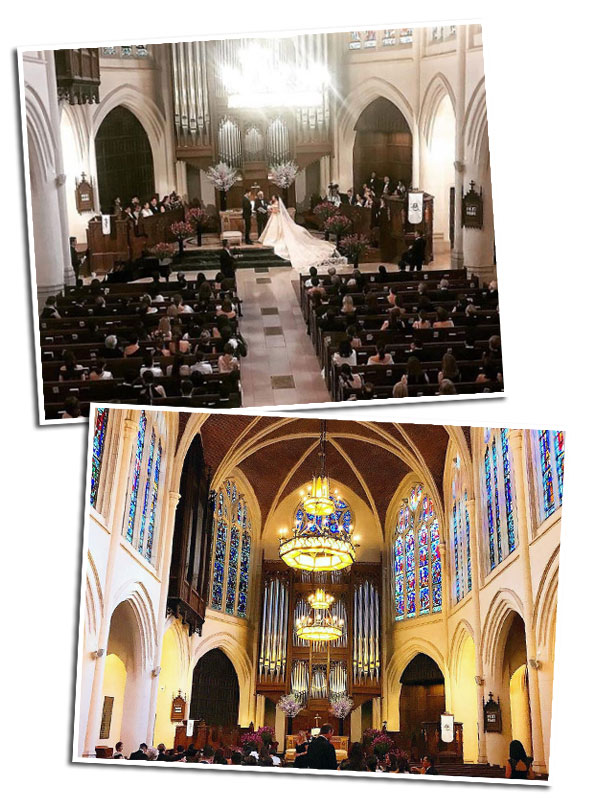 THE BRIDAL CAR

If a couple to be wed were to rent a chauffer-driven luxury car in Paris—to pick them up from the Ritz to The American Church, and then from there to the reception at the Palais Garnier—car rental companies would charge them at least 2,000€ or PHP122,000 for ten hours.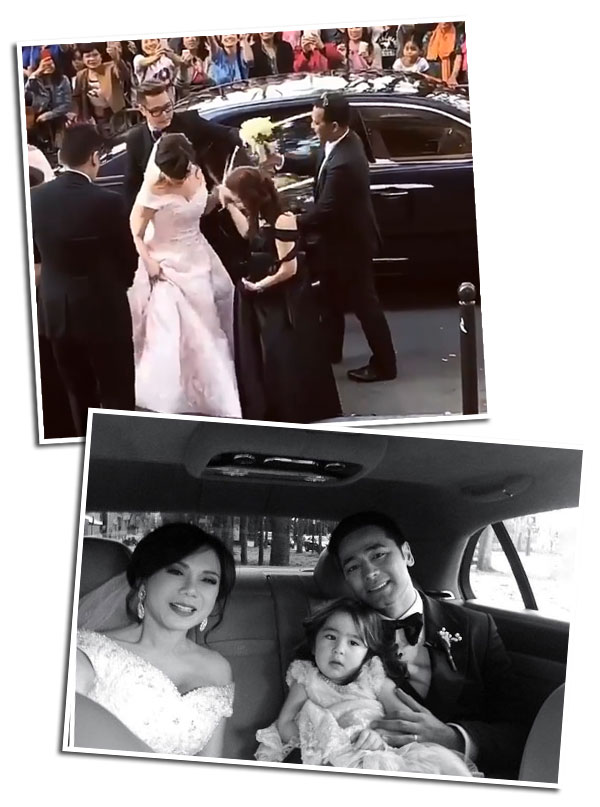 Following the church ceremony presided by Pastor Ravi Zacharias, luxury vans waited to transport 241 guests from the church on Quai d'Orsay to the reception on Rue de Scribe, only 12 minutes away.
The events team, setting out to provide comfortable rides for guests, rented no less than 12 luxury vans—not just for the day of the wedding and not just for the two days when guests were officially feted with dinners, but for the earlier days when the events team had begun working in Paris.
Van rates go for 400€ for eight hours, with an additional 50€ for every hour beyond that.
If a computation were made for 12 luxury vans for just two full days—September 1, when the majority of guests had arrived; and September 2, the day of the wedding itself—the cost would be 28,800€ or PHP1,756,000 for 48 hours.
THE GOWNS

Vicki wore a Michael Cinco blush-pink gown fully-embroidered with baroque patterns and adorned with transparent rose opal Swarovski crystals.
The gown also had a three-meter-long train made of French lace.
A Cinco couture bridal gown has a base price, in United Arab Emirates dirham, of AED60,000, according to a blogger who had made a direct inquiry with the Cinco atelier in Dubai.
But a celebrity source told PEP.ph that the price, whispered about among guests at the wedding, was PHP8 million.
Well, the much-in-demand designer did make a total of four gowns for Vicki, plus a gown each for the three flower girls, so these may have been factored into that PHP8 million price tag.

In an Instagram post, the Dubai-based Filipino designer revealed that Vicki's wedding gown "took 1,000 hours to finish with 50 skilled artisans."
Meanwhile, the light-blue gown Vicki wore for their first dance as a couple, on the Grand Staircase of the opera house, was designed by Mark Bumgarner.
According to M'oda 'Operandi, which bills itself as "an online luxury fashion retailer," Bumgarner gowns selling at the site go from $3,000 to $10,200, which translates to P153,000 to P521,000.
Vicki's gown was custom-made for her and would, of course, cost far more.
Bumgarner said this about the gown: "I created this blue dress with a fairy-tale wedding in mind."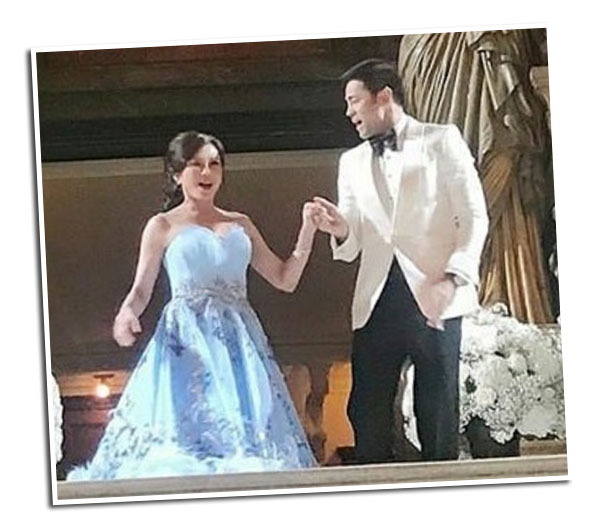 Vicki changed into a Monique Lhuillier blush-pink column gown for the program during the wedding reception.
Remember Georgina Wilson's April-2016 wedding where she wore a Monique Lhuillier? That was a gift from the beauty doctor, and it reportedly cost PHP774,000.
Website BridalMusings.com wrote that a gown from Monique's signature collection has a price range of $5,000 to $20,000 or PHP250,000 to PHP1.2 million.
Lhuillier, who says in coveteur.com that she limits herself to 10 custom-made gowns a year, custom-made Vicki's gown.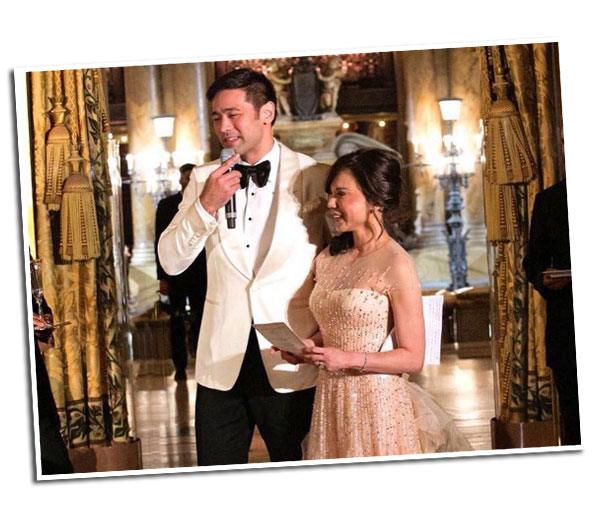 THE GLAM TEAM

Juan Sarte did the bride's makeup and Junar Santos took care of her hair.
The usual wedding package of topnotch makeup artists doing work in Manila ranges from PHP80,000 to PHP120,000; hairstylists charge as much as PHP30,000. But, naturally, they had to fly to Paris and back—so these have to be factored in.
Still, the glam team may have waived their professional fees. After all, they are on retainer by the Belo Medical Group for its publicity and promotions shoots. Moreover, their plane fares to Paris and Airbnb accommodations in that city were all paid for.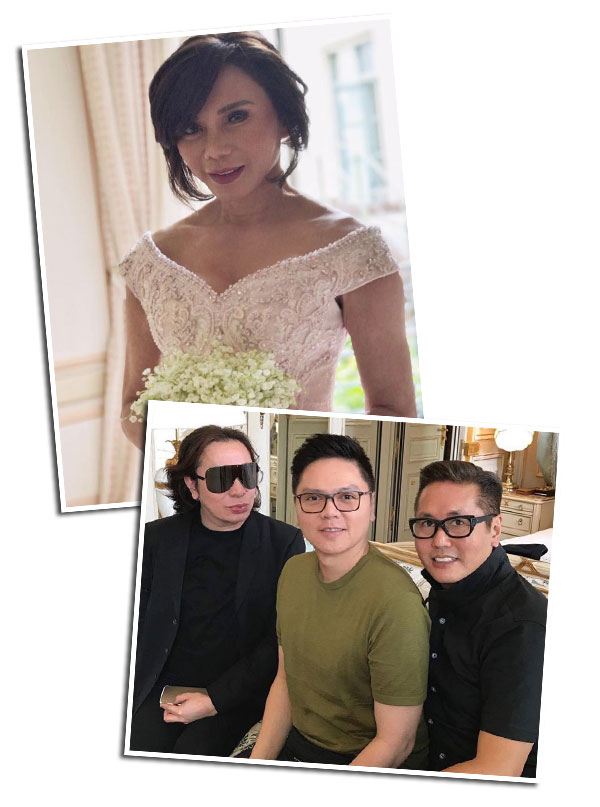 THE GROOM'S SUIT

During the ceremony, Hayden donned a Tom Ford Windsor suit with a satin peak lapel that was priced, according to the brand's website, at $5,460 or around PHP280,000.
Hayden changed into a white Tom Ford coat during the wedding reception.
The ivory coat was priced at PHP107,395 on Polyvore.com.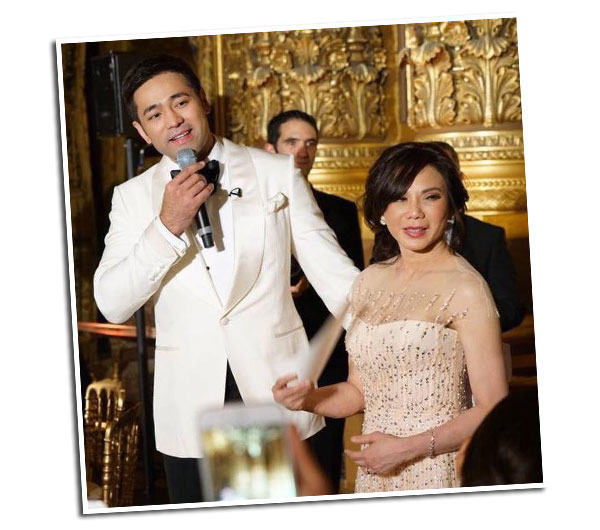 THE WEDDING RECEPTION

The Palais Garnier's Grand Foyer as wedding-reception venue is said to be a "surprise" to Vicki from Hayden.
Rental for the Grand Foyer—including the pourtours, the Avante-Foyer, and the Rotonde du Glacier—is 95,000€ a day, excluding taxes, according to the OperadeParis.fr, the opera house's official website.
The Grand Staircase on the ground floor is where Vicki and Hayden had their first dance—set to the song "Take Me as I Am," from the soundtrack of the musical Jekyll and Hyde, but recorded in their voices.
The after-party was held at the Rotonde du Glacier.
To go by Michael Cinco's Instagram post, the whole opera house was closed to the public for two days, so the rent could conceivably go up to 190,000€ or roughly PHP11.6 million, before taxes.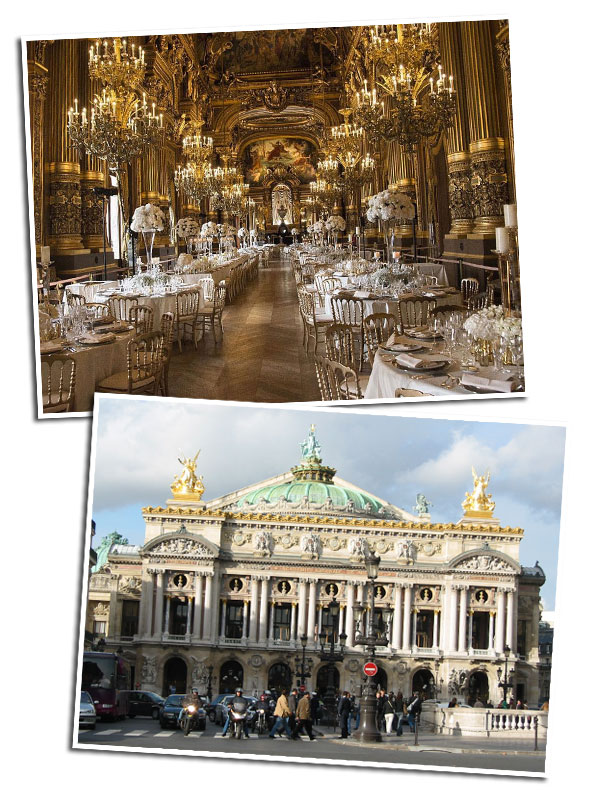 THE STYLING

Vicki and Hayden tapped event-stylist Robert Blancaflor to adorn the church and wedding-reception venue with hydrangeas, roses, calla lilies, and one of the most expensive flowers in the world, the Lily of the Valley.
Three brides revealed to PEP that stylists of Blancaflor's stature would quote a PHP300,000 to PHP400,000 bill for a Manila wedding. One bride also said that a stylist less famous than Blancaflor quoted PHP750,000 as his minimum fee for a wedding in either London or Paris.
Note that Blancaflor, for the Paris Belo-Kho wedding, also had to work with French florists, which would have upped his budget.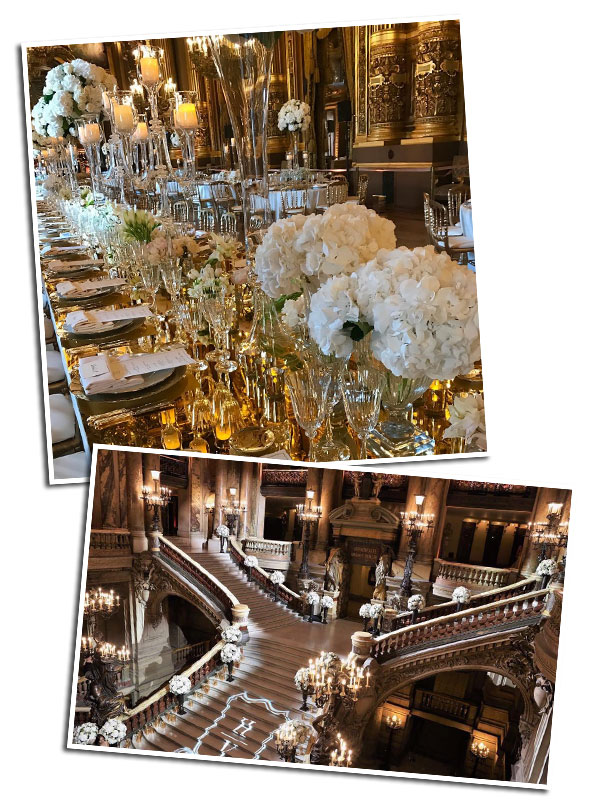 Robert collaborated with French florist Anne Vitchen and her team.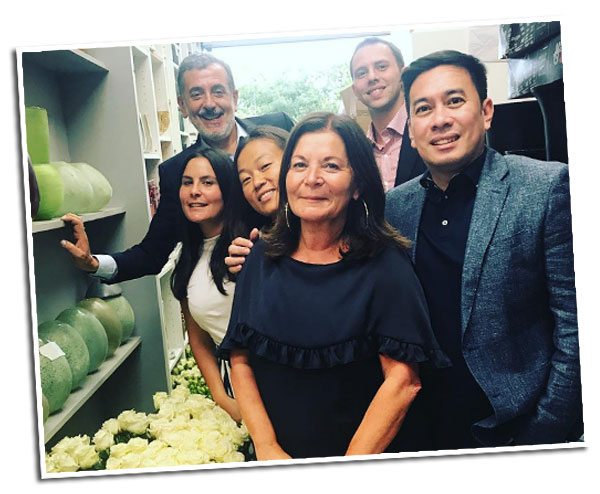 Tables at the reception were decorated with the best-available white blooms this time of year, including hydrangeas, Ecuador and spray Roses, freesias, zantedeschias, tulips, and peonies.
The flowers were sourced by Robert's team from the markets of Paris, according to a guest at the wedding.
THE CATERING

Potel et Chabot was in charge of the couple's welcome dinner at the Pavillon Seine, held the night before the wedding, Friday, September 1 (Paris time).
A PEP.ph contact in Paris, making phone inquiries, got this information: Rental of a Pavillon Seine cruise, from 7 in the evening till 12 midnight, which is the period the Belo-Kho party had the yacht to themselves, is 12,300€ (PHP750,000).
The "high-end caterers"—to go by the nytimes.com description of Potel et Chabot—prepared a sumptuous five-course reception dinner that one guest declared "tasted as good as it looks."
The menu consisted of truffle egg, citrus fruit lobster, and kalamansi sorbet for starters; and a choice between garden peas seabass and veal on "Hatelet" for entree.
The five-course meal ended with sweets: chocolate espuma, rose mini macaroon, sacher biscuit chocolate raspberry, and cracker lemon and crispy coconut.
The same PEP.ph contact in Paris, making a phone inquiry this time with Potel et Chabot, got a quote of 265€ (PHP16,000) per head for a standard five-course meal.
This includes the amuse-bouche or mouth-amuser, which are bite-size appetizers/canapé, like plates of olives and crocks of tapenade.
The PEP.ph contact added, "It could go higher depending on what you add."
According to a Belo-Kho wedding guest, the Potel et Chabot bill reached 2,000€ per person or PHP122,000, and the reception count was for 280 persons.
If we computed for 280 guests at PHP122,000 each guest, we would have a bill amounting to PHP34,160,000.

This bill may or may not have included the Potel et Chabot charge for the river-cruise dinner.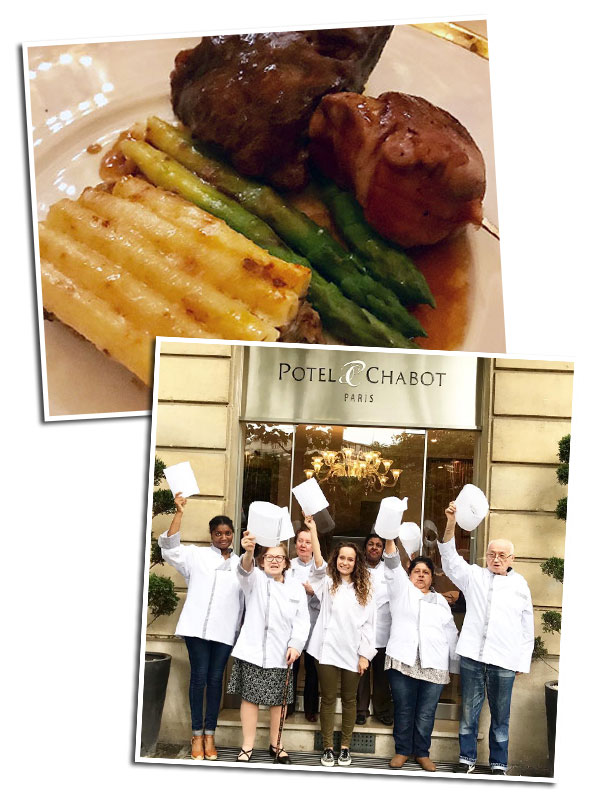 AIR FARE AND ACCOMMODATIONS
Vicki, Hayden, and their daughter Scarlet Snow boarded a first-class flight to Paris via Singapore Airlines.
A first-class, round-trip ticket for two adults and a child would cost $33,000 or roughly PHP1.7 million, according to the airline's website.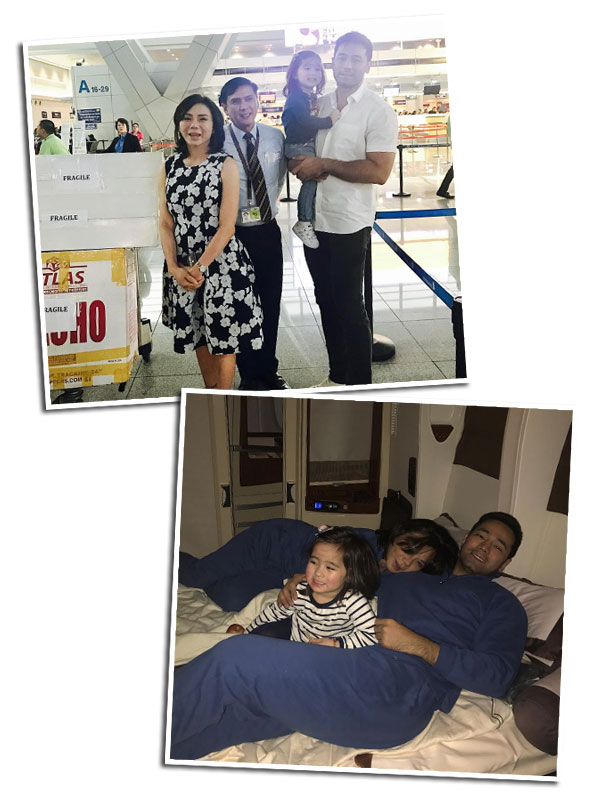 In Paris, the family checked in at the Ritz, which describes itself as "the city's most legendary five-star hotel."
The Forbes Travel Guide goes further: "It is not just a temporal respite for weary travelers but an actual home to luminaries such as Coco Chanel, Ernest Hemingway, Duke and Duchess of Windsor, Marcel Proust... as well as many major political figures."
In an Instagram video, Vicki gave a virtual tour of their Coco Chanel Suite, which the Ritz website says goes for 22,000€ or roughly PHP1.35 million per night.
A six-night/seven-day stay at the suite would cost a minimum of around PHP8.1 million.
The couple shouldered the airfare of the wedding team and the glam team, plus those of some very close friends.
This contingent traveled business class, with the groups housed separately once in Paris: The events team stayed in one of two apartments of Vicki in the center of Paris; the glam team in Airbnbs, also in the center of Paris; Vicki and Hayden's executive assistants in a room next to theirs at the Ritz; most friends at Le Burgundy Paris, which calls itself "a haute couture hotel"; and other friends at the five-star Peninsula Paris, which bills itself as "a historic, luxury hotel."
According to a PEP.ph source, who is based in Switzerland but happened to be in Paris on the weekend of the wedding, she was booking a suite at Le Burgundy on September 1 (Paris time).
It was no go. "Hindi kami nabigyan ng suite," she said to PEP.ph via FB messenger. "Ang sabi ng hotel may Philippine wedding daw at booked lahat ng suites nila."
Price of a junior suite at Le Burgundy is 801€ (PHP48,000) a night, while a superior suite goes for 1,314€ (PHP79,800) a night.
THE INVITATIONS

The gold invitations with the letters HV in the center—for Hayden and Vicki, of course—were produced by Patria David, whose design fee starts at PHP35,000.
On Instagram, she posted the specs: "Paper : 350gsm Ivory Woodfree | Bevania Splendorgel Ivory 350gsm | Printing Process : 4CMYK; 2 Color Deboss + Foil Stamping"
PEP.ph asked a printing company what these specs would cost, and we were told that it would be PHP125,000 for 250 pieces, not counting fees for delivery and for illustrators.
Illustrations were done by award-winning artist Robert Alejandro (map) and Muchacha Diaries.
The couple hired four photographers—Joel Serrato, Patrick Quezada, Victor Villatoro, and Jeanann Wilkinson; and one videographer, with the company name Story of Your Day by Emma Wilson, whose usual rate is £3000, according to bridebook.co.uk.
Partial estimates for the wedding-day coverage alone: Videographer £3000 or PHP 182,892 + Photographers $2500 to $8000 or PHP128,000 to PHP409,000 per person.
Getting the average cost for each of the four photographers, the total comes up to $21,000 or P1.1Million. Add the videographer's PHP182,892 to that, and it comes up to PHP1,282,892.

However, these estimates for the wedding coverage do not include air fare and accommodations for these persons who came from different parts of the globe.
Overall, the estimates for the wedding itself do not yet include the management fee of Yaparazzi Events, which could have a base pay of PHP1million; and also do not include the payment to opera singers, the cost of souvenirs and flowers, the fees of florists, the cost of the lights-and-sound system, and bills for the manpower for staging the program at the opera house.
With some elements still to be factored in, our estimated total for the Belo-Kho wedding is at PHP69,822,287.
But PEP.ph—going by the word of two distinct, impeccable sources—is confident that the final amount spent on The Wedding of the Year is, in fact, PHP80 million.