It has been another year of blessings and miracles to celebrity moms who welcomed another bundle of joy into their growing families.
Whether it's baby number two or the fifth one, the tiny bundle is a wonderful blessing to any mom.
YEAR OF HAPPINESS
It was a big year for Sarah Lahbati and Richard Gutierrez.
Almost a month after revealing their engagement, they happily announced that Sarah was carrying their second child.
The couple is expecting another boy after Zion.
UNEXPECTED BLESSING
Camille Prats didn't expect to get pregnant so quickly after her wedding.
The former Sarah…Ang Munting Princesca actress started the year with a bang when she married VJ Yambao on January 7, at Nayomi Santuary Resort in Batangas.
Weeks after their union, the couple surprised everyone with the announcement of Camille's pregnancy.
Both are already parents.
Camille has Nathan, her nine-year-old son with her late husband Anthony Linsangan.
VJ is dad to Isaiah, 13, his son with a former girlfriend.
On September 22, Camille and VJ welcomed the birth of their daughter, Nala Camille.
GIFT FROM ABOVE
Alwyn Uytingco and Jennica Garcia received an early Christmas gift: they found out she was carrying their second child.
"Alwyn and I have been trying since January, ever since the year started that is why I just can't contain the joy in my heart," Jennica wrote on her Instagram post.
But her pregnancy is threatened by a possible miscarriage.
"I've been contracting on almost a daily basis, while having my trans-v ultrasound, doctor said I was contracting but I couldn't feel it," Jennica said.
Her doctor ordered complete bed rest and prescribed medication.
Despite her delicate condition, Jennica is optimistic that her wish for a big family will be fulfilled, especially with the love and support of Alwyn and her mom, Jean Garcia.
MIRACLES HAPPEN
The beginning of 2017 was a rough start for Nikka Martinez-Garcia.
On March 6, the wife of Patrick Garcia revealed that she suffered a miscarriage three months into her pregnancy.
Patrick, who was as affected as Nikka, consoled his wife in a black-and-white Instagram photo with the caption, "Everything is gonna be ok..."
And true enough, a miracle happened just a few months later: Nikka found out she was with child again.
She is now in her 39th week of healthy pregnancy.
The couple are expecting a third daughter.
Their first two daughters are Chelsea, 4, and Patrice, 1.
DOUBLE THE JOY
Jerika Ejercito became a mother for the first time when she gave birth to Isaiah, her son with former boyfriend Bernard Palanca.
On September 11, Jerika—the pretty eldest daughter of Manila Mayor Joseph Ejercito Estrada and former actress Laarni Enriquez—announced her second pregnancy.
Jerika and her Spanish husband, Miquel Aguilar Garcia, are expecting twin boys.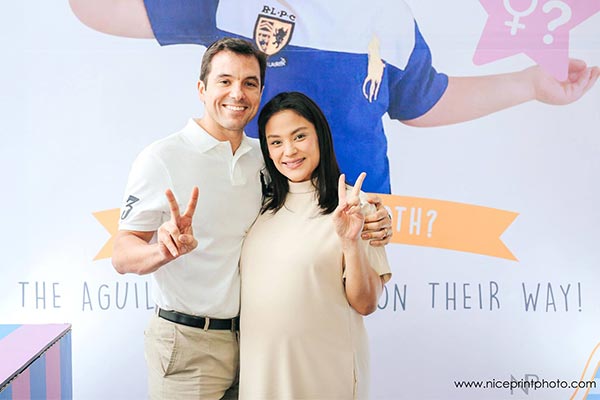 FAMILY OF FOUR
Patty Laurel-Filart is 23 weeks pregnant.
She and husband Patrick are having a baby girl.
Patty can't wait to play dress-up with her daughter.
WISH FULFILLED
Jolina Magdangal and her husband Mark Escueta have been trying their best to give their three-year-old son Pele a sibling, and the couple are now getting their wish.
On her 39th birthday celebration at the Kapamilya show Magandang Buhay, where she is a co-host, Jolina broke the happy news together with Mark.
But it was Pele's show.
The kid walked into the studio, carrying a transparent balloon with white-and-green confetti inside.
When Mark asked about Pele's birthday gift to his mom, the toddler gleefully replied, "I'm Kuya Pele!"
Jolina then confirmed she was nine-weeks pregnant.
Meanwhile, Jolina's co-host Melai Cantiveros welcomed her second daughter, Stela, on April 9.
Melai announced her second pregnancy on September 30, 2016, after she and husband Jason Francisco reconciled after a brief separation.
The arrival of Baby Stela marks a new chapter in the love story of Mr. and Mrs. Francisco.
More birth announcements in 2017:
Eat Bulaga! mainstay Pia Guanio gave birth to her second daughter, Brooklyn, last May 29.
Bea Soriano and husband Eric Dee Jr. welcomed the birth of their daughter, Billie, last September 8.
Former beauty queen Liz Almoro gave birth to her second son, Maximus Alexander, on October 20.
Maximus is her first child with her husband Victor Aliwalas.
Liz's older son Juamee is her child by her former husband, TV host Willie Revillame.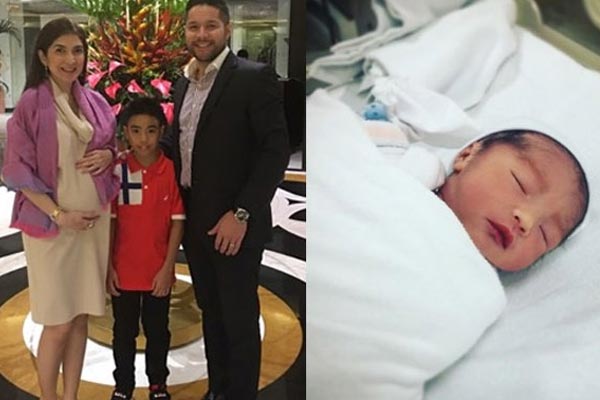 GROWING BROOD
More celebrity moms happily welcomed the latest addition to their huge families.
LJ Moreno and husband Jimmy Alapag are proud parents of Calen Asher, their third child, born on October 20.
Jimmy is head coach of Alab Pilipinas.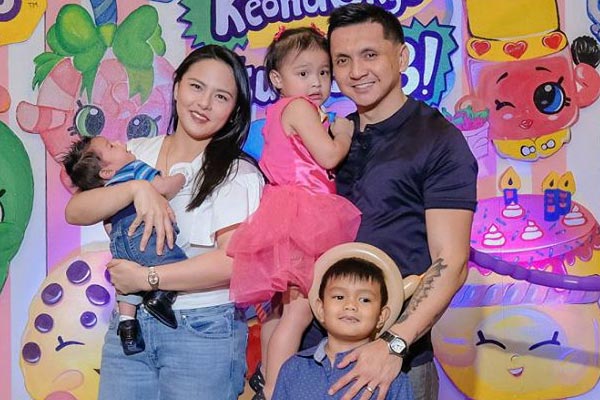 Franco and Ayen Laurel said hello to their fifth child, Lucia, on November 27.
Franco posted photos of his newborn daughter on Instagram.
One of his captions read, "You bring so much joy into our lives! You are truly a blessing my baby and we love you so much!"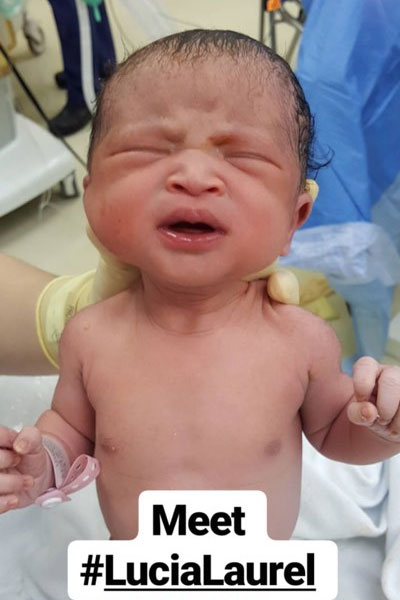 Why the name Lucia?
Franco explained to PEP.ph (Philippine Entertainment Portal) in a recent interview, "Lucia means graceful light, so being the youngest in the family, she will bring so much light and joy in our home.
"So, that's why we chose the name Lucia."