Big Bang's Dong Young-bae, more popularly known as Taeyang, 29, and actress Min Hyo Rin, 32, have finally tied the knot.
The South Korean coupled exchanged wedding vows in an intimate wedding ceremony on Saturday afternoon, February 3, at an undisclosed church in Seoul's Gyeonggi Province.
Details of their wedding were released by YG Entertainment.
The couple's good friend, actor Ki Tae Young, officiated their wedding which lasted for an hour.
Taeyang's fellow YG artist, Zion T, performed their wedding song.
Meanwhile, their wedding reception was held at Paradise City Hotel in Incheon.
Taeyang's bandmate Seungri and former 2NE1 member CL were tapped to perform for the couple during their wedding reception.
Allkpop.com released YG Entertainment's full statement in English:
"We'd like to thank everyone congratulating Taeyang and Min Hyo Rin on their marriage.
"The wedding ceremony that took place today on February 3 went very well thanks to the love and attention they received.
"The private ceremony was held at a church for family, friends, and colleagues at 3PM and lasted about an hour.
"It was officiated by actor Ki Tae Young, and Zion T sang the congratulatory song.
"The wedding after-party held at Paradise City will be hosted by fellow Big Bang member Daesung, and the congratulatory songs will be by CL and Seungri.
"We thank you once again for the limited press, and we hope that you'll continue to watch over them warmly. They'll repay all the love by living a happy life.
"Please give them a lot of support on their new beginning. Thank you."
WEDDING RECEPTION. Earlier today, Naver.com released official photos from the couple's wedding reception.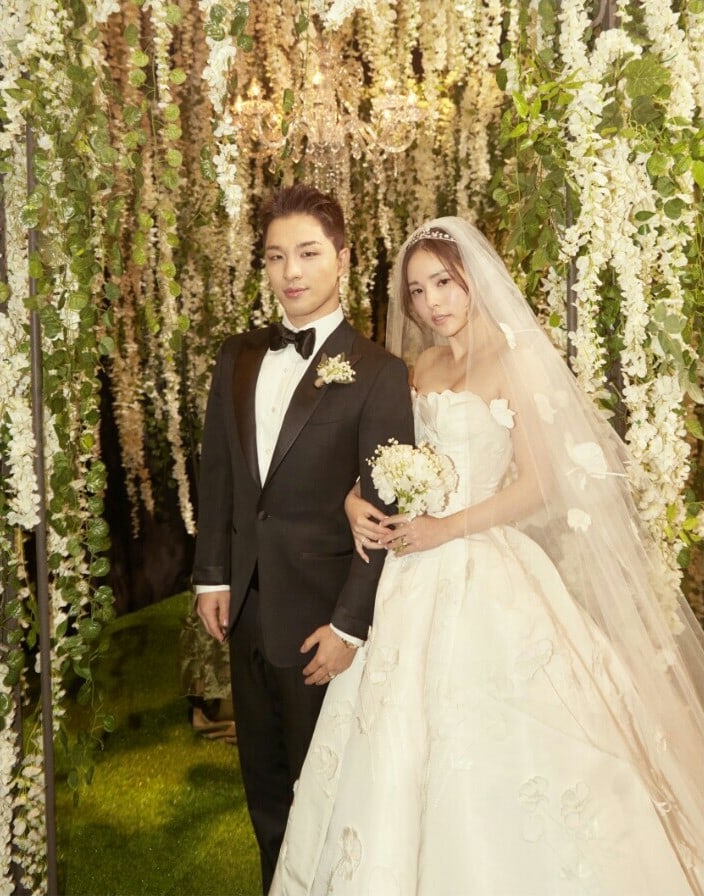 The wedding reception venue was styled by Youngsong Martin, who previously created the white forest wedding of Bella Swan (played by Kristen Stewart) and Edward Cullen (played by Robert Pattinson) in The Twilight Saga: Breaking Dawn – Part 1 (2011).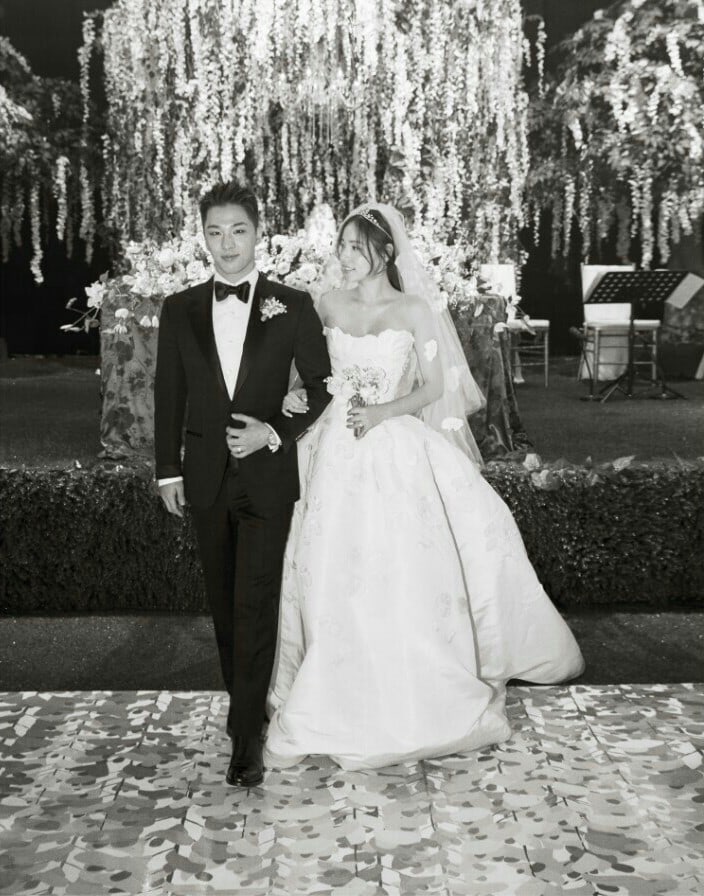 Here's CL's version of the classic 60s hit "Can't Take My Eyes Off You," which she dedicated to the couple.
Aside from Seungri, the rest of the Big Bang members, including G-Dragon, Daesung, and T.O.P., also made it to the couple's wedding.
"Gentleman" singer Psy was definitely a standout among the guests.
Former 2NE1 member Dara and singer-turned-actress Eugene were also spotted at the venue.
Blackpink members Ji Soo, Rose, Lisa, and Jennie also showed their support for the couple.
The guest list also included Haru, Kang Hyejung, Lee Hi, Kang Sora, Epik High's Tablo and Mithra, Winner's Seunghoon, Jinu, Sean, and many others.
Taeyang and Hyo Rin first announced their engagement last December 2017.