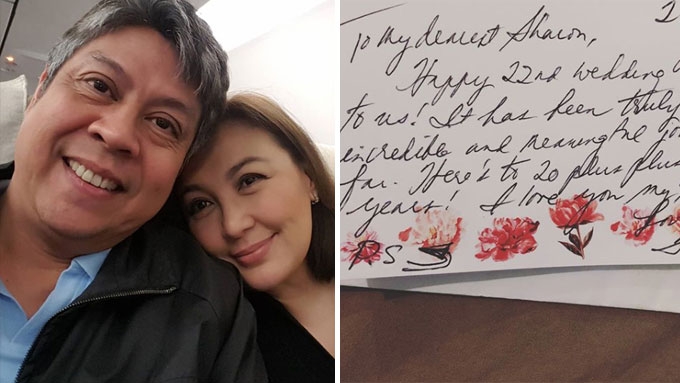 IMAGE Courtesy of @kiko.pangilinan and @reallysharoncuneta on Instagram
---
Senator Kiko Pangilinan posted a touching letter for his wife Sharon Cuneta on Instagram earlier today, April 29.
This is for the celebration of their 22nd anniversary as a married couple.
The 54-year-old politician's message to the Megastar:
"Happy 22nd to my sweetheart!
"Here is to twenty plus plus plus more years of marriage and family life with you and you only.
"What an exhilirating, exciting, at times difficult yet truly meaningful journey ours has been thus far!
"And I would go through all of it with you by my side again and again and again if asked to because I love you dearly, with all my heart and treasure all that we have become.
"God has been faithful to us both all these years.
"22 years ago, God answered my prayer as He placed your precious heart in my hands to love, to care for and to honor forever and ever.
"You will ALWAYS be to me an answered prayer and a rare and precious gift from up above.
".....and as our utterly silly and original love song of over 20 years goes...'and when I kiss your lips, I know our love's for kips (keeps)'...hahaha. @reallysharoncuneta"
Kiko's letter for his wife came in a day late.
The couple's actual 22nd wedding anniversary was yesterday, Saturday, April 28.
But Sharon was quick to explain why Kiko's message for her was uploaded late.
She said, "Nawala ang phone niya kagabi kaya di nya napost ito agad.
"Kasi buong araw naman hawak ang phone pero sa gabi pa gusto magtype! Hahaha!
"Buti nahanap phone nya. So here is Kikyoo's A-Day greeting for me! Please swipe left. @kiko.pangilinan"
Sharon and Kiko had a simple celebration for their anniversary.
The long-time couple received a breakfast surprise courtesy of their children Frankie, Miguel, and Sophia.
ADVERTISEMENT - CONTINUE READING BELOW
Frankie made her parents some eggs Benedict and steak.
Meanwhile, Miguel prepared blueberry pancakes.
Sharon also received a bouquet of flowers from her husband.
She shared a photo on Instagram with this caption: "Thank you for my beautiful Anniversary flowers, Sutart.
"And for the sweet message. Hasn't been an easy 22 years, but here we are still - and with our four not-so-little Gremlins! May God bless us and our family always. Thanks, Kikyoo! Love you my Dorkie.
Happy 22nd!!! @kiko.pangilinan"