Model-turned-actor Clint Bondad recently made headlines after telling one of his Instagram followers that he has no plans of getting back with Miss Universe 2018 Catriona Gray.
After this, netizens linked the GMA-7 talent to a Thai transwoman billionaire named Anne Jakkaphong Jakrajutatip, after the two posted photos of each other on their respective Instagram accounts.
A few days later, Anne JKN clarified the real score between her and Clint to her followers on Instagram.
The media mogul said that she considers Clint as a "brother," and that "he's not my type."
With their photos going viral on social media, many Filipino netizens ask: "Who is Anne JKN?"
Here are ten things PEP.ph (Philippine Entertainment Portal) about her colorful life.
1. Anne JKN is the chief executive officer of JKN Global Media Public Company Limited (PCL), one of the biggest content management and distribution companies in Thailand.
JKN Global Media has partnered with global companies such as Walt Disney Co., CBS Corp., and Sony Corp. to have the distribution rights of their movies and television programs in Thailand.
She established the company in 2014.
According to Bloomberg, the company's annual revenue is now at 1.16 billion Thai Baht (THB) or around PHP1.97 billion.
2. She is the first transwoman to be awarded Asia Media Woman of the Year at the Content Asia Summit 2019 held in Singapore.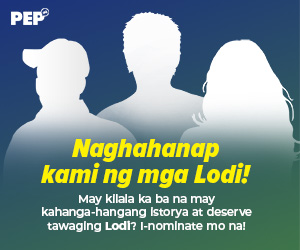 Also known as the "Queen Of Indian Content," Anne JKN is credited for the rise of Indian series on Thai TV.
Aside from India and Hollywood, her company has also brought Filipino content to Thai TV by partnering up with ABS-CBN and GMA-7.
Among the shows purchased by JKN Global Media from ABS-CBN were FPJ's Ang Probinsyano, La Luna Sangre, Till I Met You, Got To Believe, The Legal Wife, and Bridges of Love.
Meanwhile, she brought GMA-7's Carmela, Beautiful Strangers, and My Faithful Husband to Thailand.
3. She finished her college degree in International Relations at Bond University in Australia.
Anne JKN flew to Australia to finish her studies by the age of 16.
According to her profile at JKN Global Media's official website, she also has a certificate on Real Estate Development Program from The Real Estate Executive Association Of Chulalongkorn University in Bangkok, Thailand.
She also finished her Director Accreditation Program (DAP) in 2016 at the Association of Thai Institute of Directors.
4. According to Bangkok Post, she worked at a gas station to support herself in Australia.
The article also said that Anne JKN went to an all-male school during her younger years. Unfortunately, she experienced being sexually harassed by a teacher and was bullied by friends for her gender identity.
This led her to pursue her studies abroad.
5. Anne JKN finished her transition just recently.
Being the eldest of her siblings, Anne JKN was not able to express her true self when she was younger.
According to IndiaTimes.com, it was only after she turned 35 years old that she decided to run away from home.
She said, "Ten reconstruction surgeries over three years and living like a mummy for months weren't easy, but it was happy pain. I could finally be the girl I'd been seeing in the mirror for 36 years. I'm 100 percent a woman now."
Bangkok Post reported that the total cost of Anne JKN's transition is estimated at THB40 million or around PHP67.7 million. The article also mentioned that Anne JKN wanted to establish her empire first before she got her sex reassignment surgery.
6. One thing Anne JKN won't be changing about herself is her voice.
She explained to Bangkok Post, "I always tell younger kids that they don't have to pretend [to be passed as cisgender women].
"For me, I want to show everyone that I'm proud to be a transgender person. I'll tell you that from the moment we meet. Don't get too shocked. It's nothing strange.
"I want to show the world that it's not necessary to alter one's voice. People have to be able to accept it, and it's time they are educated."
7. Anne JKN is also a trailblazer of LGBTQ+ rights in Thailand.
In 2018, Anne JKN founded LIFT (Life Inspired for Transsexuals) Foundation, a non-profit organization, which aims to promote gender equality, and acceptance and inclusivity for transsexuals in Thailand.
LIFT also provides education and training scholarships for transgender students in Thailand.
8. She is a jet-setting fashionista.
A quick scroll through her Instagram account would reveal her love for travelling.
Of course, being a Thai transwoman billionaire, she does it with impeccable style.
9. Aside from Clint, Anne JKN also has made friends with other Kapuso stars, such as Alden Richards, Derrick Monasterio, Ken Chan, and Heart Evangelista.
10. Anne JKN is also a big fan of the arts.
She even built an art gallery where everyone can see her art collection.
Anne JKN revealed in a Facebook post on Wednesday, October 16 (published as is), "I'm the real genuine arts collector. I love and I am amazed by the philosophical charm behind each item's value. I do keep most of the masterpieces only from around the world. That's why, I built JKN Gallery Salaya Building to keep them all in one place and then in 2021 you will see JKN River King Global Content Epi Center Village. Remember me and call me Anne. I'm not just being the original. I'm also being the rare and authentic limited edition woman that you could ever find out from our generation."
Your extraordinary story has been submitted.