A Saudi national is currently getting a lot of love and admiration from Filipinos because of his viral videos that feature his love for Pinoys.
His name is Ahmed Alruwaili, a 29-year-old nurse based in Riyadh, Kingdom of Saudi Arabia.
PEP.ph (Philippine Entertainment Portal) reached out to him via Facebook messenger to learn more about him.
Ahmed says he started blogging in July 2019 to make his Overseas Filipino Worker (OFW) friends laugh.
He relates, published as is from his Facebook messenger reply: "The reason why I blog for Filipino is cuz I love Filipino, I always go to my OFW house here in Riyadh.
"They always treat me nice. The reason is cuz I want them to laugh cuz they deserve to laugh."
Uploaded on his Facebook page TheSaudipinoy and YouTube channel Saudi Pinoy, are short videos featuring Filipino jokes, funny skits, and uplifting messages and advice to his homesick Filipino friends.
One viral video in particular is currently receiving a lot of thumbs up and heart emojis. It shows his kindness to Filipino nurses.
The video, which already has 2.2 million views on Facebook at this writing, shows Ahmed distributing fresh flowers and bags of food to Filipino nurses.
Ahmed says he had some help from a Filipino restaurant owner in Riyadh who gave him a discount when he bought the food for this video.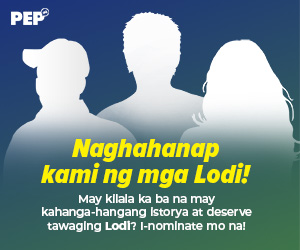 The restaurant owner is a fan of his videos.
At the end of the video, he thanked all the nurses around the world—but most especially Filipino nurses, whom he said are the true heroes in this war against COVID-19.
Like most countries around the world today, Saudi Arabia also has COVID-19 cases—and most of its hospitals that take care of these cases employ Filipino nurses.
Filipino nurses are among the most in-demand professionals in Saudi Arabia ever since this oil-rich country started employing OFWs in 1973.
In 2009, the country's Ministry of Health announced its desire to hire 6,000 more Filipino nurses from that year to 2011.
Then, in 2018 Saudi Arabia again asked the Philippine Overseas Employment Administration (POEA) for help in hiring 1,000 nurses.
To this day, the hiring of Filipino nurses in Saudi Arabia continues.
WISHING HE WAS PINOY
Ahmed has become friends with many of these Filipino nurses. He says he loves Filipinos so much, he even wishes to become one.
"I love them. I wish I was a Filipino," says Ahmed.
He also reveals he was raised by a Filipino nanny who stayed with his family for 18 years.
He says he visits her every time he comes to the Philippines.
He also wishes to start a campaign to fund the aunt of a Filipino friend whose sari-sari store closed.
"When I go to PH, I go to province. I don't go to city. To province with my OFW friends. Wala aircon. Only electric fan. Haha," he types on his Facebook messenger, using PH to mean Philippines.
He continues, "I went to the province in PH in August 2019 and my OFW friend, his grandma had a sari sari store at that time.

"Then I went to PH again in March 2020, then I was happy I want to buy from her sari sari store but it was closed cuz they didn't have enough money.
"Most of the neighbors buy and not pay the bill until later. They are in Tarlac, Concepcion.
"So my plan, I will build them the best sari sari store when I go to PH, inshallah after 2 months."

"Inshallah," also spelled as InshAllah or In sha Allah is an Arabic expression for "God willing."
Another wish he wants fulfilled when he returns to the Philippines is to see his "lodi," using the current Pinoy slang for "idol."
"My dream is to celebrate my birthday in June 2, with my lodi Vice Ganda in the Philippines," Ahmed says, very Pinoy.
Are you a PEPster based abroad? Are you a showbiz fan? Join the PEPsters Abroad private page on Facebook for unli-chikahan.
Your extraordinary story has been submitted.