Talk of catfishing is like a Pandora's box. It opens even more issues, such as emotional abuse and bullying.
It all started last Monday, March 30, after Twitter user Jzan Vern Tero accused multimedia artist Sam Morales of catfishing her. That is, of fooling her into thinking she was having flirtatious talk with Bil Iver Reyes, who turned out to be Bilko Wagan Argana, who turned out to be a patsie in a setup all orchestrated by Sam.
In one tweet, Jzan also said that Sam at one point explained that the whole thing happened because Sam wanted retribution.
Jzan tweeted (published as is): "It started when she was young She was bullied by gay people all the time. Thats where her hatred towards the gays started. Later on her homophobic uncle found out about the bullying and wanted to revenge for her so nilandi niya yung bakla. He made the gay fall in love with him."
Some netizens dismissed Sam's bullying claims as not true, and that Sam just used this to justify reprehensible actions.
Whatever may be the truth, the controversy has sparked a discussion on social media on bullying.
In a Twitter post on Tuesday, March 31, user Kino Luiz revealed that he "had the same painful experience like Sam Morales," but that he did not become vindictive.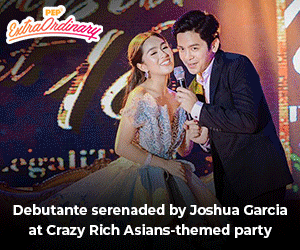 His post—which has garnered over 46,000 likes and almost 9,000 retweets at press time—came with photos of his facial injuries, which he said he sustained from bullies in his senior high school.
The 21-year-old incoming Psychology student from Bulacan said he was bullied for having a condition called torticollis.
He wrote, "I was born with a dystonic condition called torticollis (wry neck) the neck tends to twist to one side and had my first surgery when I was 12."
Kino Luiz continued, "When I was in my first grade in school I've been told hurtful things, they started calling me names like 'paleng ulo, tagilid ulo' yup I got bullied in school from 1st grade to 7th grade.
"I've been afraid to go out of my house & to go to school, I felt that everyone is mocking me."
Kino Luiz recalled that he underwent surgery to fix his condition, but this didn't stop the bullying.
He wrote: "3mos ako sa hospital for recovery & akala ko after ng surgery ko magiging okay na lahat. Pumasok ako sa school pero kailangan ko parin suotin yung Brace sa katawan for a yr so tinutukso parin ako ng mga classmates ko, na Robot daw HAHA!"
According to Kino Luiz, the bullying continued even when he started senior high school, but this time, it was for a different issue.
"After matanggal nung brace ko akala ko magiging okay na talaga lahat pero hindi. Kasi kahit hanggang senior high tinutukso naman ako na Bading at Malamya.
"I've been discriminated kasi hindi pa ako out nung panahon na yon kaya masakit talaga sya sakin."
In a short exchange between PEP.ph (Philippine Entertainment Portal) and Kino Luiz through Twitter, Kino revealed that this happened in 2017.
And that the bullies went as far as beating him up.
He wrote: "Tas ito yung picture na nabugbog ako, punta ko sa cr nagkulong ako kasi umiiyak ako tapos pinunasan ko yung mga dugo at lumabas lang ako ng CR na parang walang nangyari."
Initially, Kino Luiz kept the bullying from his family because he didn't want the problem to escalate.
"Hindi ko na talaga balak magsumbong sa Family ko kasi tingin ko lalaki lang yung problema pero yung Guard at mga classmate ko na nakapansin hanggang sa umabot na sa Guidance."
But Kino Luiz never tapped into this traumatic experience to become vindictive and bully someone else.
He explained: "And then you say.. 'And then there's Sam Morales.' I'm sure we've all heard her story. A no. of ppl try to justify her actions because she was bullied when she was a kid. Now, if I did the same thing, used my pain and hurt other people, would that justify the bad things I might do?"
Kino Luiz is just grateful for the love and support of his family.
"I'm lucky I was raised by a loving family and a nurturing mom. We may not control what's happening in our life but we can control how we react to it. Bad things may happen to us but it doesn't mean we become bad people."
Toward the end of his Twitter thread, Kino Luiz reminded his followers and those reading his story to choose kindness always.
In his words: "Power and character comes from challenging ourselves to respond differently from the bad things that happen us.
"If everyone had a vindictive attitude like Sam, can you imagine what world we'll be living in? #IChooseToBeKind"
He ended his thread with a quote card saying: "Never stop being a good person because of bad people."
FOR ALL OUT THERE: If you are experiencing physical or emotional bullying, do not be scared to stand up to the bullies. Report the incident. Stop suffering in silence. Reporting your bullies to the right authority is the single most proactive thing you can do to protect yourself from more bullying.
Your extraordinary story has been submitted.