There's no denying that the most recognizable voice on Filipino television would be the man behind ABS-CBN's voice-overs.
You've heard him narrate the plots of your favorite teleseryes in practically every emotion possible, announce new time slots, and, of course, say the broadcast station's slogan: "In the service of the Filipino worldwide."
As iconic as his voice is, however, not many people actually know who he is—until now.
After remaining mostly faceless to the public, ABS-CBN has formally introduced its "golden voice" as Peter Musngi, an experienced announcer and voice artist.
He has been the voice of the station for 30 years and counting, which, if you think about it, means that an entire generation of Filipinos can most likely recognize him by ear.
In his interview for the online series Persona, Peter admits that he didn't initially mean to become an announcer.
He had his start at one of the country's first FM radio stations, DZYK-FM (now MOR 101.9), when he accompanied a friend to audition.
Ironically, it was him who got the trainee position.
And if you're wondering just how many voice-overs he does in a day, the voice talent says he reads an average of 20 scripts per recording session.
He reveals that he once finished 88 scripts in one session, followed by another 22—all on the same day.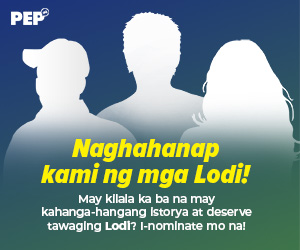 His tips for not tiring your voice out? Go easy on your throat—don't raise or lower your voice too much.
Peter and his daughter are also proof that voice talent can run in the family.
That's because his daughter, Raine Musngi, also has an incredible voice; in fact, she's a news anchor of ANC.
Your extraordinary story has been submitted.