Slow internet and financial woes have plagued Filipinos daily since the quarantine started.
For students, learning now means being glued to the screen and hoping Internet connections don't falter in the middle of class.
For others still, continued education depends on whether the family has a spare laptop or phone.
Enter Francis John Ax Valerio, who is now on his third year of college taking up Bachelor of Arts and Communication at Adamson University.
You may not know him by name, but he's the Grab delivery driver that recently went viral for attending online classes in between orders.
"Before po kasi ako maging Grab driver, working student na po talaga ako sa isang fast food restaurant," he said.
His day was cut in half: School in the morning, and Grab deliveries from 6 p.m. until 12 midnight.
Valario took it upon himself to deliver full-time to help his family, making attending online classes close to impossible.
Still, he would whip out his phone in between deliveries to tune into the digital lectures.
How did it happen?
On a particularly busy day, he stopped by a mall to attend a class.
He was scheduled to meet a friend, but asked them to wait as he's still in the middle of a lecture, saying, "Wait lang, 'pre nandito ako sa mall, nag-o-online class pa ako."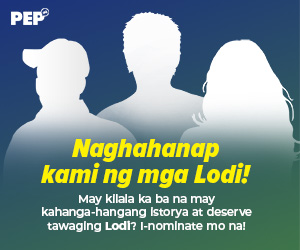 To Valerio's surprise, his friend found him by the road and snapped a photo, which was uploaded online and made rounds on the Internet.
Hours later, comments of admiration and praise poured in.
Valerio was not expecting the response from social media, saying, "Yun naman po talaga yung ginagawa ko. Normal ko naman pong ginagawa yun, dati pa po ako nag-mmultitask."
ALSO READ: WATCH: These Pinay Flight Attendants Are Keeping the Spirit of Bayanihan Alive in Saudi
Time management is key
"Mahalaga po talaga yung time management. Pag may online class ako, nagpo-pause muna ako sa pagde-deliver," he said.
Valerio nevert hought of giving up on his studies, and continues to draw inspiration from his loved ones. Thought he doesn't intend on seeking validation from others, it comforts him knowing that other people respect and admire him for his efforts to study and hustle at the same time, especially during the pandemic.
ALSO READ: This Cruise Chef Now Sells Fish to Survive the Pandemic
Times are tough but Valerio's not about to let an opportunity slip from his grasp. He said would do everything he could to finish his studies, and encouraged other students on the same boat to persist with a positive outlook, no matter how daunting it gets.
"Para po sa pangarap natin, huwag po tayong huminto, lalung-lalo na para sa pamilya natin."
Meet the viral Grab driver who attends online classes:
Your extraordinary story has been submitted.