Jan Alexis Elcano, the aspiring beauty queen from Batanes, was one of the standouts during the first and second rounds of the Miss Universe Philippines preliminary interviews at the Baguio Country Club last October 18, 2020.
Jan Alexis almost did not make it to Baguio, where all the candidates are billeted, because of an air travel ban.
But the 20-year-old painter and freelance makeup artist was bent on going come hell or high water—as it indeed happened—for the sake of the Ivatans, the indigent people of Batanes.
She said, "This serves a great purpose for me. Being here, a contender of Miss Universe Philippines and representing Batanes.
"We rarely get to represent Batanes in a national pageant scene, and I would like to promote not just Batanes as a place but the Ivatans.
"I want to embody that resilience that we speak of and I want to prove to people that we are who we claim to be, resilient people."
And so, against all odds, and with the help of pageant mentor Jonas Gaffud, Jan Alexis sailed the high seas on board a cargo ship to get to Baguio.
She recalled, "I was all set and booked for a flight on the October 7th but a few days prior to my flight, there was a confirmed or recorded case, first-ever recorded case, in Batanes.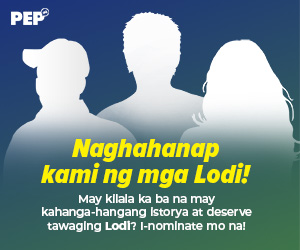 "So with that, the next day, the government decided to impose new guidelines for the province.
"That included banning all commercial flights, so that means my flight was canceled."
"I was actually fretting because there's no other way out of the province that air transportation.
"Immediately, I contacted... I personally reached out to Sir Jonas so that I could have a letter sent our governor and to the coast guard.
She explained they needed their permission because cargo vessels do not allow passengers on board for security and safety reasons.
Driven by her cause, Jan Alexis persisted, saying, "that's the only choice I had and it was a risk I was willing to take."
Moreover, she said, "I was actually scared of deep waters, but I had to disregard all the fears just so I can get here where I am right now, standing in front of you."
PRELIMINARY INTERVIEW
At the preliminary interview, all the candidates were asked the same set of questions.
To the question what she has learned from her experience with the pandemic, Jan Alexis answered, "One major lesson would be that anything can happen.
"We have to expect the unexpected all the time. And so we must live in the moment, be who we are, and where we are, and enjoy that.
"Maximize everything that we have right now and just to learn how to enjoy life as it is."
She was also asked how she can help her community if she wins the Miss Universe Philippines crown.
The Ivatan beauty said, "If I win the crown, as an indigenous person and coming from a humble background, I know what it's like to be deprived of opportunities.
"And being where I stand right now, it took a lot of courage, rejections, and struggles.
"If I win Miss Universe Philippines, I would use this perfect platform to be able to create more opportunities, to raise projects for my fellow indigenous people, so no one else would have to struggle for opportunity anymore."
The first two rounds of the preliminary interviews were uploaded on Wednesday night, October 21, 2020, via the Ring Light series on Empire.ph.
This is probably the first time a Miss Universe pageant franchise has allowed public viewing of the preliminary interviews, which are usually held off-cam.
Tonight, October 22, Ring Light series will upload the third and fourth parts of the preliminary interviews on Empire.ph.
The preliminary swimsuit and evening gown competition will also be streamed on Ring Light tomorrow, October 23.
Filipino pageant fans also have the option to watch the preliminary competition and finals via KTX.ph for PHP99 each.
Gazini Ganados will crown her successor at the grand finals of the pageant this Sunday, October 25.
Gusto mo bang lagi kang una sa showbiz news at scoops? Subscribe to our Viber Chatbot here para lagi kang updated, and join our community for more pakulo!



Your extraordinary story has been submitted.