Jomel Lapides, a 30-year-old graduate of the University of the Philippines College of Medicine in Manila (UPCM), emerged as the topnotcher of the November 2020 Physician Licensure Examinations (PLE).
Jomel bested more than 3,500 medical students, according to the results released by the Professional Regulation Commission (PRC) around midnight on Wednesday, November 25, 2020.
He finished first place after garnering a rating of 88.67 percent in the board examination that was held earlier this month.
JOMEL LAPIDES AND GF: DOUBLE CELEBRATION
Jomel's Top 1 finish was made sweeter as his girlfriend, Baby Lyn Ann Tanalgo, also passed the November 2020 Physician Licensure Exam.
Facebook user Angela congratulated the couple in her post and wrote, "Waaahh!!!!! Congrats ate Belen for passing the Physician Licensure Examination. And to Jomel Lapides for being TOP 1 in PLE, mga halimaw!! Hahahhaha. Congrats sa inyong magjowa. Proud pinsan here."
According to her Facebook account, Baby Lyn finished her degree in Medicine at the Pamatasan ng Lungsod ng Maynila College of Medicine in June 2019.
On June 29, 2020, Baby Lyn uploaded their photo on Facebook and wrote, "From #roadtoMD to #roadtoPLE with this one [heart emoji."
JOMEL LAPIDES: TWO-TIME BOARD TOPNOTCHER
Jomel has always kept an amazing record as a student.
He graduated cum laude twice: first in 2011, when he finished his bachelor's degree in Nursing at the University of the Philippines College of Nursing (UPCN) in Manila; and again on June 29, 2020, when he finished his Doctor of Medicine program at UPCM.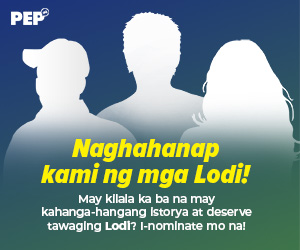 He was also included in the top 10 among the 153 graduates of the UPCM Class of 2020.
Being a board topnotcher was not also a first-time experience for him.
He was the top scorer at the July 2011 Nursing Board Exam, where only 37,513 out of 78,135 examinees made the cut.
JOMEL LAPIDES: HUMBLE BACKGROUND
Jomel has inspired thousands of netizens with his success, perseverance, sense of nationalism, and his humble beginnings.
According to an article on Inquirer.net dated August 2011, Jomel and his family of five live in an unfinished two-bedroom apartment at a relocation site in Rodriguez, Rizal.
His father works as a construction worker and juggles part-time jobs to provide for his family.
Even though topping the nursing board in 2011 opened more opportunities for him to work abroad, Jomel decided to pursue his nursing career in the country and hoped to work for the Philippine General Hospital (PGH).
In the article, he said, "[My classmates and I] were exposed to public hospitals and different communities, though there are many hospitals, poor patients from the provinces still have to go to PGH (to afford the treatment)."
He did fulfill this dream and worked as a staff nurse at the Sentro Oftalmologico Jose Rizal (SOJR) of PGH until his third year in medical school at the UPCM in 2018.
Jomel has also been sharing his knowledge in his field since 2011 by tutoring students in math and science at the Loyola Student Center in Quezon City.
Gusto mo bang lagi kang una sa showbiz news at scoops? Subscribe to our Viber Chatbot here para lagi kang updated, and join our community for more pakulo!
Your extraordinary story has been submitted.