Those who experienced losing a child could not describe the pain of living afterwards.
Navigating the waves of grief may be an uncharted territory for a lot of us, but two moms describe how they are able to survive, and also talk about the joy of holding their rainbow babies in their arms for the first time.

THE BAUTISTA FAMILY

Maan Pantalla-Bautista gave birth to her eldest Ethan in March 2018, a month before celebrating her first wedding anniversary with husband Jay.
"We lost my father-in-law in August 2017 so when we knew that we were having a baby boy as our firstborn, we deemed him as sent by his grandfather," she tells PEP.ph via Facebook Messenger.
A few months into being a first-time mom, Maan lost her own dad. But then, she found out that she was expecting again, and her second son was due in October 2019. She and Jay, who had been her boyfriend for 12 years before they got married, took this as another sign that the baby was sent to console them from their loss.
But life took another turn.
"It was a smooth pregnancy," Maan starts. "Totally without any issue and complication, until an increased blood pressure was noted on the 30th week. I was diagnosed to have preeclampsia. Everything was so sudden."
According to the Mayo Clinic, preeclampsia is "a pregnancy complication characterized by high blood pressure and signs of damage to another organ system, most often the liver and kidneys. Preeclampsia usually begins after 20 weeks of pregnancy in women whose blood pressure had been normal."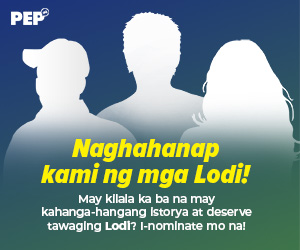 Maan says they were in her doctor's clinic every other day until they had to be confined for a week. The following week, things took a turn for the worst. "We lost Nathan. We lost our child due to abruptio placenta. Nathan was a stillborn at 32 weeks."
The National Center for Biotechnology Information defines placental abruption as "the early separation of the placenta from the lining of the uterus before the completion of the second stage of labor. It is one of the causes of bleeding during the second half of pregnancy and is a relatively rare but serious complication of pregnancy that places the well-being of both mother and fetus at risk."
Maan says of Baby Nathan, "We think that he sacrificed his life for my safety so that I can come home to his father and brother."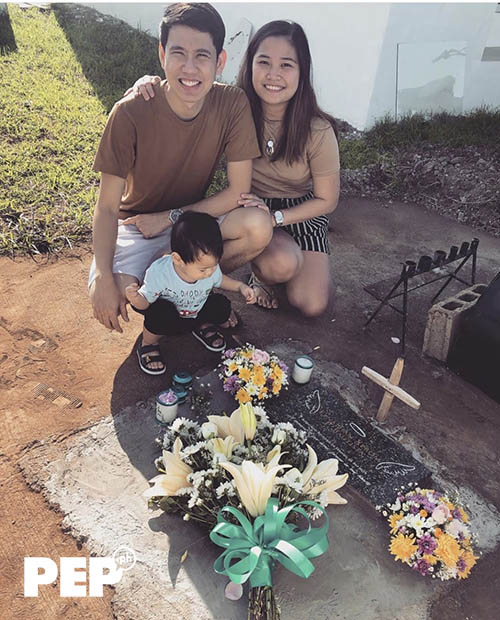 In the aftermath of losing Nathan, his portrait was displayed in the Bautista home, along with a onesie with his name, birthdate and angel wings printed on it.
Maan also had a stuffed bear made from what was supposed to be his swaddle.
The rest of Nathan's baby stuff were given to those in need.
"For his newborn clothes and diapers, we gave it to a baby who was to be born on the month that Nathan should have been born. We do not have much new stuff for him since he is already a second child."
During the darkest days, Maan said they drew strength from their eldest Ethan.
"Jay and I are getting our daily strength and inspiration from our firstborn. We also keep in mind that Nathan would want us to keep moving on with our lives."
To this day, Maan finds ways to keep Nathan's memory alive.
She tells PEP.ph: "Jay and I are coping through the support of each other and through the support of family, relatives and friends. We cope by acknowledging our grief. We accepted that the grief brought about by child loss is a lifelong journey.
"We include him in our child count, we are protecting him from being forgotten. We include him in our family photos for he existed, he is and will forever be loved."
And while the Bautista family lived with their grief, an unexpected blessing came their way.
"We found out that we're pregnant again in August 2020. The pregnancy was not planned but it was definitely wanted."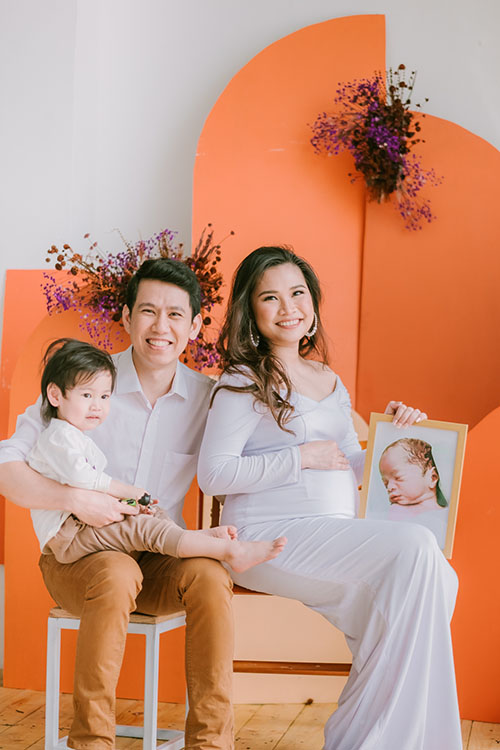 Maan says her obstetrician-gynecologist became extra cautious with her pregnancy.
They had tests taken for APAS or antiphospholipid syndrome, an immune system disorder characterized by pregnancy complications and excessive blood clotting, among other signs and symptoms. Though the lab results showed Maan to be APAS negative, she says her prior history of abruptio placenta could not be discounted.
"Thus, I was treated as if I have APAS. I was on daily aspirin and daily Tinzaparin injections."
She adds: "Because of the anxiety at bay and all the emotions that might take a toll on me, I attended classes on how I can maximize aromatherapy and it has helped me a lot."
Thankfully, it was a smooth pregnancy without issues, and they were prepared.
She narrates: "On the earlier phase of pregnancy, I was informed that I may again experience the same thing with our third child—the sudden increase of blood pressure.
"My BP was normal all throughout except on the 20th of February when we noted an increase.
"We hurriedly went to the hospital. BP had been back to normal and was stable but it was the baby's heart rate which had an issue."

The Bautista couple and their team made the decision. An emergency cesarean section was performed and her youngest, Eian, was born at 32 weeks. A full-term baby is delivered at 40 weeks.
"Eian had to stay in the NICU for 20 days. He was discharged a day before our first born's third birthday."
THE RIVERAS
Baby Luna was an answered prayer for Mary Grace and her husband PJ, a couple from Pasig City.
After a year of marriage, they found out in February 2019 that they were expecting. However, their happiness was cut short when, at 22 weeks of pregnancy, Mary Grace had a Congenital Anomaly Scan for their baby.
"She was diagnosed with Congenital Diaphragmatic Hernia (CDH)," Mary Grace tells PEP.ph via Facebook Messenger.
"CDH is a congenital anomaly wherein the diaphragm of the baby fails to close during prenatal development hence the abdominal organs go up the chest cavity. The side effect of this is that the lungs will be underdeveloped and the baby wont be able to breathe after the umbilical cord is cut after delivery."
According to Johns Hopkins Medicine, CDH occurs in about 1 in 2500 live births.
Though the odds were against them, the mom in Mary Grace had to fight.
"We searched for the best doctors just so we can save her. We prepared ourselves physically, financially, and, most especially, emotionally.
"I joined Facebook groups about parents who had children with CDH. Unfortunately, I had to face the reality that a baby with CDH has only 50 percent chance of survival."
The day came when Mary Grace had to give birth to Luna. As much as she had braced herself with the outcome, nothing could have prepared her for what happened.
"After I delivered her, I did not hear any cry in the operating room. It was the most silent moment of my life. She was whisked away to NICU and we lost her after 16 hours of life. She was beautiful and perfect, too beautiful for Earth."
Mary Grace took the loss hard, quoting from Jay Neugeboren's novel An Orphan's Tale:
"A wife who loses a husband is called a widow.
A husband who loses a wife is called a widower.
A child who loses his parents is called an orphan.
There is no word for a parent who loses a child.
That's how awful the loss is."
She tells PEP.ph, "I cried. I cried as much as I could. I couldn't get out of bed. I wrote to her as if she was still alive. I wrote prose and poetry for her. I thought about her all the time on my social media accounts. I felt like I needed to let the whole world know that I loved her even if our time together was cut short."
She also relays a post she had read about grief, being like a ball in a box with a pain button. At first, the ball is so big that it touches the button over and over.
"You can't control it—it just keeps hurting. Sometimes it seems unrelenting."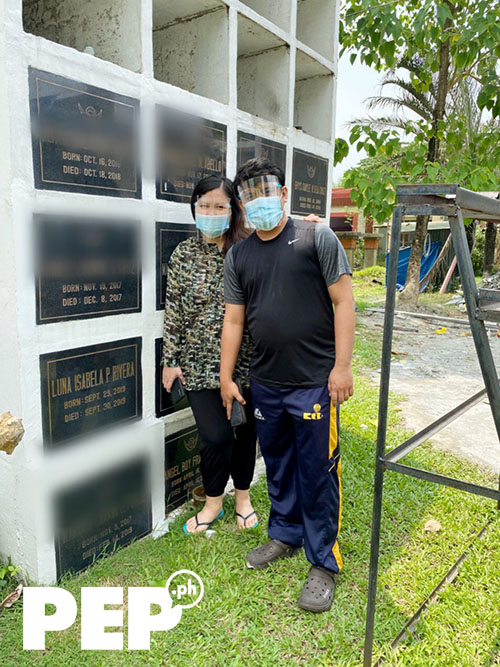 As time makes the ball smaller, it hits the button less.
"It's better because you can function day to day more easily. But the downside is that the ball randomly hits that button when you least expect it."
She notes: "More than a year from the loss, the ball still hits the pain button but not that as much as when the grief was too raw."
Just like Maan, Mary Grave gave away some of Luna's stuff to moms of newborns. The others, she sold.
Her husband PJ was her anchor throughout the ordeal, she says. "Whenever I remember our baby and get sad, he always turned it into something positive.
"My parents and in-laws were also very understanding. They made sure I ate even if I couldn't get out of bed. They took care of everything I couldn't because the grief was too raw for me to handle."
With her support system, Mary Grace was able to live with the loss, and eight months after saying goodbye to Luna, they got news about their rainbow baby.
"We found out we were pregnant again April of 2020. We did not plan for it."
The couple took precautions for their second pregnancy.
"I consulted a perinatologist (maternal-fetal specialist) just to make sure I am at my best health to carry the baby. I had more vitamins to take this time, more blood tests taken, and the ultrasounds were more frequent so we can monitor the baby's progress.
"There's a risk CDH can recur in the succeeding babies, so we were closely monitoring that. My anxiety was sky-high every time I walked into the ultrasound room.
Mary Grace underscores: "We fervently prayed to God to bless us with a healthy baby this time. We felt that this was what our hearts needed to help us heal their broken patches."
Fortunately, she was blessed with an easier pregnancy.
"It was normal if only I did not have the anxiety brought about by the fact that I could be carrying another baby with a congenital anomaly.
"I felt like I couldn't take another loss.
"My delivery was a breeze though. I gave birth to a baby boy via scheduled cesarean section.
"I heard the loudest cry of my second born, Lucas Grayson, on January 8, 2021."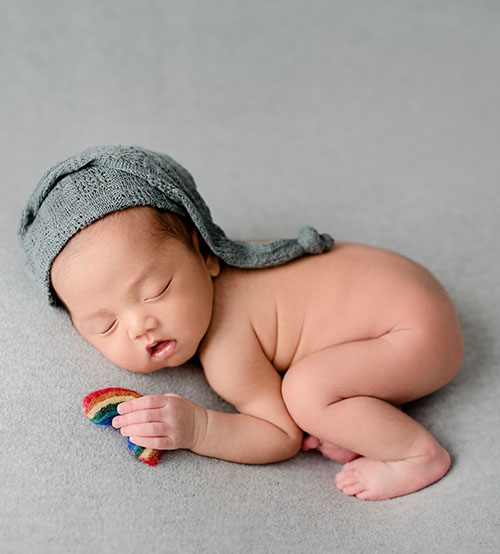 HOLDING THEIR RAINBOW BABIES FOR THE FIRST TIME
We asked Maan and Mary Grace what it was like holding their rainbow babies for the first time.
Maan says "Since Eian was born premature, it was a mix of intense joy, intense gratefulness and intense fear. Intense joy and gratefulness that I am holding a breathing baby in my arms, intense fear that he might be taken away from us again."
For Mary Grace, "It felt surreal. I couldn't believe that I was holding him and I could finally breathe."
MOMS GRATEFUL TO THEIR MOMS
Both Mary Grace and Maan acknowledge the immense gratitude they feel for the women who have inspired them to be strong for their families. They are among the people they honor.

"My mom and my mother-in-law fully support me in this motherhood journey," Mary Grace tells PEP.ph.
"They help me take care of my baby whenever I need time for work or for myself. They inspire me and I am most thankful for them."

Maan seconds, "My mother inspires me a lot. I am strong because I was raised by a strong woman."

She adds: "I am thankful to all our loved ones who keep Nathan's memory alive. I am beyond grateful to have Jay as my husband. I do not know how to go on if he weren't my lifetime partner."
"IT'S NOT YOUR FAULT"
And do they have a message for other parents who lost a child or a baby right after delivery.

Choose kindness, Maan infers.
"People around you may mean well but may utter the most triggering words for they haven't experienced such loss, please be kind to yourself by not allowing those words to consume you.

"Be the one to understand despite the immense pain you are feeling. Spending energy on those triggers is not worth it since they will not really understand until they experience it themselves and child loss is not something we would wish on anyone."

About the grief, Maan says: "Truth be told, the sorrow of losing a child will never lessen but it will change. You will learn to live with the pain and emptiness. It will not always be debilitating as it is.

"You can be thankful for the child/children living with you but that doesn't take the lifetime pain of living without one of your children."

For Mary Grace, she stresses the importance of not resorting to self-blame.
"I wish you to know that it won't always be that painful and it is not your fault.

"It is not your fault your baby died. Sometimes, bad things happen and it's a part of life. There's nothing you could have or have not done that would make things turn the other way around. So don't beat yourself up. It is not your fault.

"During my early days of grief, I keep asking myself when does this pain end? And will it even end? I want people who lost a baby right after delivery to know that it will get better. Just hang in there. Do whatever you need to do to survive another day."

The depression will end, and brighter days will come, she notes.

"The day will come that you will be able to get out of bed. That you will live your normal life again. You will learn to navigate your life with grief.
"I promise you it will get better and you will get your rainbow after the storm, whatever rainbow means for you."
We are now on Quento!
Download the app
to enjoy more articles and videos from PEP.ph and other Summit Media websites.
Your extraordinary story has been submitted.