Could sharing the same advocacy as Miss Universe 2018 Catriona Gray help Palaweña beauty queen Angelica Lopez in her bid for the crown?
In an interview with PEP.ph (Philippine Entertainment Portal) on Monday, April 18, 2022, the Miss Universe Philippines contestant revealed that she has spearheaded feeding programs and gift-giving activities in her home province over the past few years.
"Actually, I am focusing about less-fortunate children because I have an organization in my city," she said during the after-party at Aqua Boracay.
"I am actually one of the core leaders of that organization. It is a youth organization.
"Over the years, I've been participating [in] that organization, to feed the children and give them gifts every December."
Angelica revealed that her personal experience with poverty and hunger inspired her to pick this as her advocacy, not just for the Miss Universe Philippines pageant, but also for her life outside pageantry.
"It's really close to my heart because I have experienced hunger before and even poverty. Yeah, I myself have experienced that.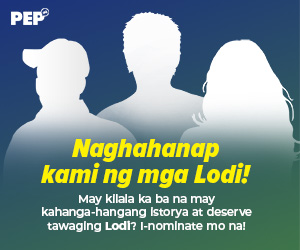 "So I have chosen that advocacy because I want to help the people who have experienced the same thing.
"So I just really hope that, you know, I can utilize the platform of Miss Universe Philippines to further help those children, even those outside my province of Palawan."
INSPIRING STORY
The 21-year-old model from Puerto Princesa grew up in a simple family of four.
"I grew up in a very simple family and we don't have that, you know, enough resources to sustain our life.
"So my parents really need to work hard just to provide for me and my sister."
A certified "raketera," Angelika decided to join pageants at an early age to earn money and help her parents with their expenses.
"I was able to become independent as well.
"I used pageantry as an avenue to support myself, to earn money, to support my sister and as well as my mother."
Some of the challenges she faced were out of her hands, but they did not dampen her spirits.
"My mother passed away three years ago, and my dad, he has his own family now.
"But, you know what? It's still okay. It's fine. I have moved on from that kind of situation."
Angelica is now a freshman college student taking up a degree in Psychology.
She hopes that her story and her resilience will also inspire others to never give up on their dreams.
"I have experienced a lot, actually, but that's also the reason why I consider myself as someone who's resilient.
"Because with those experiences, I learned to stand up on my own and build myself, regardless of the struggles and experiences I've had in the past.
"And what I wish is to further inspire other people, to share my story.
"Because I know, one day, I could also build a better life for them if I will able to share my story to them and how I was able to overcome the challenges I have experienced."
MISS UNIVERSE PHILIPPINES 2022 PREPARATIONS
For the pageant, Angelica has prepared herself mentally and emotionally.
"I'm focusing more on my communication skills and my pasarela.
"And maintaining my mental and emotional aspect because I know that with all the activities that we are having at Miss Universe Philippines, it's really exhausting.
"And sometimes, we get to, you know, receive a lot of hate comments from other people, their negative opinions towards us.
"So that's what I'm doing so that, you know, the coronation night of Miss Universe Philippines, I can give my very best and show who I really am to a lot of people."
Angelica, however, is grateful to have such a supportive creative team that is helping her achieve her goal.
"I have a team in my province, it's called Elitista Circle of Models.
"I've been part of that team ever since I was 14 years old."
She continued, "I'm beyond grateful kasi I know na without their help, I wouldn't be in this position.
"And, you know, they have molded me into the person that I am today.
"I owe it to them. Every effort and time they're giving to me in this journey.
"So I really hope na I can pay back at the end of the day, all of their hard work and sacrifices."
Asked who among her fellow candidates are her biggest competitors, Angelica answered, "Honestly, those are the veterans, of course, the frontrunners, because I know that they already have that kind of exposure for the past years of joining national pageants.
"And, you know, it's such a big achievement for them."
The pageant veterans in this year's edition of the Miss Universe Philippines pageant include Mutya ng Pilipinas Tourism Queen of the Year International 2018 Pauline Amelinckx, Miss World Philippines 2019 Michelle Dee, Miss Earth Philippines 2018 Celeste Cortesi, and Reina Hispanoamericana Filipinas 2019 Katrina Llegado.
Angelica continued, "But even though a lot of people were telling me that, 'Oh, they're the biggest threats in the competition...' I always make sure to focus on my own strengths, myself.
"Because, I think, that's what matters in this competition.
"You don't compare yourself to other women competing here because we're all uniquely beautiful in this competition."
Beatrice Luigi Gomez, who hails from Cebu City, will crown her successor in the pageant's grand coronation night happening on Saturday, April 30, 2022, at the SM Mall of Asia Arena.
Former Miss Universe titleholders Pia Wurtzbach, Iris Mittenaere, and Demi-Leigh Tebow will be hosting the pageant.
Miss Universe 2021 Harnaaz Kaur Sandhu is also in the country and will be sitting as one of the judges during the coronation night.
READ MORE: