The month of June has been designated the Pride Month by members of the LGBTQ+ (Lesbian, Gay, Bisexual, Trans, Queer/Questioning, and others) community worldwide in remembrance of the Stonewall Inn riots in New York City at the end of June 1969.
It's been held a most significant event as it led to the "gay liberation movement and the modern fight for LGBT rights in the United States," according to Wikipedia.
In celebration of Pride month, the international and local LGBTQ+ community has been sharing inspiring stories on social media.
One post that has gotten a lot of attention is the love story of Jayson Alarca and his partner, Ren Merk Fineza.
Their romantic tale, along with a photo on Jayson's Facebook account, has garnered more than 64,000 likes and 13,000 shares on the social networking site.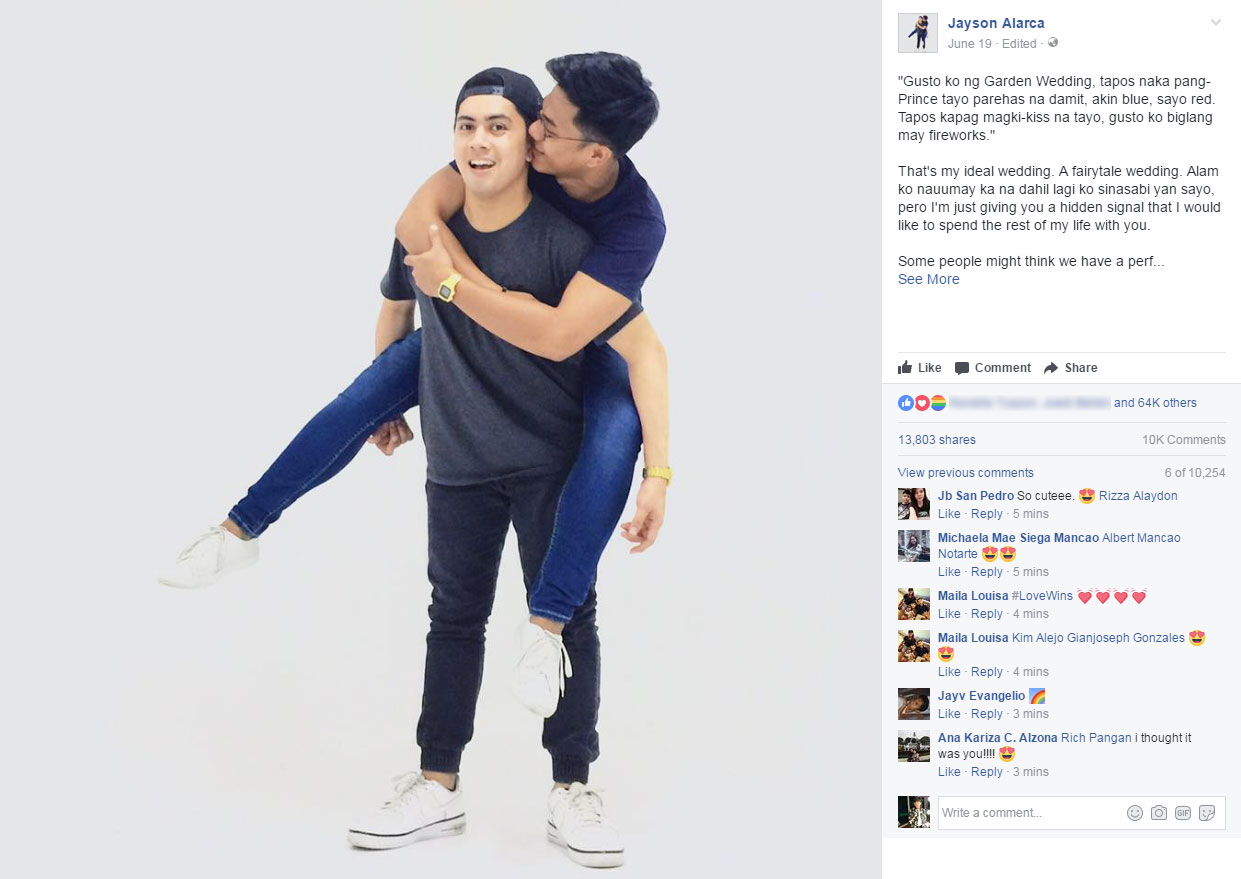 Jayson started his post by declaring his intent to marry Ren Mark. They've only been together for three months.
He wrote, "'Gusto ko ng Garden Wedding, tapos naka-pang-Prince tayo parehas na damit, akin blue, sa 'yo red. Tapos kapag magki-kiss na tayo, gusto ko biglang may fireworks.'
"That's my ideal wedding. A fairytale wedding. Alam ko nauumay ka na dahil lagi ko sinasabi yan sayo, pero I'm just giving you a hidden signal that I would like to spend the rest of my life with you."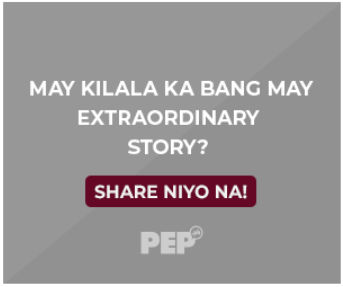 It isn't a perfect relationship, Jayson acknowledged, citing petty issues and compromises.
He explained, "Some people might think we have a perfect and ideal relationship, well, NO. We have small fights, at most, ako yung reason.
"He [Ren Merk] gets mad when I smoke a lot, gusto niya ubusin ko lahat ng pagkain sa plato ko kahit ayaw ko na, and he really don't like my cold feet when we lie together.
"Ako naman, naiinis kapag nasa kwarto ako tapos nag-i-spray siya ng room deodorizer, I'm quite stubborn when he wants me to stop smoking and when he wants me to finish all the food in my plate. Nag-iinarte ako when he doesn't get water for me, and I have episodes of tantrums for no reason. IDK, parang regla levels. Ganon. Hahahaha.
"So again, are our relationship perfect? No, but it is right. Are our relationship ideal? No, but we deal with everything that comes our way."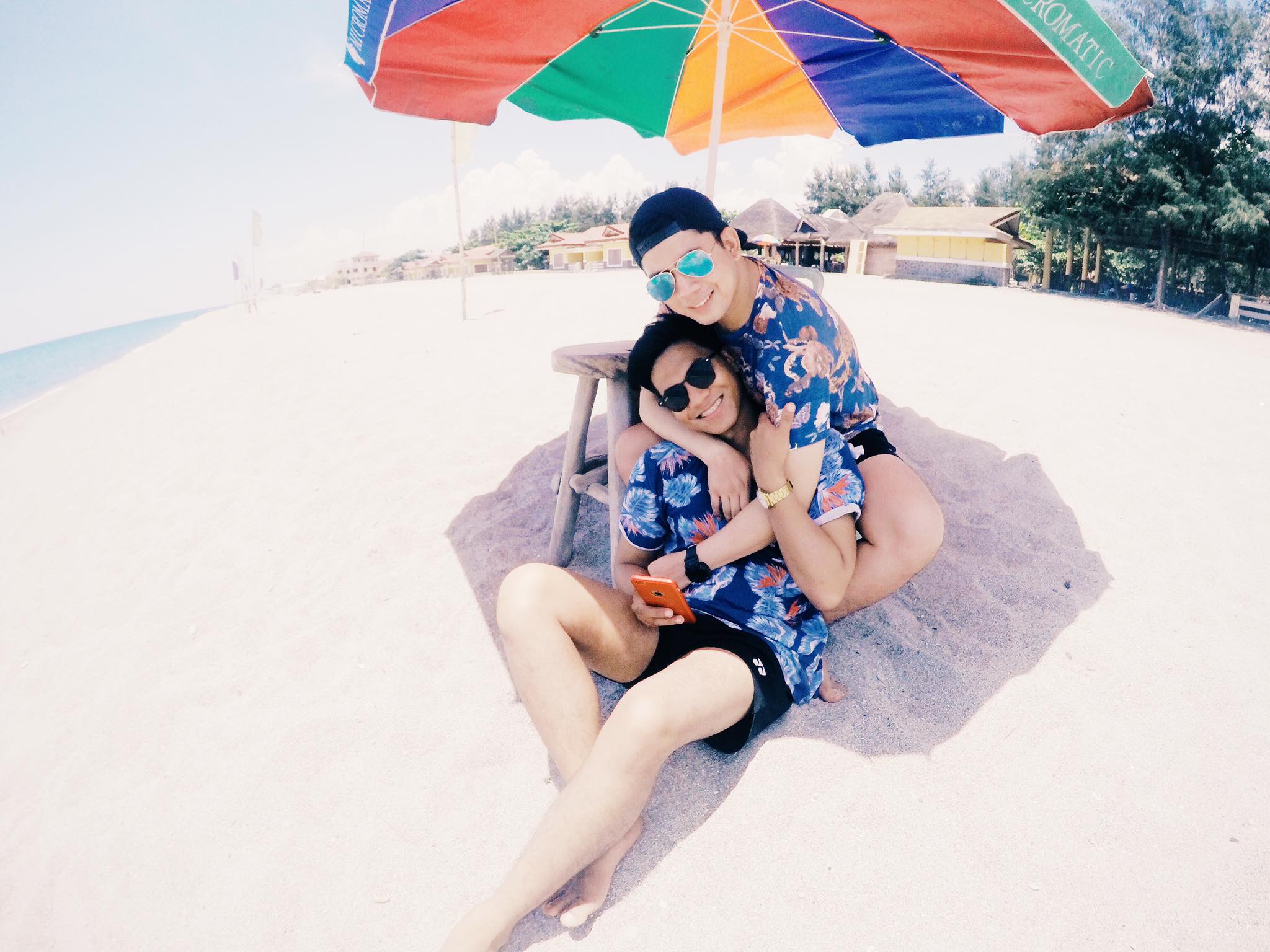 What's important, as Jayson posted, these issues don't affect their happiness as a couple.
Jayson continued, "Loving him is one of the most exciting aspect of my life right now and I've never been this excited all my life. I'm excited whenever we go out, I'm excited whenever we try something new, I'm excited whenever he makes coffee for me, I'm excited whenever he eats whatever I cook and he sasy, 'Maalat, nadamihan mo ng [seasoning powder].'
"But still kakainin pa din niya. Hahaha. And he's the sweetest guy ever. 'Magdala ka ng payong.' 'Bumili muna tayo ng food mo baka magutom ka sa byahe.' 'Ihahatid muna kita.' 'Susunduin kita.' And all the I love yous every day. It's like, nakakababae ha? Hahaha!
"I literally get excited all the time. Maybe, after all my failed relationships, I realized that there's really no perfect or ideal relationship. Relationship Goals don't even exist.
"But what we can have is the right person, who's gonna come at the right time and make everything feel right. I'm just very blessed I've found mine. He's my everything, I love him more than anything else and can't be any happier than I am right now."
Towards the end of the post, Jayson told his followers not to lose hope finding their own "Mr. Right."
He said, "Kaya sa lahat ng nasaktan, patuloy na nasasaktan at masasaktan palang, take it one heartbreak at a time. Use it as a lesson, dadating din si 'Mr. Right.'
"Yes, tulad ng Mr. Right ko, dadating din si Mr. Right niyo. Tiwala lang."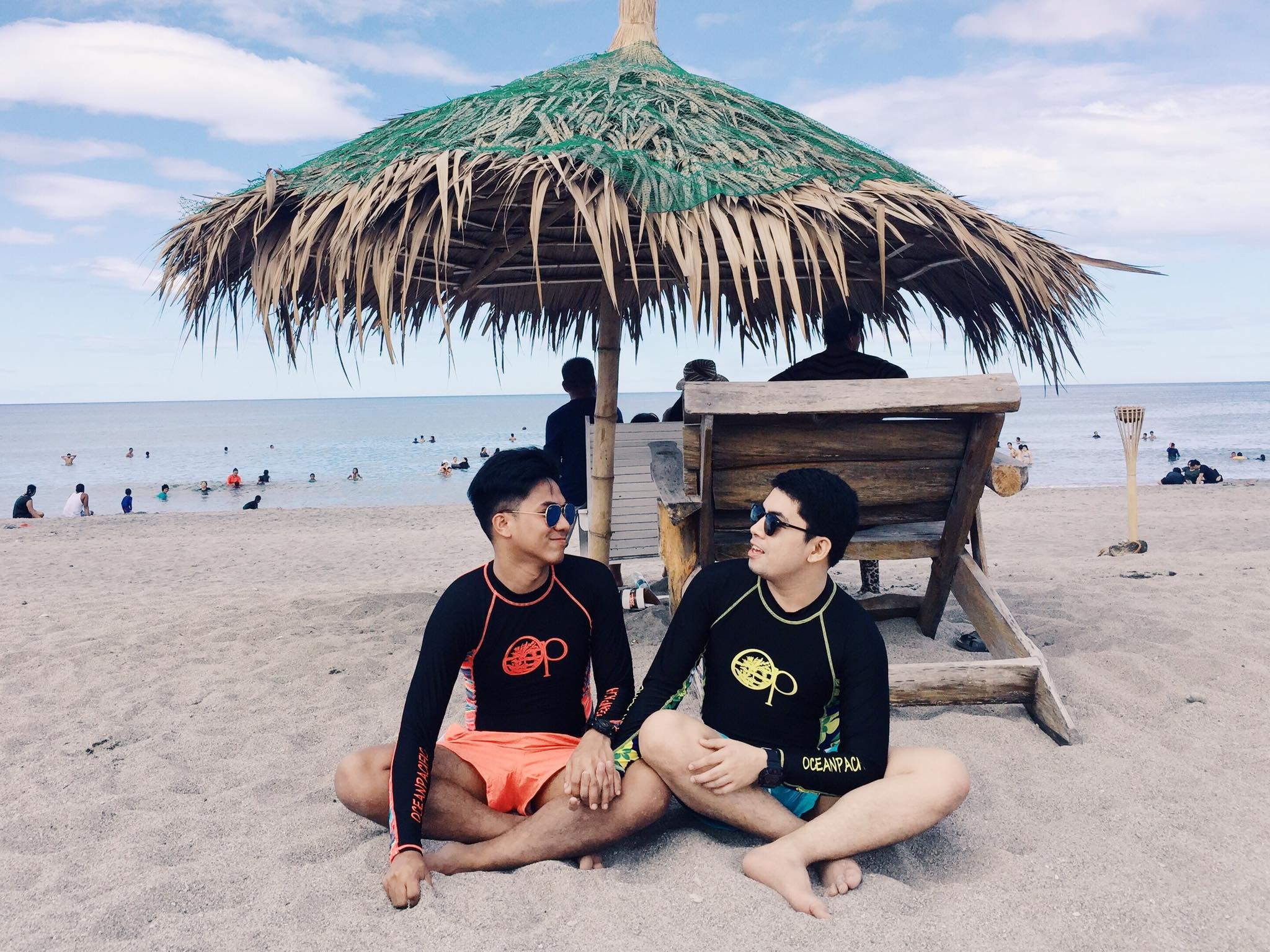 FINDING MR. RIGHT. Jayson told PEP.ph (Philippine Entertainment Portal) in our online chat on Tuesday night, June 20, he met Ren Mark through Facebook.
He related they became friends just as he was going through the pain of a breakup.
Jayson narrated, "Fina-follow na daw niya ako for 3 years bago kami naging friends. And then, he's my shoulder to cry on nung nasaktan ako. From there, yung normal na usap at labas namin sa pag mo-move on ko, naging mas malalim. Then he courted me. Haha."
Ren Merk courted him for weeks and his consistency made Jayson give him his "yes."
Jayson recalled, "Nung time na naramdaman ko na mahal ko na siya, natakot ako kasi na trauma ako after all my failed relationships. We talked, sa Beanbox, as in ang daming tao, umiiyak ako sabi ko di pa ako ready.
"Then umiyak din siya, sabi niya, si siya nagmamadali. And he's going to be patient until ready nako. From there he's been so consistent in proving me wrong on my perception on love na walang Mr. Perfect, pero merong Mr. Right."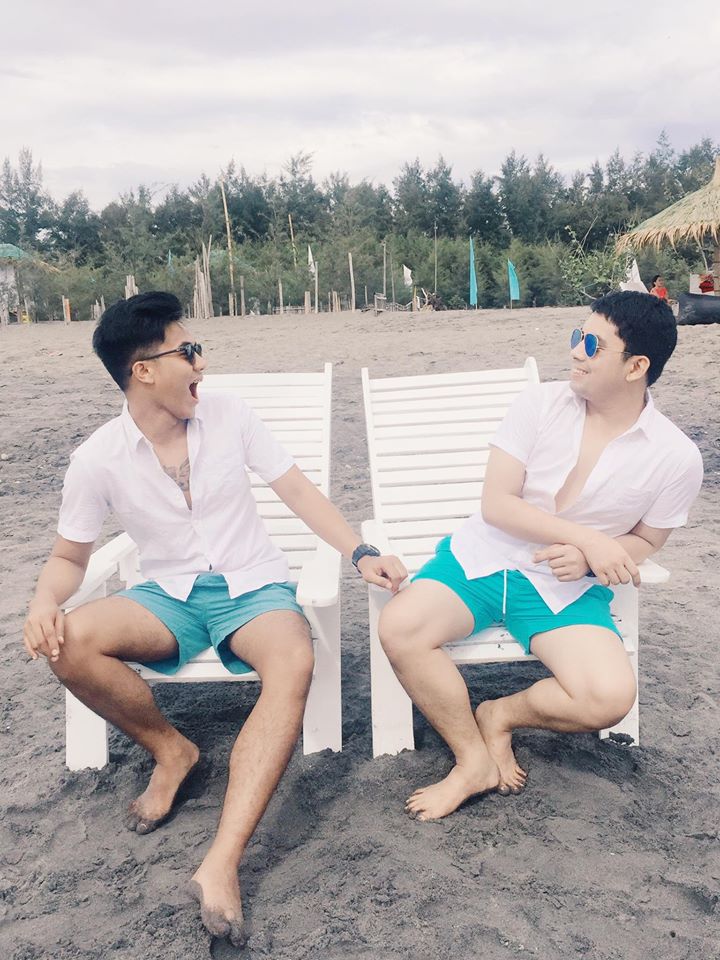 Their relationship has its share of ups and downs, and like other couples, Jayson and Ren Mark have had their arguments. These were resolved soon enough, however.
Jayson said, "Ako kasi yung stubborn saming dalawa. When we fight, we talk. Hindi siya pumapayag na may gagawin kami na iba or anything unless naayos na yung problema. Understanding ako pero mas understanding siya ng intense. Haha. Communication lang talaga. And we always go back to the reason why we're together which is love."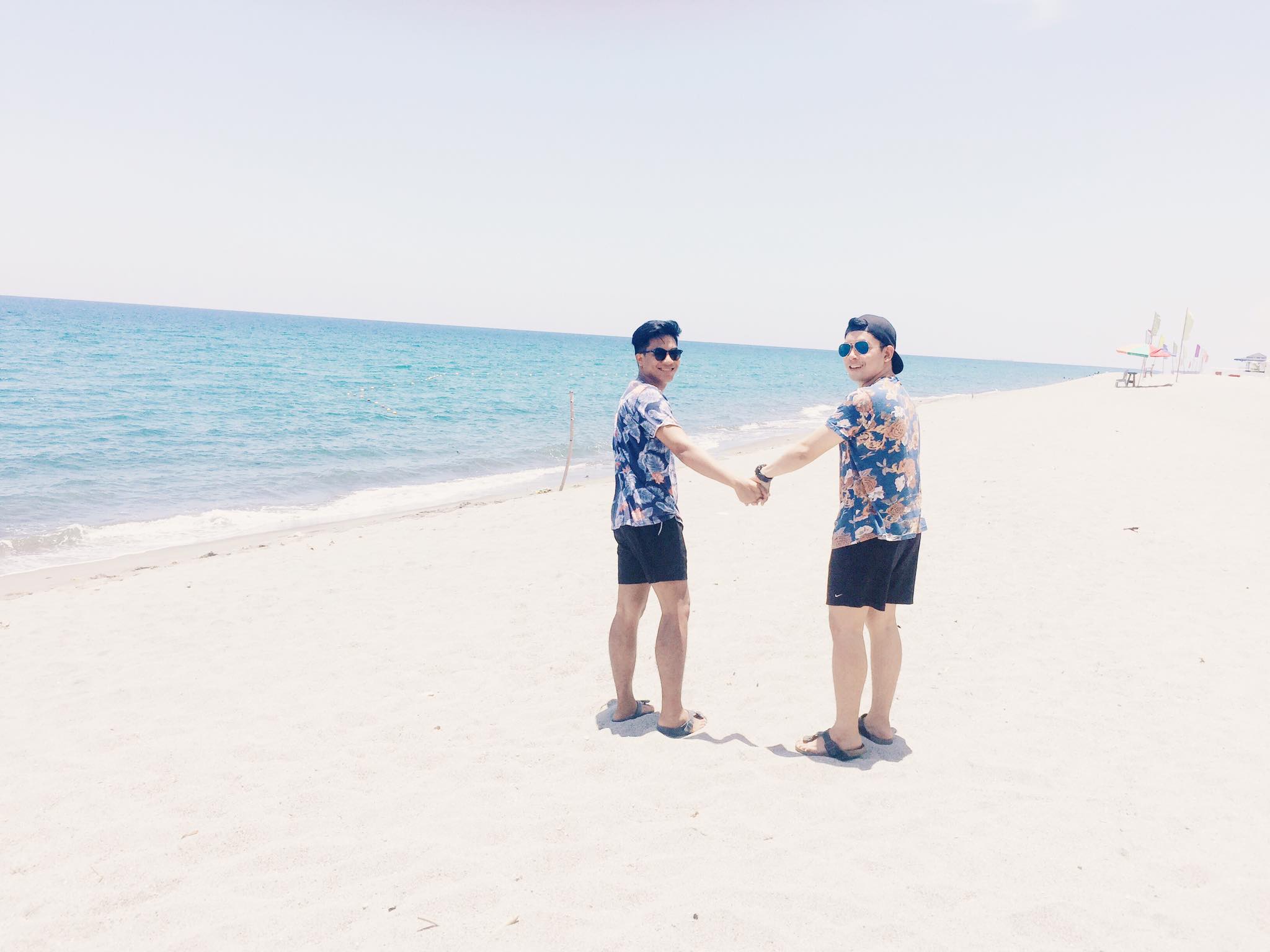 Your extraordinary story has been submitted.
Recommended Videos