Instagram overflowed with birthday greetings for Dr. Vicki Belo, who turned 64 on January 25, 2020.
The sweetest message was posted by her husband, Dr. Hayden Kho, Jr.
His post read (published as is), "Strong yet gentle. Fierce yet compassionate. Childlike yet wise. When she loves, she loves fully. She gives generously without expecting anything in return. She finds delight in the delight of others. She makes wishes and dreams come true. She's extraordinary... and she's my wife. I am honored. I thank our Lord for you, @victoria_belo. Happy birthday. I love you."
But the most popular post was the unboxing of Hayden's birthday present.
As of 11 p.m. today, January 26, the video has so far garnered 520,000 views, and the fans, particularly bagaholics, were instantly drawn to the distinct Hermes orange box held by the couple's daughter, Scarlet Snow.
It took only 30 seconds to reveal its content, which, according to the beauty doctor, is an "exotic combination" Birkin.
Before revealing the bag, the birthday girl asked, "Did you design it?"
Hayden, who was taking the video, simply said, "Hmmmm..."
It may be recalled that Hayden's Christmas gift to Vicky last year was a Kelly bag he had designed himself.
For this year, Hayden's gift of choice is called a Touch Birkin owing to its "touch" of shiny or matte exotic leather—a choice between a crocodile or an alligator—on the flap, sangles, handles, and clochette.
The rest of the bag is made of either Togo leather, which is grained, textured, and anti-scratch, or Novillo leather, which is finer and lighter.
The price of this limited-edition bag, depending on the size and type of leather, ranges from a low US$18,600 (PHP945,500) to a high US$33,500 (PHP1.7M) based on the current exchange rate.
While his wife continued checking out her gift, Hayden asked, "Do you like it, mommy?"
The birthday girl answered, "I love it, daddy. It's very pretty. It's so cute. It's so classy."
Vicki and Scarlet checked what's inside the bag.
Sitting cross-legged on the floor while preparing to check the bag's insides, the celebrity mom turned to the camera to ask, "What's inside, daddy? Is there anything inside?"
Hayden answered, "Wishes, and love."
Taking out some of the bag's protective covering, she quipped, "Plastic."
The gift was accompanied by "the best card ever" courtesy of Scarlet, who wrote, "I love you Mommy. Happy birthday."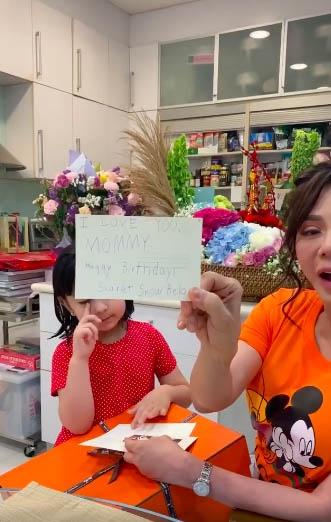 Use these Zalora promo codes or vouchers when you shop or order online. Marami pang ibang coupons dito.