Regine Tolentino has her hands full amid the pandemic.
The actress-businesswoman gave birth to her third daughter Rosie Rignée on March 17, 2020.
At the same time, she had to pause the operations of her clothing business, Regine Tolentino Atelier, because of the quarantine in Luzon.
The 39-year-old mom had to find ways to save her hard-earned investment even as she was still recovering from her C-section delivery.
She recounted the experience to PEP.ph (Philippine Entertainment Portal) in an interview via Instagram Direct Message on July 14.
Regine began, "We abruptly stopped operations in March during the lockdown and did not continue business until June 1, 2020.
"There were zero sales during the entire quarantine and we continued to support our employees during this difficult time.
"All of our orders were canceled because the clothes we were making were for events happening from March to December of 2020."
After 21 years in the fashion and retail industry, Regine deemed it best to accept and embrace the change brought about by the "new normal."
The actress-businesswoman continued, "There was a time that I was very worried about the future of my businesses.
"Everything changed during the crisis because my products and services were suddenly no longer relevant to this new normal.
"In order to adapt to these new changes, we pivoted to provide people with fashionable and functional personal protective equipment (PPE) and apparel."
Regine decided to provide customers with "unique lightweight, water-repellent jackets, jumpsuits, joggers and hoodies, coat dresses, trench coats, scrubs, face masks, eye and face shields, goggles, and more."
To do this, she collaborated with her filmmaker-photographer partner Dondi Narciso and designers such as Neil Lorenzo and Kaycee Leyco, among others.
View this post on Instagram
FROM infant WEAR TO TV SHOW COSTUMES AND GOWNS
In the same interview, Regine recalled how her business began with a desire to provide her eldest daughter with pretty infant dresses.
"When I found out my first baby would be a girl during the pregnancy, I was inspired to design baby party dresses because there weren't enough choices of the styles I wanted in the market at that time.
"So in the living room of our home, I designed and sewed a collection of intricate party dresses," she told PEP.ph.
"A few months after giving birth, I offered these designs to Rustan's Department Store. All of my designs were approved.
"I carried the 'Rustanette' brand for my designs and supplied all Rustan's branches with my party dresses."
Regine's passion project then grew into a full-fledged business.
"From the capital of my first sale, I launched my first store, Regine's Boutique, on June 8, 1999, at the age of 20.
"I later became a licensee of Disney Philippines and supplied children's Disney costumes to all SM Department Stores nationwide.
"We did cute and comfortable costumes like Cinderella, Winnie the Pooh, Mickey Mouse, Belle, and more for babies and kids."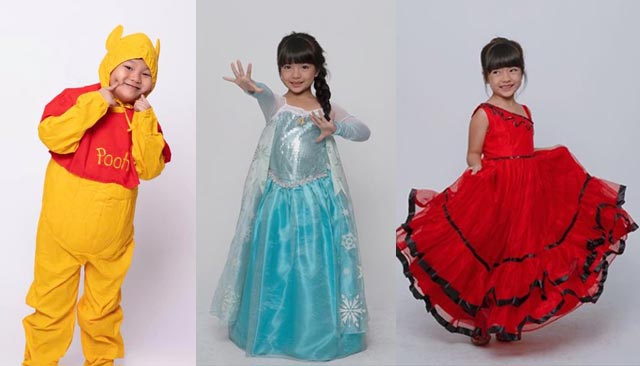 With luck on her side, Regine's business expanded into producing adult costumes and gowns. Returning to showbiz and dancing also expanded her clientele.
She recounted, "After having my second child, Reigen, I went back to dancing and doing shows.
"I opened RT Studios and offered children and teens workshops and dance classes.
"I also started designing and making my own costumes and gowns.
"Subsequently, my celebrity friends asked me to do their gowns and costumes as well.
"As a result, I also started doing formal wear and dancewear for adults at the boutique.
"I designed for weddings, debuts, and provided clothes for TV shows like Shall We Dance, Talentadong Pinoy, Eat Bulaga, SOP, ASAP, and more."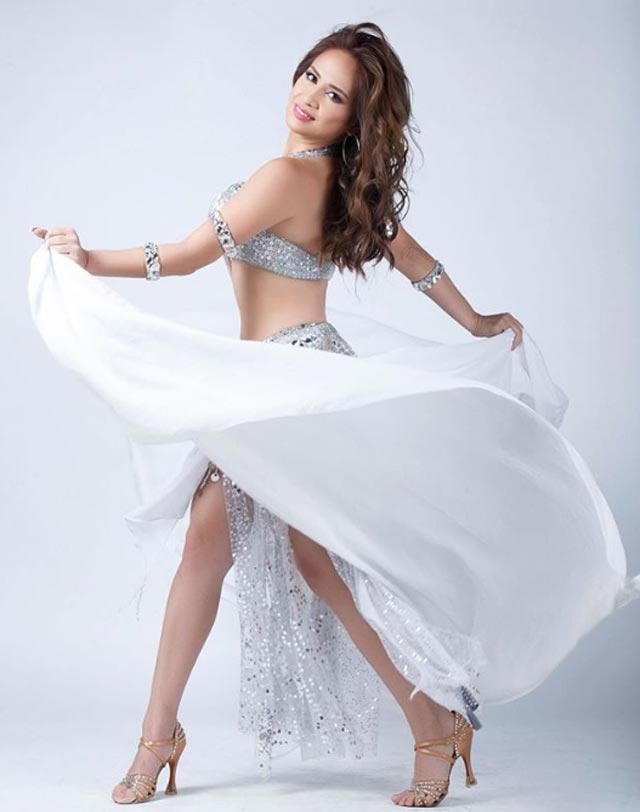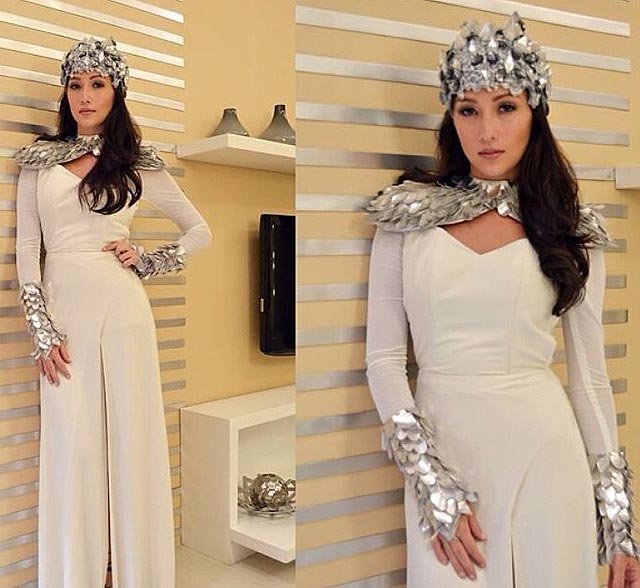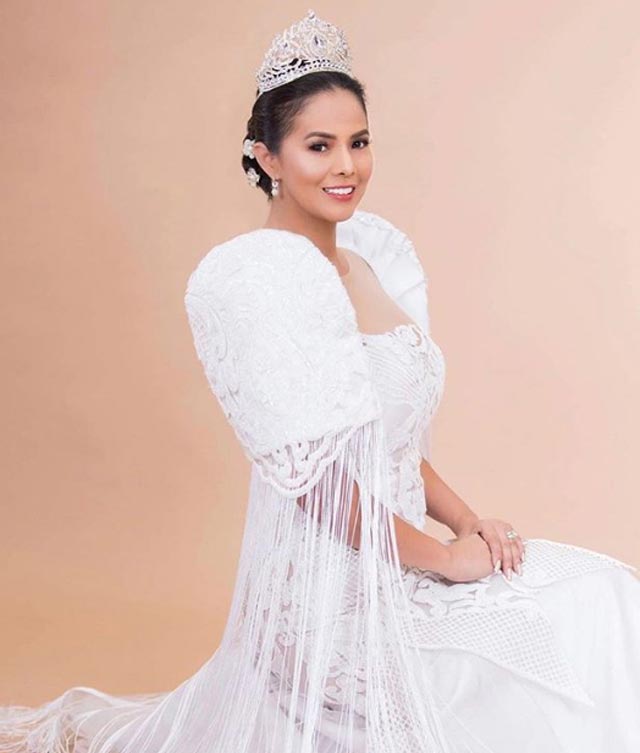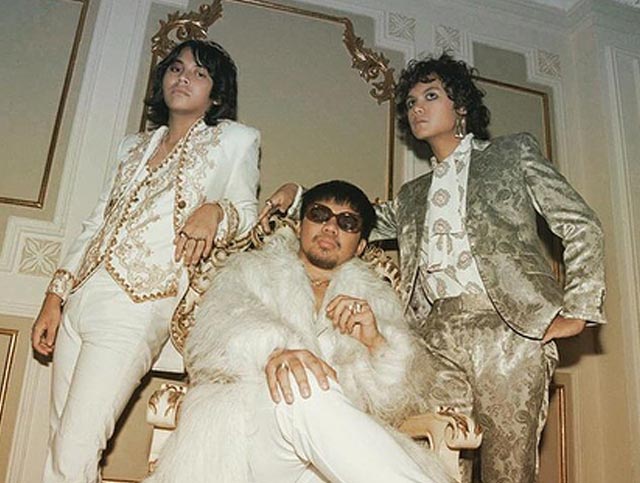 Regine's Boutique continued to innovate by adding rentals and alterations to their offered services.
"After accumulating so much stock of costumes and gowns, I developed our 'RT Rentals' service for our clients.
"A wide selection of new costumes, suits, and gowns were added to our rentable items and we became a go-to place for people who need formal wear and costumes fast and are on a budget.
"Along with our bespoke line, RTW, and rentals, I added alterations to our services to provide our clients with the perfect fit for their personal or rented items," Regine said.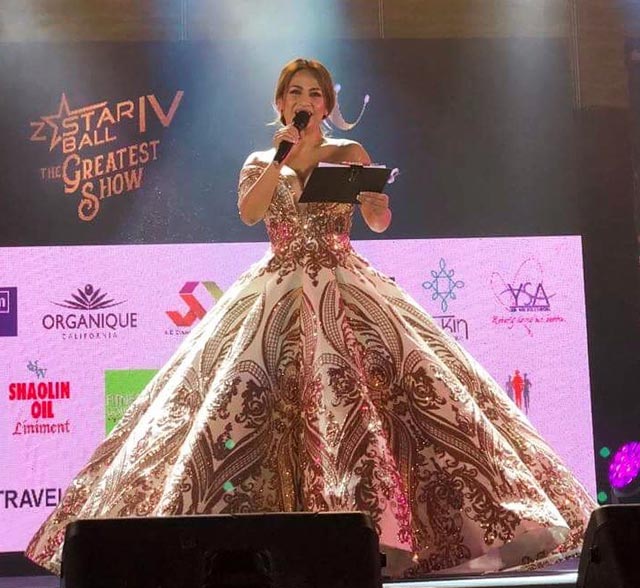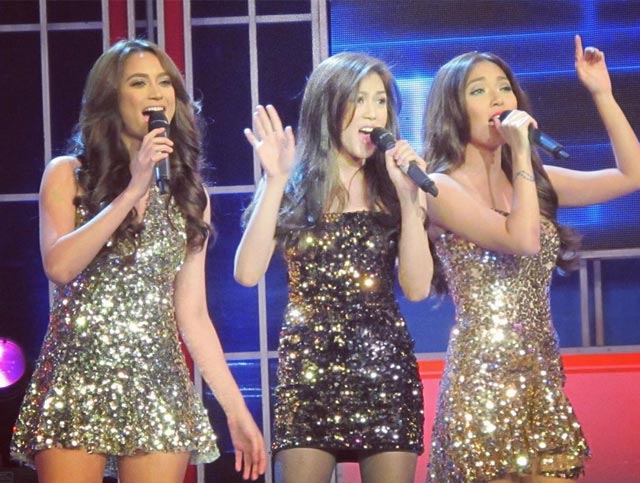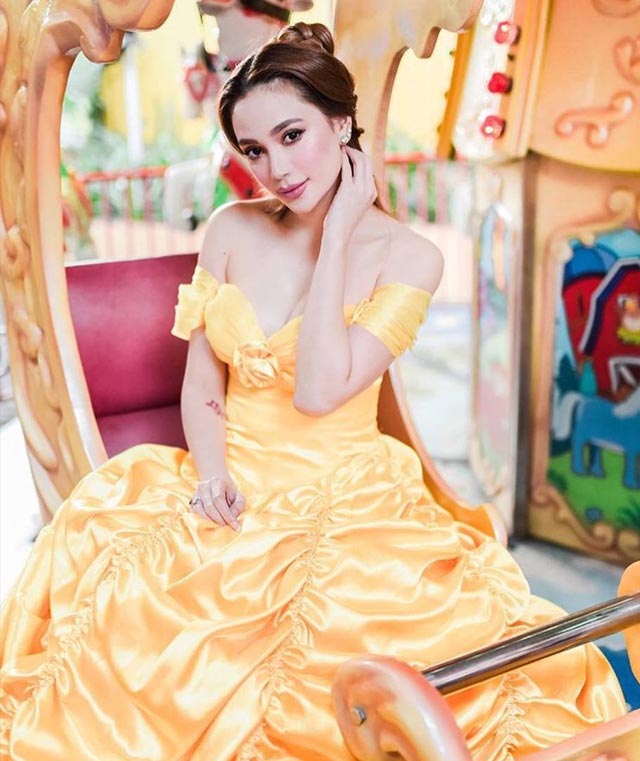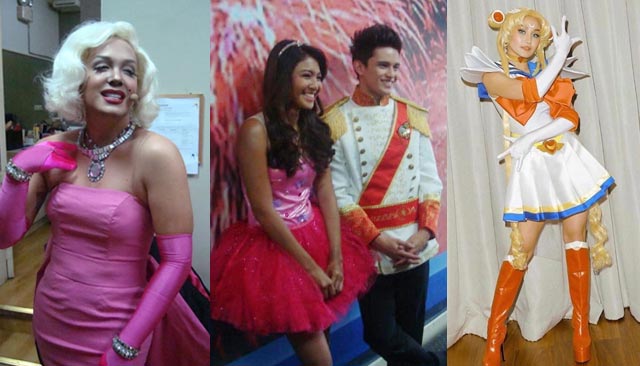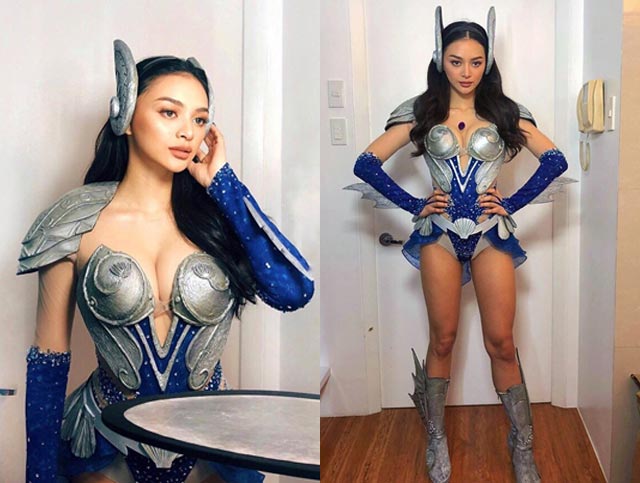 REGINE TOLENTINO ATELIER'S 20TH ANNIVERSARY
Regine's Boutique marked its 20th year on June 8, 2019, with a revamp of its office, as well as its name.
Regine said, "In celebration of the 20th anniversary of 'Regine's Boutique,' we fully renovated our showroom, office, factory, and warehouse and decided to go for a new look and feel going into our third decade of fashion.
"My interior designer, Neil Lorenzo, suggested a clean minimalist look with some vibrant colors.
"In line with this reinvention, we renamed the boutique to 'Regine Tolentino Atelier.'"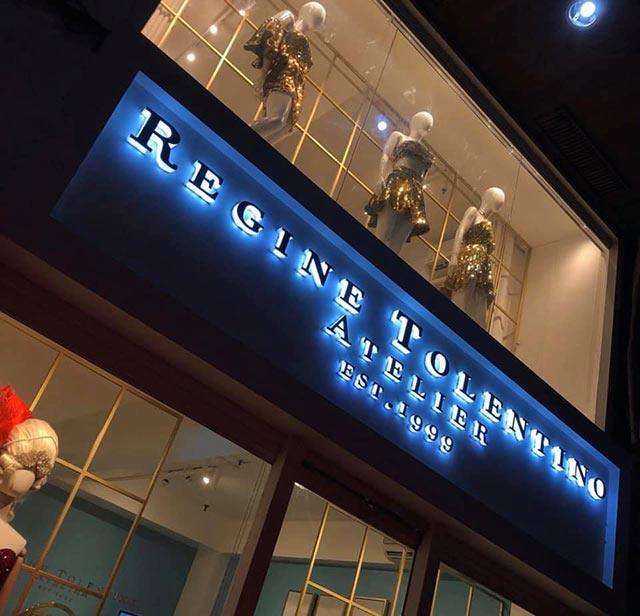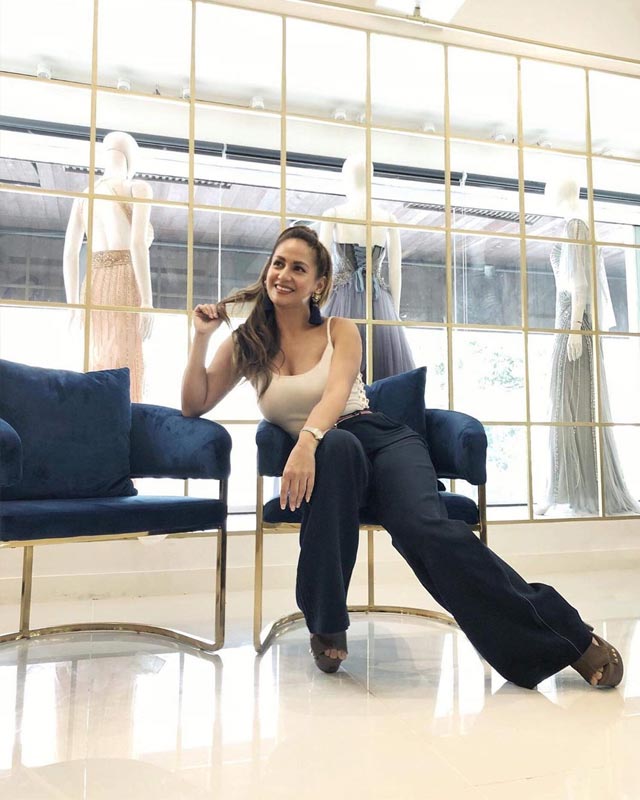 How has running the business changed since its launch in 1999?
The dancer-fashion designer replied, "The difference between managing my businesses in the early 2000s is the challenge of attaining information and reach of marketing.
"You really have to be out there sourcing for fabric, buying books and magazines, researching, traveling, placing physical ads, joining exhibits, fliering, and so much more.
"Business, on the other hand, from 2010 to 2020 is different because technology allows you to promote your products easier and it reached a wider audience so conveniently.
"Sharing your whole collection and price lists just by a click of a button was phenomenal for me because I experienced doing it all manually.
"Learning about your business, clients, sewing techniques, suppliers and new trends is now so easy to access."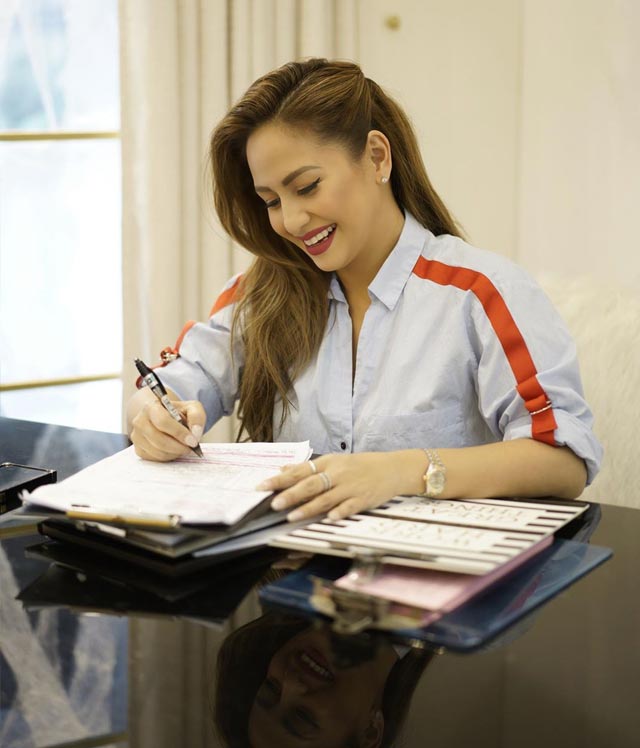 While Regine is thankful for the help she's been getting from technology, she still credits her company's continuous growth to two things: quality work and exceptional customer service.
"Although much has changed throughout the past two decades, at the end of the day, it is still about doing good work, customer acquisition and satisfaction, and developing strong relations with clients.
"It is still about the customer's experience with the products and their recommendations that make my businesses work," she remarked.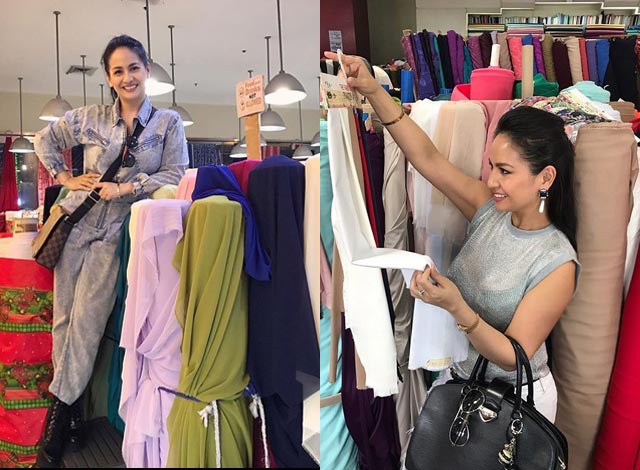 ADJUSTING TO THE NEW NORMAL
Regine and her business are ready for the "new normal," as customers can now purchase her recently-launched personal protective apparel (PPA).
It consists of stylish face masks (PHP100 to PHP450), bunny suits (PHP950), coats (PHP1,650 to PHP2,450), and jumpsuits (PHP2,450), which you can all order on the Regine Tolentino Atelier Instagram and Facebook pages.
View this post on Instagram
Regine ended her interview with advice to other business owners: "Be ready for new trends, changing times, uncontrolled forces of nature, the changing economy, inflation, and the NEW NORMAL."
Echoing the words of the Greek philosopher Heraclitus, Regine concluded, "The only constant in life is change."
Gusto mo bang lagi kang una sa showbiz news at scoops? Subscribe to our Viber Chatbot here para lagi kang updated, and join our community for more pakulo!