Sharon Cuneta has finally granted her fans' requests to show in her vlog her collection of luxury watches.
On Wednesday, September 16, the Megastar did share some of her most favorite and sentimental timepieces.
She opened with a caveat, "That's not to brag. That's the truth and that's my life... Usually, what I buy are investments."
Sharon added she got her passion for watches from her late father Pablo Cuneta, further saying, "And so I've shown you some sentimental pieces and why they're important and, some, just because I love them."
Here are the favorite luxury watches of your favorite Kapamilya actress/singer/host/ endorser:
VINTAGE 1950s OMEGA
The first watch Sharon shares with fans is a diamond-studded vintage 1950s Omega. However, she had the dial replaced with one from Rolex.
Explaining, she says, "This was my dad's first gift to my mom so it's an antique. It's an antique Omega.
"Nung nasira po, pinilit ko pong magpahanap nung face niya, yung dial niya. Wala na pong mahanap pero we were able to find a Rolex na kapalit.
"But what's important it that it was my mom's and it's with me and it came from my dad. I think 1956 binigay sa kanya ito so it's really meaningful to me."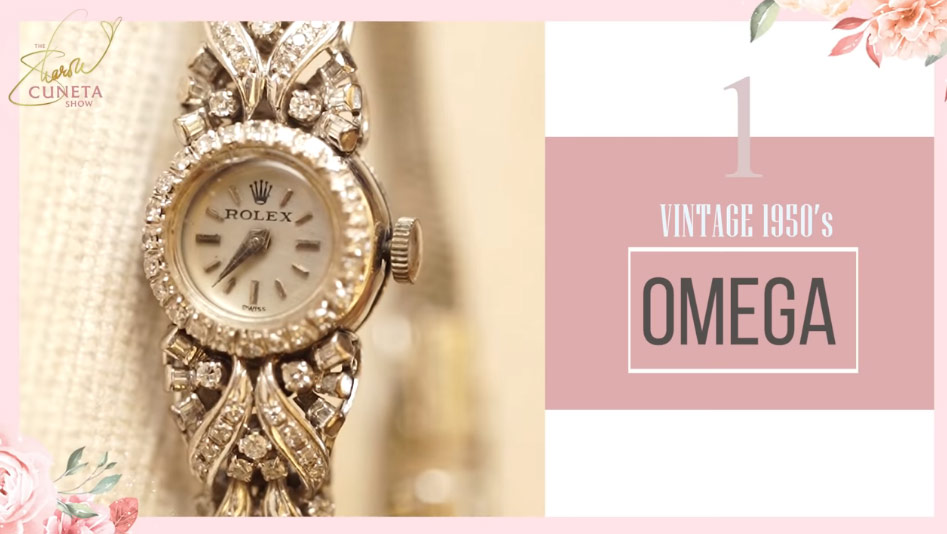 VINTAGE 1970s CORUM
Again from her dad, Sharon received a 1970s Corum watch as a gift. Corum is a high-end watch brand from Switzerland.
The 54-year-old actress/host says, "He didn't tell me it was precious. See the wrist is so small because he gave this to me when I was in fourth grade."
Sharon initially wanted to replace the strap of the watch to fit her wrist but eventually decided to keep it as it is.
She narrates, "I brought this to Zurich with me when I had my concert in Europe, which was in 2011 or 2012, I think.
"I wanted to have it refurbished kasi luma na siya. Ang liit-liit ng wrist ko kasi grade four nung binigay niya 'to sa akin...
"Sabi nila, 'Don't touch it because they don't make them like this anymore.' So iba ang craftsmanship na pumasok dito."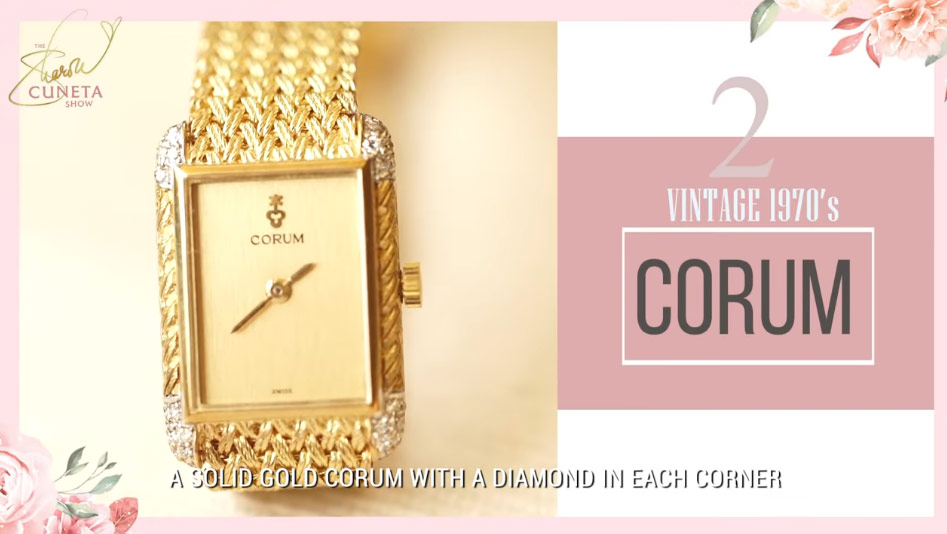 VINTAGE 1950s GIRARD-PERREGAUX
Sharon has also kept her late mom Elaine Gamboa's vintage Girard-Perregaux. Her mom got this watch around the year 1950.
Sharon is yet to find the right occasion to wear this dazzling watch. She says, "I haven't really worn it. It has diamonds and sapphires on the side."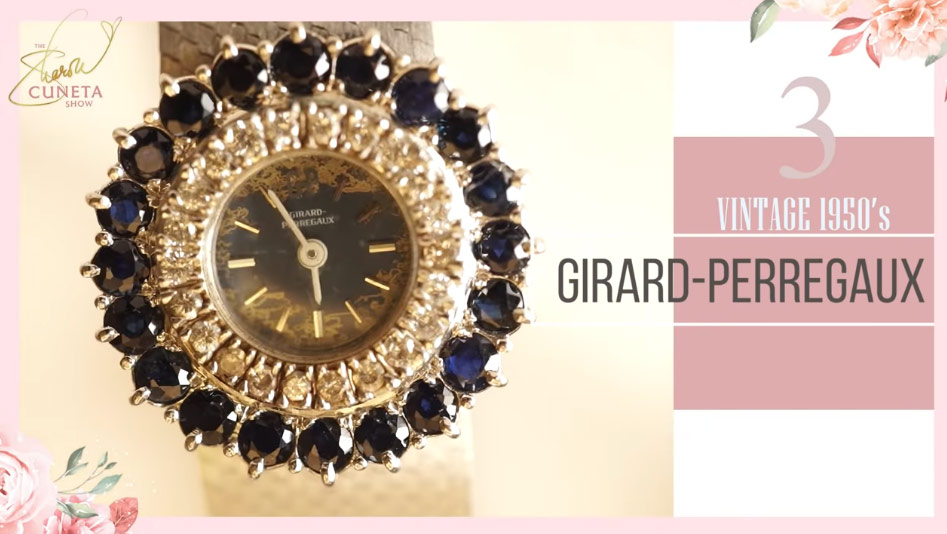 HER MOM'S
BALLON BLEU DE CARTIER
Sharon has another of her mom's watches, a Ballon Bleu de Cartier.
The TV host/endorser says that it was her own gift to her mom, and that they bought it at the Cartier boutique in Rodeo Drive, Beverly Hills, a few years before Mom Elaine passed away.
She remembers, "This is what she wanted, and now it fits me perfectly. I was surprised because usually mommy would choose something blingy-er, yung mas maraming bato.
"I love it because I love white gold and platinum very much. It's set in white gold with diamonds on the dial."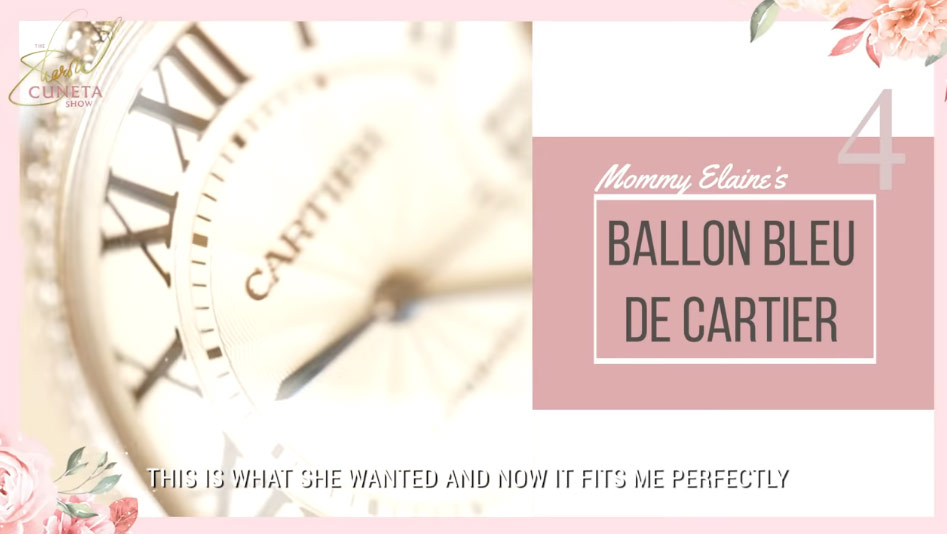 BALLON BLEU DE CARTIER
Sharon owns a larger Ballon Bleu de Cartier watch which is also studded with diamonds.
A similar style is priced at USD26,700 or around PHP1.3 million, according to Cartier's official website.
Sharon has replaced the purple straps with a gold band.
"This came with a beautiful purple leather strap... but I wanted to buy a gold watch. I wanted to buy a gold one.
"So I had the straps changed into gold in Singapore, and now I realize why... because this is a large Ballon Bleu.
"It's not the usual medium. I realize na why it came it with a strap and not this gold bracelet kasi napakabigat po. So, now I want the purple strap back."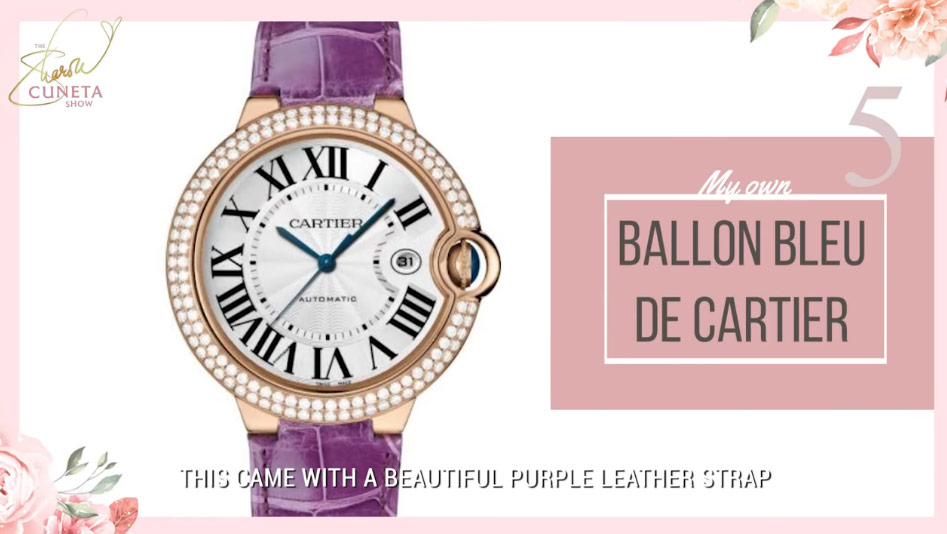 VINTAGE 1980s SANTOS DE CARTIER
Sharon's first-ever luxury watch that she bought on her own is a 1980s Santos de Cartier.
Sharon does not mention the specific style of her Santos de Cartier watch, but according to the brand's website, its price ranges from USD6,850 (around PHP333,000) to USD63,500 (around PHP3.08 million) depending on the materials used.
Sharon does mention that she wore this watch while working on a movie with former husband Gabby Concepcion.
"You will see this in the poster of Sa Hirap At Ginhawa, my movie with Gabby then when we were newly married."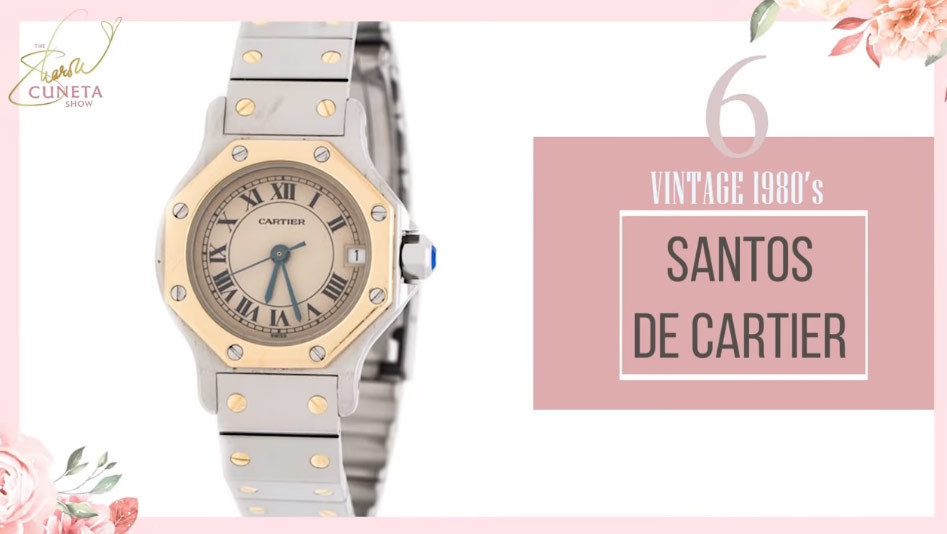 ROLEX DATEJUST
Sharon bought her first Rolex watch in 1986—a Rolex Datejust in steel and gold.
She recalled, "KC was just a baby. I went to Hong Kong with by best friend Anna and her family.
"And at the Duty Free shop nung pauwi na ng Pilipinas, ilang beses pa ako umikot bago ko binili ito, kasi I thought, 'Ang mahal naman, relo lang.'
"It's a steel and gold Rolex. A starter Rolex. A starter would be the steel, but this is a steel and gold with no stones at all, nothing.
"It's so precious to me, and I've taken care of it over the years."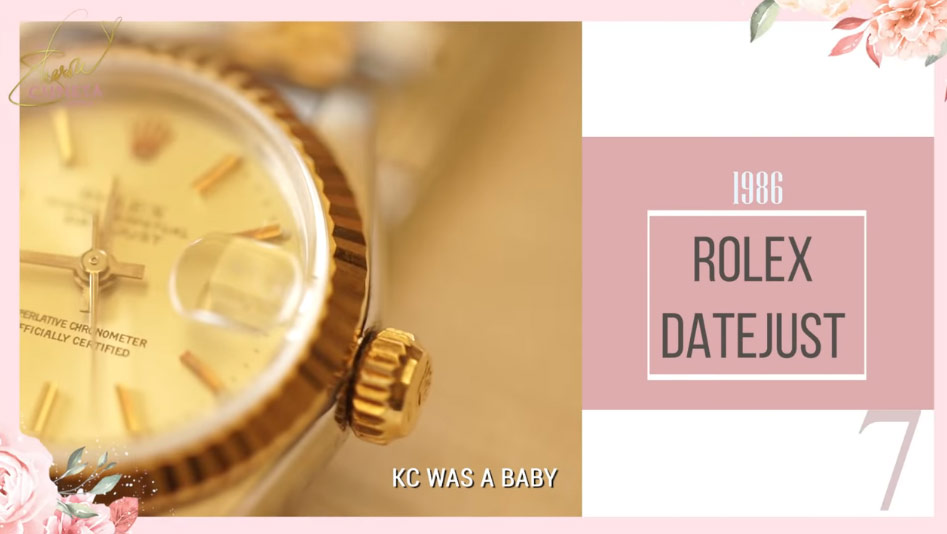 Her second Rolex watch is a 1980s Lady Datejust in gold with diamonds on its dial.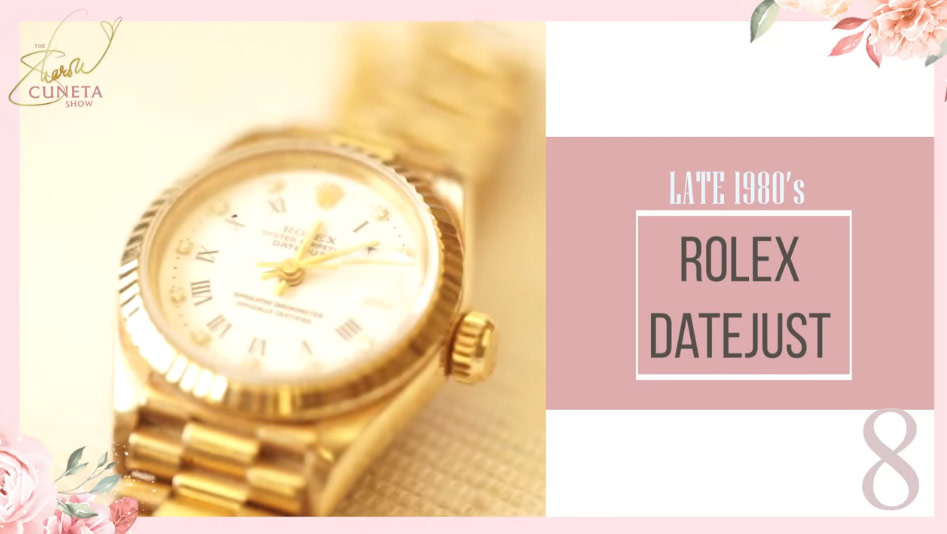 Her third Rolex is also a 1990 Datejust in platinum with a diamond-studded black dial.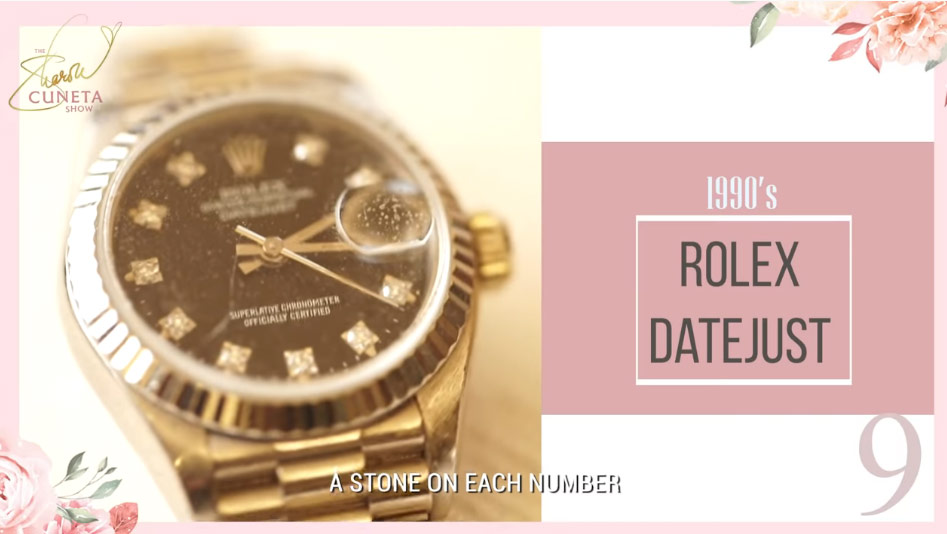 ROLEX DAYTONA MOTHER OF PEARL
Aside from her Rolex Datejust watches, Sharon also loves this Rolex Daytona watch with pink straps and a mother-of-pearl dial. She recalls buying this after seeing it in a magazine.
As Sharon tells it, "This one I saw in a magazine ad. It was a full-page ad. I took a picture of it and I used it as my phone wallpaper
"And I said to my friend who was leaving for Hong Kong, 'Can you look for this watch? I'm so in love with it kasi it's pink.' It has a pink strap."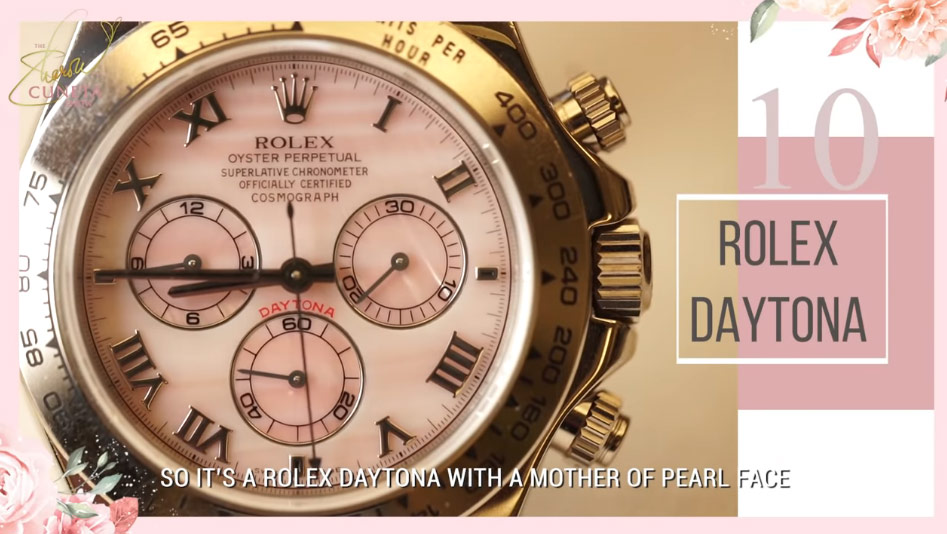 PIAGET POLO
Sharon wore this timepiece for the 1996 movie Madrasta.
She recalls, "In Madrasta, I wore this in the ending of the movie. Remember? When Christopher and I kissed. Among all my watches, this was the one Christopher de Leon noticed."
It currently has a price of USD9,040 or around PHP439,000, according to chrono24.com.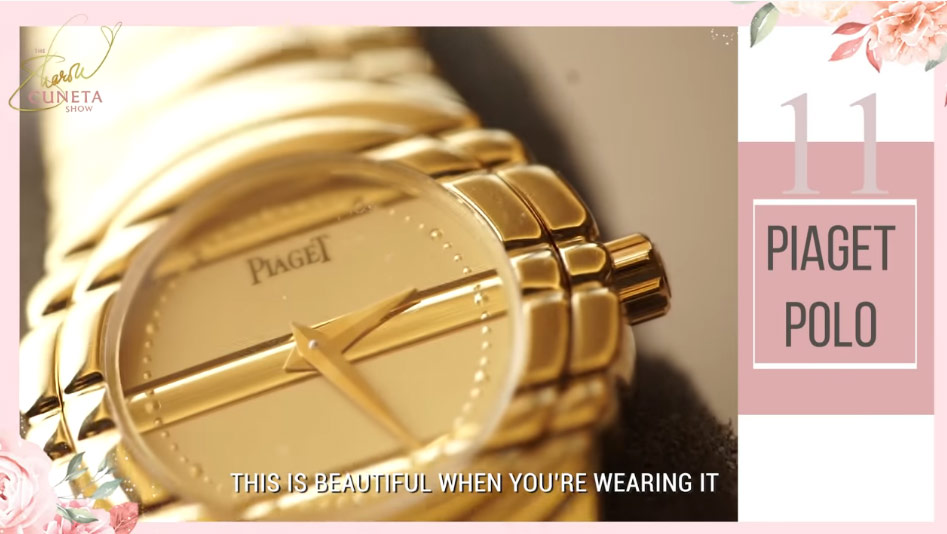 ***
Fashion on a budget? Use this Zalora voucher to get discounts.