KC Concepcion has finally granted the wish of her fans to show in her vlog her designer-bag collection.
On her YouTube channel last Saturday, December 26, 2020, KC showed some of her favorites from her collection of Louis Vuitton, Goyard, Chanel, Christian Dior, Strathberry, and Gucci bags.
According to KC, she started collecting luxury bags after she graduated from college on August 9, 2007.
She obtained her degree in International Communications from the American University of Paris.
She used her earnings from showbiz engagements, which her mom Sharon Cuneta had kept for her.
KC said, "Nung tinurn over na niya sa akin yung earnings ko, I think one of the things na ginawa ko talaga was to invest in quality bags."
KC said her mom and her late mamita, Elaine Cuneta, had infuenced her taste in fashion.
"Nagkaroon ako ng love for luxury because of my Mita and then, of course, because of my mom 'cause she loves fashion as well.
"'Di ba, siya yung Madonna ng Philippines. So combining the timeless and the trendy, talagang nagkaroon ako ng love for fashion."
Below are some of her favorite bags.
Louis Vuitton
Boîte Flacons
If KC were to choose two items she would save from her collection, these would be her twin Louis Vuitton Boîte Flacons vanity cases.
She explained, "Mahilig talaga ako sa travel trunks, yung may hardware na ganyan, very like old-world-traveler-style bags. So these are very special to me."
KC bought herself a Louis Vuitton's signature Damier Azur leather, which she calls the "Leading Lady."
She said, "I really love this color combination. I really love the classics, and this is classic Louis Vuitton.
"It reminded me of the French Riviera. It reminded me of yachts and the sea. I really, really like the look, but apart from that, yung functionality niya."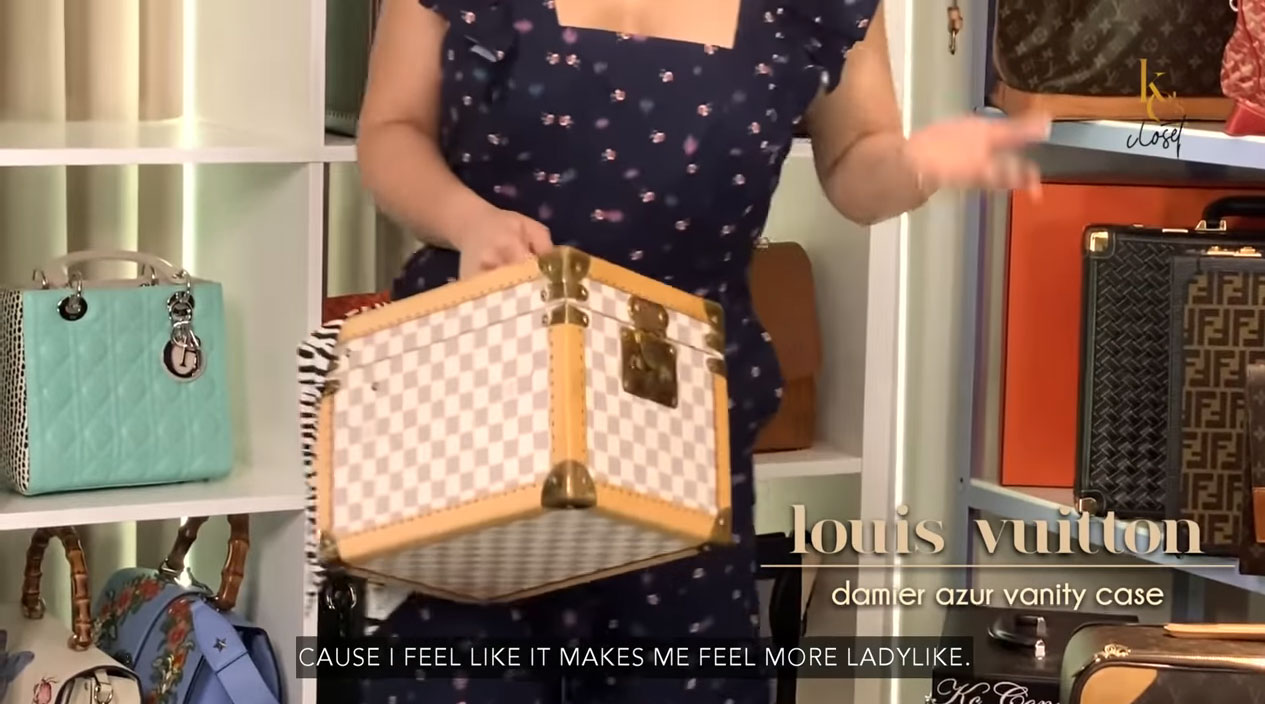 Her bag's twin, the "Leading Man," is a vintage 1920s vanity case in Louis Vuitton's classic monogram leather. KC said it was one of the bags she received from her mamita.
"This is a classic vintage version of my Damier Azure, and it has the same function."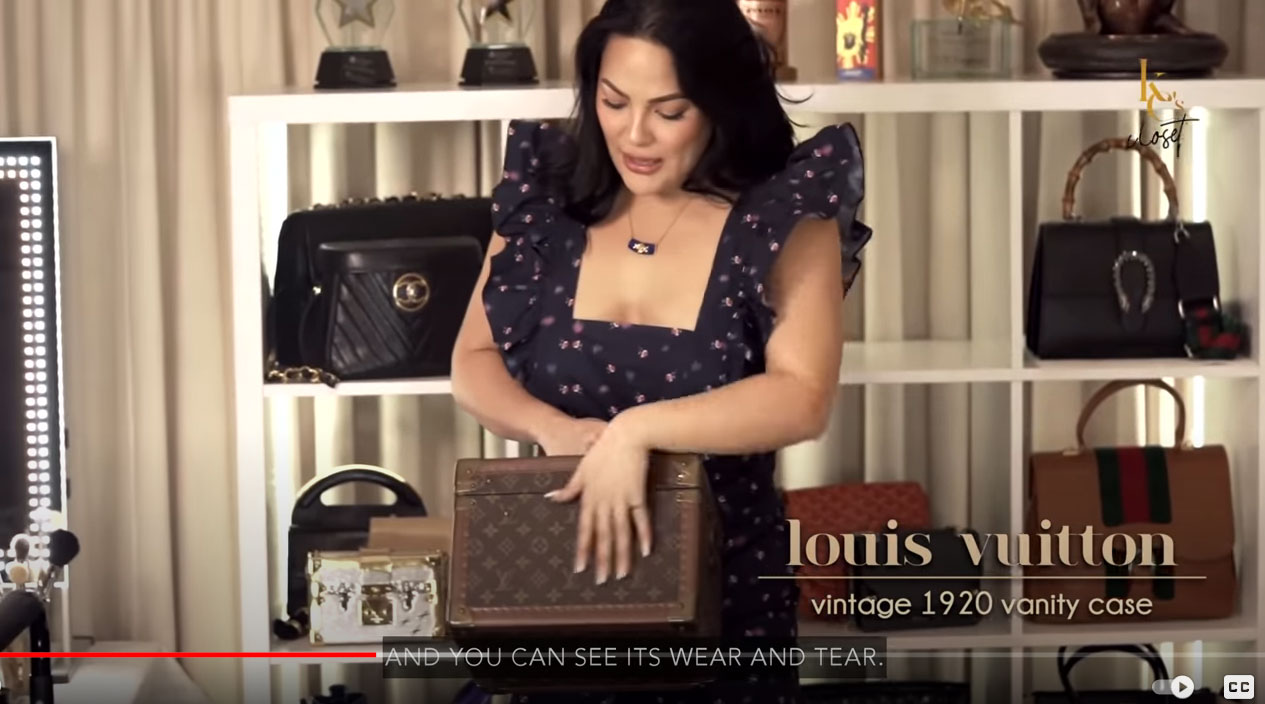 According to snobessentials.com, these beauty cases are priced at USD3370 or around PHP162,000.
EPI PETITE MALLE
KC's go-anywhere bag for events and parties is this Louis Vuitton metallic epi petite malle.
She said, "I've brought this to so many events and parties. Isa ito sa mga dinadala ko sa parties pero ang hirap kasi cellphone and lavender oil pa lang, hindi ko na siya ma-close.
"And puwede mo na lang ilagay is cash or credit card, tissue paper, ngayon mask, saka toothpick. Yun lang yung kasya dito."
According to yoogiscloset.com, this minaudière has a retail price of USD5,500 or around PHP265,000.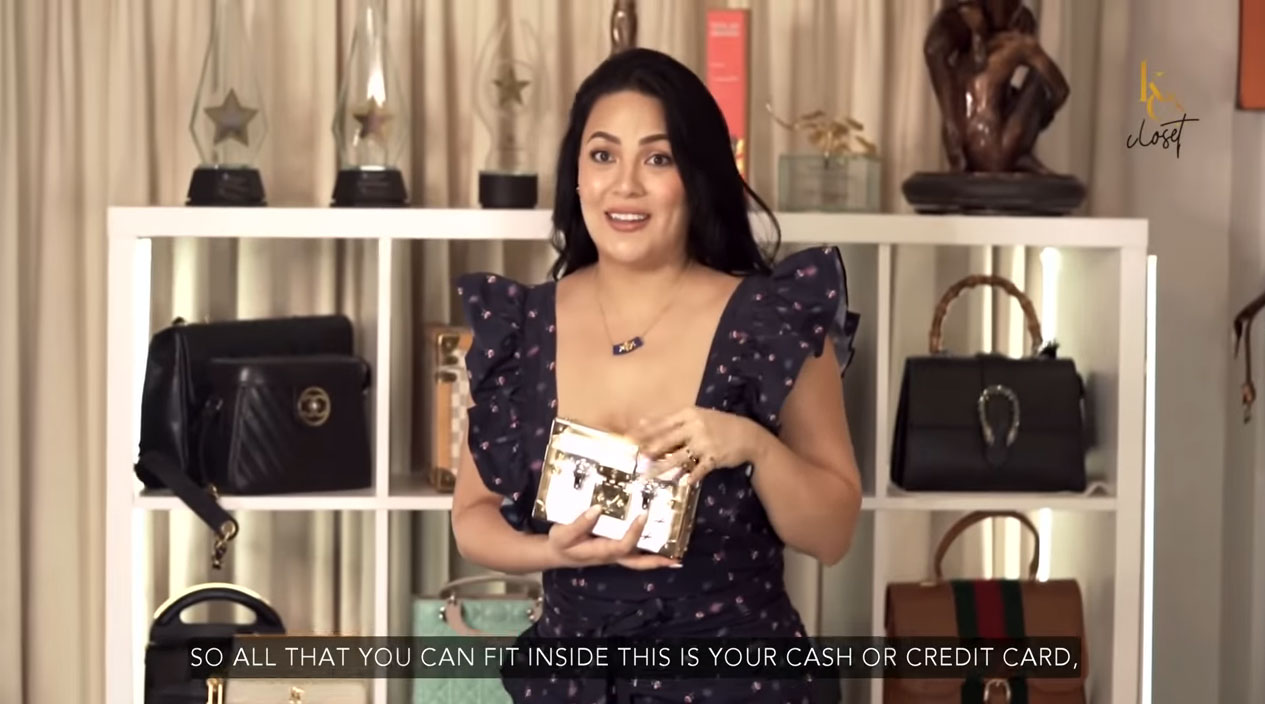 GUCCI
BAMBOO TOP HANDLE
KC also has a collection of Gucci bags with bamboo top handle.
She said, "I didn't know at that time Gucci made handles with real wood, and with this kind of bamboo, bent bamboo wood, with the hardware and all of that."
The one on the left is the Gucci Linea P Butterfly Painted Leather and Genuine Snakeskin Top Handle Satchel, which is priced at USD3,600 or around PHP173,000 on tradesy.com.
The other bag with bamboo handle is the Gucci Dionysus, a floral appliquéd leather tote in light blue. This bag is priced at UKP5,131 or around PHP333,000 on matchesfashion.com.
KC owns another Gucci Dionysius bag with bamboo top handle bag in black leather. According to tradesy.com, this bag retails for USD2,310.50 or around PHP112,000.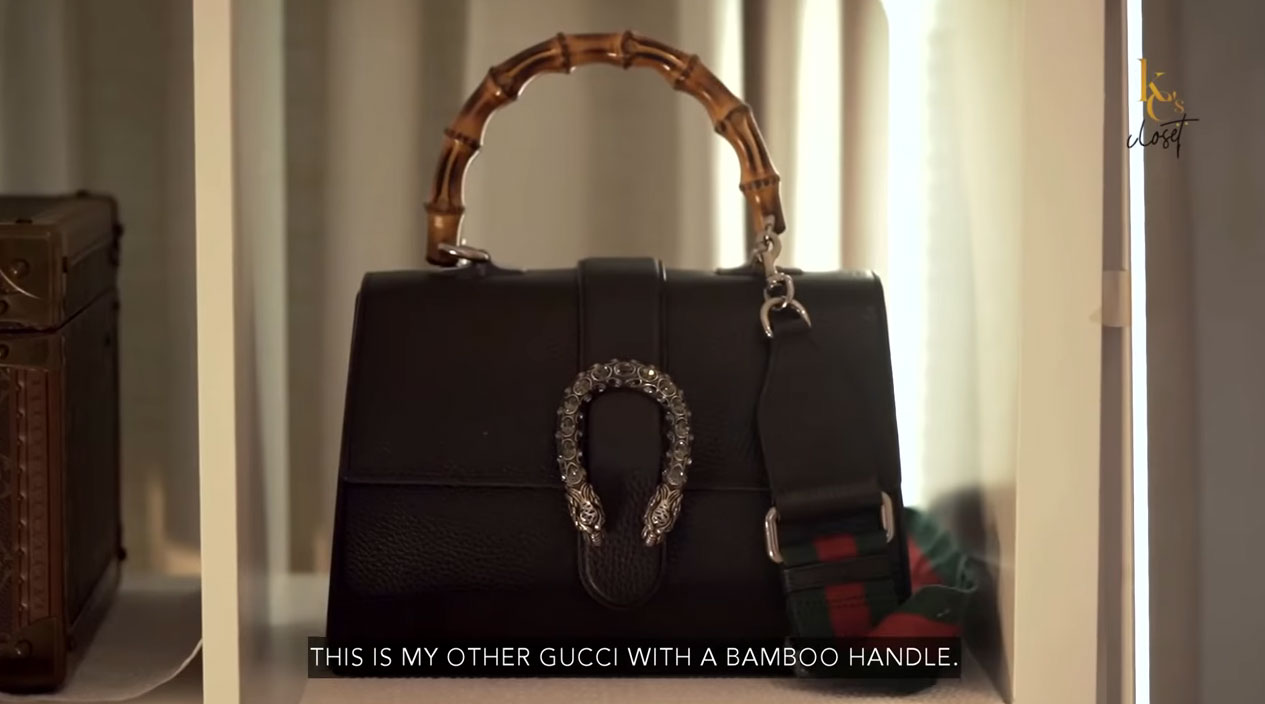 Duffle Supreme Tian Guccissima Canvas
KC often uses her Gucci Supreme Tian Guccissima canvas duffle bag for travels and during tapings. But KC let on that she once used it as a gym bag.
She revealed, "Ginamit ko ito sa gym once before, sa mga tapings, ganyan. Yes, that's my confession.
"Gumagamit talaga ako ng mga Gucci and Goyard sa gym. So What? Whatever. Kesa hindi mo gamitin? Ididisplay mo 'tapos hindi mo ginamit."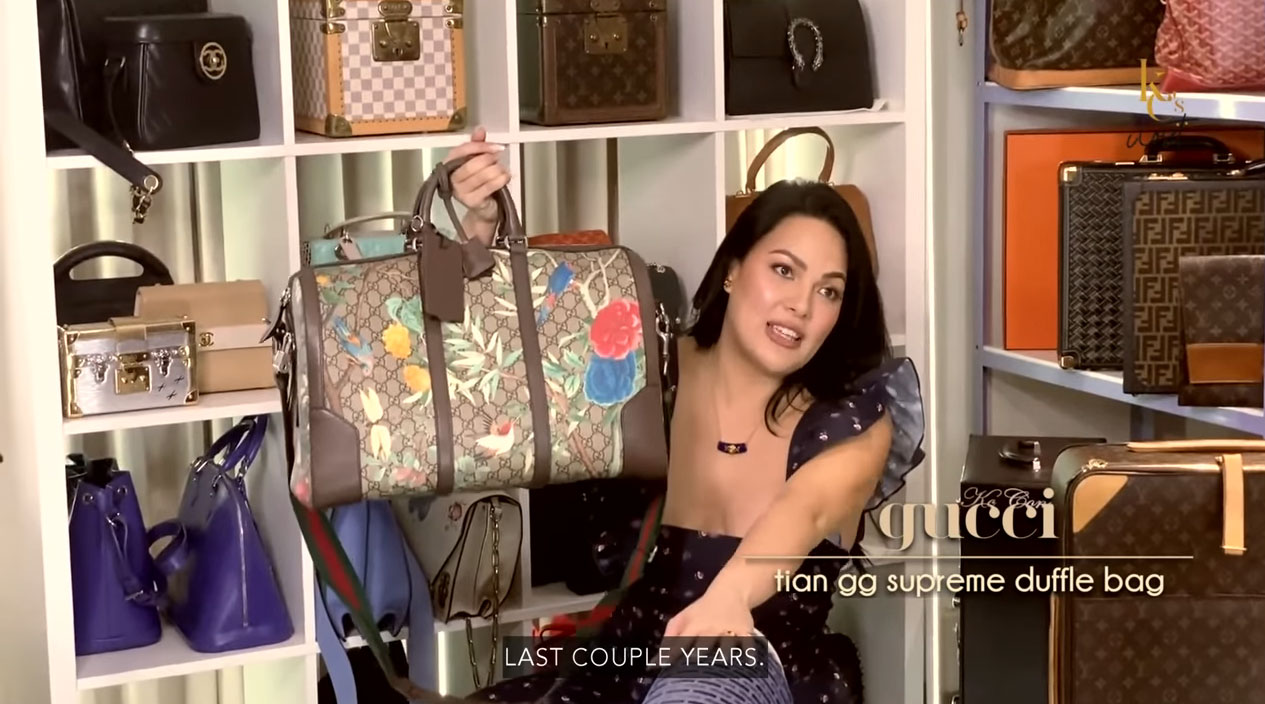 According to tradesy.com, this bag retails for USD1,560 or around PHP75,000.
GOYARD
Goyardine Voltigeur Pet Carrier
KC shared that her Goyardine (the brand's signature coated fabric) Voltigeur Pet Carrier also doubles as her gym bag from time to time.
She said, "This bag is actually made for pets or small dogs. Dahil nga I have Churro and Chica. Bag nila ito nung baby sila...
"Kaya lang, hindi ko na sila binibitbit sa bag kasi parang ang init sa Pilipinas 'tapos yung balahibo nila, di ba? Ang dami nilang buhok so parang buhok pa lang init na init na ako for them.
"So parang hindi ko na rin nagamit for the dogs. So ayun na nga, naging gym bag na."
A pre-loved Goyardine Voltigeur Pet Carrier was sold for USD2,020 or around PHP98,000 on 1stDibs.com.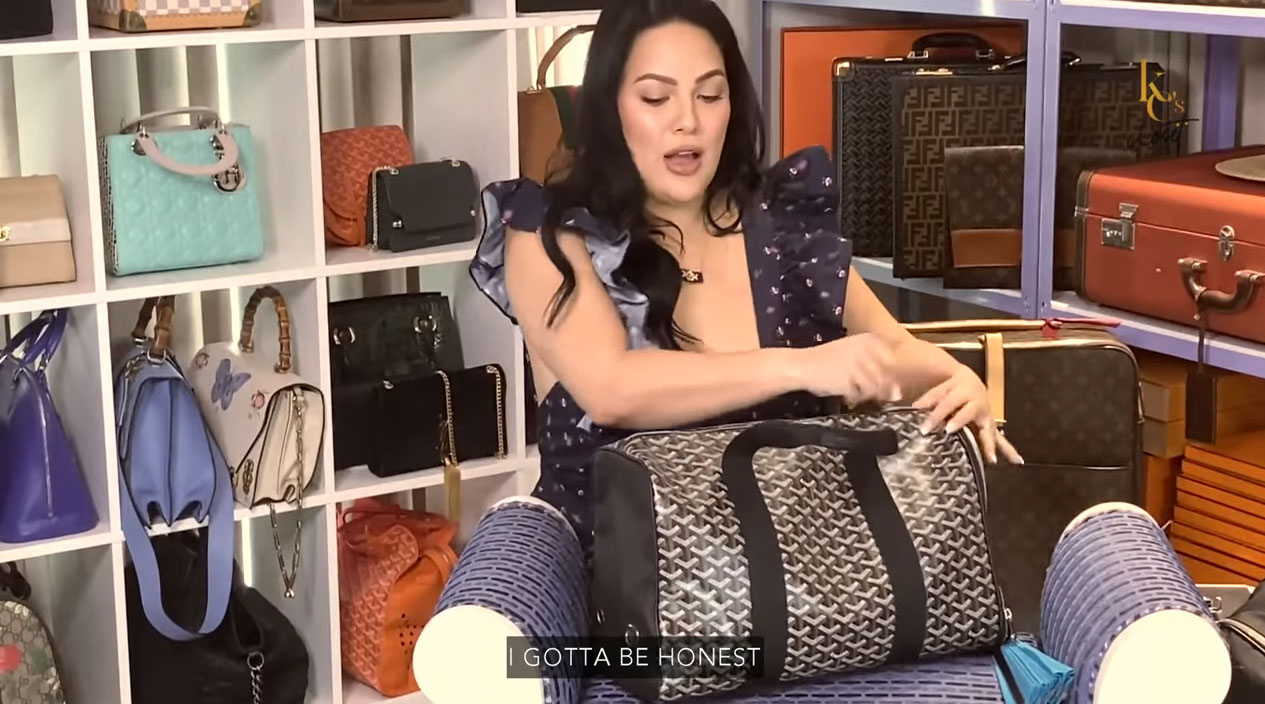 GOYARDINE SAC HARDY PET CARRIER
She also initially bought this orange Goyard Sac Hardy Pet Carrier for her pet pomeranian Chica.
But KC also uses this as a gym bag. According to tradesy.com, this bag retails for USD1,744 or around PHP84,000.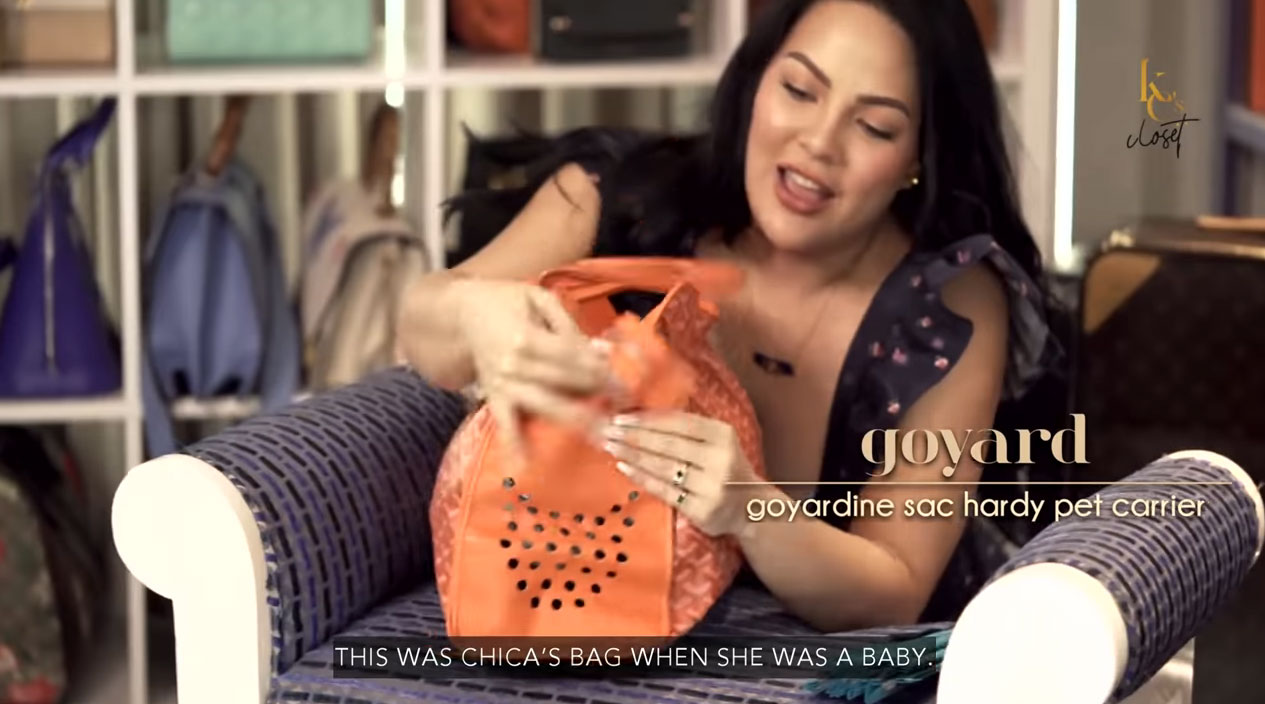 GOYARDINE BELVEDERE PM MESSENGER BAG
KC said what she loves about Goyard is its hand-painted monogram. This was why she bought this orange Goyardine Belvedere PM messenger bag in the first place.
According to yoogiscloset.com, this coated canvas bag is priced at USD2,195 or around PHP106,000.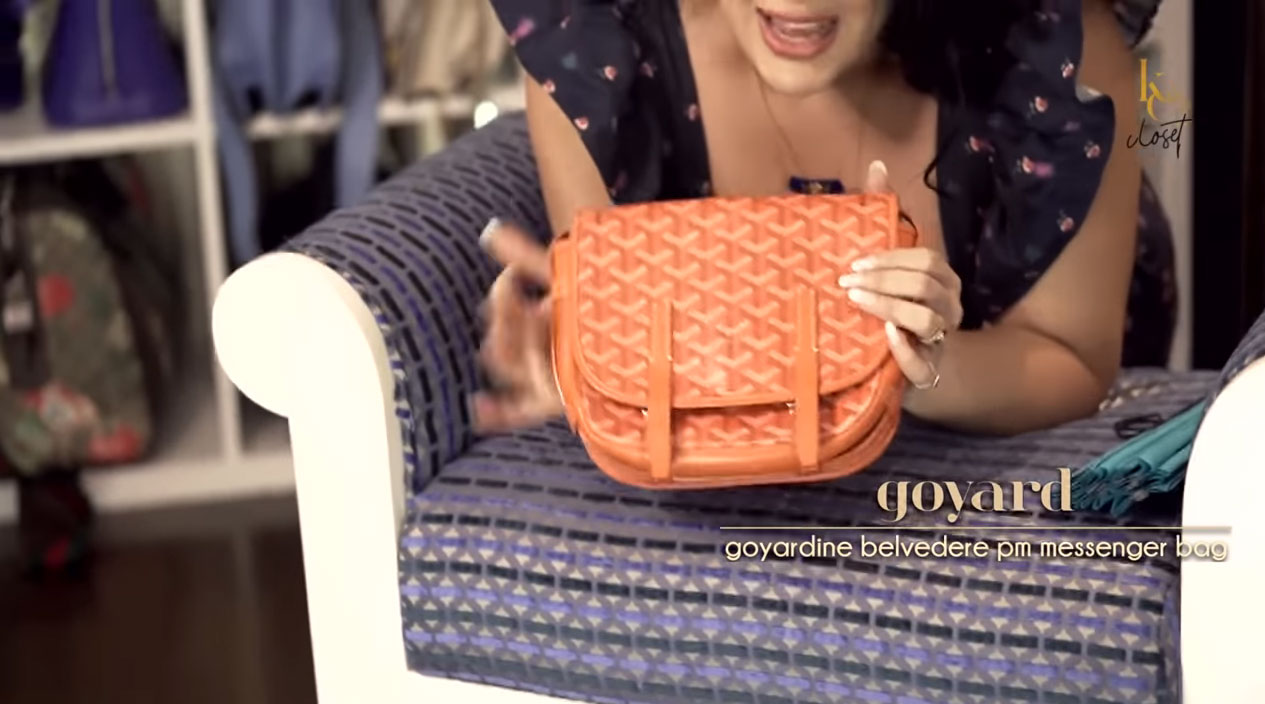 CHRISTIAN DIOR
LADY DIOR
KC bought this Christian Dior Cannage Mint Green Leather and Spotted Snakeskin Lady Dior bag with the help of her friend named Sammie at Rodeo Drive in Los Angeles, California. A pre-loved Lady Dior bag of the same style was recently sold for USD1,975 or around PHP95,000 on yoogiscloset.com.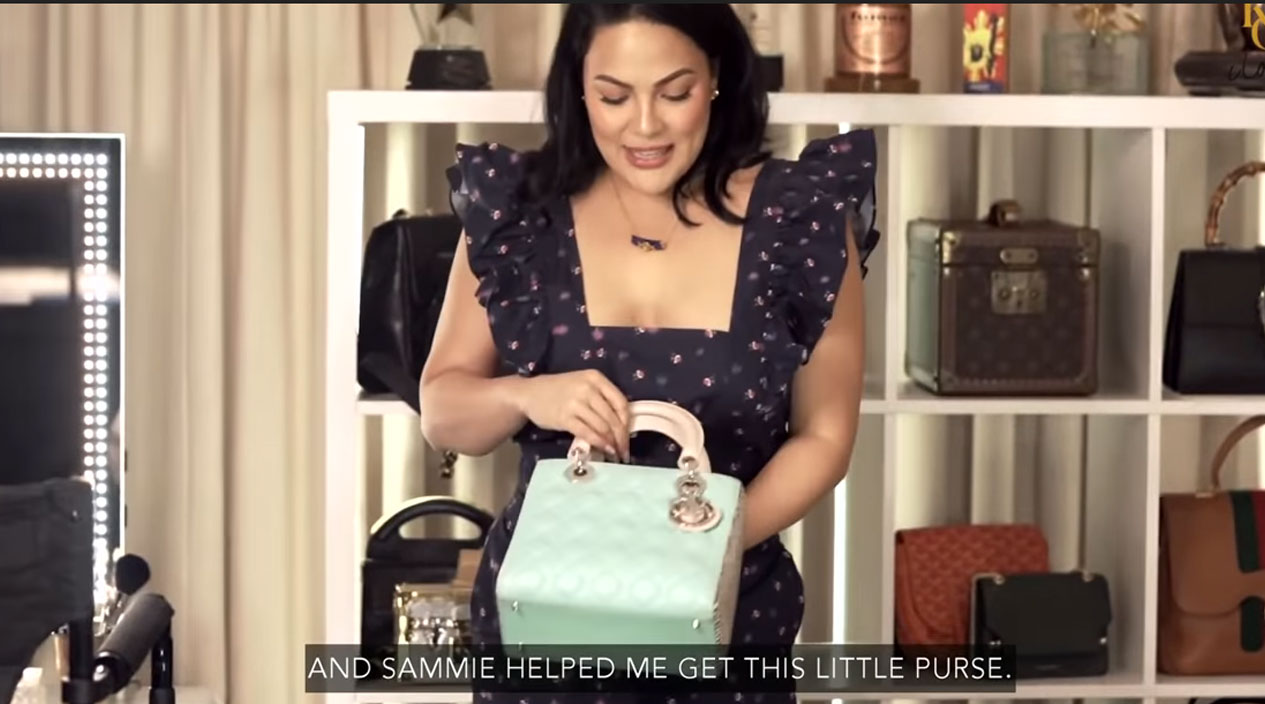 CHANEL
Classic 2.55 FLap bag
KC said the Chanel Classic 2.55 flap bag is a must-have for a luxury bag collector, "Every girl who wants to start collecting bags needs the 2.55."
She owns a vintage Chanel classic 2.55 flap bag in lambskin. A brand-new one currently retails for USD6,500 or around PHP313,000.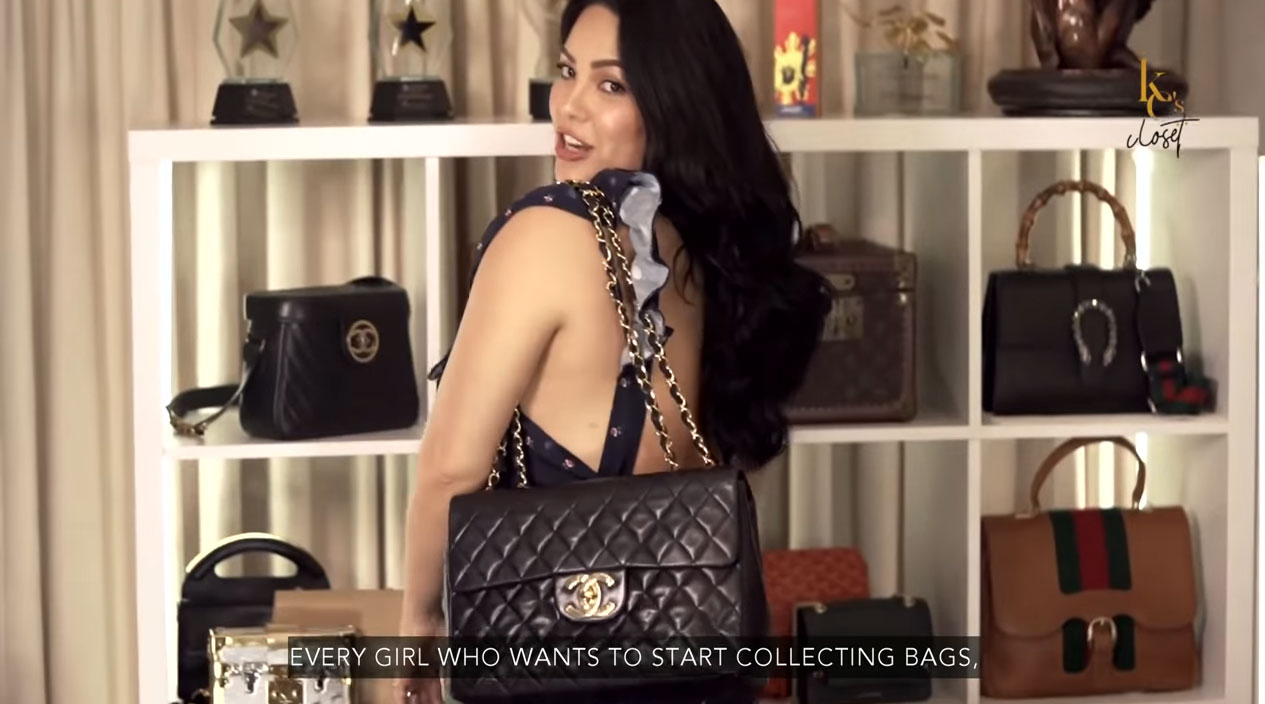 Vintage VANITY purse
This Chanel vintage vanity purse is KC's favorite "day-to-night bag."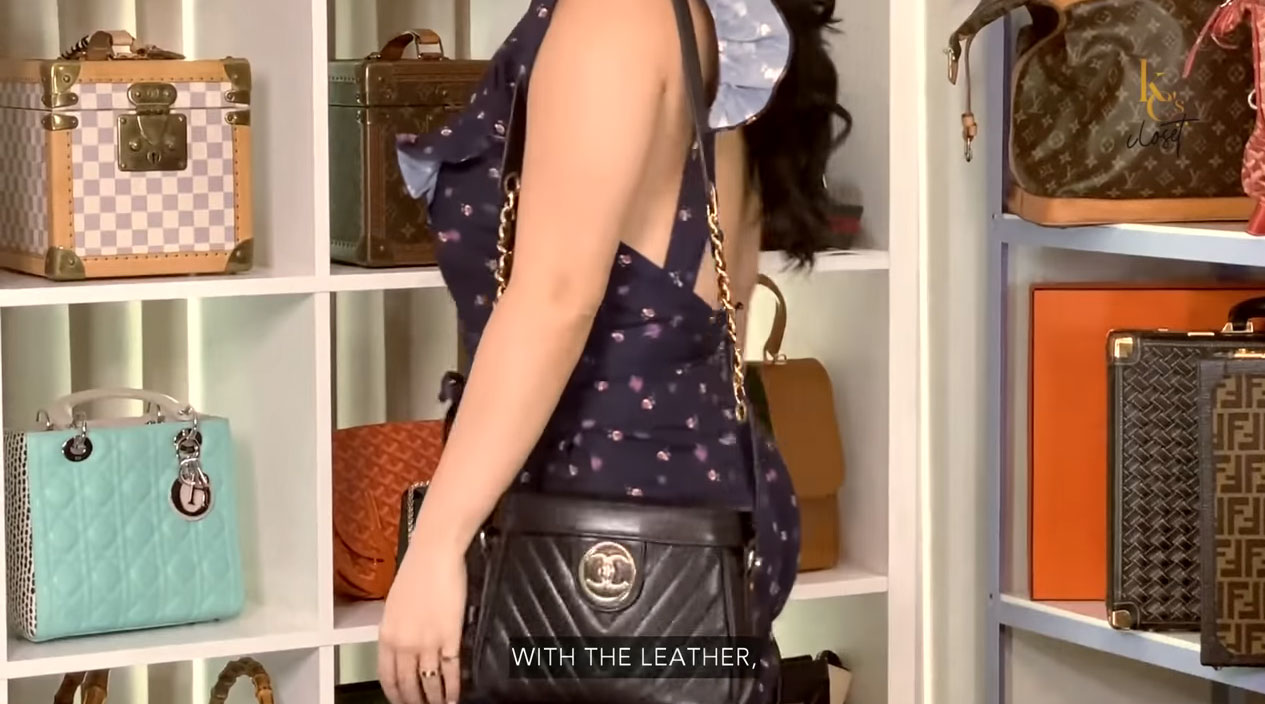 Leo Lion Jersey Flap Bag
KC also loves lions, which was the reason she bought this Chanel Leo Lion Jersey flap bag in royal blue.
The 35-year-old actress said the Leo Lion clasp reminded her of the architectural designs in Paris, France.
According to therealreal.com, this bag has an estimated retail price of USD2,400 or around PHP116,000.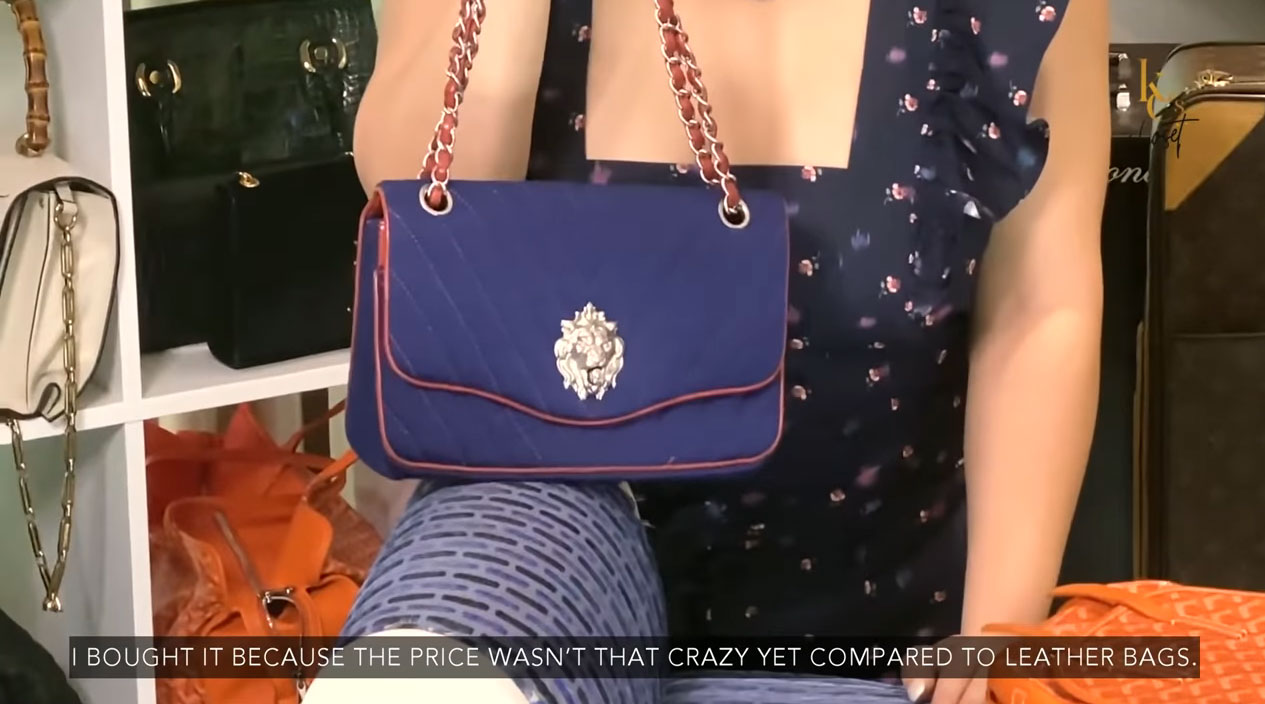 STRATHBERRY
East/West Mini
KC received this Strathberry East/West Mini bag in bottle green as a gift from Rustan's, the brand's local distributor. KC noted that Meghan Markle also has the same bag.
According to the brand's official website, this is available for USD595 or around PHP29,000.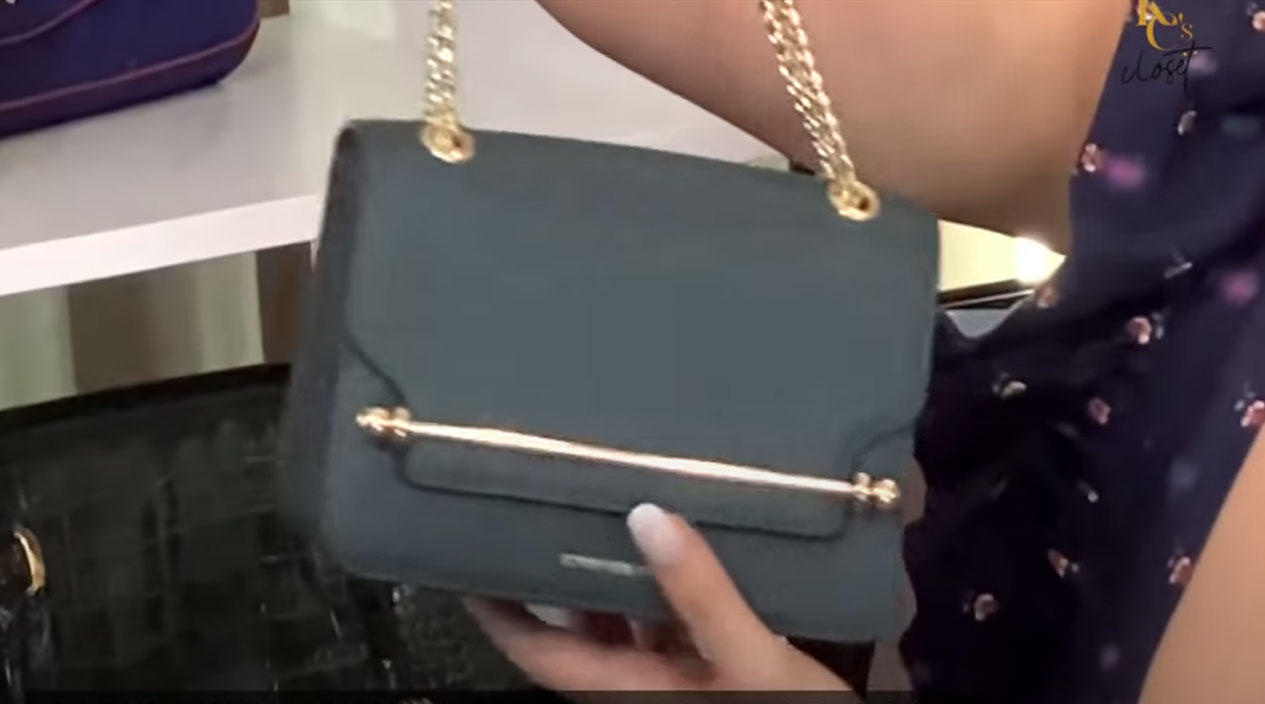 Gusto mo bang lagi kang una sa showbiz news at scoops? Subscribe to our Viber Chatbot here para lagi kang updated, and join our community for more pakulo!