Miss Universe Philippines 2021 candidates transformed into Manila Carnival Queens during the pageant's national costume presentation on Thursday night, September 23, 2021.
The Miss Universe Philippines Organization explained in a Facebook post the reason for the choice of Manila Carnival Queens as this year's theme for the national costume show.
The post read: "This year's National Costume theme is a celebration of a bygone era of elegance and sophistication—the Manila Carnival Queens.
"They are the first Filipina beauty queens whose names are still remembered by historians and pageant aficionados.
"Their images wearing elaborate and intricate costumes live on in black and white photos.
"So we wanted to bring these back to life and imagine how they would have looked today.
"Our delegates' costumes are all masterfully created for them by world-class Filipino designers.
"It showcases the Filipina beauty, heritage, and artistry interpreted in modern, traditional, and avant-garde ways.
"Regardless of its interpretation, at the very core is the heart of a Filipina who is proud of her history, heritage, and country."
With the Clark International Airport as their backdrop, the 28 candidates paraded in their national costumes with a music video uploaded on the official YouTube channel of Empire Philippines.
They showcased their colorful interpretations of the theme while dancing to BGYO's new song "Kulay."
Here's PEP.ph's (Philippine Entertainment Portal) list of 15 standouts.
TAGUIG
Beauty queen-TV personality Katrina Dimaranan was regal in her custom-made lavender ombre gown designed by Val Taguba.
In her Instagram post, the 28-year-old Love Island star said she picked the colors lavender and white to pay tribute to her Lola Betty Rivera and her mother. Katrina added that the designer named the gown after her.
MARINDUQUE
Marinduque's Simone Nadine Bornilla looked youthful in her dusty rose couture ensemble by Hollywood-based Filipino couturier Oliver Tolentino.
In her Instagram post, Simone said the gown is her homage to Rosario Cayetano, the first-ever representative of Marinduque to the 1st National Beauty Contest of the Manila Carnival in 1926.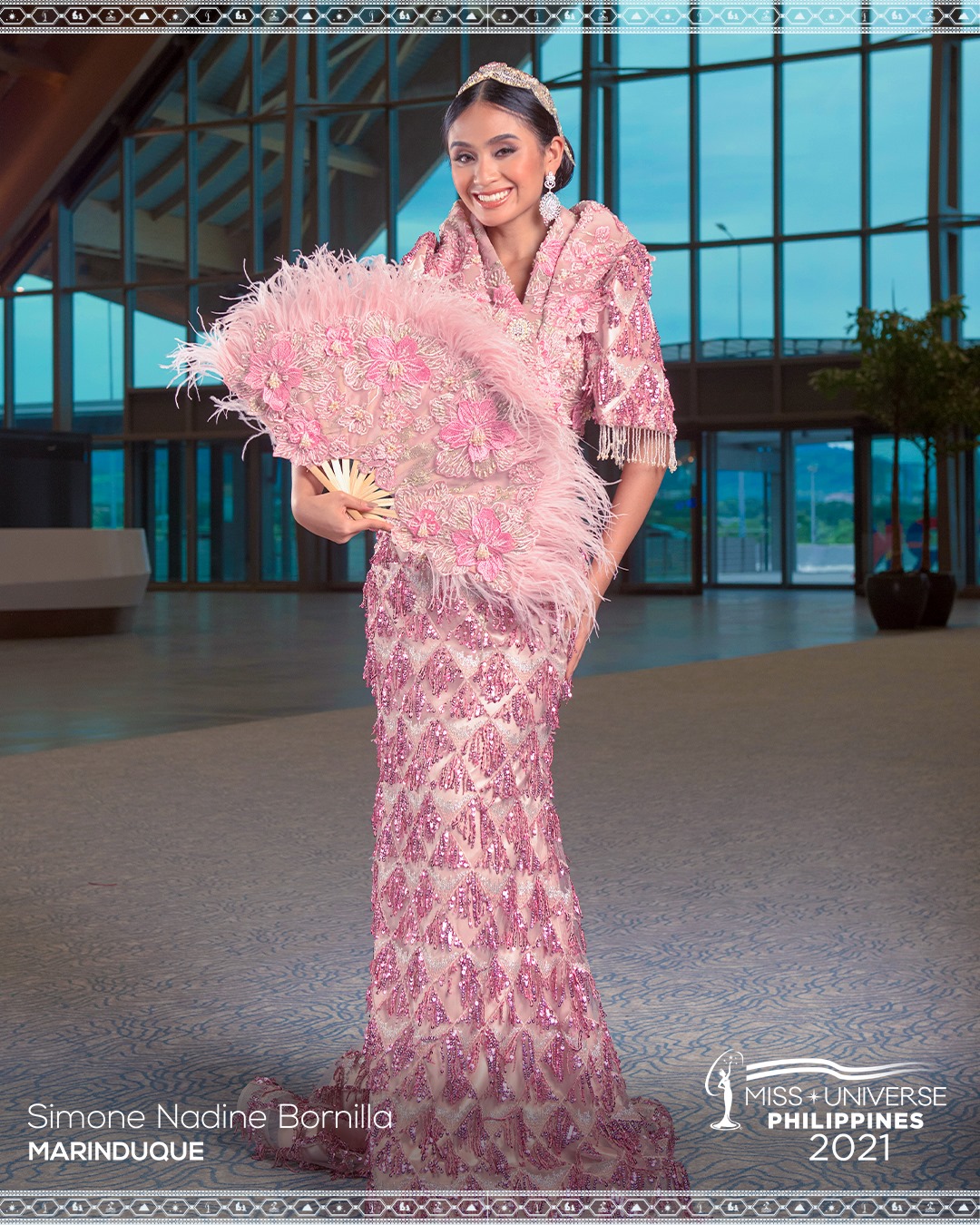 PANGASINAN
Asia's Next Top Model Cycle 5 winner Maureen Wroblewitz dazzled in her all-silver national costume designed by Louis Pangilinan.
In an Instagram post, Louis revealed that bangus and asin were his inspirations for his interpretation of the modern Manila Carnival Queen.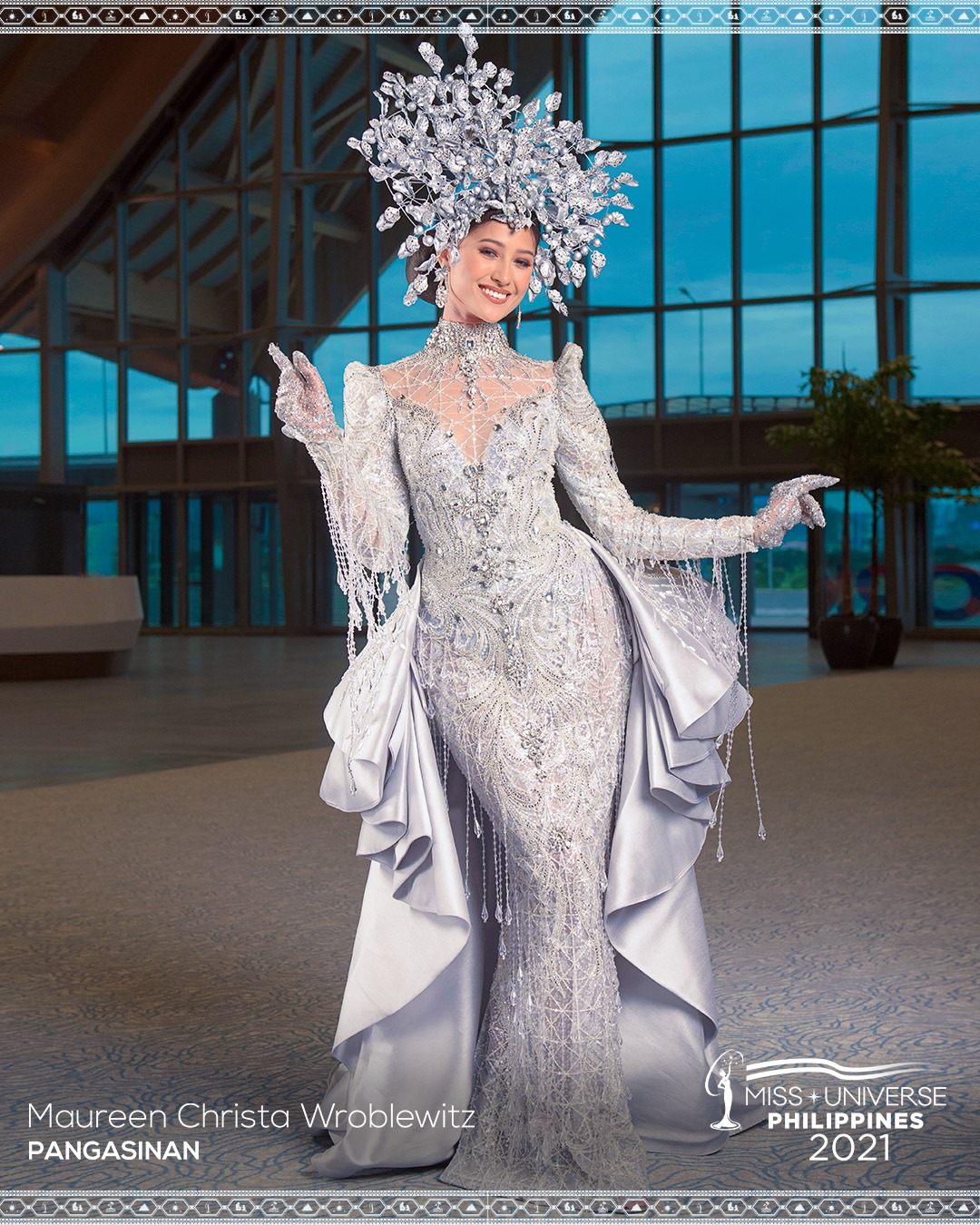 MASBATE
Former Pinoy Big Brother housemate Kisses Delavin donned an all-white Filipiniana dress by costume designer Polly Lagyap, who is based in Iriga City.
In a Facebook post, Polly revealed that his inspiration was the great-billed Heron, which is known in Masbate as "Lapay."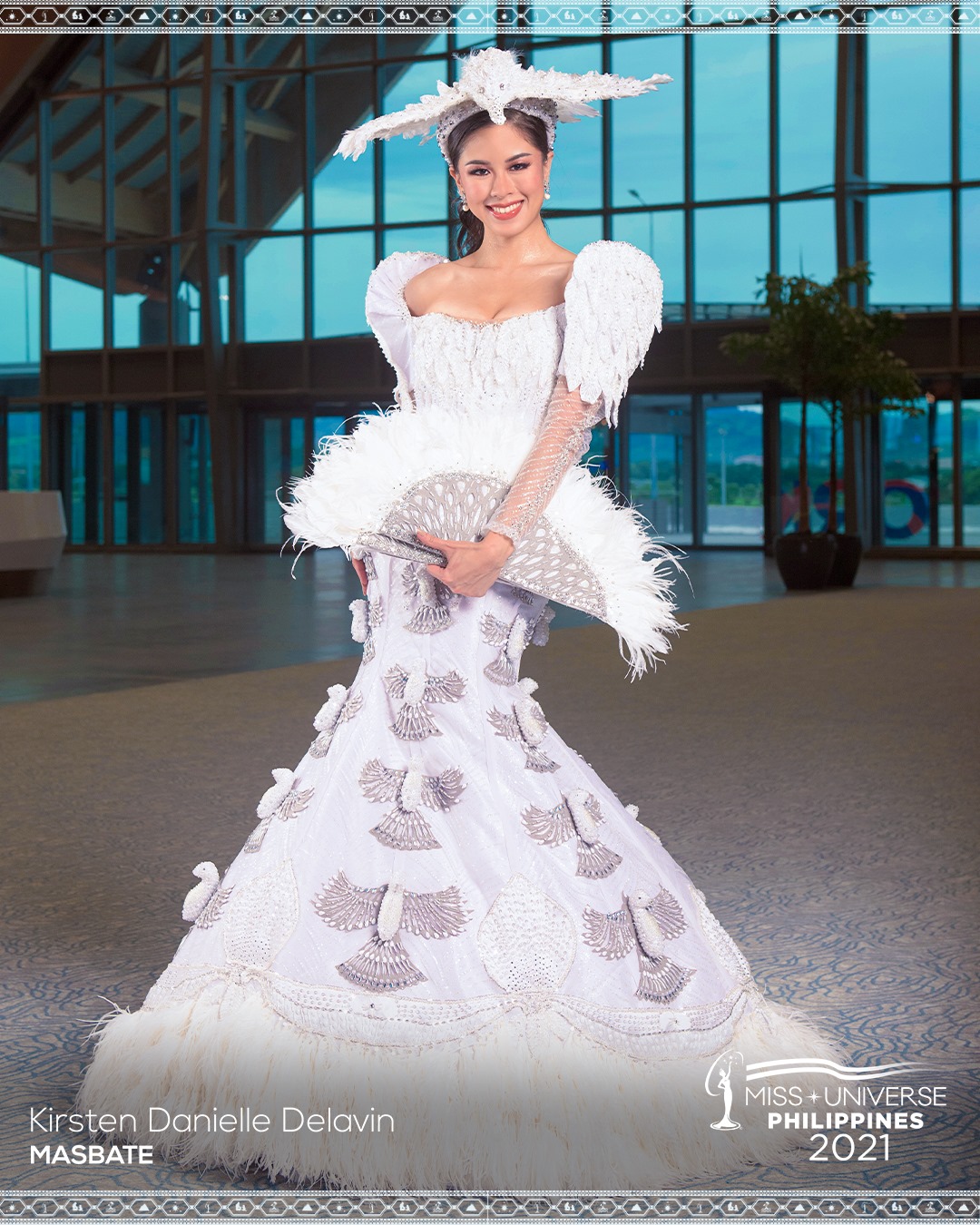 CEBU CITY
Beatrice Luigi Gomez of Cebu City stood out in a creation by Axel Que, who drew inspiration from the Filipino mythical creature called Bakunawa, also known as the "Moon Eater" and often depicted on mainstream media as a sea serpent/dragon.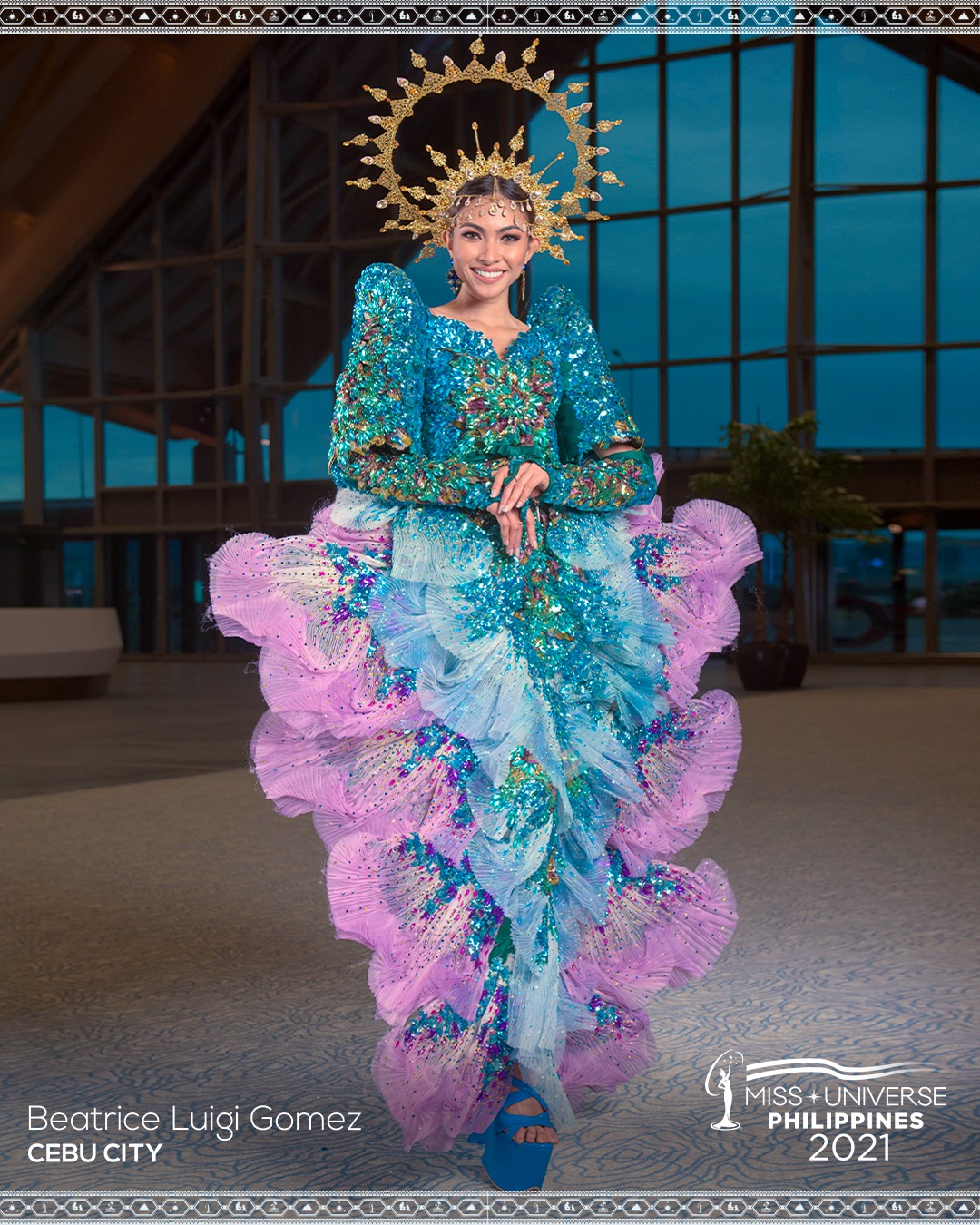 CEBU PROVINCE
Cebu Province's Steffi Rose Aberasturi went for the gold in her modern Filipiniana dress designed by Malayka Yamas.
In an Instagram post, Steffi revealed that rattan weaving, a traditional Cebuano livelihood, was the inspiration behind her national costume.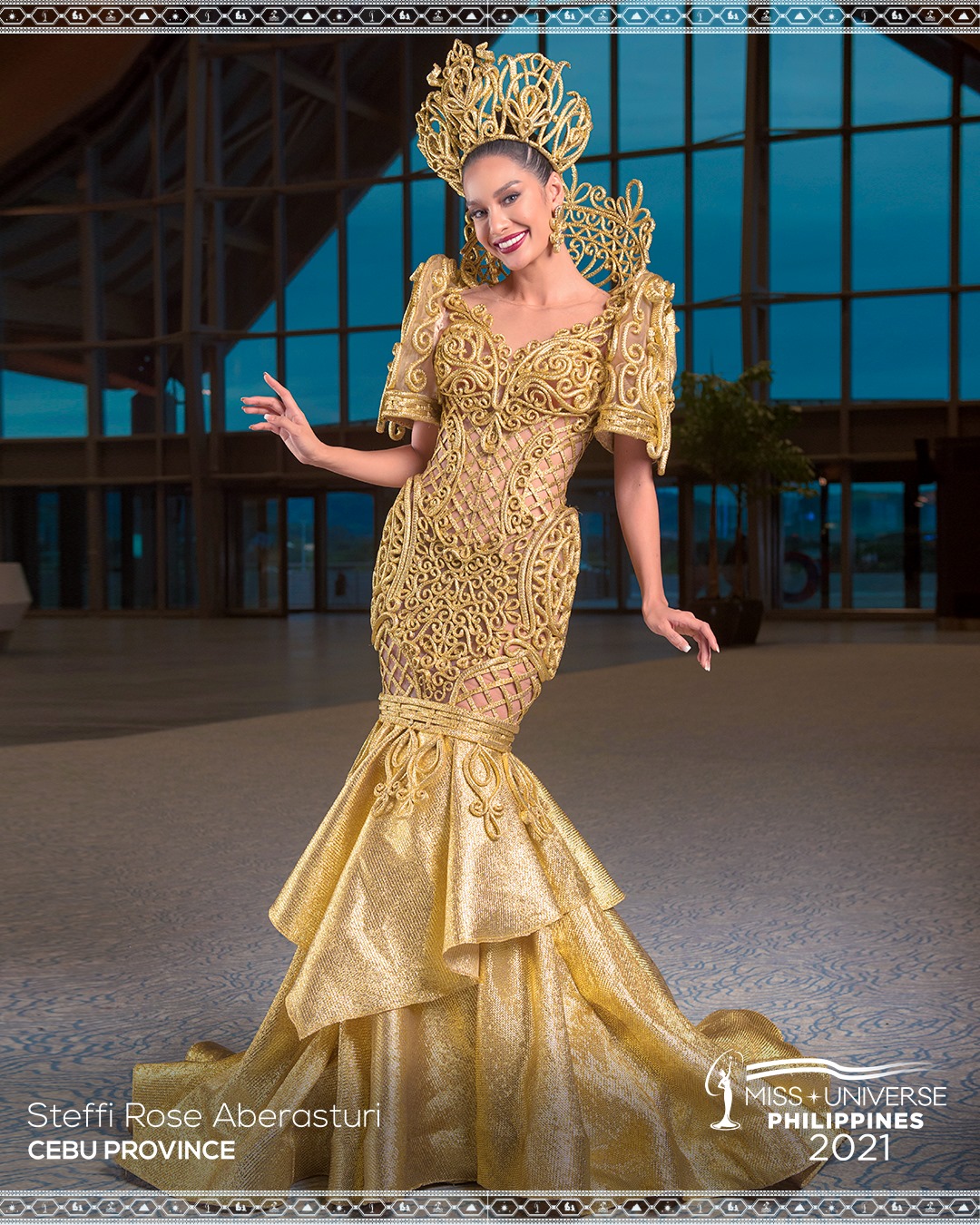 CAVITE
Victoria Velasquez Vincent infused her passion for architecture in her costume.
The 25-year-old Caviteña model was stunning in her flowy white modern Filipinana by Nat Manilag and headpiece by Christopher Munar.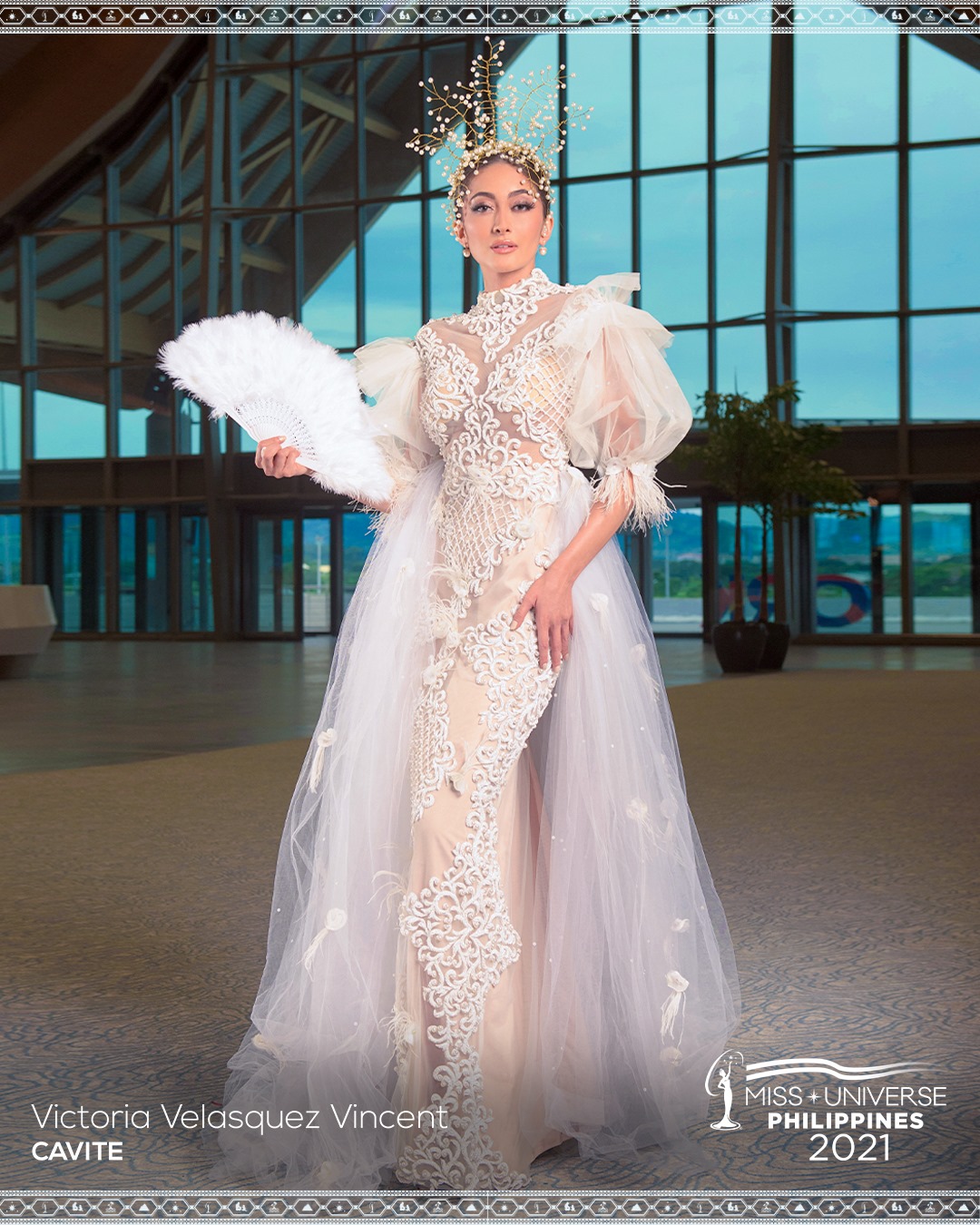 PARAÑAQUE
Ingrid "Sam" Santamaria wore a fully fringed silver couture gown designed by Rajo Laurel. The gown was also Sam's tribute to her great grandmother, Carmen Arnaiz Zaldarriaga, who was Manila Carnival Queen in 1937.
ILOILO
Kheshapornam Ramachandran wore a custom Filipiniana dress by Alfie Desamparado that drew inspiration from the classic gown worn by Pura Villanueva Kalaw, the first Philippine Carnival Queen from Iloilo.
The written prints on Khesha's modern gown were taken from the revolutionary works of Ilonggo orator and writer Graciano Lopez Jaena, who founded La Solidaridad.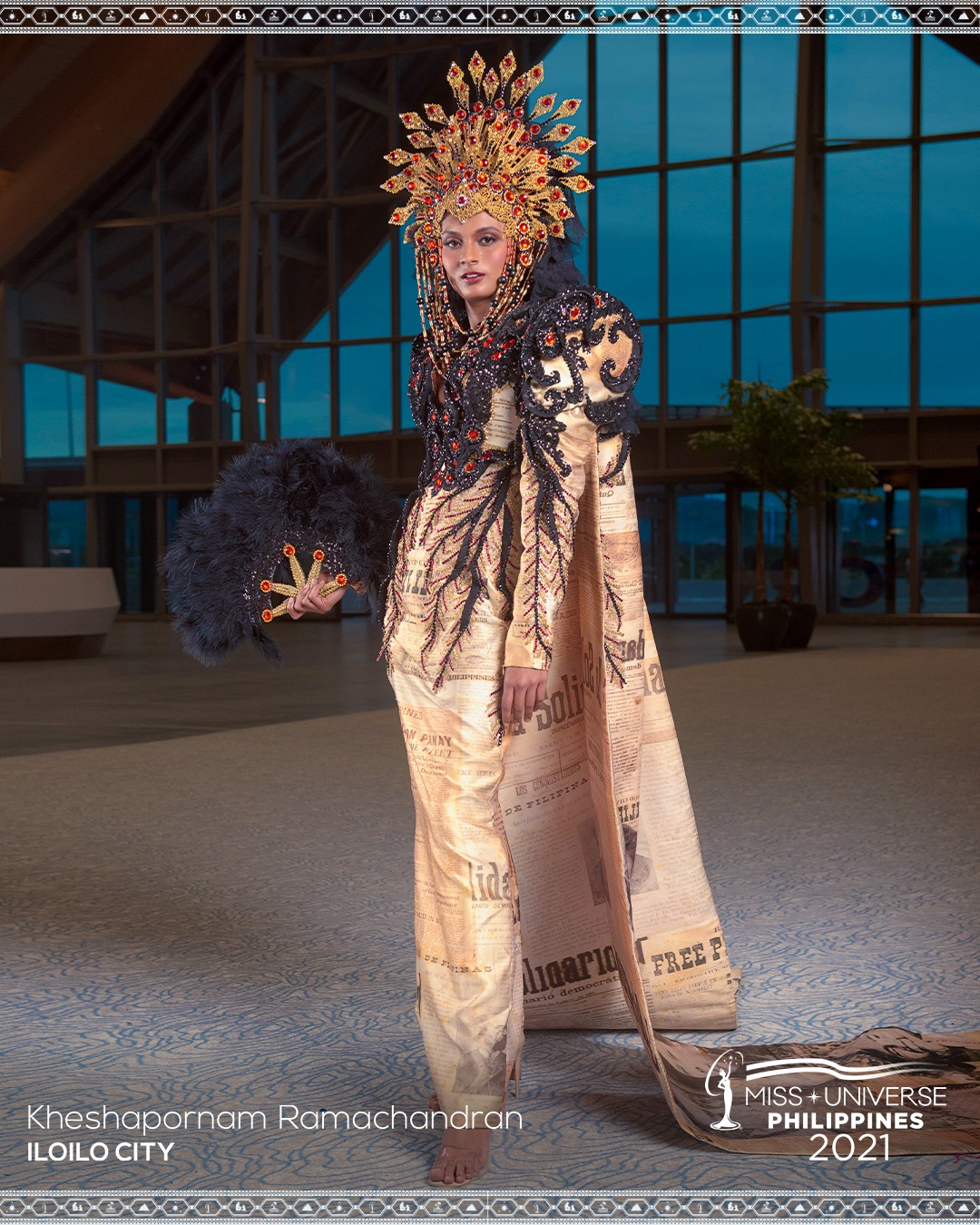 LAGUNA
Chico Estiva and Renee Salud teamed up to create the national costume entry of the candidate from Laguna, Leren Mae Bautista.
In her Instagram post on Thursday night, Leren said her national costume perfectly represents her as a "woman with a golden heart."
She also wrote, "The Manila carnival queen-inspired gown is made of fully beaded gold lamé with over flowing long cape. The inner gown is made of hand-woven gold fabric that fits to the body. It has long gold gloves to complete the look of a royal! "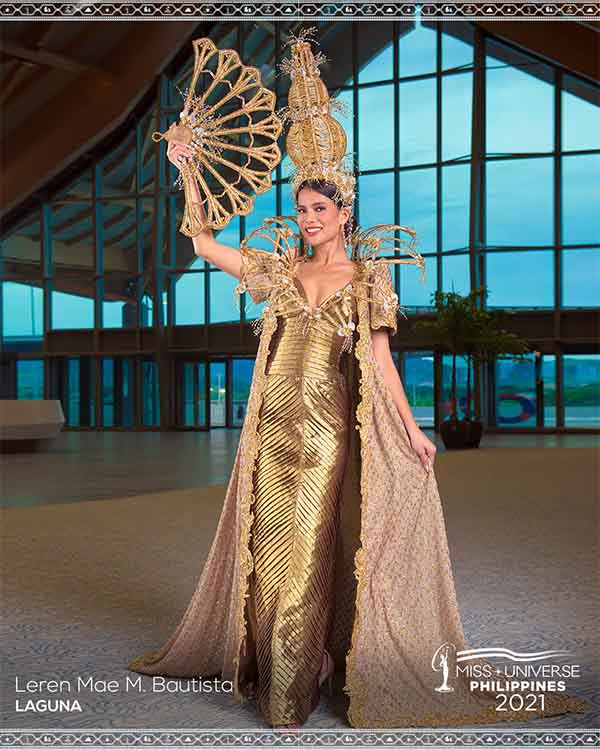 AKLAN
Christelle Abello wore a colorful national costume created by fashion designer Ryan Salazar Lopez.
According to Christelle's Instagram post, her gown is made from Aklan's pinya fibers, and is embellished with "colorful floral appliques that depict the vibrancy of our province."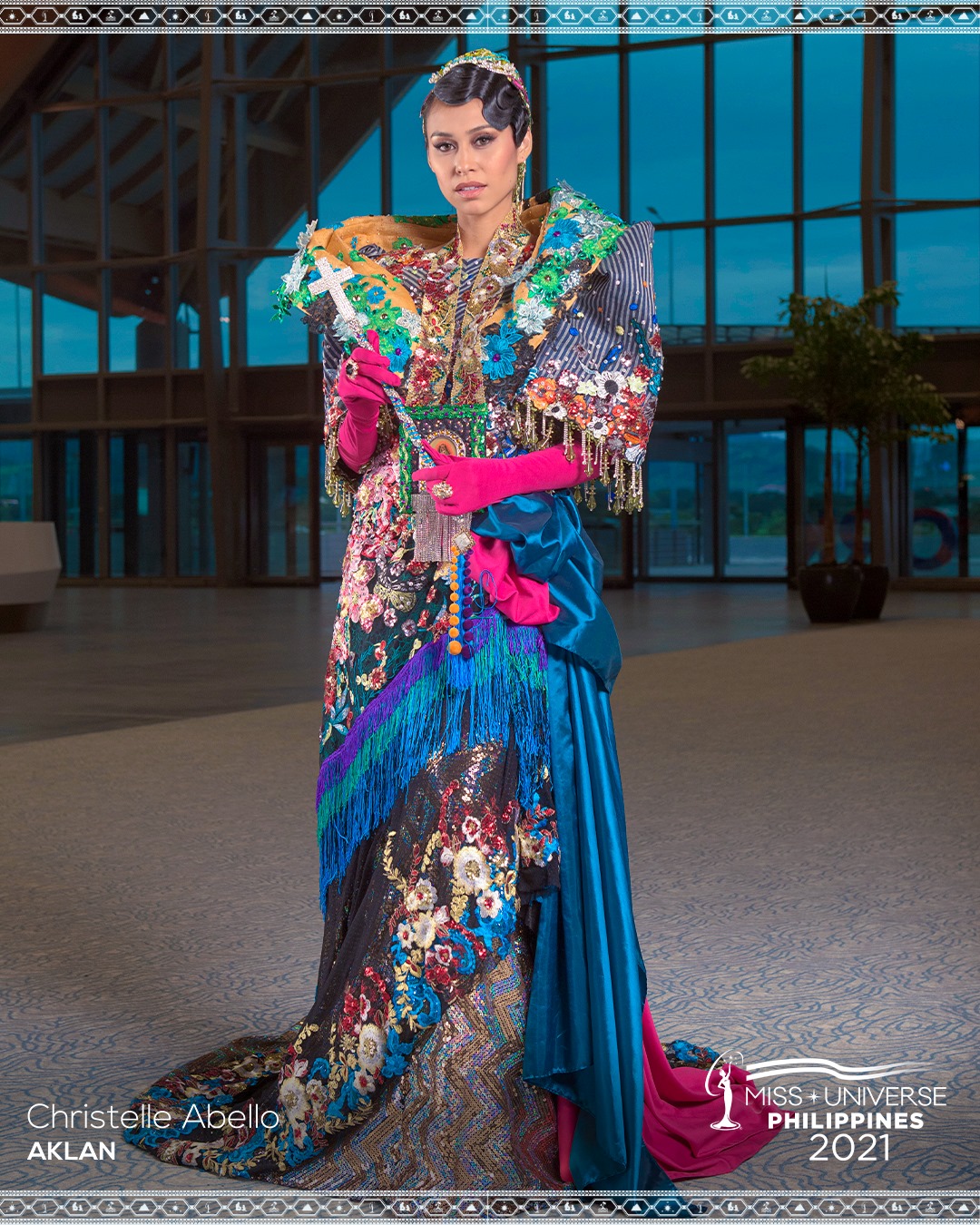 ALBAY
Albay's Janela Joy Cuaton wore a costume created by Jearson Demavivas using T'nalak fabric infused with elements from the T'boli tribe's traditional outfit.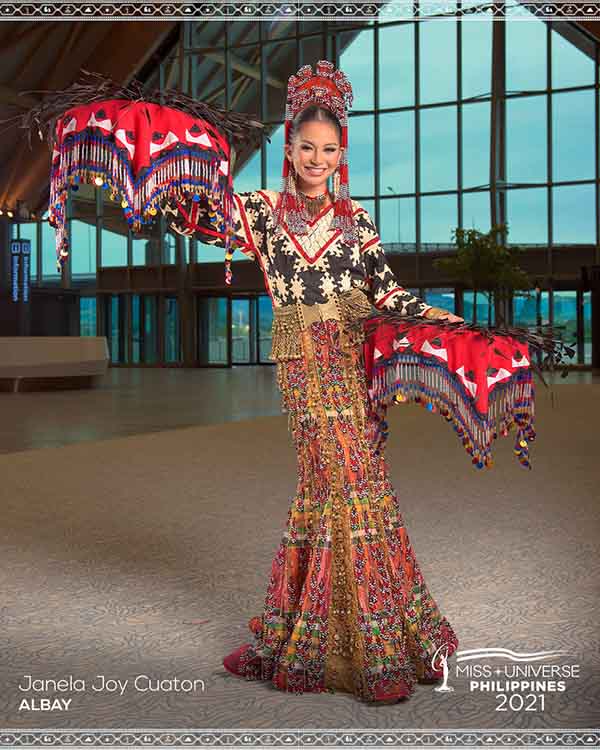 SAN JUAN CITY
Social media content creator Ayn Bernos of San Juan City tapped fashion designer Edwin Uy to create her national costume that showed off ethnic Mindanaoan artistry.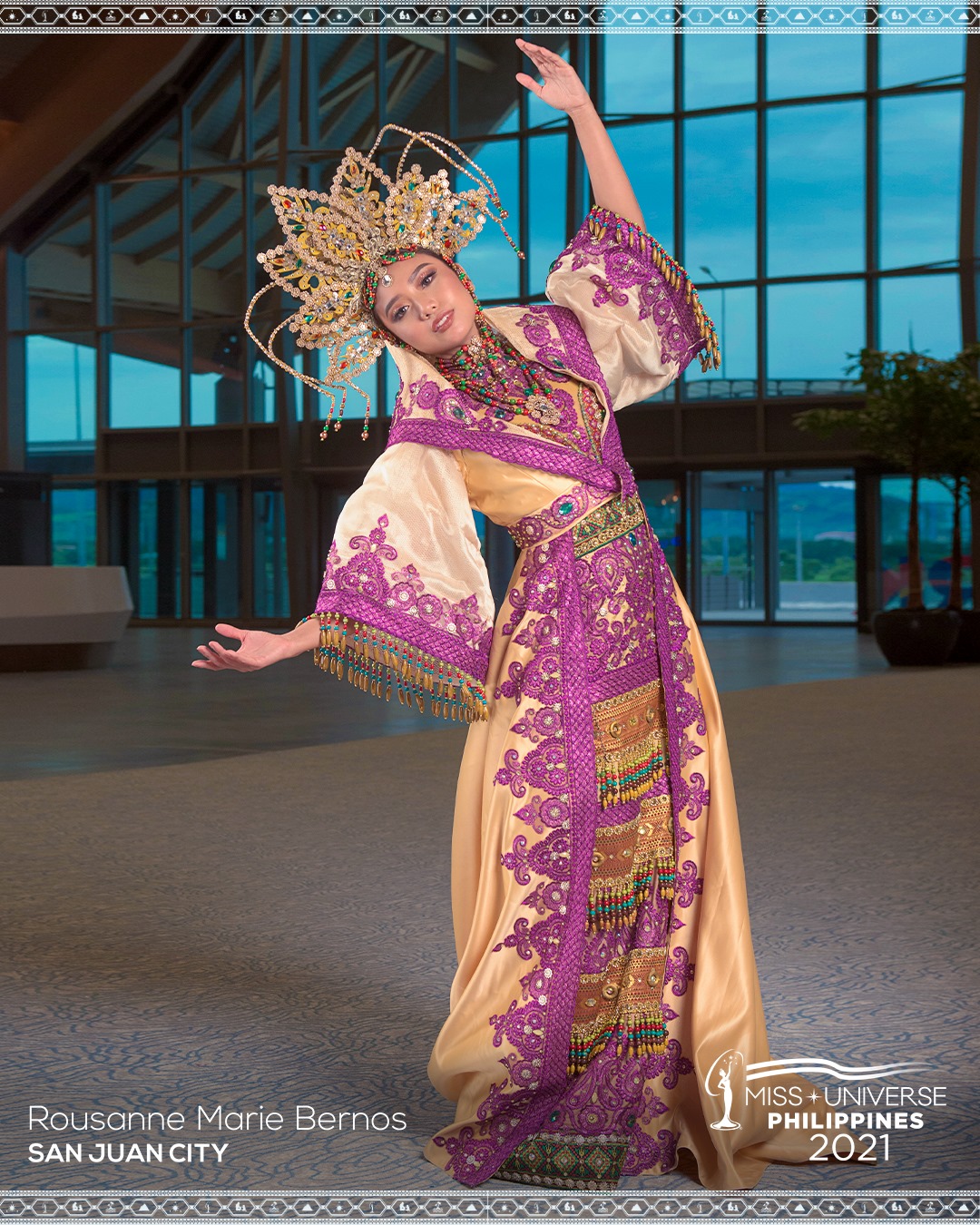 MAKATI CITY
Isabelle De Los Santos of Makati City looked like a princess from the 1920s in a costume designed by Oz Go.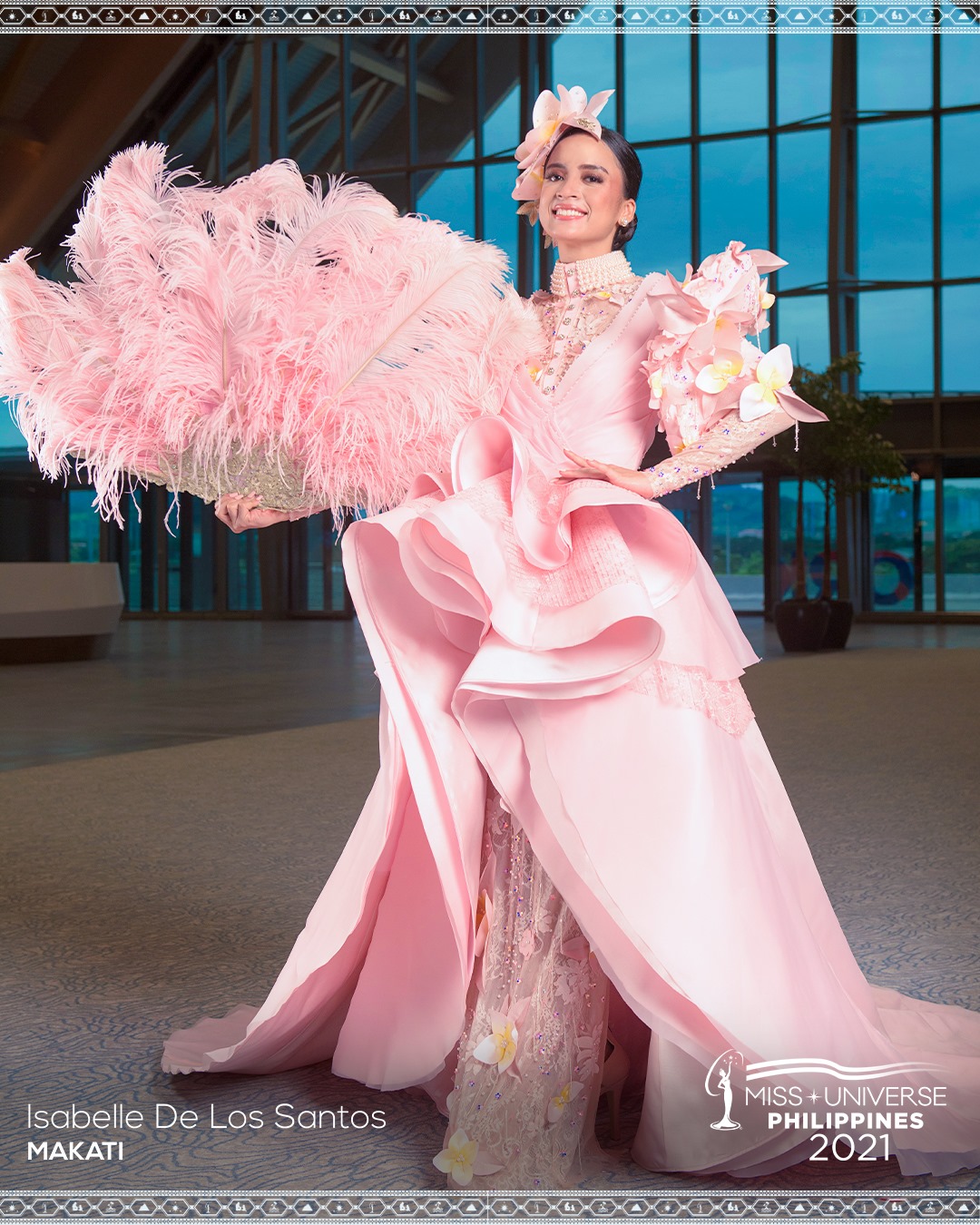 ROMBLON
Jane Nicole Miñano of Romblon was the epitome of elegance and sophistication in her costume, known as "Traje de Mestiza," designed by Erjohn Dela Serna.
The gown was also Jane's homage to Romblon's first and only Carnival Queen, Isabel Bowers.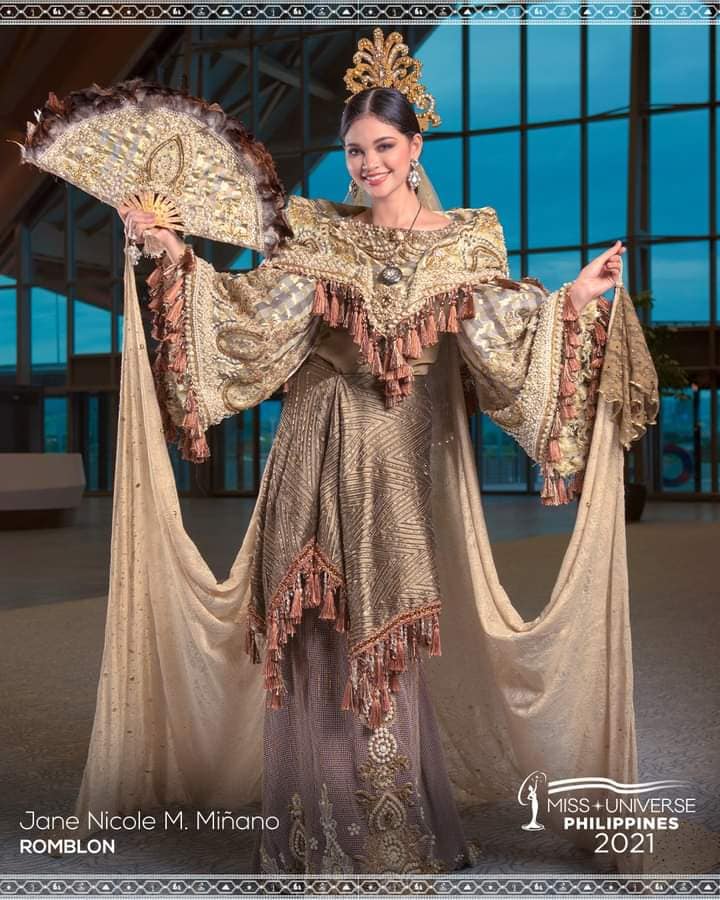 PEPSters, which costume do you like the best?
We are now on Quento!
Download the app
to enjoy more articles and videos from PEP.ph and other Summit Media websites.