Mariel Padilla fulfills her dream of becoming an online live seller.
Earlier today, March 15, 2022, the former Pinoy Big Brother host announced on Instagram that she would be selling her pre-loved designer items.
The live selling took place on her social media accounts, including Facebook and Instagram.
Based on a photo Mariel uploaded before the live selling, she sold items from designer brands Louis Vuitton, Prada, Burberry, Chanel, and Fendi, among many others.
Mariel wrote in the post's caption (published as is), "This is it!!!!!!!!!!!!!!!!!! Tonight i will fulfill my dream to be an online live seller!!!
"I have been watching live sellers almost everyday haha (I swear it's addicting!!!) and at 9pm tonight on my Instagram and Facebook I will go live and mga Sis pwedeng pwede na kayo mag 'MINE' all from my personal collection [emoji]
"seeeeee youuuu!!! All bagsak floor price to the maaaax!!!"
In the comments section of her post, Mariel's Instagram followers and celebrity friends showed their support.
Pinoy Big Brother host Bianca Gonzalez commented, "Omg Maaaa! Hit to sure ako!!!"
Kelly Misa and Juliana Palermo looked forward to buying some pieces.
Kelly wrote in the comments section, "Uyyyy live seller ka na Ma! Love it! I'm tuning in too—magmaminer na rin ako! [emoji]"
Juliana threw in, "Mine'ing from Indianapolis [emoji]"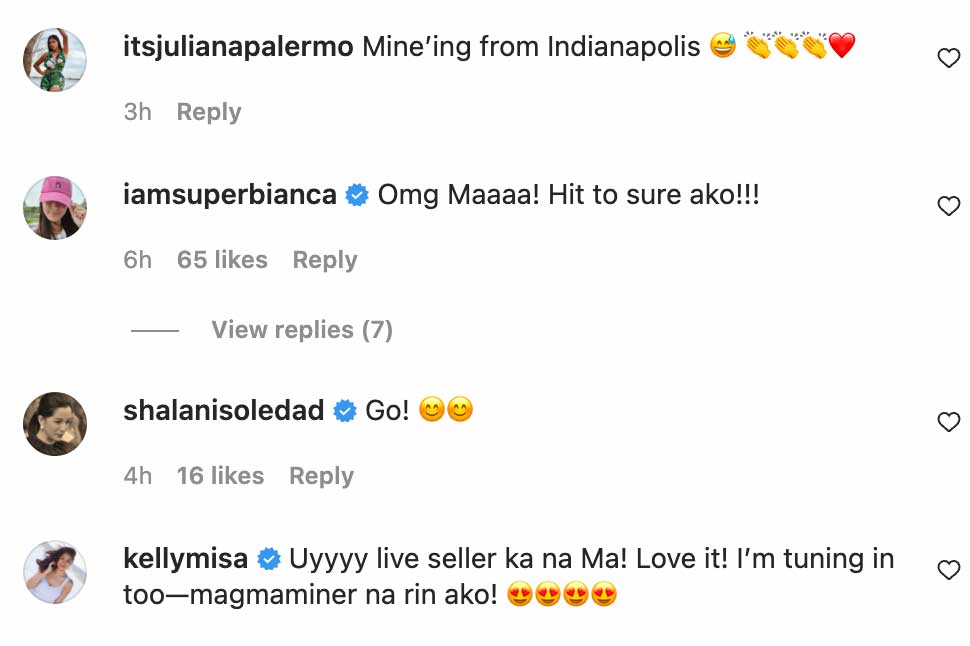 PASSION FOR PRE-LOVED ITEMS
In a YouTube vlog dated March 9, 2022, Mariel revealed that she is also a fan of buying pre-loved designer items.
She said, "I want you to know that buying pre-loved items is really good, lalo na sa panahon ngayon. It is really more practical.
"And I really feel, as long as you find the right ones, and the ones that are not super used and the really nice ones, I think, it's really, really more practical to buy pre-loved nowadays.
"Hindi ka dapat mahiya kung pre-loved yung item mo kasi the value of the bag is the same, the leather of the bag is the same."
Mariel also shared tips on buying pre-loved designer bags. Her first tip is to buy from Japan-based resellers because "bawal ang fake sa Japan."
The 37-year-old TV personality also advised to buy pre-loved items from those who have a massive collection, like celebrities, "para hindi pa haggard yung bag."
Her last tip is to buy from someone you personally know and trust.