Lorin Gutierrez Bektas is a complete baddie when it comes to her bikini posts.
Whether it's for a beach getaway or a casual road adventure with friends, Lorin is proof that summer is all-year round.
Too bad joining a beauty pageant is currently the farthest thing from her mind, even if a lot of her Instagram followers have been calling her "future Miss Universe" and branding her with "Best in Swimsuit" in the comments section.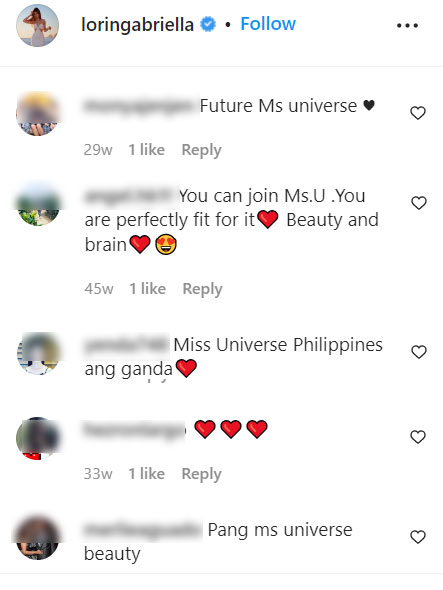 The 18-year-old daughter of Ruffa Gutierrez has been gaining a lot of attention for her stunning swimsuit gallery.
Here's to give you a peek.
1. Lorin sparkles in this white bejeweled strappy bikini paired with a stylish breaking chains straight leg jeans from Fashion Nova, worth PHP1,481, according to the brand's official website.
2. This iconic triangle bikini—in her favorite shade of blue—looks effortlessly chic with a minimalist print baseball cap, white sports sneakers, and, of course, a crew length pair of socks.
3. A nude crochet cover-up perfectly complements Lorin's multicolored bikini top.
Read also: Lorin Gutierrez absolute beach babe in Türkiye
4. In Hawaii, she basks in the sun wearing a scrunchy floral green bikini matched with denim shorts.
She's picture perfect with Ho'omaluhia Botanical Garden as her backdrop.
5. This elegant black bikini embellished with gold chains costs PHP2,000 on Fashion Nova's official website.
And it has so far scored more than 141,000 likes.
6. In white, she also looks divine.
7. She tames this high-rise bikini with a mesh skirt.
Otherwise, her mom might not approve. Remember the former beauty queen's "nag-shorts ka pa" comment on Lorin's OOTD post in March 2021?
8. Lorin's strappy bikini and washed-out denim shorts combo makes her a head-turner in Belek, a resort town on Turkey's southern Mediterranean coast that known for its beaches, thermal spas, and golf course.
The pair of denim shorts costs PHP2,415 on Reviced's official website,
9. Caps are a staple for Lorin, and she sports this with sophistication in a plain black thin-strapped bikini.
Read also: Lorin Gutierrez an "absolute superstar" on the beach
10. Unleash her inner Swiftie, she sports a red underwire bikini and a monochrome cap.
It's been almost a year since Lorin moved to the U.S,, to pursue a college degree at Pepperdine University, a Christian university in Malibu, California.
She and her sister Venice recently had a reunion with their dad Yilmaz Bektas in Turkey.
READ MORE: