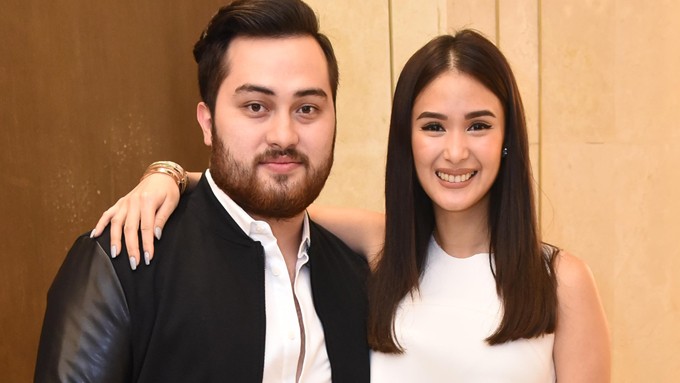 ---
Art and fashion had naturally gone hand-in-hand for Heart Evangelista or Love Marie as she would prefer to be called as an artist.
After using Hermes bags as her canvas, Heart's creative juices seemed to keep flowing.
When stylist Kat Cruz introduced her to one of the upcoming fashion designers Mark Bumgarner, little did they know that a fashion innovation was about to be conceived.
Mark recollected their first meeting, "I met Heart through Kat when I did Pond's, and from there, we pretty much clicked.
"She's so easy to work with. She really gives me freedom."
With Heart's knack for fashion, they quickly found a common point, "All of the sudden, I was talking about how I first wanted to design shoes and bags.
"And then, she's like, 'Well, I've always wanted to paint on bags.'
"And all of the sudden, 'What if we paint on the dress?'"
ADVERTISEMENT - CONTINUE READING BELOW
This question led to a collaboration.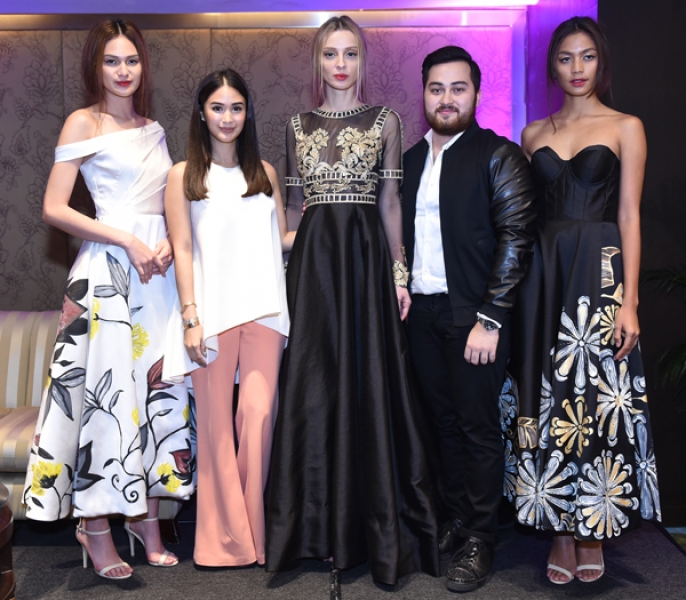 Heart Evangelista (second from left) and Mark Bumgarner (second from right) present a glimpse of their collection. PHOTO: Visions and Expressions, Inc.
Mark continued, "So at first, 'How are we gonna do that?'
"We started out giving her a skirt which she didn't paint because I made a dress right away to send to her and that's what she started on."
ADVERTISEMENT - CONTINUE READING BELOW
Mark did the initial designs, Heart hand-painted the dress, then Mark embellished her paintings.
The fusion of their talents resulted in a unique collection that had made fashion a true work of art.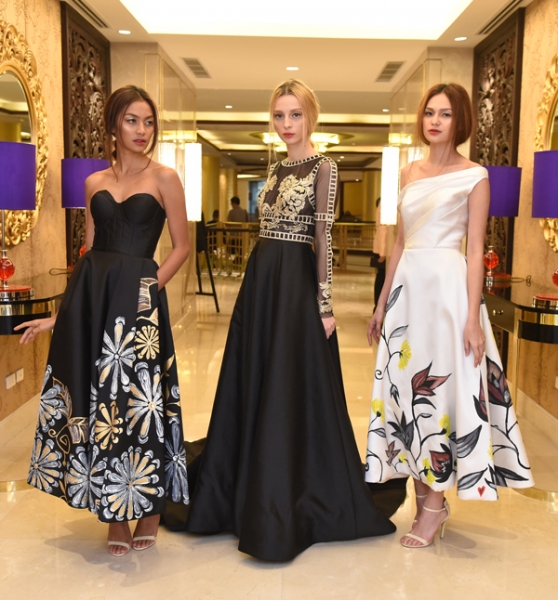 Hand-painted designs by Heart (far left and far right) PHOTO: Visions and Expressions, Inc.
They described their works as "edgy but basic:," just the right touch of femininity.
ADVERTISEMENT - CONTINUE READING BELOW
Heart spoke about the motivation behind their collaboration, "This whole thing actually, what inspired us? You know, you have the fast fashion and it's easy to just get in and its ready-made.
"Parang somewhere along the way, you kinda lose your individuality and you start to look like everybody else.
"So you wanna be original, you wanna be unique, and you wanna carry your own individuality."
ARTISTA TO ARTIST. Nowadays, Heart had been putting "Heart Evangelista" on the backseat and placing "Love Marie" on the driver's seat as she further pursues her love for painting.
"I've been an artista for 17 years now and, um, people probably think I'm used to, like, people criticizing me.
"Actually, I'm still afraid and very pressured by what people say so I figured, by using my real name, I can hide away from being that artista Heart that they knew.
"[And] my classmates from school, they know me as Love Marie and I wanted to introduce myself as, you know, that little girl with dreams.
ADVERTISEMENT - CONTINUE READING BELOW
"More than anything, I wanted to be a painter and a vet when I was young.
"Of course I wanted to become an artista, but before I ever thought of that, I wanted to paint.
"I paint on my walls, and so I wanted to introduce myself, me, who I really am, in the real world, without being judged or without people saying, 'Oh, she's an artista, she got into singing' or 'she's an artista, she ran for politics' or whatever, you know?
"I wanted to be who I really was and this is what I really do."
The fashion gala for the complete Mark Bumgarner and Love Marie collection will be on January 18, at the Dusit Thani Ballroom.
Proceeds of the event will go to Corridor of Hope foundation and Thalassemia International Association, two charities close to Heart's heart.