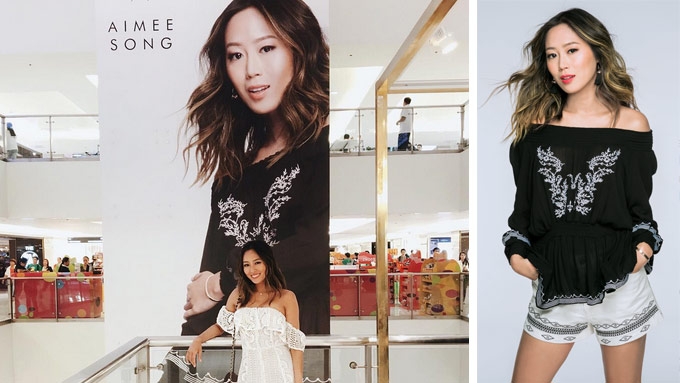 ---
On July 1, the country's fashionistas trooped to SM Makati to see Aimee Song.
Preview magazine's Editor-in-Chief Isha Valles and Creative Director Vince Uy were there.
The country's top bloggers also came, with BreakMyStyle.com's Laureen Uy telling Aimee, "I have been following your blog."
This LA-based fashion and beauty blogger currently has 3.7 million followers on Instagram, 65 thousand followers on Twitter, and 893,301 fans on Facebook.
Part of Forbes' "30 under 30" list, she has been scoring front-row seats at the most exclusive fashion events in Milan, Paris, Venice, London, Seoul, Tokyo, Cannes, among others.
What sets her apart?
1. Her sense of style is accessible but aspirational.
When she posted this photo on Instagram, her followers instantly asked the brand of her "gorgeous," "perfect," and "nice" dress.
Would you believe it's from The SM Store?
2. Her eight-year-old blog Song of Style is simply about her as a real person.
At her launch, she told PEP.ph (Philippine Entertainment Portal), "It's not all about posing or projecting.
"You have to have fun, you tell the people you love what you're doing.
"So my followers can relate to me.
"As I have said many times, 'We're not trying to be supermodels or celebrities.'"
3. "I just wear what makes me happy."
That's her answer to PEP writer FM Ganal's question—how do you curate your aesthetic—at the Preview event held after her reveal.
4. Her biggest fashion investment is not on clothes.
She said, "Probably been the camera to shoot my outfits."
5. Her entourage is "not a big team" at all.
"I just have someone obviously who shoots my photos. But it's not a professional photographer."
6. Lastly, she has mastered the art of "rolling," so each time she travels, it's no longer like bringing the entire closet with her.
ADVERTISEMENT - CONTINUE READING BELOW
At press time, she is in Paris.
Before leaving the country, she managed to enjoy the sea, sand, and sun in Cebu.
Her stay may be brief, but she wrote on Instagram, "I'll never take this moment for granted."
And to all the fashionistas and dreamers out there, she has one advice: "Push mo iyan."