Luck is on our side as one of fashion industry's most sought-after male supermodels, Lucky Blue Smith, makes his way to the Philippines!
The 18-year-old Mormon model arrived early today, July 29, for a few events organized by Filipino clothing brand Penshoppe.
A fashion show happened earlier, and a meet-and-greet with his fans is slated for tomorrow, July 30.
In case you don't know, Lucky Blue is Instagram's most followed male model with 2.5 million followers.
The blonde heartthrob has walked the runways for several luxury labels such as Tom Ford, Versace, Michael Kors, Etro, Bottega Veneta, Balmain, among many others.
Straight from the airport, some members of the press had the chance to welcome the clothing brand's newest ambassador at a press conference held in Conrad Hotel, Pasay City.
Here are some interesting things we learned about this charming, blue-eyed supermodel.
1. He was just 12 years old when he got signed at Next Management.
Lucky recounted, "My sister, Daisy, when we were living in Utah at that time, I think I was about 10 years old, she got scouted and signed by Next in Los Angeles.
"And they just did like a scouting trip in Salt Lake City, Utah, and I was there with my sister.
"And then this guy, Alex, he was like, 'Yo, we wanna see you in a couple of years.' And I was like, 'Okay, I don't care, that's cool…'"
A vacation to Los Angles became a life-changing moment to Lucky Blue.
He related, "Me and my family went to a trip in L.A. I just wanted to go to the beach and, you know, have a fun summer vacation in Southern California.
"My sister wanted to go to the agency, and then the agency wanted us to come in.
"So I went in with my family and my agent, Mimi, she saw me inside in the agency, and that's how I got signed and started."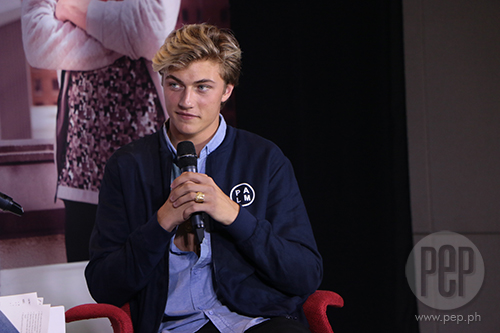 2. He prefers photo or video shoots over runway shows.
"I like shoots! This [Penshoppe] shoot was really fun. It was in New York."
He continued, "Shows are cool and all like, yeah, you go on and walk. But it happens so fast.
"I like shoots because you can hang out with the photographer and the team during the whole day.
"You guys just kick back and have a nice lunch and then go do some cool work and stuff you like."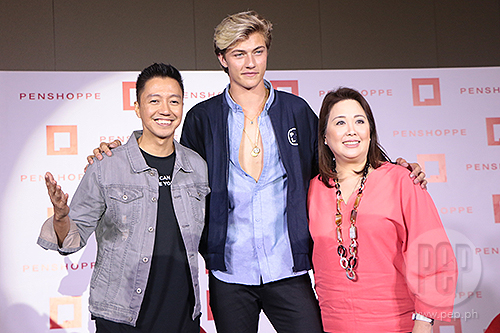 3. He is the youngest among four siblings.
His older sisters are Pyper America, Starlie Cheyenne, and Daisy Clementine Smith. They are also into modeling.
4. He is passionate about music.
With his blue eyes shining, he said, "I'm in a band with my three sisters and we're called The Atomics."
At an early age, Lucky Blue and his sisters were taught by their father to play different instruments starting with drums.
"My dad actually taught us how to play and first, it just started out like, 'Hey, we have instruments! Why don't we do this just for fun and like, I don't know, just something you can do.'
"Then it was like, 'You guys can go play for shows at cool events,' while we were in high school and you can do that and earn money instead of flipping burgers or instead of scooping ice creams. And then we're like, 'Okay cool.'"
Next Models also decided to represent their band.
"Then we started taking it seriously and then when we got signed in the agency, Next in L.A., they were like, 'You guys are in band and in a family, what the heck?'
"And we're like, 'Yeah?' Then they were like, 'You guys should do something of it and just try to make something of it.'
"And then we started taking it more seriously and then we moved into L.A., and that's when we just decided to fully go for it and go for everything."
However, their band's music career was put on hold because of other projects.
But he's hoping to resume it, "Now we're trying to switch it a little bit. So now we're doing a bunch of music. We just finished these two songs, and they're so sick. They're really cool!"
5. His craziest experience with a fan?
"One time I was in Milan after a fashion show, and this girl tried to stick her hands in my pants without even saying any thing, and she literally just like went for it, dude!
"It was really awkward."
What he did was grab the girl's hand out of his pants.
6. He'd probably be enrolled in a business school if he's not modelling.
"When I was in school, I've always been interested in this stuff so right now, I'd probably go to school for like business stuff. I'm really into business ventures and stuff like that interests me."
During his 9th grade, he wanted to become a lawyer!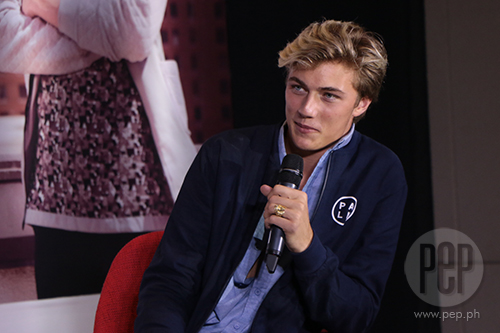 7. Lucky describes his personal style as "simple, classic, modern, vintage-ish."
His go-to fashion pieces are black skinny jeans, black Chelsea boots, and a button down shirt.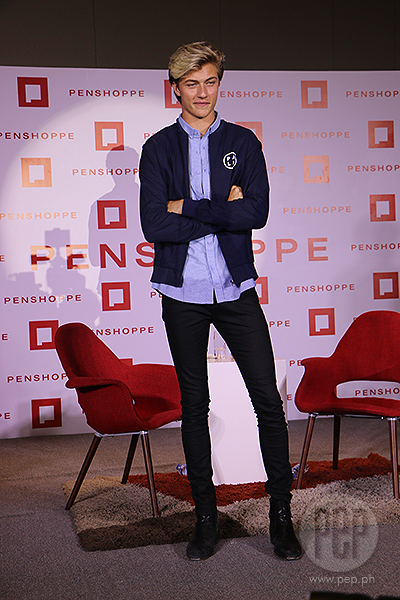 8. How does he maintain his lean body? It's just the magic of "metabolism."
"I don't have a diet!"
The model elaborated, "I've been blessed with really high and really fast metabolism. So I don't really worry about [gaining weight]."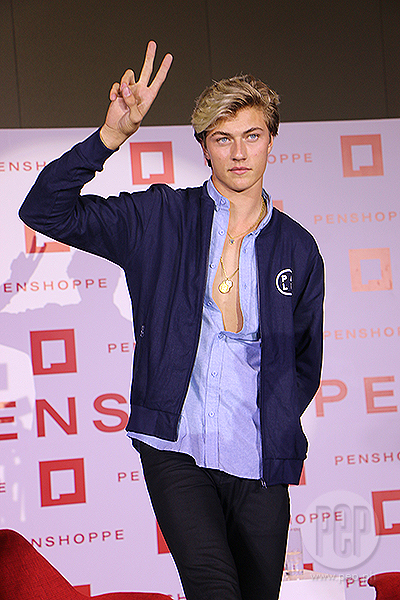 9. He is very much open to dating a Filipina fan.
"Here's a thing, it doesn't matter if you're Filipino or American, Chinese, Australian, or anything.
"What I like in a girl is just be yourself, and just own your personality and be yourself.
"That's what would make me attracted to you. It doesn't really matter the race or anything like that."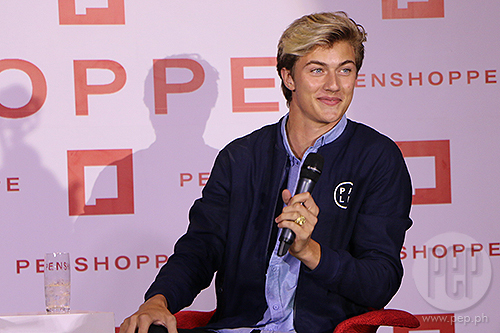 10. He has a movie coming up!
Yup, Lucky Blue is making a crossover to the acting scene with his debut film Love Everlasting opposite Christie Burke and directed by Rob Diamond.
"It was awesome!" he said when asked about the project.
"Last August, I filmed this indie film with this director Rob Diamond. It's a really cool, young love story about inner beauty. Pretty much, in the story, I fall in love with the girl."
11. His biggest dream is to work with Leonardo Dicaprio in a movie.
I think it would be the coolest thing in the whole world...This is just probably the coolest thing that I ever wanna do, is being in a movie with Leonardo Dicaprio!
"That's what I wanna do, guys! That's what I wanna do!"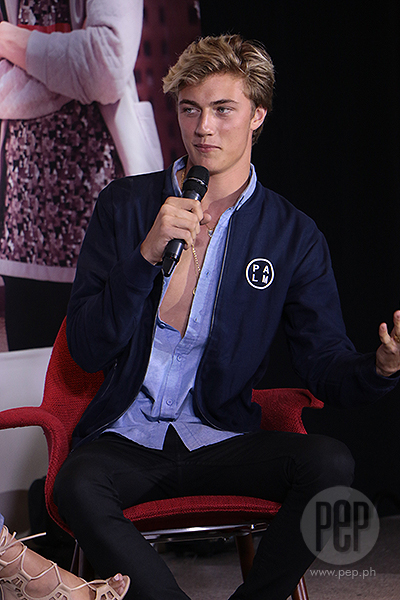 12. He hopes to visit the beaches of the Philippines given the chance.
Lucky Blue will be in the country for just a few days so visiting the tourist spots is not in his itinerary.
"I have heard and I have seen some pictures of the beaches. Some of the beaches are gorgeous!"
May we suggest Palawan and Boracay?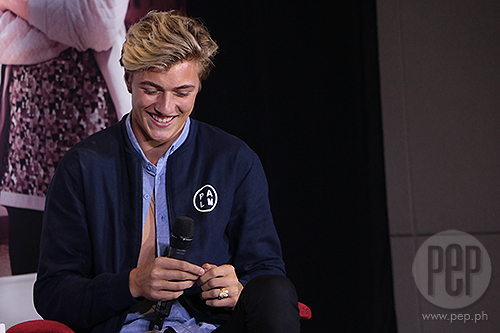 Catch Lucky Blue tomorrow, July 30, at Penshoppe SM Aura for the meet-and-greet, followed by a short program at the mall's atrium!
Photos by Nikko Tuazon