At the Cannes Film Festival earlier this May, fashion designer Patty Ang and actress Andi Eigenmann gave the Filipino fashion community a spot in the limelight.
Andi's all-white cape jumpsuit designed by Patty was included in Vanity Fair magazine's "The 2016 Cannes Red Carpet's Best-Dressed Celebrities."
In an interview with PEP.ph (Philippine Entertainment Portal) during the pocket presscon for the second Fashion Can Serve gala event, Patty recounted her initial reaction.
"I was shocked." she said.
"At first, I thought it wasn't such a big deal just because it's all my friends and family who are congratulating me.
"I think it's a normal thing 'no, kasi friends mo naman iyon. So who would have thought na gano'n pala?"
Did it, in one way or another, help in expanding her clientele?
Patty said, "When people started calling me from here and then out of the country, then it felt like...Until now 'no, it stick with my name and Andi's."
Other celebrities who have donned her designs: Isabelle Daza, Lovi Poe, Bianca Manalo, Jodi Sta. Maria, Ruffa Gutierrez, and Kim Jones.
COMFORT AND CONFIDENCE. When designing a collection, Patty said she gets to consider the usual concerns of women.
"Because me, personally, I'm a mom. I'm a young mom and even though I'm young, I also have those problems na I feel like my tummy is so loose. I can't wear fitted ones.
"That's why I think being a woman, I understand other women.
"I understand what they wanna hide and what they wanna show, so I think that's why it worked for me because what I want is also pala what other people want.
"But of course every woman is different."
Her designs fall under the modern classics, but for Patty, it is important they should also make her clients feel comfortable.
"I think it's still more of comfort and know what you wanna show and what you wanna hide with their body.
"They wanna just bring out the best of their bodies, especially like my clients are the older ones, so marami 'yon na I don't wanna show my arms, I don't wanna show my tummy."
Aside from comfort, she also hopes that her dresses will help women feel more confident.
"You have to. For me that's my advocacy with all my stuff. I wanna make sure the woman is comfortable and confident every time they wear what I make for them.
"I think it's the best asset they could have when they're walking out to a crowd and having the clothes.
"I think it gives you that spark, that glow."
With this premise, Patty joined the ICanServe Foundation's Fashion Can Serve 2016, a collaboration among the country's top designers to create awareness and raise support for the foundation.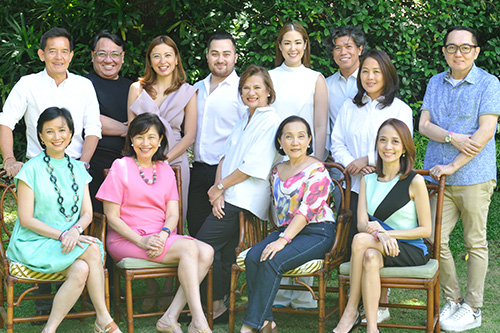 Held at Raffles Makati on October 13, the event was inspired by the courageous journeys of real breast cancer survivors.
Among the designers who participated the event's sophomore year were (L-R) Randy Ortiz, Mark Bumgarner, and Dennis Lustico.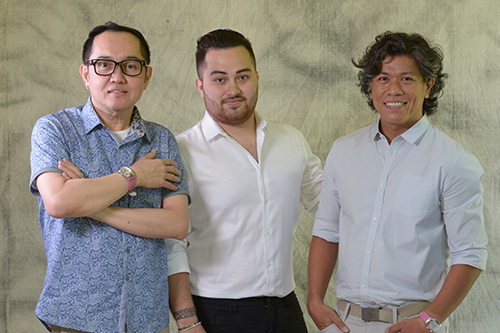 Aside from Patty (middle), Patrice Diaz (left) and Rosanna Ocampo (right) alsotook part in the event.