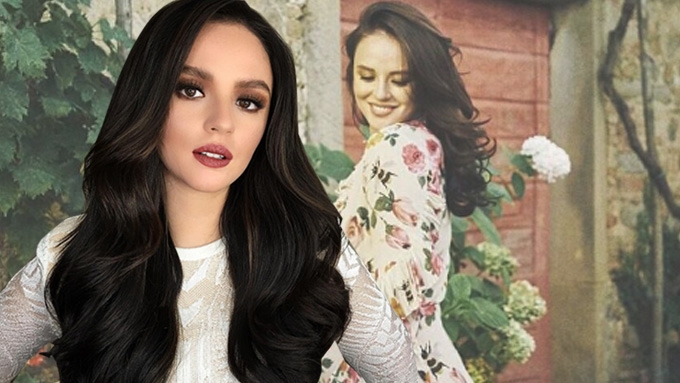 IMAGE @ilovegeorgina on Instagram
---
Now seven months pregnant, Georgina Wilson sometimes forgets that she has a bun in the oven.
In a recent trip to Los Angeles, California, to shoot new materials for her "first baby" Sunnies Studios, the busy model-entrepreneur had people coming up to her and ask, "When are you due?"
Often, she would mishear the question as, "What do you do?"
In an exclusive chat with the soon-to-be mom during the opening of Sunnies Cafe in SM Megamall on October 16, she related, "Everyone in LA kept asking me, 'When are you due?'
"But I kept forgetting I was pregnant, so they look at me, and I'd be like, I hear, 'What do you do?'
"I'm like, 'Oh, we own our own company. It's a sunglasses thing, la-la-la-la-la'
"'No, when you are due?'
"Oh, yeah, December."
Her easy breezy pregnancy has allowed Georgina to keep doing business at the same pace.
"I've been so lucky. The whole time we were working in LA, shooting for Sunnies and Specs, and I wouldn't be able to do that..."
Georgina has kept her fashion on point, too.
Last September, when she attended the Italian weddings of her cousin Isabelle Daza in Tuscany and Cristalle Belo's in Lake Como, Georgina effortlessly flaunted her baby bump in floral designer clothes.
READ: Georgina Wilson's maternity dresses in Italy have six-figure price tags.
And if you have been following her Instagram account, you would see how she brought maternity wear to a whole new level of style game.
ADVERTISEMENT - CONTINUE READING BELOW
When asked about her maternity-clothes shopping, she said, "I haven't really even been buying new stuff."
She only looks for three things.
"...I've just been wearing, I guess, I have like loose stuff.
"I guess it's unconventional, that's why people are talking about it.
"I just wear what I wanna wear."