In February, Kris Aquino's birthday month, the host/actress wore two similar dresses which earned praises from her Instagram followers.
Both have voluminous bell sleeves and a flattering nipped-in waist.
Here's a photo of Kris in the first dress, which she accompanied with this caption: "My Mom used to always tell me, I would have to work 2X as hard & be 200% professional at all times because there were so many preconceived notions about me.
"She told me the importance of proving to all that nothing was handed on a silver platter, in fact a lot of opportunities have proven unavailable depending on political winds... So Mom said: VALUE & APPRECIATE those who stand with me come what may..."
It's called a Margot Crepe Dress. On Net-A-Porter.com, the black one costs $1,365 or PHP 68,608.
Some fashion sites described it as the dress preferred by lady bosses.
The design charmed a number of lady CEOs and fashionistas when it was launched in London Fashion Week five years ago.
Back then, the hot pink was all the rage.
The other Margot crepe dress of Kris has a brighter pink shade.
It's a bit pricier. On Net-a-Porter.com, it costs $1,615 or PHP 81,174.
We wonder if Kris has the white one which is made of ivory cotton and silk. It costs $2,195 or PHP 110,327.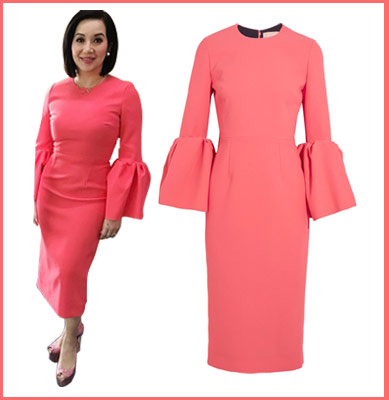 Kris's current favorites are from the collection of London-based Serbian Roksanda Ilincic, whose designs have been worn by former U.S. First Lady Michelle Obama, Catherine, Duchess of Cambridge, Victoria Beckham, to name a few.